With 18,000 to 20,000 regular attendants, the Wave-Gotik-Treffen is one of the largest events of the Goth-, Cybergoth-, Steampunk and Rivethead- subcultures worldwide.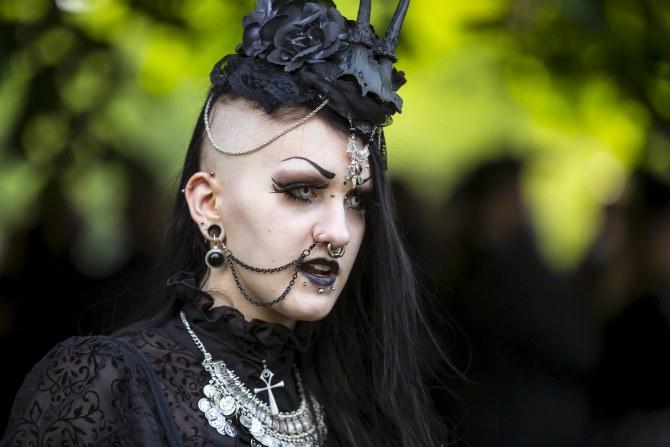 The festival also features several fairs with medieval, gothic and cultural merchandise.
The major attraction of the Wave-Gotik Treffen is the band performances.
The dozen-or-more venues are equally varied, from the stately Schauspielhaus to the somber Krypta of the Völkerschlachtdenkmal to the Parkbühne under the trees to the massive 1,000-person capacity AGRA fairground halls.
In addition, there are Renaissance fairs, Viking and Pagan markets, Gothic Romance events, CD/DVD and film premieres, literary readings, artist signing events, brunches celebrating absinthe, fetishistic events, and many late-night danceclubs such as Darkflower or Moritzbastei with top-name DJs.
A participant of the Wave and Goth festival sits in the downtown pedestrian zone in Leipzig, Germany. Photograph: Hannibal Hanschke/Reuters
At night, the party continues at several clubs where international DJs play different dark styles from 80s to industrial.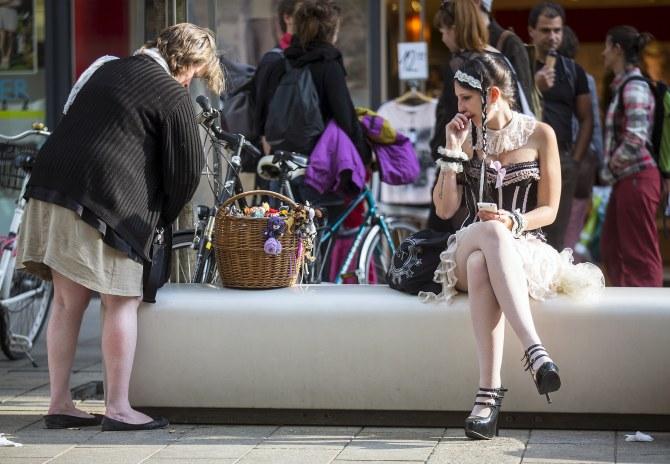 Revellers attend the Victorian Picnic during the Wave and Goth festival in Leipzig, Germany.
Many of those attending wear elaborate outfits and makeup for which they require hours of painstaking preparation.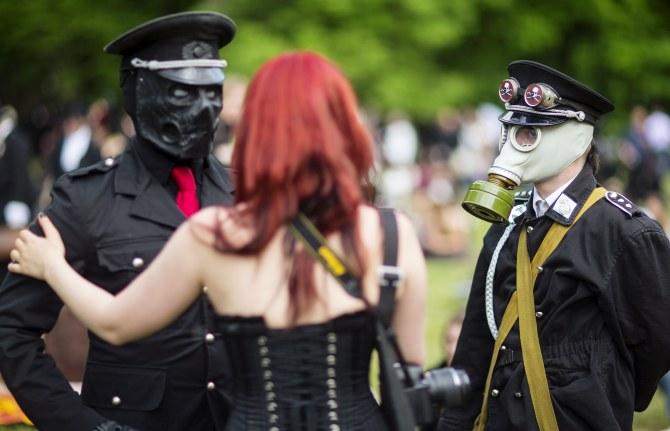 A participant of the Wave and Goth festival walks through the downtown pedestrian zone in Leipzig, Germany.
Many costumes show a departure from the traditional black of the Goth scene.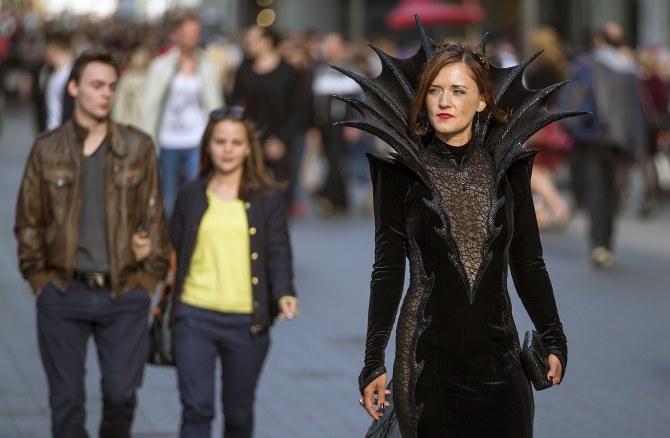 A participant takes a stroll in Leipzig, Germany.
Ask not, what kind of costume they have on! That would be rude in their eyes.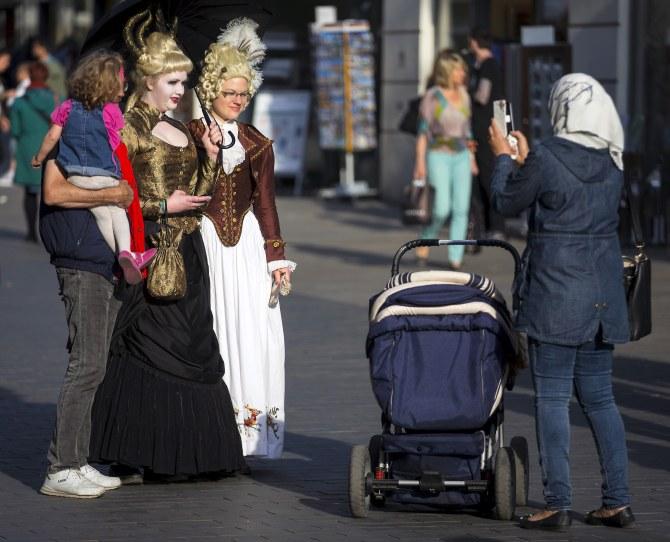 A family takes pictures with participants of the Wave and Goth festival walking through the downtown pedestrian zone in Leipzig, Germany.
The 'Victorian Picnic' in the park on Friday afternoon is an iconic event during WGT, especially for those who like to dress up in Victorian, steampunk, baroque or all kinds of neo/dark romantic styles.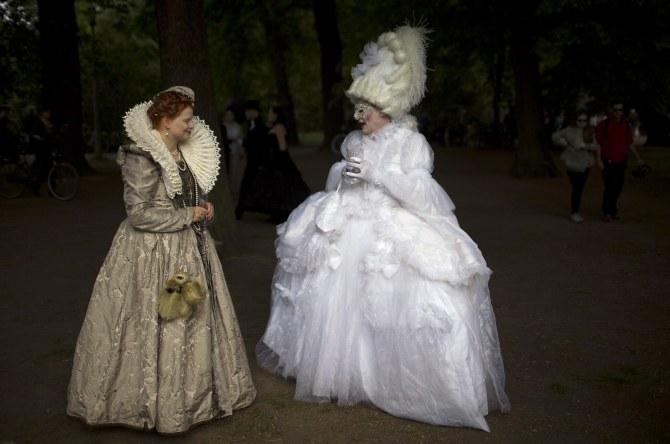 Hundreds of elegantly costumed people meet up in style for a dazzling picnic or stroll in the park.
The four-day festival, which was deemed illegal by the East German authorities when it began in 1988, is today one of the largest goth festivals in the world.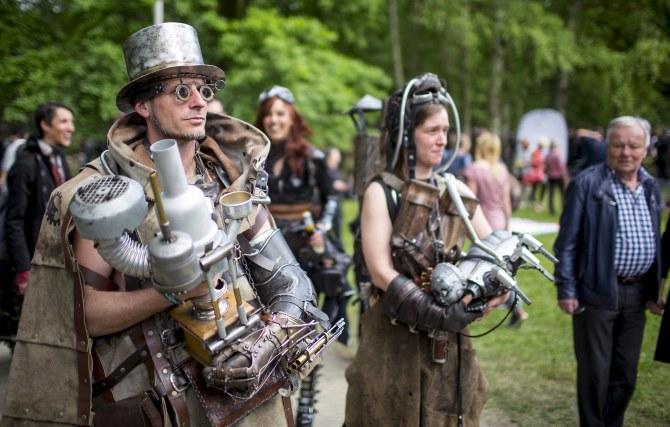 There is lots of metal, vinyl, leather, tulle, lace and, of course, black as far as the eye could see.
The first attempt at a Wave Gothic Festival in 1988 was broken up by East German police, but today the festival is welcomed by the city of Leipzig for its infusion of 5 million euro into the local economy.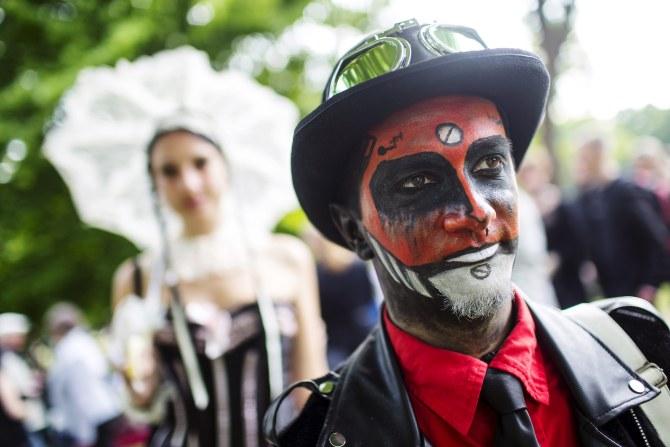 As expected, initially, Leipzig residents warily welcomed visitors who came mainly from Germany to the event itself. But today they are already used to the arrival gothic visitors each year and welcome the increasingly extensive gothic community with open arms.