It's a bird, it's a plane... Nope, it's not even Superman. It's the friendly neigbourhood drone. They are everywhere nowadays. Although the world has come a long way from the age of military drones.
Now they're being used by everyone. Filmmakers, photographers, restaurateur and engineers, and perhaps very soon even the post office, use them.
Drones can get aerial imagery where humans and not even helicopters can venture. They can be put up in the middle of the action.
Engineers use them to inspect areas under construction or repairs, estate agents can now show a house for sale to an at home customer and even fly through the interiors. Law enforcement uses them to patrol dangerous areas.
But perhaps a technology has become truly ubiquitous when it is seen serving food at a restaurant.
Rediff.com takes a look at these unmanned aerial vehicles or UAVs as they are called as they engage in activities you'd never thought you'd see.
Up above the world so high: In the near future drones could replace conventional lighting during the night-time. Pictured here is a sliver of that future with drones flying synchronically above attending conference goers as they dine outside along the ocean during the opening remarks at the beginning of the Wall Street Journal Digital Live conference at the Montage hotline Laguna Beach, California. Photograph: Mike Blake/Reuters
---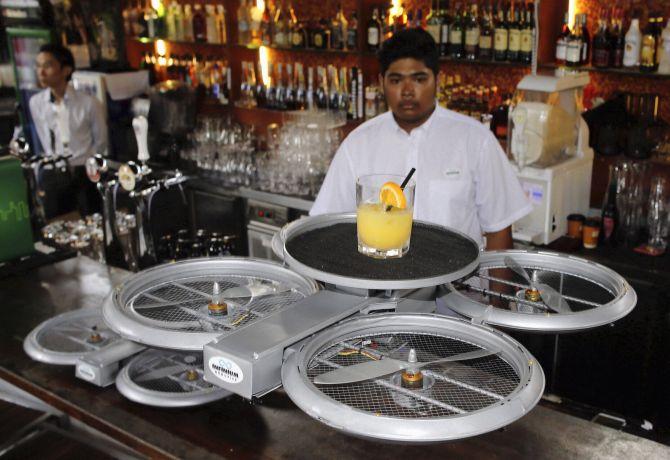 You mayget tipsy but be assured that your drone won't. A bartender watches as a pilotless aircraft takes off with an order at a restaurant during a demonstration. The drone, a working model designed by firm Infinium Robotics, aims to free up restaurant staff to do 'higher value tasks' by accurately delivering orders up to 500 grams to tables within the premise by means of anti-collision algorithms. Imagine that. Photograph: Edgar Su/Reuters
---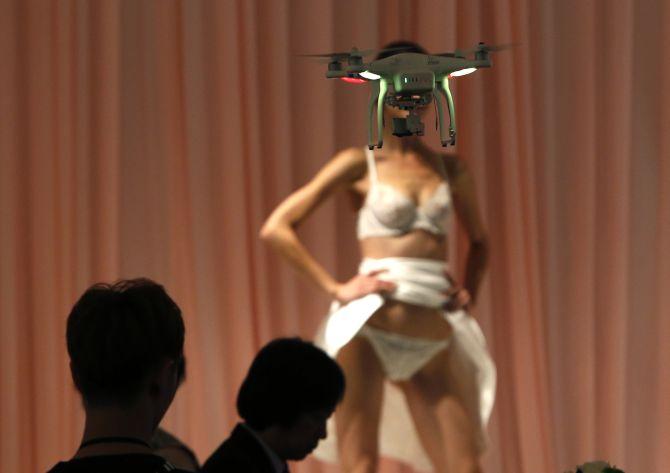 A model subject: Drones have even infiltrated the modelling industry proven by this picture of a videographer using a drone as he takes a video of a model presenting a lingerie creation at the rehearsal for Eve's Temptation collection during China Fashion Week in Beijing. Photograph: Kim Kyung-Hoon/ Reuters
---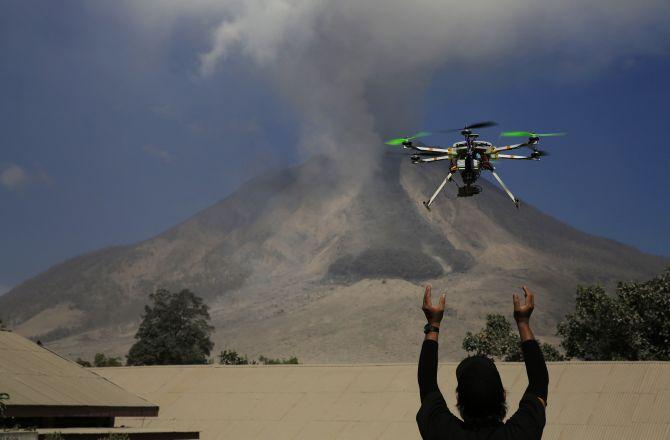 Vesuvius doesn't scare me: Remember when Pierce Brosnan couldn't save the town in the movie Dante's peak. Well that time is past. Now drones can get really close the mouths of volcanic openings and provide critical information to scientists. Photographed here is a technician releasing a drone quadcopter to monitor activity from the Mount Sinabung volcano at Sibintun village in Karo district, North Sumatra. Photograph: Beawiharta/ Reuters
---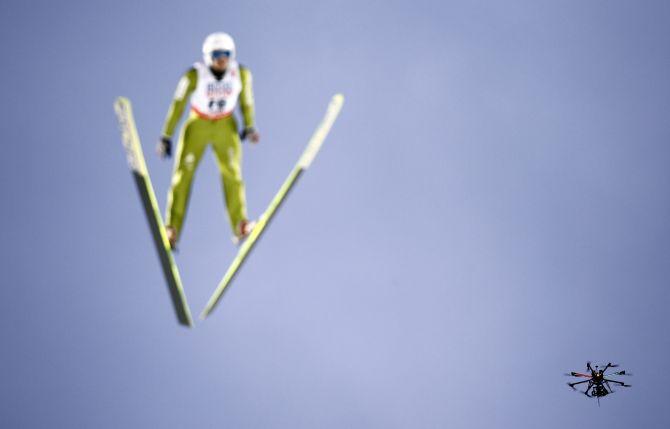 A sporting life: Drones, with their extreme mobility and spatial versatility, have found a space in the sports business as well capturing images at angles and locations that would be impossible for any photographer. A drone flies next to a pre jumper during the men's large hill individual ski jumping event at the Nordic World Ski Championships. Photograph: Kai Pfaffenbach/Reuters
---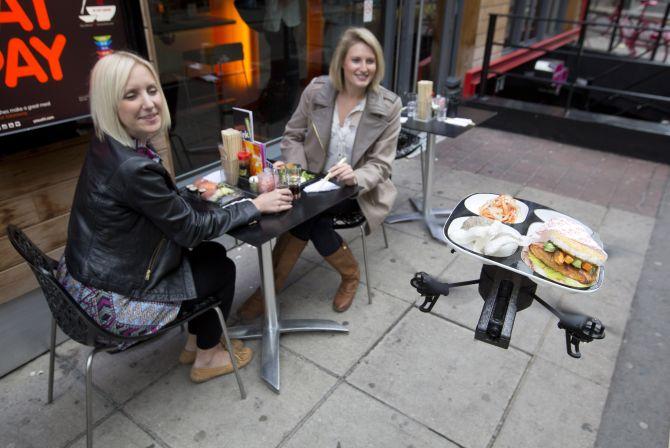 You order, sir: Are you short on waiting staff? Then buy a drone. They are efficient, fast and you don't even have to pay them. Drones are becoming increasingly popular with restaurateurs, the 'Yo! Sushi' restaurant in London features a flying sushi service tray known as the 'itray' that serves its customers. Photograph: Neil Hall/Reuters
---
Un above others: Drones are a favourite of the armed forces. Even North Korean dictator Kim Jong Un abides by their might as seen by their presence at a parade celebrating the 70th anniversary of the founding of the ruling Workers' Party of Korea, in Pyongyang. Photograph: James Pearson/ Reuters
---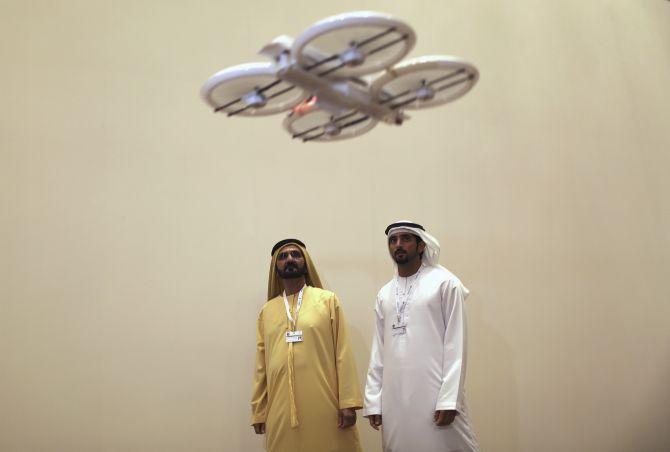 The postman rings twice: Drones are becoming increasingly popular with governments since they allow for increased interaction with their citizenry. In fact very soon your mail could be delivered by a trusty drone instead of the mailman. An unmanned aerial drone pictured during the Virtual Future Exhibition in Dubai where the UAE govt said it plans to use unmanned aerial drones to deliver official documents and packages to its citizens as part of efforts to upgrade government services. Photograph: Ahmed Jadallah/ Reuters
---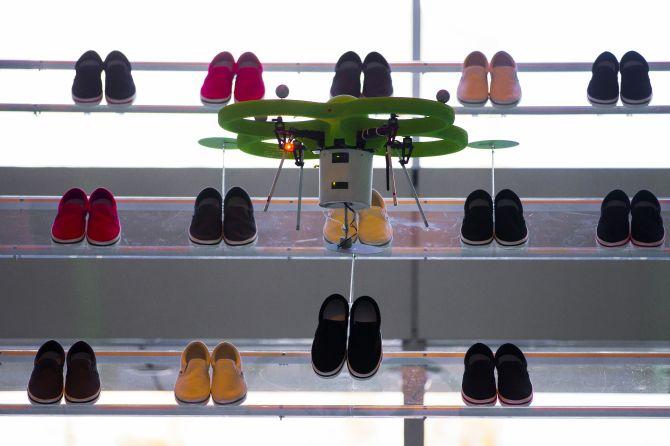 If the shoe fits: Withdrone technology becoming cheaper and more accessible it would not be surprising to see these flying machines do simple human chores in the near future. A glimpse of that future was witnessed during a presentation by the Crocs footwear company in Tokyo where a drone picked up a pair of shoes for a prospective buyer. Photograph: Thomas Peter/ Reuters
---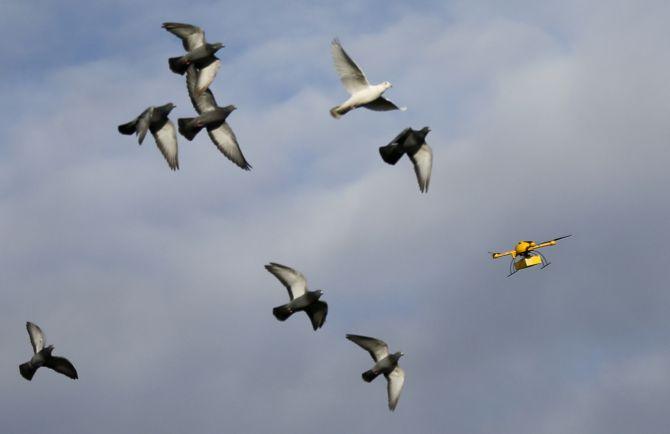 Special delivery: Want to send an emergency parcel. Have no fear, drone man is here. Not quite there yet. But drones are making their presence felt in the speedy delivery trade. Seen here is a prototype 'parcelcopter', can carry packages up to 1.2 kg, made by German postal and logistics group DHL. Photograph: Wolfgang Rattay/ Reuters
---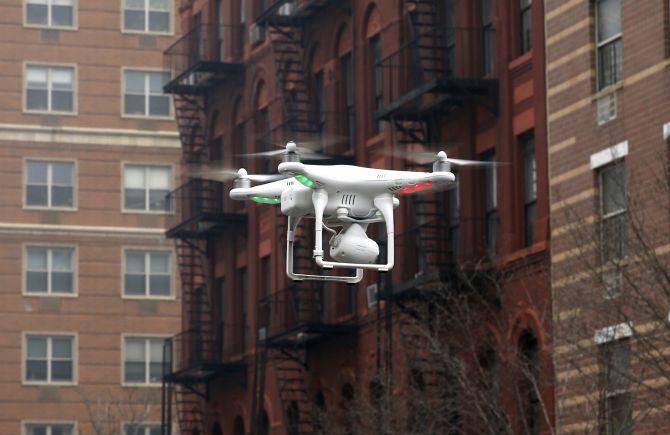 On point: Drones help in the detection of crimes as well as in rescue operations as is seen in this picture where a camera drone flies near the scene where two buildings were destroyed in an explosion, in the East Harlem section in New York City. Photograph: Mike Segar/ Reuters
---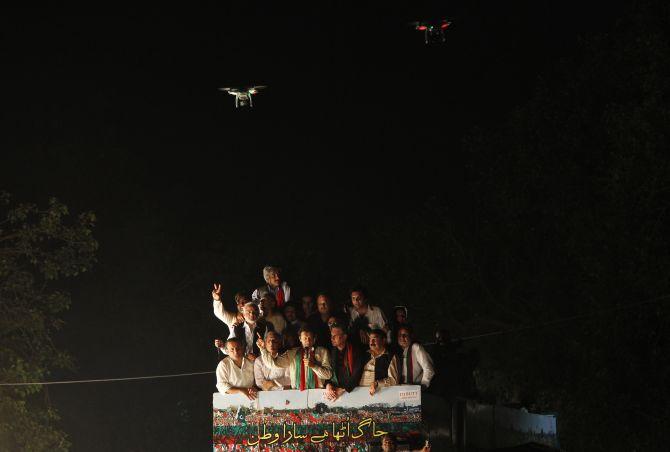 News on time: With human presence impossible in some cases drones may end up aiding the news media in covering stories that are too far away, too risky and too cost-ineffective. A drone is seen here filming protesters marching on the Pakistani capital. Photograph: Akhtar Soomro/ Reuters
---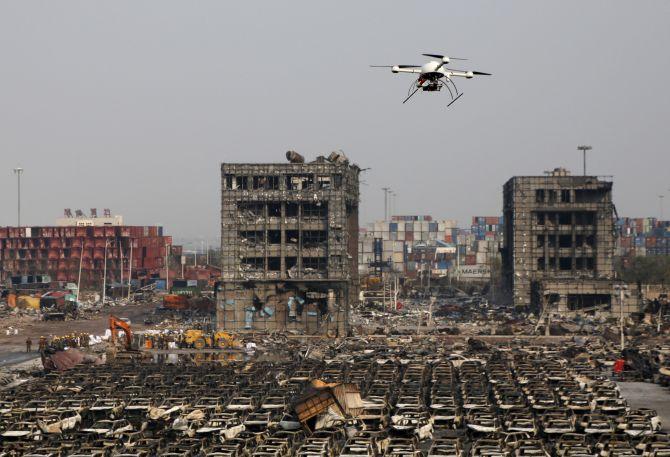 Safe travels: Drones go beyond simple air strikes and video grabs, they even allow an aerial view of an event providing a more comprehensive picture and thus aiding in coordinating efforts between various agencies. Pictured here is a drone operated by Chinese paramilitary police flies over the site of the explosions that shook China's Binhai district. Photograph: Kim Kyung-Hoon/ Reuters
---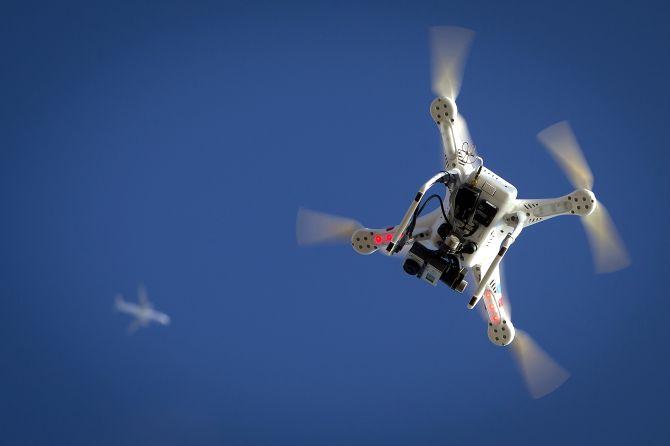 Look up: An airplane flies over a drone during the Polar Bear Plunge on Coney Island in the Brooklyn borough of New York. The Coney Island Polar Bear Club is one of the oldest winter bathing organizations in the United States and holds a New Year's Day plunge every year. Photograph: Carlo Allegri/ Reuters