Hurricane Irma hopscotched up Florida's west coast making two landfalls and driving a wall of water and winds that submerged Miami.
The storm described by many as 'one of the worst' wreaked havoc across the Caribbean and several US states. For some Caribbean islands, like Saint Martin, the destruction is nearly total, with evacuations underway as officials try to rebuild basic infrastructure.
The economic cost of the hurricane is as high as $300 billion (Rs 19.2 lakh crore). Barrie Cornes, an analyst at the stockbroker Panmure Gordon, put the overall economic cost at $300 billion, with insurance firms potentially on the hook for between $100bn and $150bn when the clean-up operation gets under way.
Here are some of the most telling images from the ground from Irma's path.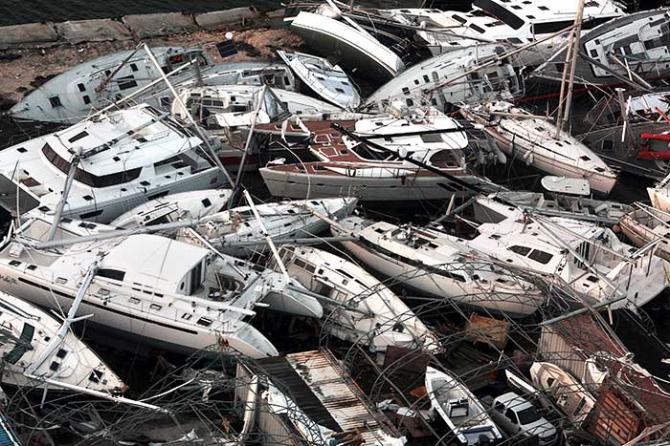 Boats wrecked by Hurricane Irma are seen from a plane in Saint Maarten, Netherlands.
Photograph: Alvin Baez/Reuters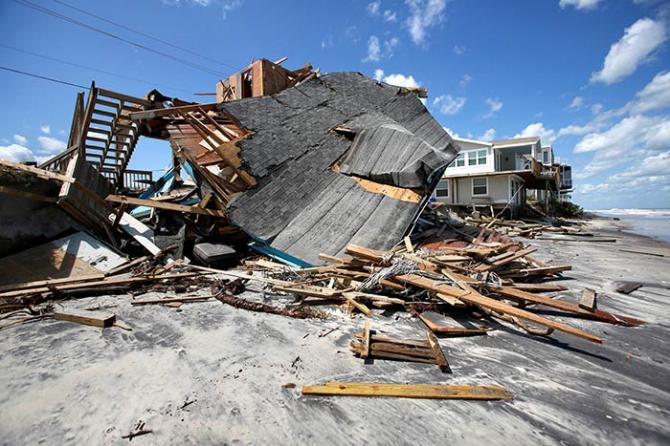 A collapsed coastal house is pictured after Hurricane Irma passed the area in Ponte Vedra Beach, Florida, US.
Photograph: Chris Wattie/Reuters
A lone shoe lies atop debris after flood waters engulfed streets after Hurricane Irma in Jacksonville, Florida.
Photograph: Mark Makela/Reuters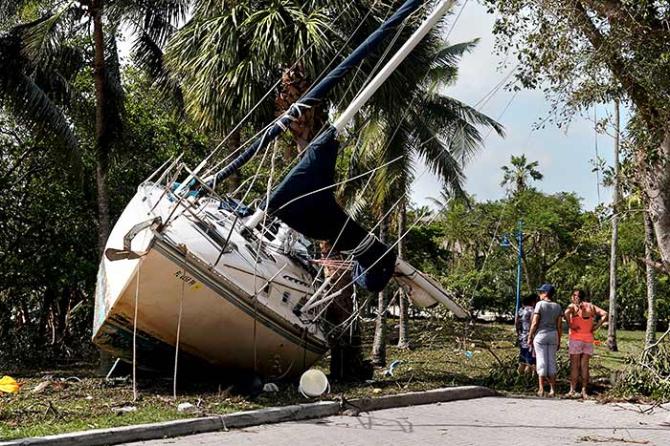 Wrecked boats that have come ashore are pictured in Coconut Grove following Hurricane Irma in Miami, Florida.
Photograph: Carlo Allegri/Reuters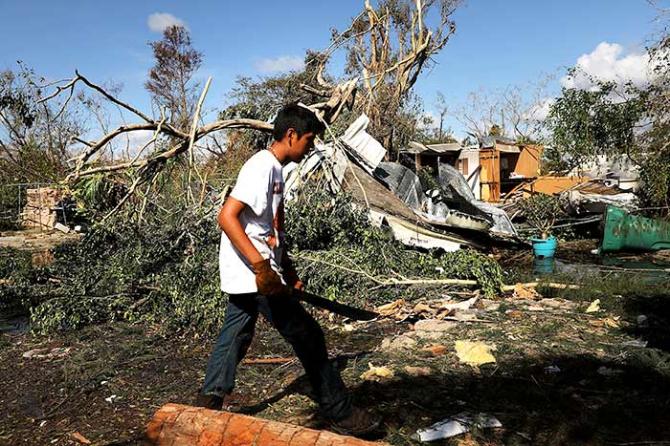 A teenager walks round his damaged home in a heavily damaged community in rural Naples two days after Hurricane Irma swept through the area. Hurricane Irma made another landfall near Naples after inundating the Florida Keys. Electricity was out in much of the region with extensive flooding.
Photograph: Spencer Platt/Getty Images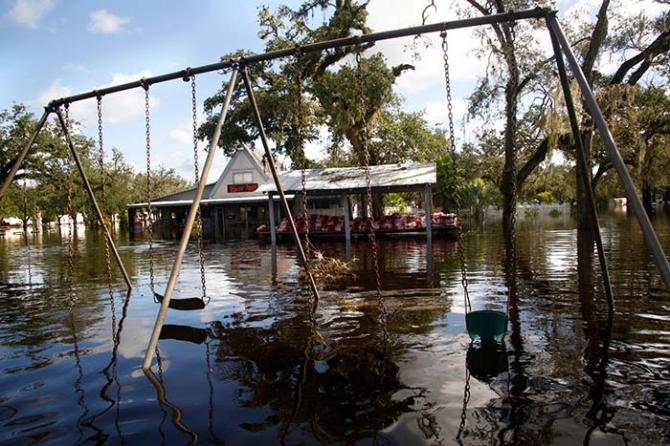 Water from the nearby Peace River floods the Peace River Campground in the wake of Hurricane Irma in Arcadia, Florida.
Photograph: Brian Blanco/Getty Images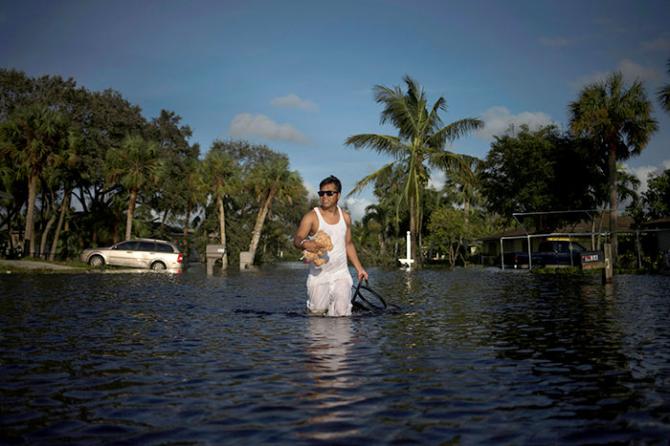 A man wades out of flood waters from his house in the aftermath of Hurricane Irma in Bonita Springs, Florida.
Photograph: Adrees Latif/Reuters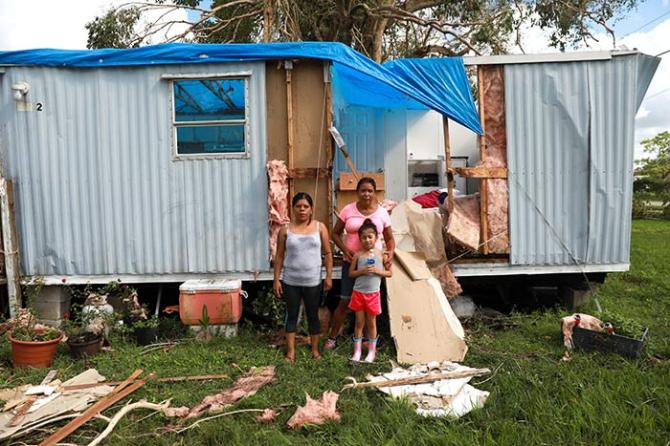 Sandra Guzman, left, with her daughter Maria Valentine Romero and their friend Rosa Pulito are pictured in front of Sandra's mobile home which was destroyed after the passing of Hurricane Irma in
Immokalee, Florida.
Photograph: Stephen Yang/Reuters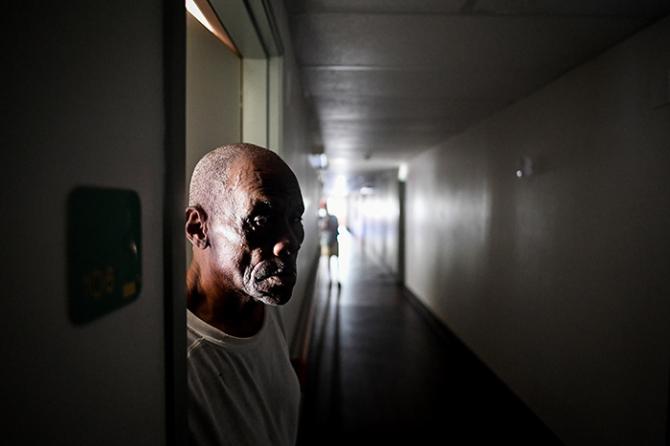 Two days after Hurricane Irma, Rodriquez Benjamin, 86, stands in the door of his room waiting for help to arrive, without power, food, or water at Cypress Run, an assisted living facility, in Immokalee, Florida.
Photograph: Bryan Woolston/Reuters
Property damage is seen at a mobile home park after passing of Hurricane Irma in Naples, Florida.
Photograph: Stephen Yang/Reuters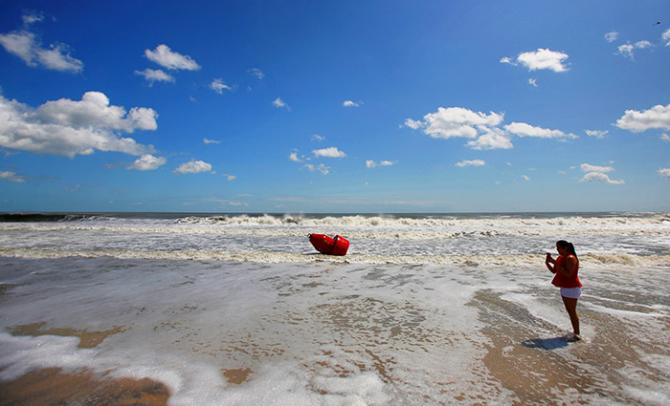 A woman takes a photo of a buoy that washed up on the beach after Hurricane Irma passed the area in Vilano Beach, Florida.
Photograph: Chris Wattie/Reuters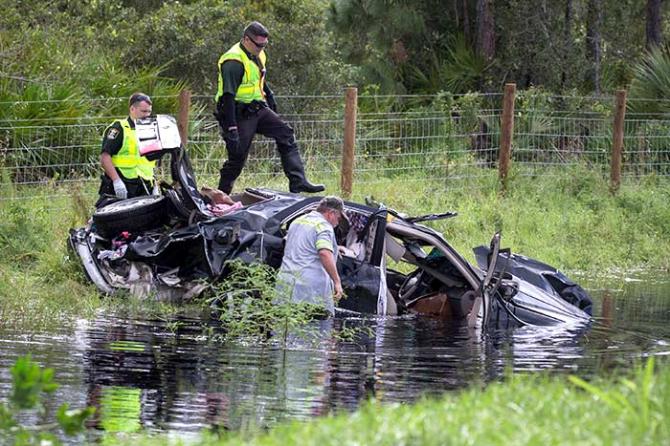 Police officers climb atop a vehicle, from which they reported no fatalities, while trying to salvage it from the aftermath of Hurricane Irma in North Port, Florida.
Photograph: Adrees Latif/Reuters
Local residents walk along a destroyed trailer park after Hurricane Irma strikes Florida, in Plantation Key in Florida.
Photograph: Carlos Barria/Reuters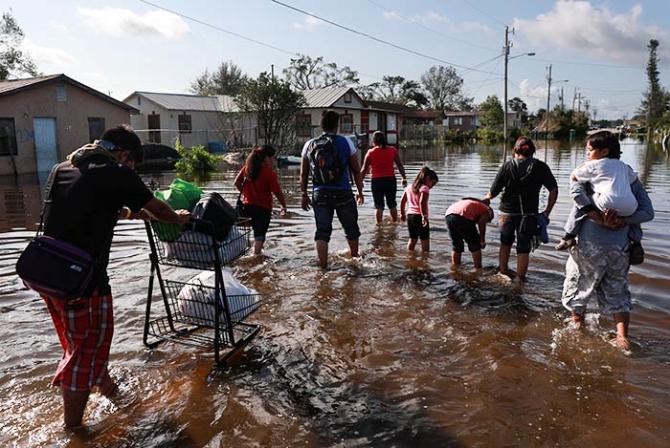 Local residents walk down a street that was flooded after the passing of Hurricane Irma in Immokalee, Florida.
Photograph: Stephen Yang/Reuters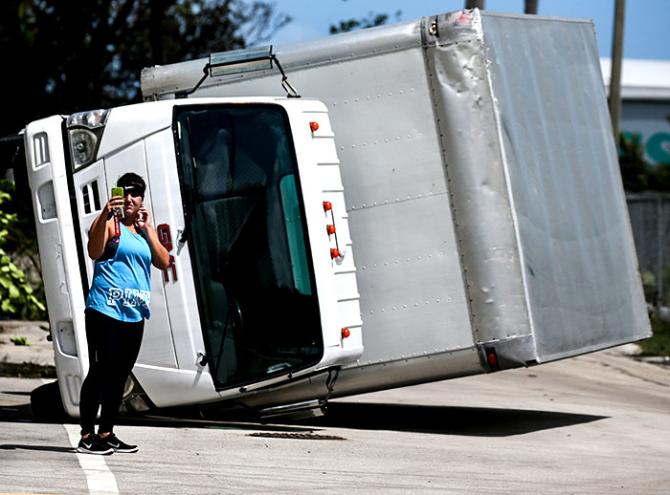 A woman takes a selfie in front of a blown over truck following Hurricane Irma in Miami, Florida.
Photograph: Carlo Allegri/Reuters
Children run past a boat that has come ashore following Hurricane Irma in Key Biscayne, Florida.
Photograph: Carlo Allegri/Reuters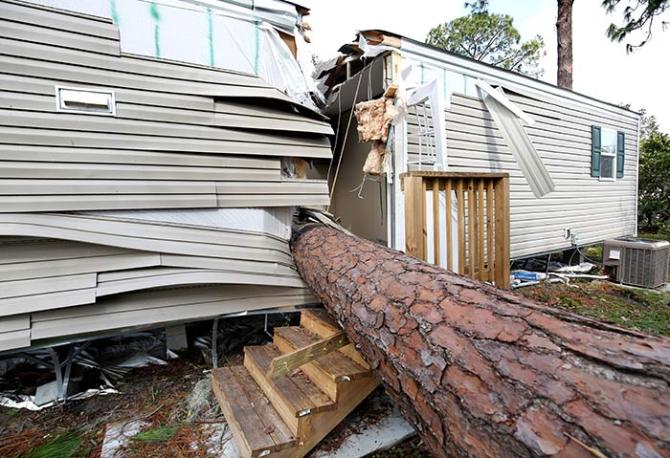 An uprooted tree that slashed a trailer in half in the wake of Hurricane Irma is pictured at a mobile home park in Kissimmee, Florida.
Photograph: Gregg Newton/Reuters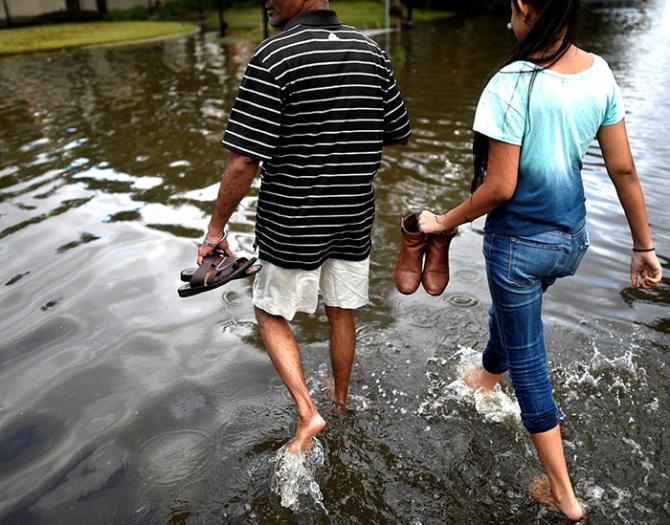 A father and daughter walk through floodwaters after Hurricane Irma in Jacksonville, Florida.
Photograph: Mark Makela/Reuters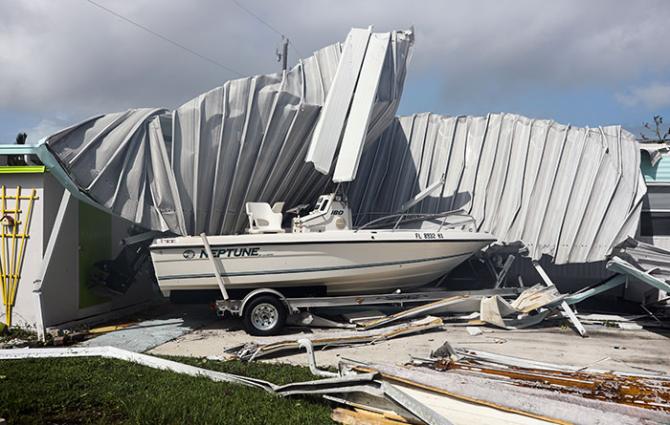 Property damage is seen at a mobile home park after Hurricane Irma in Naples, Florida.
Photograph: Stephen Yang/Reuters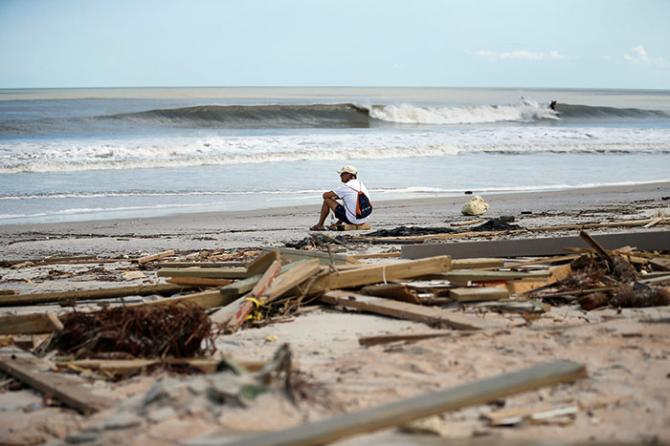 A man sits amongst debris on the beach after Hurricane Irma passed the area in Ponte Vedra Beach, Florida.
Photograph: Chris Wattie/Reuters


Mexican immigrants gather outside their home which was left devastated by Hurricane Irma in Naples, Florida.
Photograph: Adrees Latif/Reuters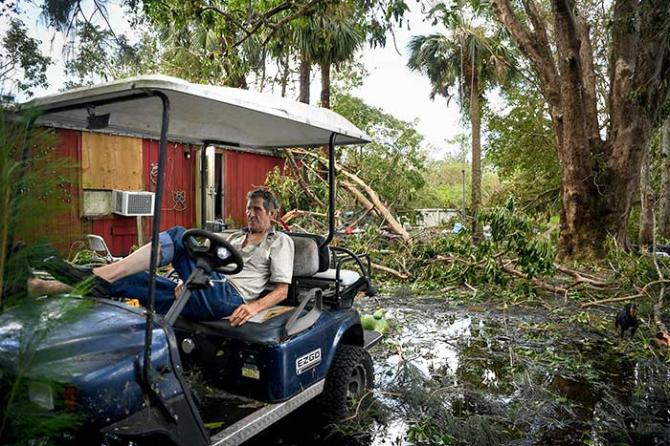 Robert Market, 82, sits in a golf cart in his front yard filled with fallen trees, flood waters, and debris, following Hurricane Irma, near Jerome, Florida.
Photograph: Bryan Woolston/Reuters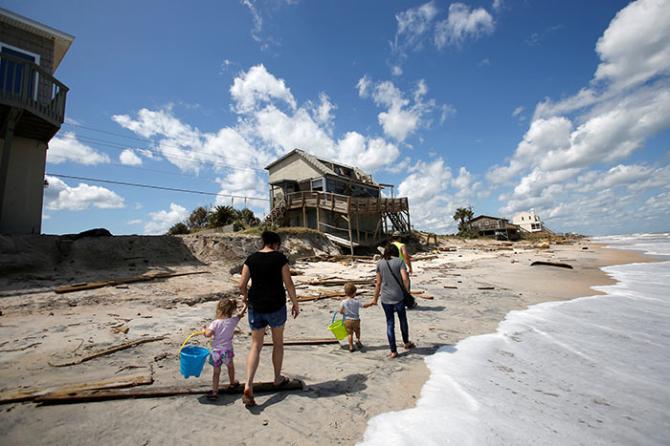 Beachgoers walk past a damaged coastal house after Hurricane Irma passed the area in Ponte Vedra Beach, Florida.
Photograph: Chris Wattie/Reuters