Following an attempt to overthrow his government, Turkish President Recep Erdogan has ordered the arrest of over 2,000 people.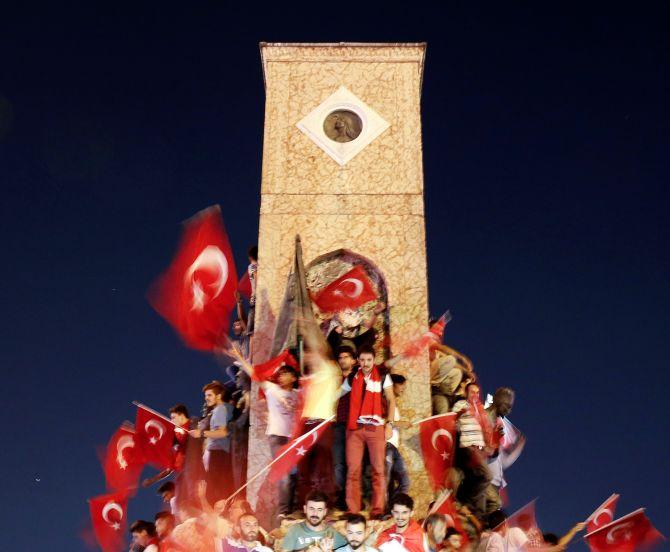 Image: Supporters of Turkish President Tayyip Erdogan wave Turkish national flags and shout slogans as they stand around the Republic Monument in Taksim Square in Istanbul. Photograph: Alkis Konstantinidis/Reuters
Turkish President Recep Erdogan has described the attempted coup as a 'gift from God' as it will allow him to 'cleanse' the army.
The hard-line Islamist leader managed to cling onto power after making a dramatic appeal over FaceTime for his supporters to confront the military who attempted to seize strategic locations in Istanbul and Ankara.
Erdogan, who was in Marmaris on the Mediterranean coast at the time rang a journalist who put him live on air to make his dramatic appeal for support.
Image: Turkish President Tayyip Erdogan makes a speech protected by bodyguards in Istanbul. Photograph: Murad Sezer/Reuters
After returning to Istanbul overnight on the Turkish government Gulfstream IV jet, Erdogan addressed jubilant followers as his security forces launched their purge on elements accused of disloyalty.
Erdogan made a brief public appearance amid a phalanx of heavily-armed bodyguards, he said: "They will pay a heavy price for this. This uprising is a gift from God to us because this will be a reason to cleanse our army."
At least 265 people were killed in clashes between the armed forces and police. Scores of civilians were among the dead.
Image: Supporters of Turkish President Tayyip Erdogan gather at Taksim Square in Turkey. Photograph: Kemal Aslan/Reuters
Rebel leader General Erdal Ozturk, who commands armed forces in Istanbul has been arrested and charged with treason. The state-run news agency Anadolu said the commander of the Second Army, which guards the borders with Iraq, Syria and Iran has also been detained. nGovernment forces arrested 2,839 accused coup supporters.
Erdogan's survival has turned him into a "sort of a mythical figure" and could further erode democracy in Turkey, said Soner Cagaptay, director of the Turkish research program at The Washington Institute. "It will allow him (Erdogan) to crack down on liberty and freedom of association, assembly, expression and media in ways that we haven't seen before and find strong public support within the country," he said.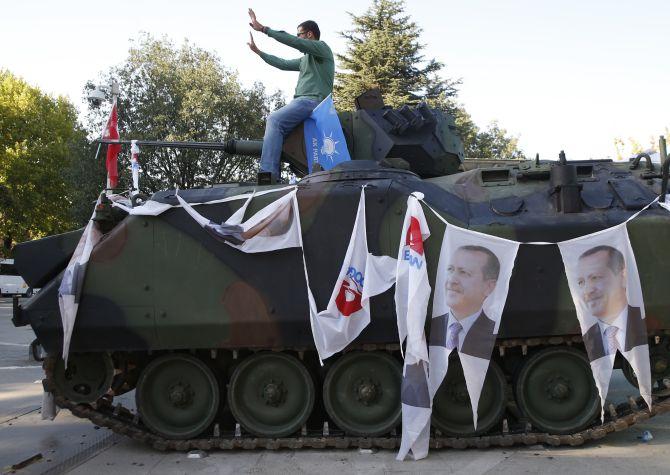 Image: A man poses on an armored vehicle with portraits of Turkish President Tayyip Erdogan parked outside the parliament building in Ankara. Photograph: Baz Ratner/Reuters