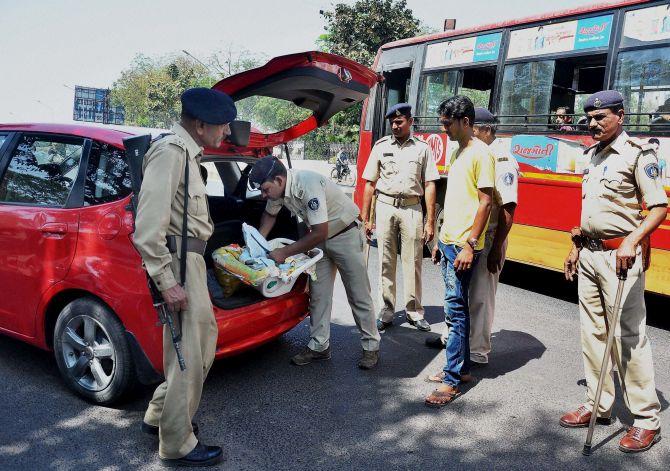 Delhi was on Sunday put on high alert after the police received inputs that 10 suspected Lashkar-e-Tayiba and Jaish-e-Mohammed terrorists believed to have entered India from Pakistan through Gujarat may have sneaked into the national capital for an attack even as four elite National Security Guard teams were rushed to the western state.
On the eve of 'Maha Shivratri' festival, Gujarat as well as other metros and Jammu and Kashmir were also on high alert with raids conducted at Kutch and other places, security being beefed up at vital installations, sensitive areas and at all main temples including the famous Somnath temple where a NSG team has been deployed.
The Gir-Somnath district authorities have postponed Monday's cultural event at Somnath temple owing to the terror threat.
In Kolkata, security has been stepped up at NSCBoseInternationalAirport after an e-mail threat that it would be blown up within 24 hours, airport officials said.
The e-mail came in the airport manager's ID early Sunday and it was claimed to have been sent from Germany, they said.
In the national capital, security was beefed up at vital installations, important buildings and crowded places after Delhi police received inputs about a potential terror strike in the city. A constant vigil was maintained near prominent malls, hospitals, schools and colleges.
A police source said the input specifically mentions about 10 militants having entered India via Gujarat and that they could carry out a terror strike in Delhi.
The Special Cell and Crime Branch of Delhi police have been briefed about the input separately, so that activities of gangs operating in and around the city and elements with suspected terror links can be monitored.
The police are also ensuring that CCTV cameras at all places with high footfall, like popular markets in the city and metro stations are functional. Patrolling across the city has been intensified.
Security has been ramped up at major religious sites in Gujarat like SomnathTemple and Akshardham and in metro cities -- Mumbai, Delhi, Chennai, Kolkata and Bengaluru.
Vital installations across the metros like railway stations and airports are also being secured.
An advisory has been issued to enhance security at all strategic locations, sensitive industrial sites and religious places in Gujarat after intelligence inputs suggested that the terrorists have entered the state taking the sea route, official sources said.
Gujarat DGP P C Thakur held a meeting with NSG officials in Gandhinagar and announced that one team will be sent to step up security at Somnath temple in Gir-Somnath district.
Thakur issued orders late Saturday night cancelling leave of all policemen.
"Four teams of NSG reached here(Gandhinagar) last night. Out of these, three will remain here, while one team will go to Somnath," he said. The size of each team could vary between 50 to 90 personnel.
Image: Police check vehicles after a high alert was sounded out across the nation. Photograph: PTI