Since the beginning of the conflict, Syrian children have been the forgotten victims of the violent conflict that has swept the region for over four-and-a-half years. Towns have been seized by rebels and Islamic State terrorists, and thousands have been killed and maimed even more.
Of the four million people who have fled the country, nearly two million of them are children.
And caught in the middle of this awfulness are the children, around 4 lakh of them, relying on the elders who are being forced to make desperate choices. The country has been struggling to ensure that Syrian schoolchildren have the access to education to which they are entitled under international law.
Rediff.com looks at the lives of children in Syria.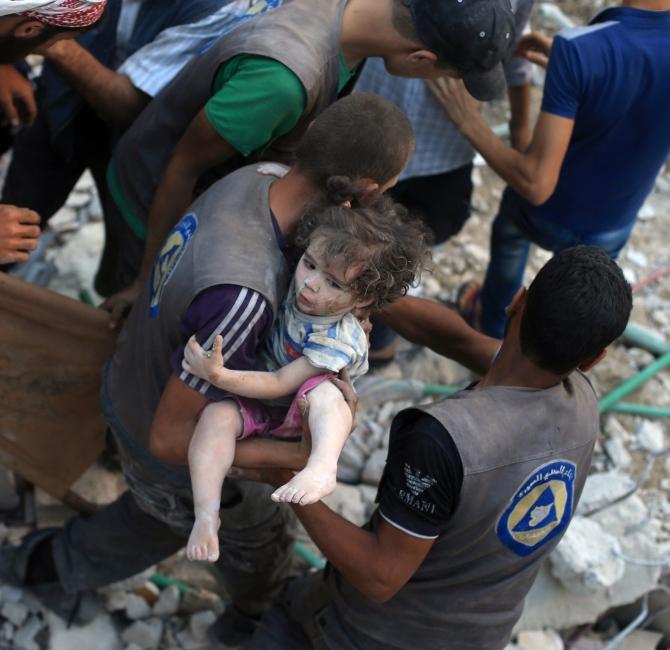 Image: A medic carries an injured girl that survived under debris from what activists said was barrel bombs dropped by forces loyal to Syria's President Bashar Al-Assad in Douma, eastern Ghouta, near Damascus, Syria. Photograph: Bassam Khabieh/Reuters
---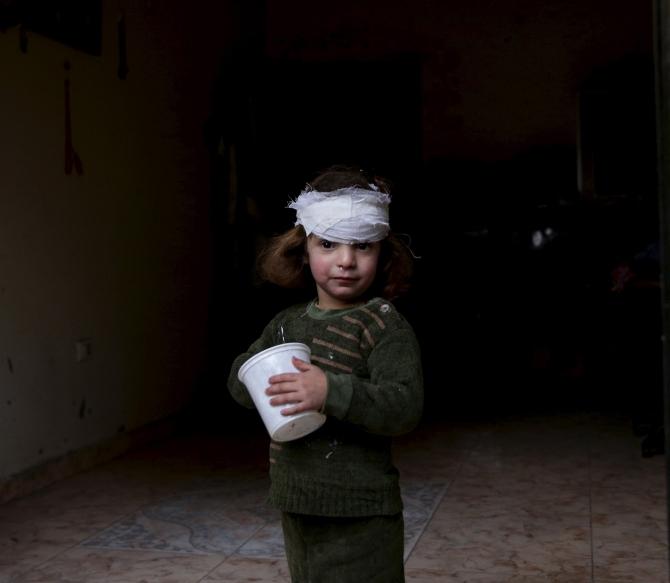 Image: A girl, who was injured by what activists said was shelling by forces loyal to Syria's President Bashar al-Assad, stands at the entrance of her house in the Douma neighborhood of Damascus, Syria. Photograph: Bassam Khabieh/Reuters
---
Image: Girls who survived what activists said was a ground-to-ground missile attack by forces of Syria's President Bashar al-Assad, hold hands at Aleppo's Bab al-Hadeed district. Photograph: Abdalrhman Ismail/Reuters
---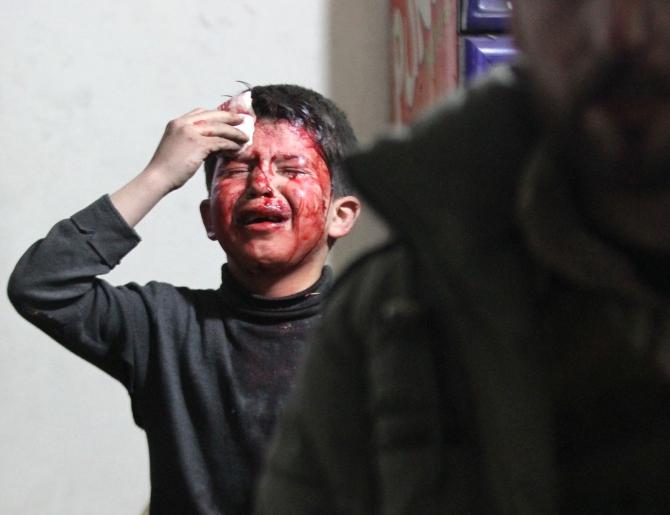 Image: An injured boy reacts in a field hospital after what activists said were air strikes by forces loyal to Syria's President Bashar al-Assad in the Douma neighborhood of Damascus. Photograph: Mohammed Badra/Reuters
---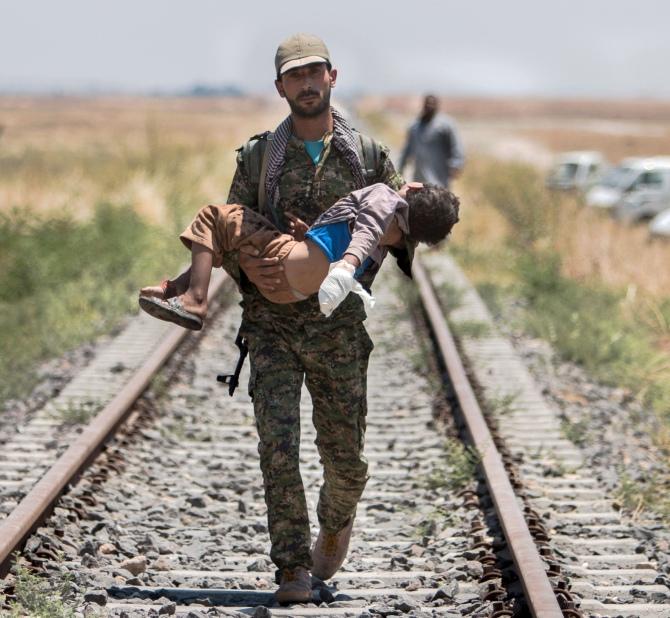 Image: A Kurdish People's Protection Units fighter carries a boy injured by what they said was a mine after they fled Maskana town in the Aleppo countryside and make their way towards the Turkish border in Tel Abyad town, Raqqa governorate. Photograph: Rodi Said/Reuters
---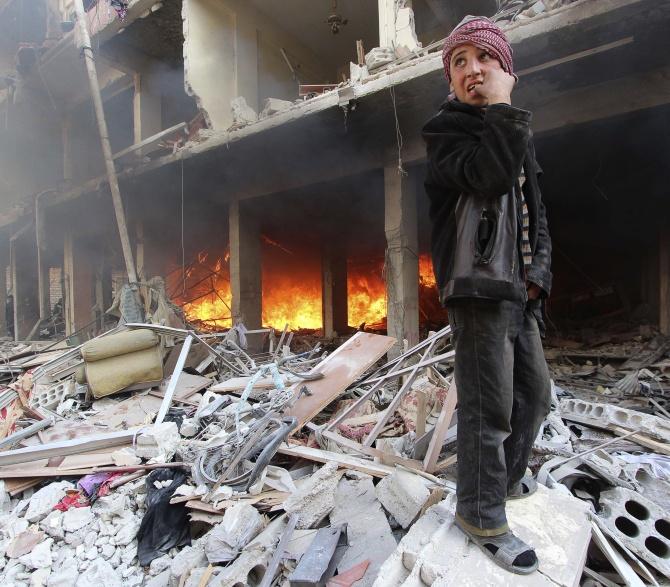 Image: A boy stands on rubble as people try to put out a fire after what activists said were airstrikes followed by shelling by forces loyal to Syria's President Bashar al-Assad in the Douma neighborhood of Damascus. Photograph: Mohammed Badra/Reuters
---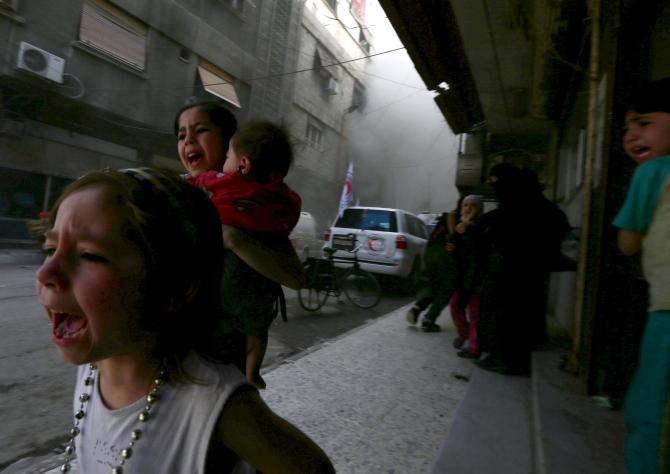 Image: Ghazal, 4, (left) and Judy, 7, carrying 8-month-old Suhair, react after what activists said was shelling by forces loyal to Syria's President Bashar al-Assad near the Syrian Arab Red Crescent center in the Douma neighborhood of Damascus.Photograph: Bassam Khabieh/Reuters
---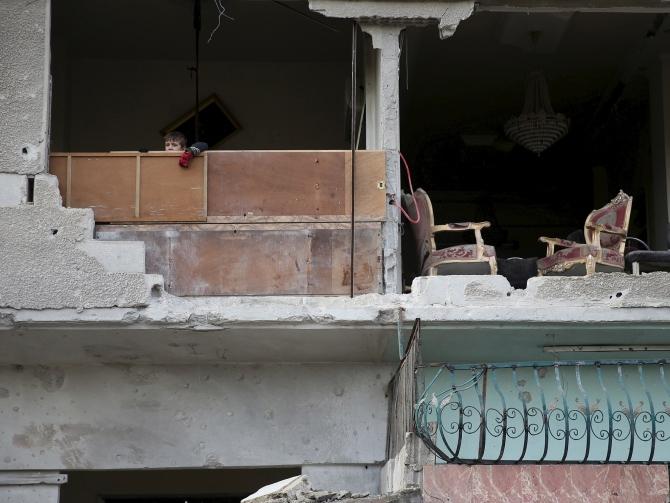 Image: A boy leans on a wooden board inside a damaged house in the town of Douma, eastern Ghouta in Damascus. Photograph: Bassam Khabieh/Reuters
---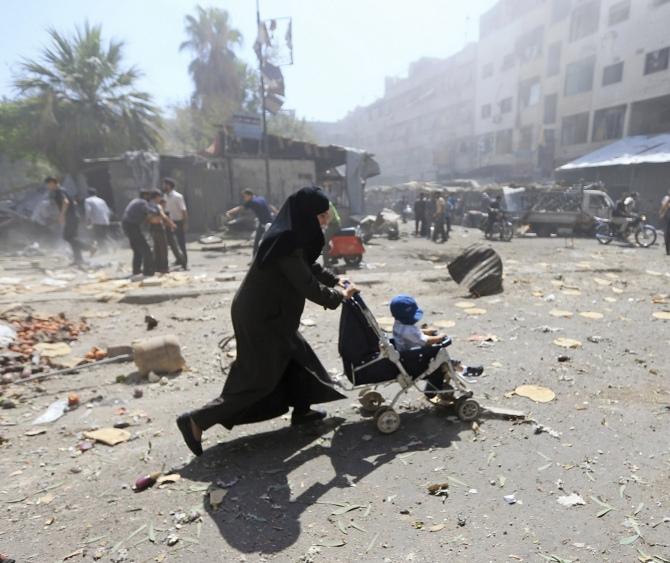 Image: A woman pushes a baby stroller as she rushes away after what activists said were airstrikes by forces loyal to Syria's President Bashar al-Assad on a busy marketplace in Douma, near Damascus. Photograph: Bassam Khabieh/Reuter
---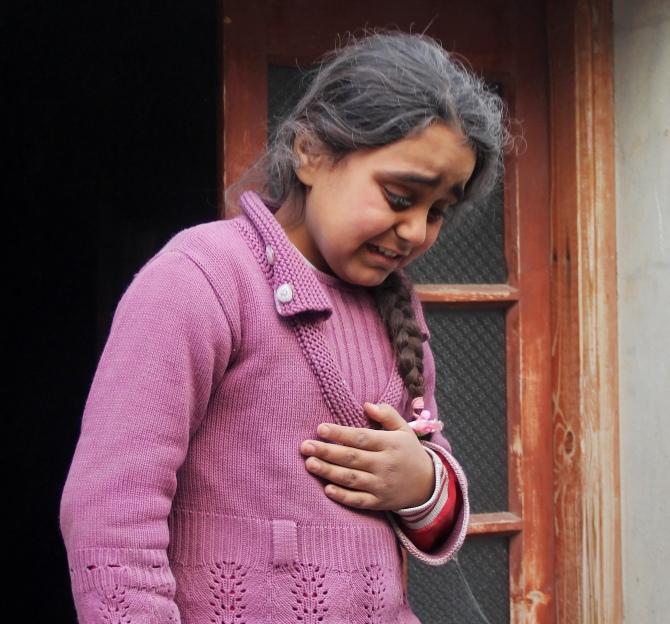 Image: A girls reacts at a site hit by what activists said were two barrels bombs, dropped by forces loyal to Syria's President Bashar al-Assad, in the northwestern Homs district of Al Waer. Photograph: Stringer/Reuters
---