Thousands observed a moment of silence and watched jets streak across the clear blue sky at a ceremony at Pearl Harbor marking the 75th anniversary of the attack that plunged the United States into World War II and left more than 2,400 service people dead.
Japan's devastating attack on December 7, 1941 caught America off guard, sinking or heavily damaging eight US battleships. The bombing took place at 7:55 am Honolulu time on December 7, 1941, famously dubbed "a date which will live in infamy" by US President Franklin D Roosevelt.
In the words of US President Barack Obama, "Seventy-five years ago today, a sudden and unprovoked attack turned a tranquil harbour into a sea of flames. Over 2,400 American patriots lost their lives -- military and civilian, men, women and children."
"Their sacrifice galvanised millions of GIs and Rosie the Riveters who answered the call to defend liberty at its moment of maximum peril. In the hours after the attack, President Roosevelt promised that 'the American people in their righteous might will win through to absolute victory'. Thanks to the heroism of a generation, we did," Obama said.
Fewer than 200 survivors of the attacks there and on other military bases in Hawaii are alive. And they gathered at a pier overlooking the memorial to the sunken Arizona, which lies at the bottom of Pearl Harbour.
Here are some sombre moments from the commemoration: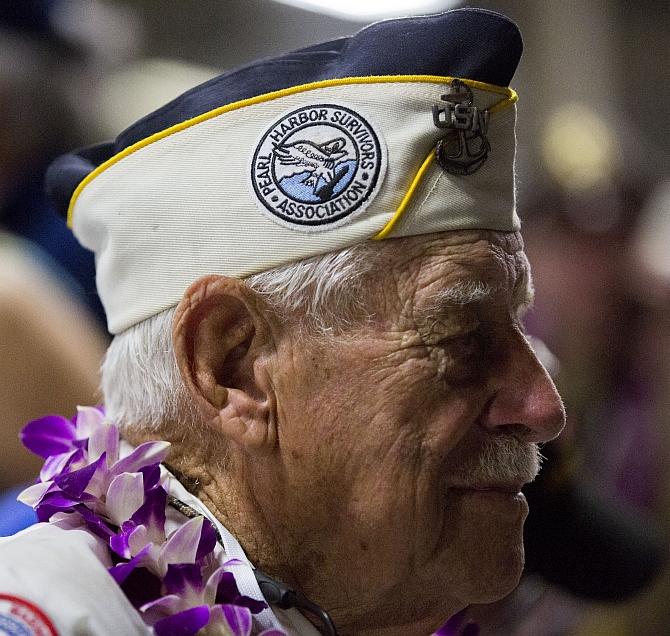 Pearl Harbour survivor Dalton Walling sits with other survivors before the start of a ceremony commemorating the 75th anniversary of the attack on Pearl Harbor at Kilo Pier on December 7, 2016 in Honolulu, Hawaii. Photograph: Kent Nishimura/Getty Images
---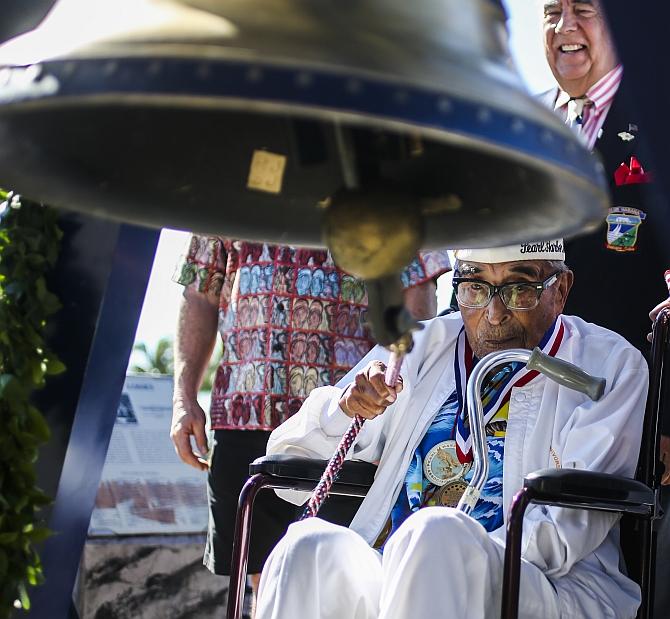 Ray Chavez, 104, the oldest living Pearl Harbour survivor, rings the Freedom Bell during the Freedom Bell Opening Ceremony and Bell Ringing at the USS Bowfin Submarine Museum & Park on Pearl Harbour, Hawaii, US. Photograph: Cpl Wesley Timm/US Marine Corps/Reuters
---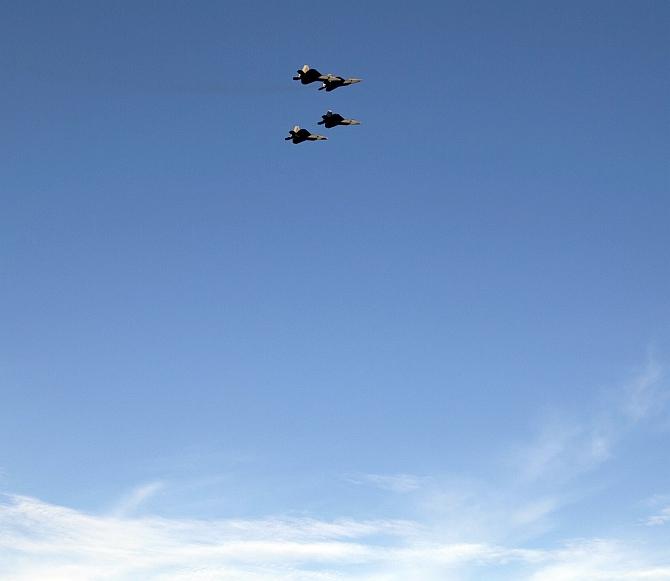 Planes from the 199th Fighter Squadron, Hawaii Air National Guard and the 19th Fighter Squadron, US Air Force perform a missing man fly over, over the USS Arizona Memorial at Kilo Pier on December 07, 2016 in Honolulu, Hawaii. Photograph: Kent Nishimura/Getty Images
---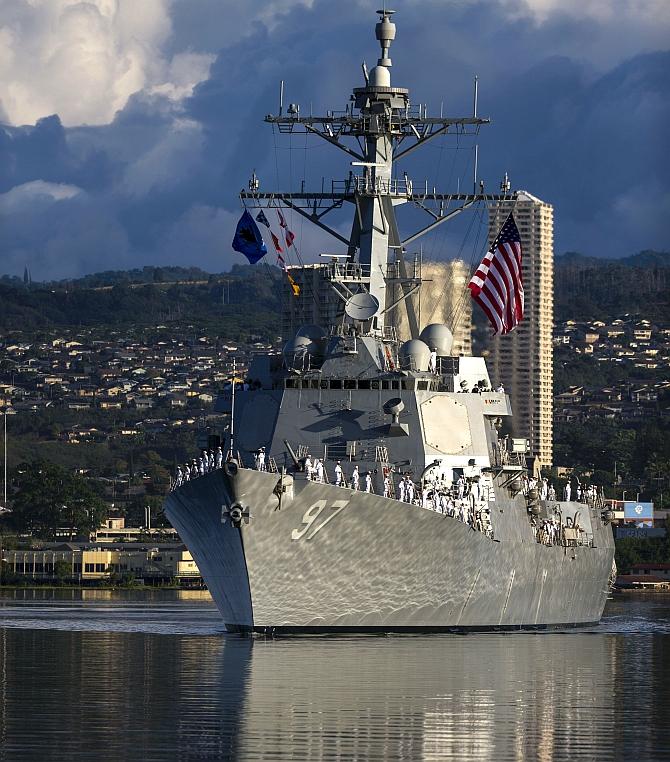 The USS Halsey performs a Pass-in-Review. Photograph: Kent Nishimura/Getty Images
---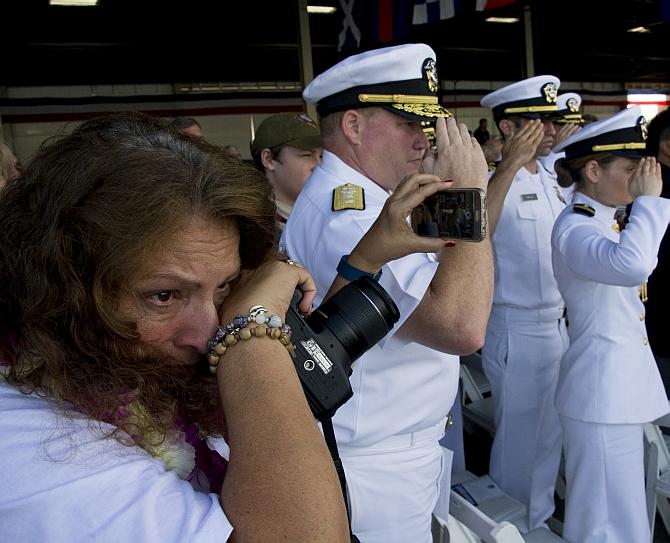 Charlene Miranda-Wood, left, holds back tears during the rifle salute as she remembers her father, Vic Miranda, a Pearl Harbour survivor who passed away last year. Photograph: Craig T Kojima/Getty Images
---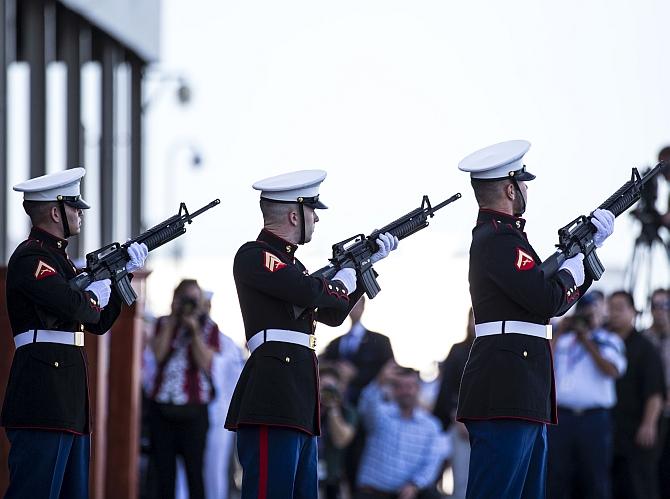 A US Marine Corps unit fires a rifle salute during the ceremony at Kilo Pier. Photograph: Kent Nishimura/Getty Images
---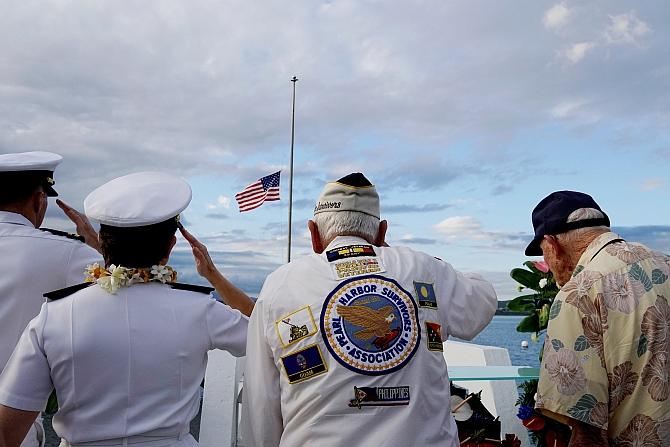 Pearl Harbour survivors Delton Walling (centre), Gilbert Meyer (right) and US Navy Admiral Margaret Kibben salute during a ceremony honouring the sailors of the USS Utah at the memorial on Ford Island. Photograph: Hugh Gentry/Reuters
---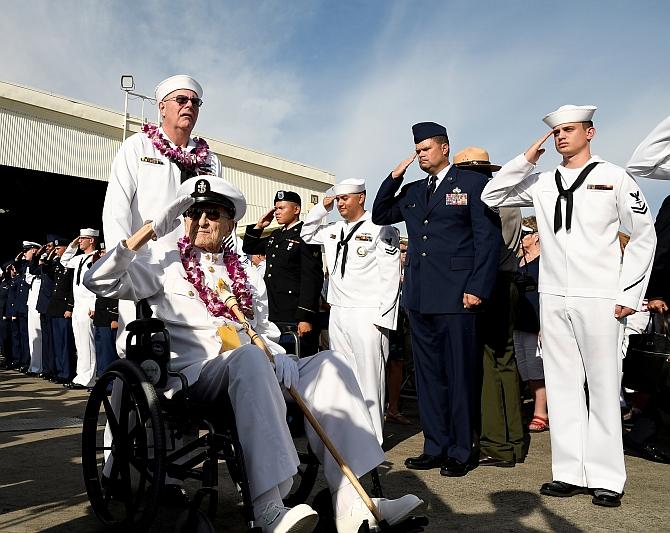 Pearl Harbour survivor Robert Coles salutes active US service members after the ceremonies honouring the 75th anniversary of the attack at Kilo Pier on Joint Base Pearl Harbor-Hickam. Photograph: Hugh Gentry/Reuters