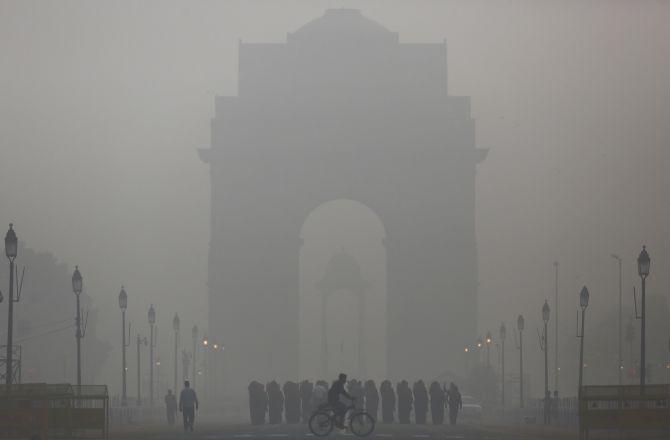 As the climate change talks in Paris gather momentum towards reducing the global carbon footprint, China and India brought the world back to a stark reality with their capital cities shrouded in thick smog, a product of runaway economic growth, on Tuesday.
Beijing choked on the smog after air pollution levels skyrocketed on Monday to over 20 times the World Health Organisation approved safe levels.
The quality of air in Delhi, going through one of its worst spells of pollution this season, largely fell in the 'very poor' category with the National Air Quality Index recording 'severe' level of pollutants in some areas.
Increased use of coal for heating during winter has been the main factor behind surging levels of PM 2.5, airborne particles that measure less than 2.5 microns in diameter and are especially harmful to human health.
Reducing coal use and promoting cleaner forms of energy are set to play a crucial role in the nations' pledges at the COP21 summit.
Rediff.com takes a look at nebulous images of the smog that blackened the skies of the two capitals.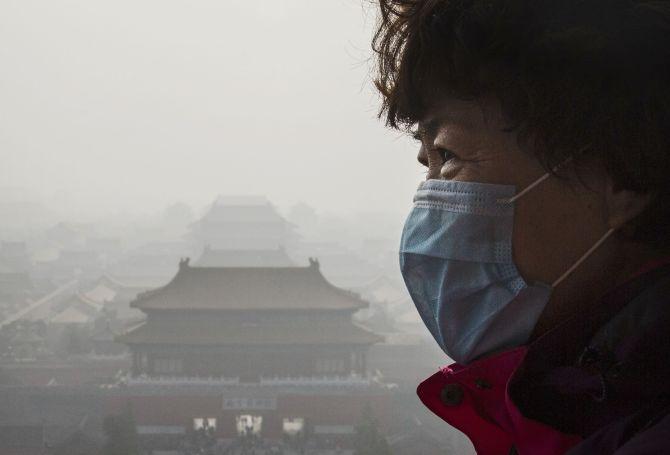 Image: A Chinese woman wears a mask as haze from smog caused by air pollution hangs over the Forbidden City in Beijing, China. As a result of industry, the use of coal, and automobile emissions, the air quality in China's capital and other major cities is often many times worse than standards set by the World Health Organisation. Photograph: Kevin Frayer/ Getty Images
---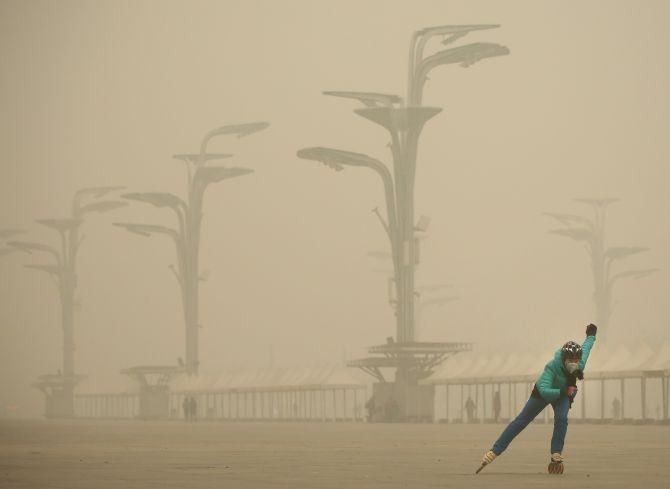 Image: A woman wearing a mask practices roller blading at Olympic Park during dheavy smog in Beijing, China. The representatives of the governments of more than 190 countries are meeting in Paris this week, including Chinese President Xi Jinping will attend the Paris meeting. Photograph: Feng Li/ Getty Images
---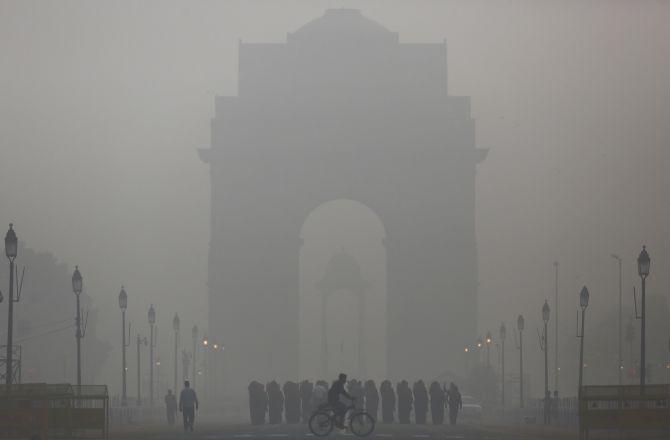 Image: A man rides his bicycle next to Indian soldiers marching in front of India Gate on a smoggy morning in New Delhi, India. Photograph: Anindito Mukherjee/ Getty Images
---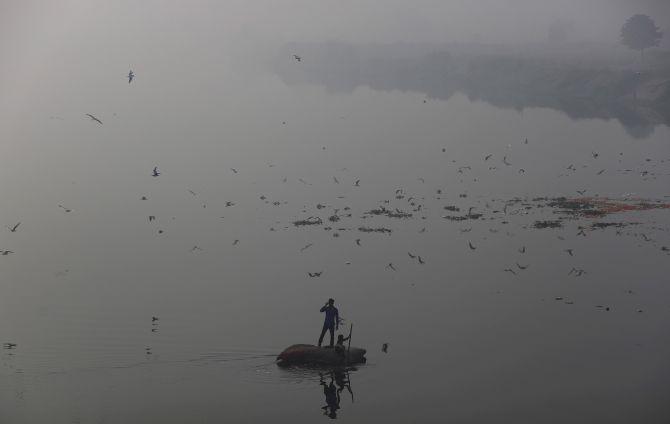 Image: Boys look for recyclable items in the waters of river Yamuna on a smoggy morning in New Delhi, India. Photograph: Anindito Mukherjee/ Getty Images
---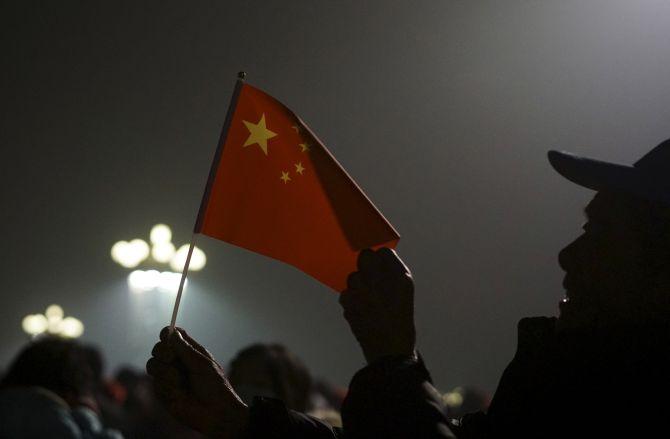 Image: A visitor waves a Chinese national flag as people wait for a flag raising ceremony at the Tiananmen Square amid heavy smog in Beijing, China. Photograph: China Daily/ Getty Images
---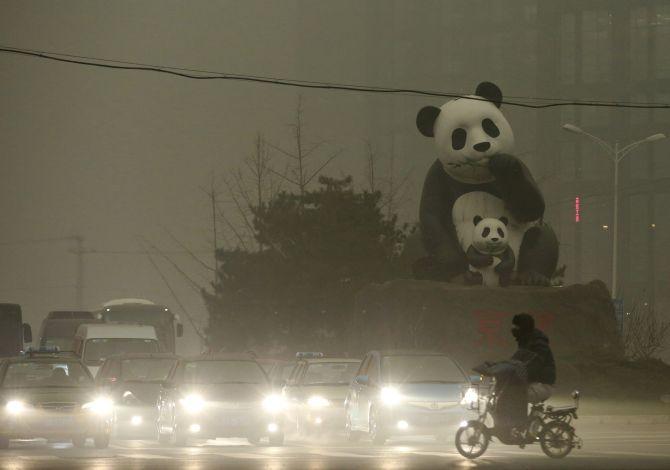 Image: A resident rides an electric bicycle across a street amid heavy smog as vehicles wait for a traffic light next to a statue of pandas, a landmark of the Wangjing area in Beijing, China. Photograph: China Daily/ Getty Images
---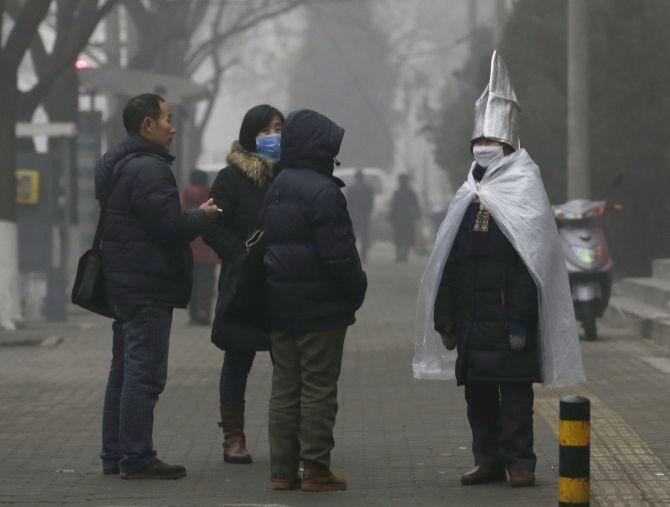 Image: A protester wearing a mask stands near the headquarters of Supreme People's Court of China as smog covers China's capital Beijing on an extremely polluted day. Photograph: Jason Lee/ Getty Images
---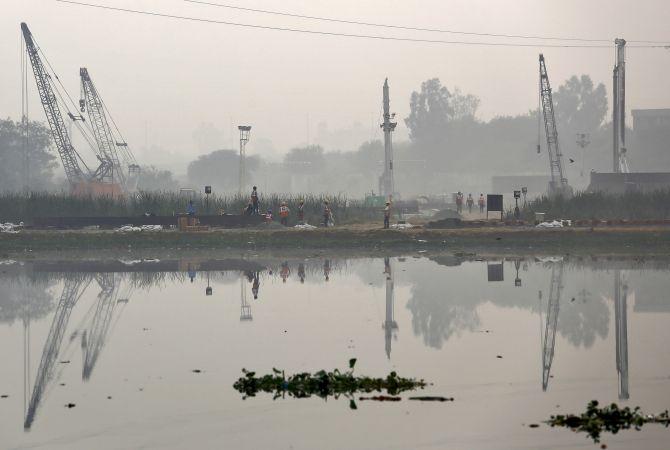 Image: Labourers work at the construction site of a bridge being built for metro rail on the banks of river Yamuna on a smoggy day in New Delhi, India. Photograph: Anindito Mukherjee/ Getty Images
---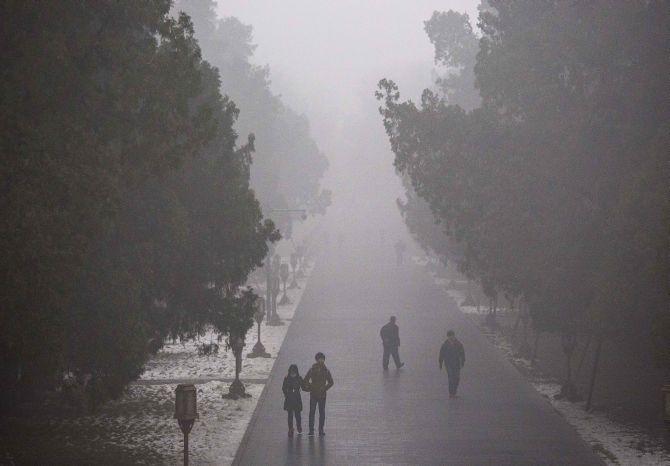 Image: Smog is seen on a day of high pollution at the Temple of Heaven park in Beijing, China. China's capital and many cities in the northern part of the country recorded the worst smog of the year with air quality devices in some areas unable to read such high levels of pollutants. Photograph: Kevin Frayer/ Getty Images