An intense winter storm has caused electricity outages for tens of thousands of Americans.
Some 65,000 homes and businesses along the US east coast are without power.
The storm is the product of a rapid and rare drop in barometric pressure known as bombogenesis, or bomb cyclone.
Heavy snow has pounded the east coast from Maine as far south as North Carolina, taking out power lines, icing over roads and closing hundreds of schools.
A pedestrian walks through blinding snow across the Brooklyn Bridge during Storm Grayson in New York City. On Saturday, jaw-clenching temperatures throughout the Northeast hit Burlington, Vermont, at minus 1 and a wind chill of minus 30. Both Philadelphia and New York were shivering at 8 degree. Photograph: Darren Ornitz/Reuters
Men struggle against wind and snow as they push a shopping cart across 125th street in upper Manhattan in New York. The frosty conditions come in the wake of meteorological phenomenon known as the 'bomb cyclone,' a low-pressure winter storm system that intensifies very rapidly with increasingly powerful winds. Photograph: Mike Segar/Reuters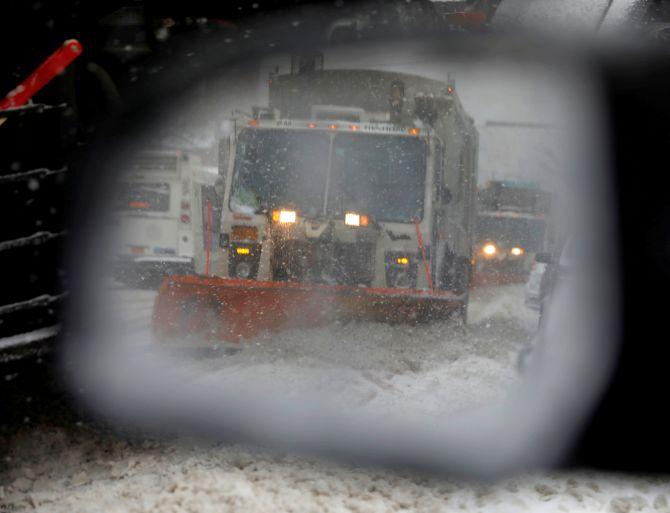 A snowplow is seen in a car's side mirror. The storm began two days ago in the Gulf of Mexico and first struck the Florida Panhandle. The storm caused school and business closings, airline and rail service cancellations or reductions and thousands of utilities outages. Photograph: Mike Segar/Reuters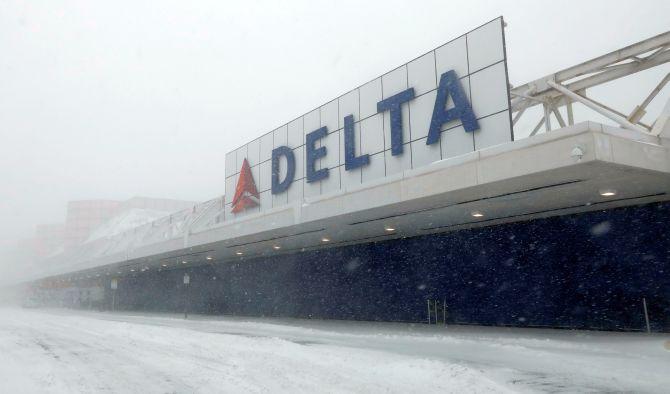 A nearly empty arrivals area of the Delta Airlines terminal is seen at LaGuardia Airport in New York. Meanwhile in Chicago, airlines were reporting delays of 30 minutes for incoming and outbound flights and more than 230 flights were cancelled. Photograph: Mike Segar/Reuters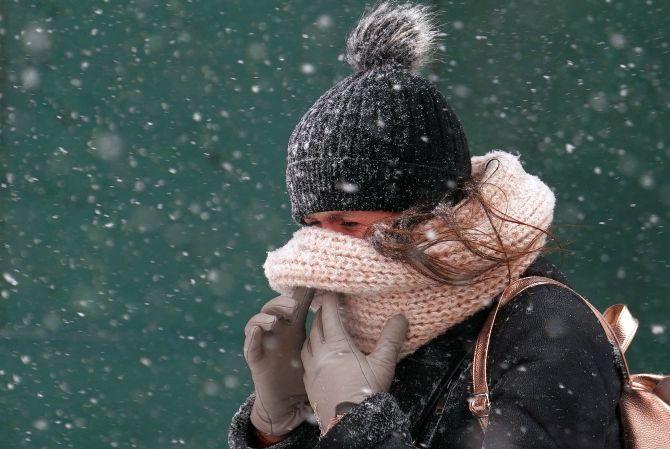 A woman covers her face as she walks though Times Square. At least seven people died in weather-related accidents.Four people were killed in North Carolina and South Carolina after their vehicles ran off snow-covered roads, authorities said. Another fatality was reported near Philadelphia when a car could not stop at the bottom of a steep, snow-covered hill and slammed into a commuter train. A passenger in the vehicle was killed. No one on the train was hurt. In Virginia, a girl was struck by a pickup truck while sledding and a 75-year-old man was hit by a snow plow while clearing business parking lots, authorities said. Both died at hospitals from their injuries, police said. Photograph: Carlo Allegri/Reuters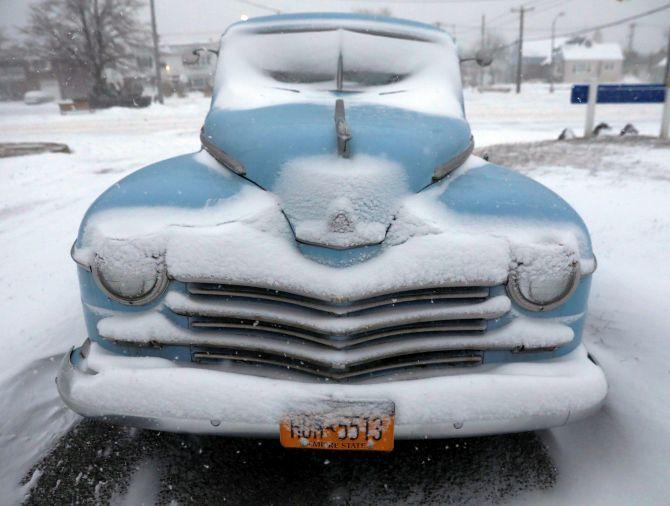 A car is seen covered in snow. Photograph: Shannon Stapleton/Reuters
Tourists stop to take a photograph with the Charging Bull statue in New York. Photograph: Lucas Jackson/Reuters
A man uses a snowblower to clear snow from a street during a snowstorm in Port Washington. Photograph: Shannon Stapleton/Reuters