It's the most anticipated debut of a Seattle building since the first visitors rode elevators to the top of the Space Needle 56 years ago.
Welcome to the Seattle Spheres -- Amazon's trio of steel-and-glass buildings crammed with more that 400 different plant species, which will officially open on January 30.
Take a tour of the one-of-a-kind-building where the workers of the online retail giant will chill in a rainforest.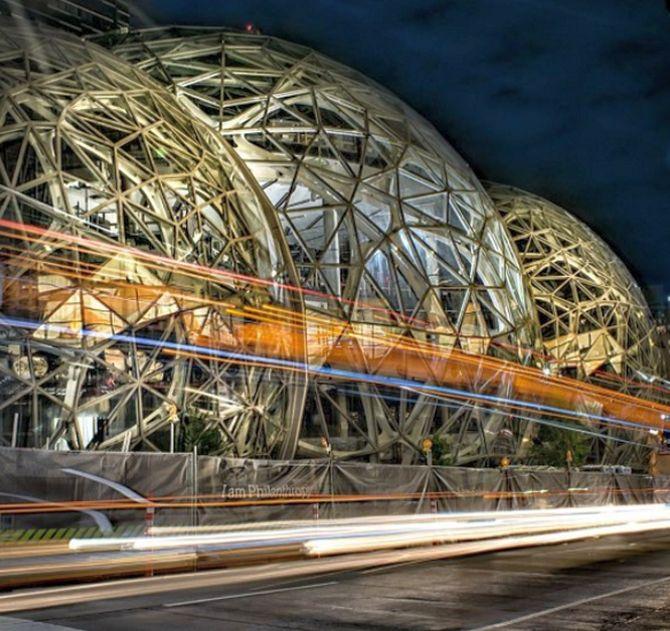 The three glass domes -- with the largest bubble spanning 130 feet in diameter and topping out at 95 feet tall -- was envisioned back in 2013. The idea of meeting, working or relaxing among 40,000 plants from more than 30 countries, in an enclosed tropical climate in the middle of Seattle, was conceived as a way to help Amazonians "think differently" -- to get away from traditional workspaces and get up close to nature.
Photograph: @mabahamo/@seattlespheres/Instagram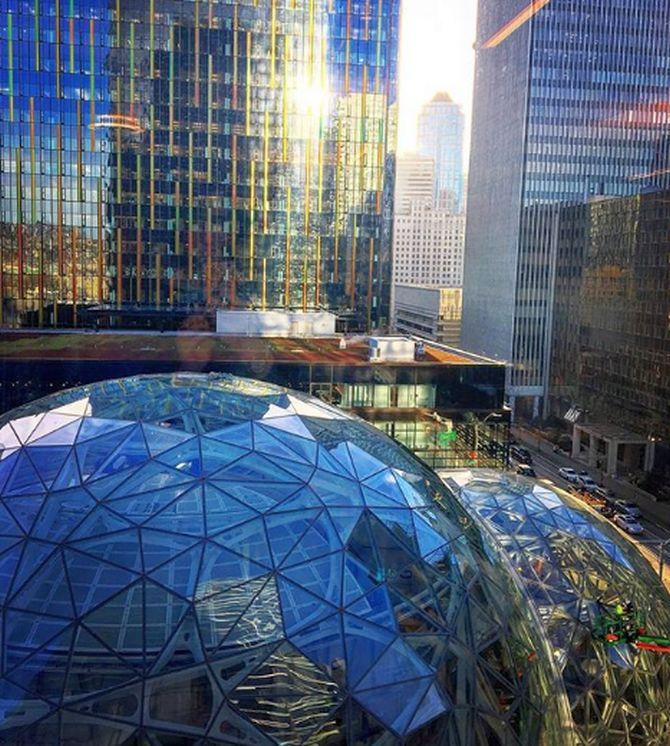 The Spheres' façade contains 2,643 panes of glass. The last pane was put into place in December 2016. Talking about the design of the place, Dale Alberda, one of NBBJ's principal architects, was quoted as saying by interestingengineering.com, "The question was, how do we do this in a significant way," adding candidly, "Just bringing plants into the office wasn't going to cut it."
Photograph: @seattlespheres/Instagram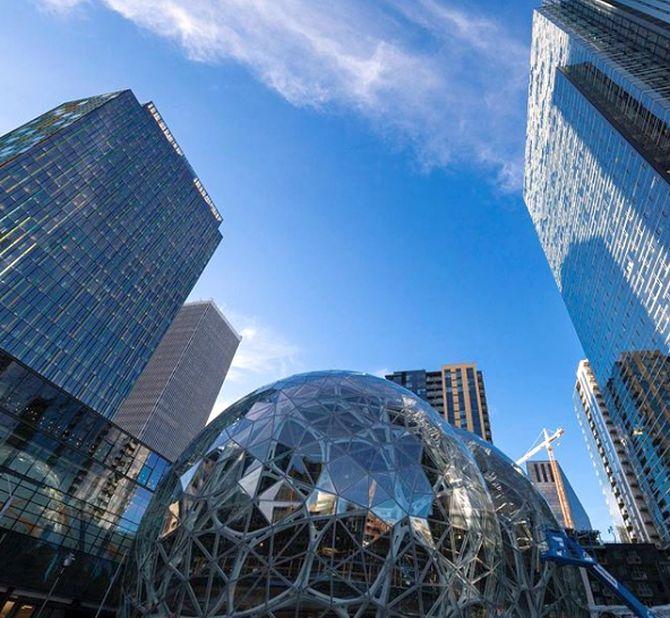 When you step inside, the first thing one will notice is the warm, moist air, about 72 degrees and 60 per cent humidity, com pared with the 30 per cent humidity in a typical office. The temperature is set so as to ensure that the plants – from across the world can survive in the building.
Photograph: @seattlespheres/Instagram
The flora inside the domes is the work of a team of Amazon horticulturists who were charged with scouring the globe for interesting plants and growing them in a 40,000-square-foot greenhouse in Woodinville. The workspace also includes 'living walls', which are the brainchild of Horticulture Program Manager, Ben Eiben. Ben and his team assembled the living walls by growing plants on mesh panels at the greenhouse. When the panels were ready, they were transported and attached to the growing surface. With careful preparation, the team assembled The Spheres' tallest wall in only two weeks!
Photograph: @seattlespheres/Instagram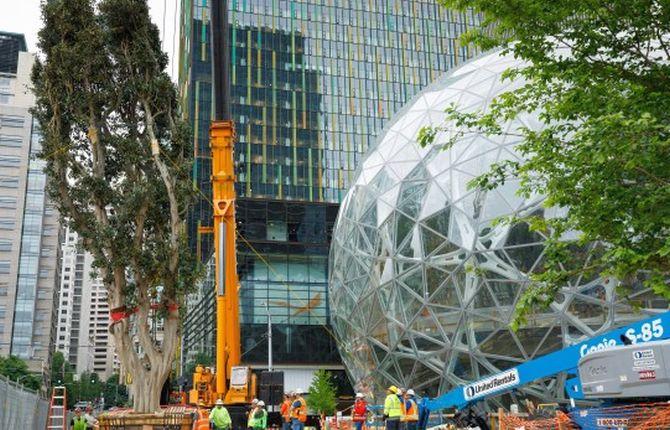 Talking about the flora inside the domes, its largest resident, stands nearly 49 feet tall, 22 feet wide, and weighs nearly 36,000 pounds. Named for its scientific name, Ficus rubiginosa, Rubi was first planted in 1969 at the Berylwood Tree Farm in Somis, California. Before being planted in the 7th Avenue sphere, Rubi made a 1,200-mile, cross-country journey to its final home. Because of the tree's size, the top of the 7th Avenue sphere was removed, and the tree was craned in through the top of the building.
Photograph: @seattlespheres/Instagram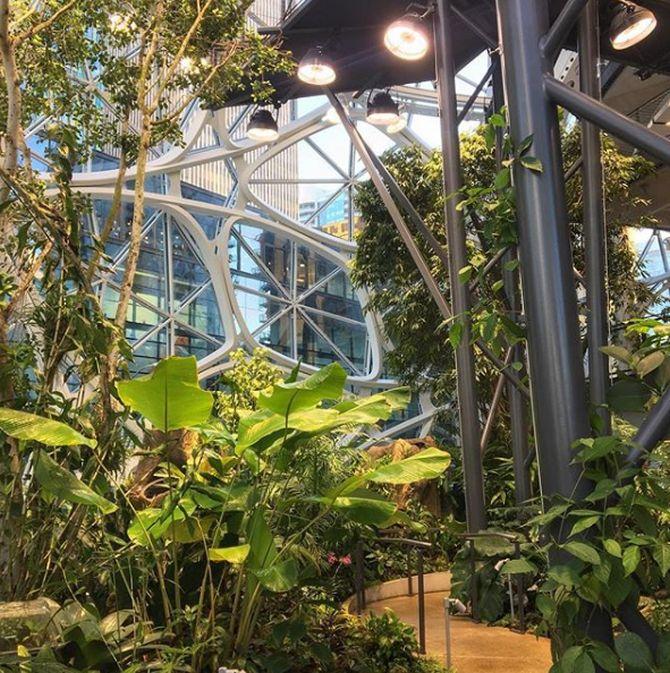 One can start taking guided tours of the Spheres post January 30, after its inauguration. The place will also feature a restaurant by award-winning Seattle chef Renee Erickson, as well as a doughnut-and-coffee bar, inside the Amazon employees area.
Photograph: @mp_holmes/@seattlespheres/Instagram
Like Amazon's skyscrapers, the Spheres are warmed in part by recycled heat generated from a nearby data center, with the heat piped through the concrete floors and, on the upper floors, handrails. Here's the central atrium and the internal staircases.
Photograph: @mp_holmes/@seattlespheres/Instagram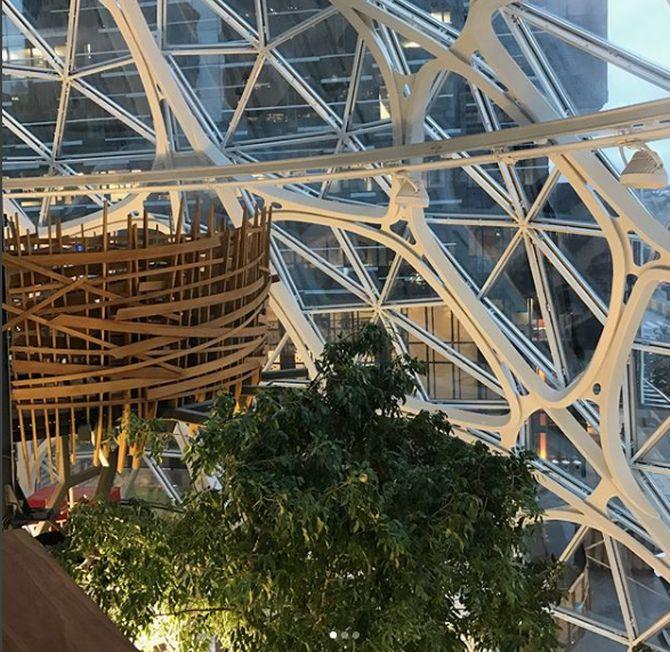 The spheres also feature an interesting feature called the 'nest' -- unique meeting spaces where Amazon employees will be able to work amongst the foliage. Here's a view of one of the 'nests', located in the 7th Avenue sphere next to Rubi.
Photograph: @seattlespheres/Instagram