Heavylifter C-17 Globemaster and the C-130J Super Hercules, which helped in saving thousands of lives during Uttarakhand and Kashmir floods and the deadly Nepal earthquake early this year, again did a yeoman service in rain-hit Chennai where they ferried nearly 1,500 people to safety following the deluge.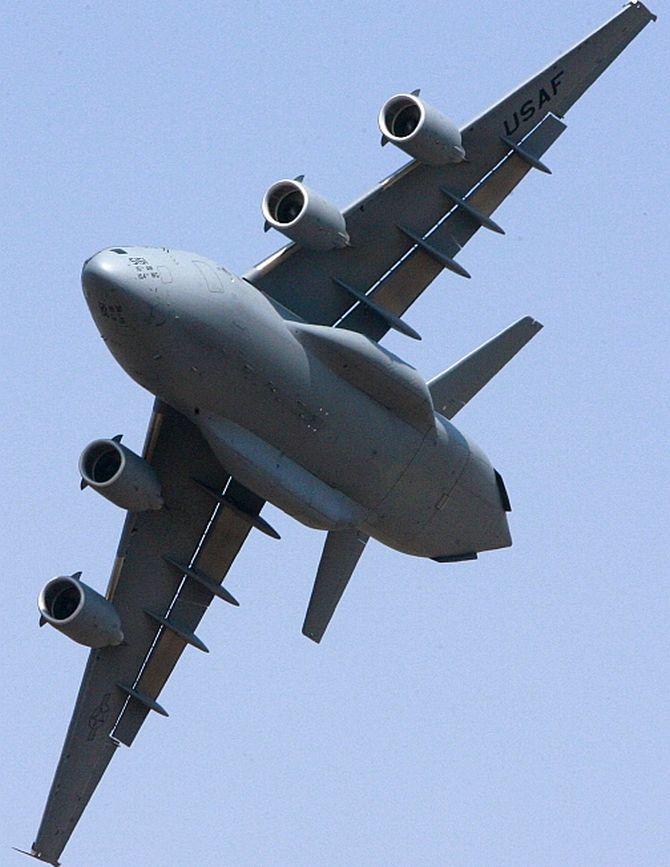 The two super aircraft, India's prized defence assets, also played a critical role in ferrying National Disaster Response Force and army teams along with heavy equipment from various parts of the country to Tambaram Air Base and Arakkonam Naval Base, the two nodal points that played a critical role in overall rescue operations in the wake of torrential rains here.
"The propeller-driven C-130J is capable of landing on a short runaway, even on 'kuchcha' terrain and that's why they prove so critical in such operations.
"But, before Chennai floods, they served in rescue operations during the Uttarakhand floods in 2013, where they landed at Dharasu. This big bird has also landed in Daulat Beg Oldie (Advanced Landing Ground) in Ladakh," a senior defence official said.
Built by American aircraft maker Lockheed Martin, six C-130Js were purchased by India in 2008, and these are based at the Hindon Air Base, outside of Delhi.
The one that flew from Palam to Tambaram on December 2 was from this base only.
It came back the next day carrying about 120 people onboard.
Junior Warrant Officer Chandran Mohanan, a loadmaster, on that C-130J says, "It fills me with pride to be a crew member of this prestigious transport aircraft, and to be able to serve our country by rescuing people.
"I have seen Bihar floods. And I have been part of the rescue operations during Uttarakhand and Jammu-Kashmir floods, onboard this aircraft, and sometimes it used to get emotionally overwhelming to see people crying, but it felt always great to see families getting united."
Tambaram Base, located nearly 30 kilometre outside Chennai, has a shorter runway, and therefore the C17s heading for rescue operations were landing at Arakkonam Base, 70 kilometre west of the city.
Sitting regal on the tarmac, the 'big bird' transported to safety over 480 people to Delhi, Hyderabad and Patna from December 3-5, a senior Naval official of Arakkonam or INS Rajali Base said.
The C-17s can carry about 230-250 people onboard.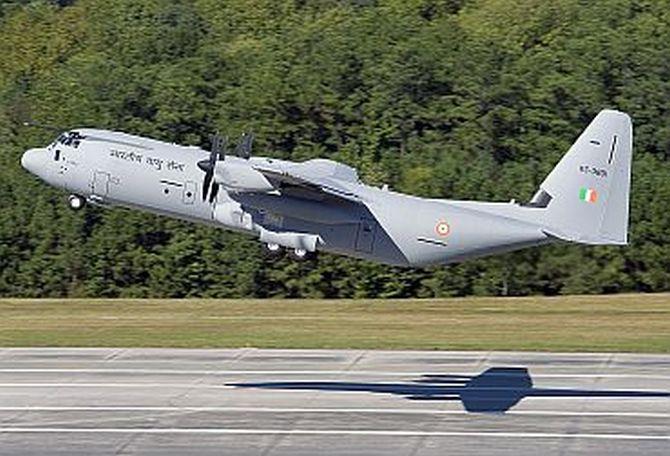 While both the C-17s as well as the Super Hercules flew in and out of Nepal during the quake tragedy and the Kashmir floods, providing rescue and relief, during Uttartkhand cloudburst disaster only C-130Js were used.
"The C17s can very well land at Jolly Grant (DehradunAirport) but they were not needed. "In Kashmir, they landed at Srinagar airport during the rescue operations," a top IAF official said.
Mohanan, 39, a Kerala native, talking about C-130J says, "This aircraft is so versatile, it (American C-130J) is known to have landed in extreme weather, including in Antarctica."
"It has a fore-to-aft length of about 56 feet and a ramp measuring 10-15 feet. In one go, it can carry 128 people and has a capacity of 20 tonne. But, for VIP configuration, it can be changed accordingly," he added.
"Its crew includes two pilots, one combat system operator and two loadmasters," Mohanan said.
Captain S L Singh, the pilot of the Super Hercules, who flew on December 2 from Palam to Tambaram, says, "This aircraft is scientifically very advanced. It can gather live footage while flying and thus is strategically an important asset."
Captain Singh, of Squadron 77 'Veiled Vipers' based in Hindon, says, "The Super Hercules are India"s prized possession and greatly enhance our military transport capabilities."
The rescued people were all praise for the defence personnel and their flying giants.
"Being rescued from our college first by the army and the being flown to Hyderabad in a C-17 of the IAF, it only raised the respect we had for the defence forces, after seeing them up, close and personal," said George, a student of SRM University, who was rescued along with hundreds of other students from his campus.
As Chennai limped back to normalcy, and trains and bus transportation resumed operations, the aerial sorties and airdropping of relief were called off from on Sunday.
Kopal Gupta, a Dehradun native, and student of VIT Vellore campus, was left stranded at the ChennaiAirport for two days, before being rescued and flown to Delhi on December 4.