Floral tributes were on Wednesday paid to the martyrs who laid down their lives while fighting terrorists on the sixth anniversary of the 26/11 attack.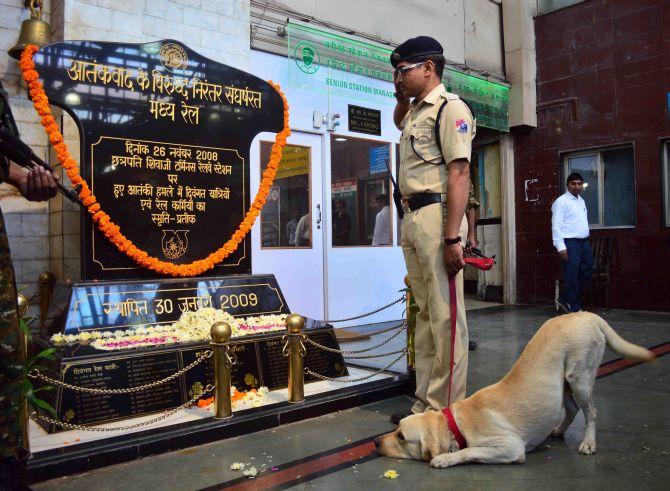 A police official pays his respects at the memorial set up at CST station, one of the sites where the terrorists had open fired. Photograph: Sahil Salvi
Maharashtra Education Minister Vinod Tawde, Minister of Industries, Mines and Parliamentary Affairs Prakash Mehta, Mumbai police commissioner Rakesh Maria and Director General of Police Sanjeev Dayal were among dignitaries who paid homage at the 26/11 police memorial site at the Mumbai Police Gymkhana in south Mumbai.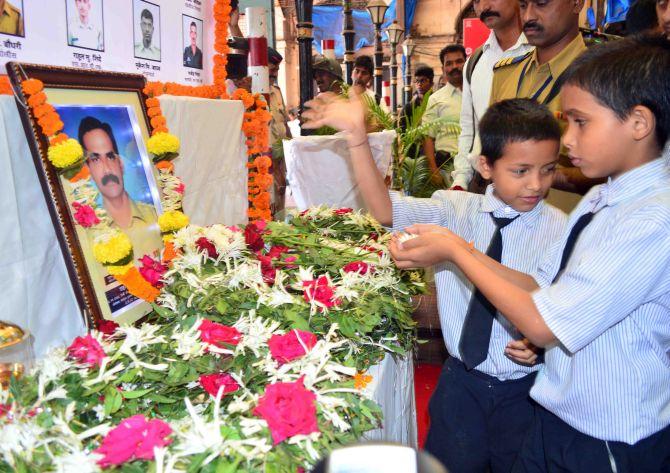 Little boys pay floral tributes to the officials who died during the attacks at a memorial in CST. Photograph: Sahil Salvi
"I pay homage to the brave policemen who fought for Mumbai's safety and laid down their lives for us on 26/11. We are proud of them and we will strive hard for safety and security of our state," said Chief Minister Devendra Fadnavis who could not attend the commemorative meeting as he is scheduled to attend various functions to be presided by President Pranab Mukherjee in Pune and Wardha in the state later on Wednesday.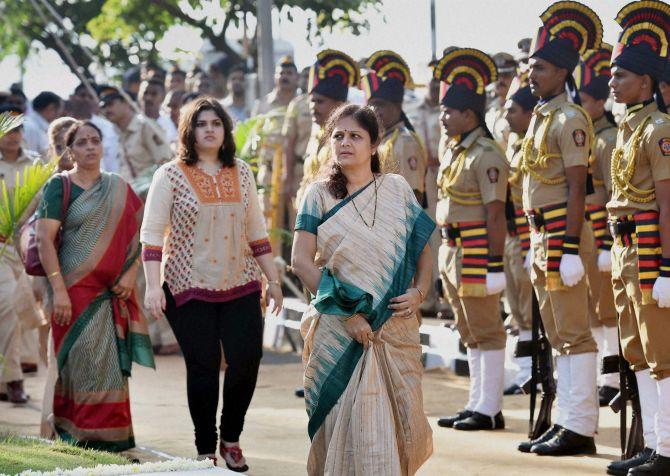 Wife Smita Salaskar and daughter Divya of slain encounter specialist Vijay Salaskar pay tributes to the victims of 26/11 Mumbai terror attacks. Photograph: PTI photo
The CM in his message said, "We will strengthen police force with better equipment. It is out priority."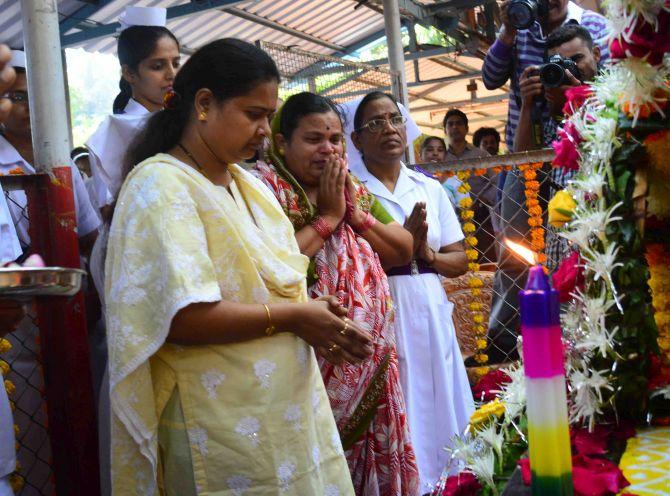 Staff at Cama Hospital observe a minute of silence on Wednesday as a mark of respect on the sixth anniversary of the 26/11 attacks. Photograph: Sahil Salvi
Family members of the policemen, who lost their lives during the November 2008 attacks, were also present during the ceremony.
On November 26, 2008, 10 Pakistani terrorists arrived by sea route and opened fire indiscriminately at people killing 166, including 18 security personnel, and injuring several others, besides damaging property worth crores.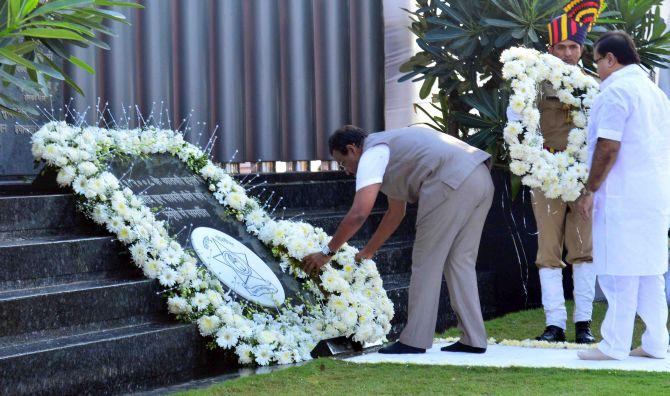 Politicians laid a wreath at a memorial at Mumbai's Police Gymkhana. Photograph: Sahil Salvi
The then Maharashtra Anti Terrorist Squad chief Hemant Karkare, army Major Sandeep Unnikrishnan, Mumbai's Additional Police Commissioner Ashok Kamte and Senior Police Inspector Vijay Salaskar were among those killed in the attack.