World's most notorious drug lord Joaquin 'El Chapo' Guzman bends over in the shower of his prison cell and never resurfaces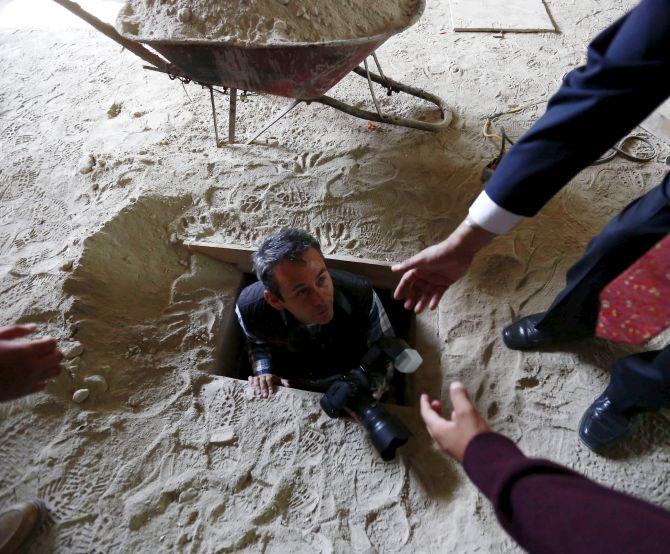 A photographer exits a tunnel connected to the Altiplano Federal Penitentiary and used by drug lord Joaquin 'El Chapo' Guzman to escape, in Almoloya de Juarez, on the outskirts of Mexico City. Photograph: Edgard Garrido/Reuters

The Mexican government released a video of drug lord Joaquin 'El Chapo' Guzman in his cell the night of his daring escape from a high security prison through a 1.5 kilometre long tunnel.
The video shows the fugitive going into a shower in his cell and pacing back and forth just minutes before he 'vanished'.

WATCH: Moment of El Chapo's escape (external link)
Dressed in his prison uniform, notorious Guzman bends over the shower, but never shows up. He slipped through a hole under the shower giving Altiplano jail authorities a slip.
Guzman's cell was under 24 hour surveillance other than two blind spots to protect his privacy. And this is what he exploited.

The video also shows the escape tunnel which had a motorcycle with a metal cart in front and a special rail system for it to ride on. The fugitive blows out the lights in the tunnel before exiting at the other end into a deserted building surrounded by fields.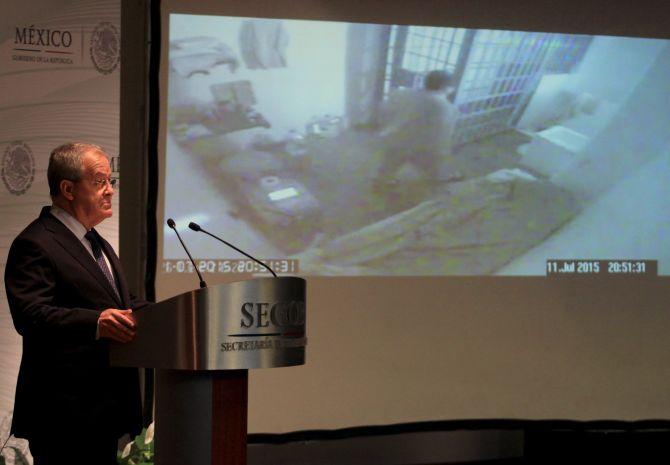 National Security Commissioner Monte Alejandro Rubido shows security footage of Guzman moments before escaping, during a news conference in Mexico City. Photograph: Reuters

Guzman was last seen at 8:52 pm and it remains unexplained why it took prison guards hours to raise an alarm.

Mexican authorities must have colluded with Guzman to enable the country's top drug lord to escape from a maximum security prison at the weekend, Interior Minister Miguel Angel Osorio Chong said.
Mexico's national prisons director and the head of the prison have been fired and a $3.8 million (approximately Rs 24 crore) reward has been offered for Guzman's re-arrest, top Mexican officials said Monday night.
Guzman's second jail break in 14 years dealt a bitter blow to President Enrique Pena Nieto's administration. It was only 17 months ago that they celebrated the capture of world's most wanted drug kingpin.