The country was on Sunday left shocked and saddened as it woke up to the massive temple tragedy in Kerala, with President Pranab Mukherjee and Prime Minister Narendra Modi along with other leaders and prominent personalities joining the people in mourning the loss of lives in the fire incident.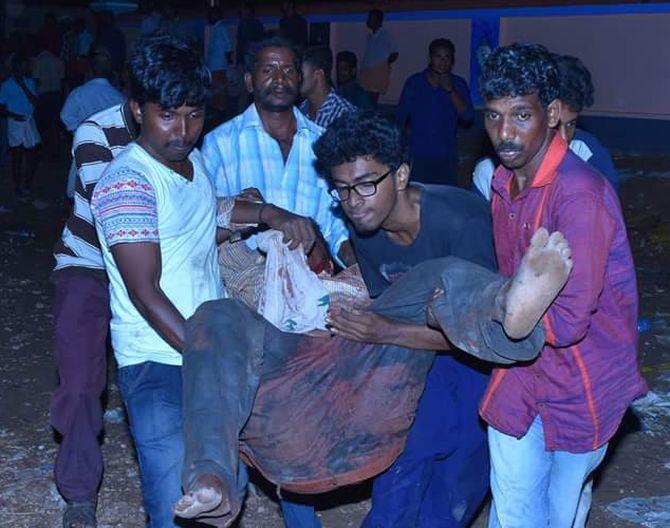 IMAGE: Locals rush the injured to nearby hospitals for treatment after a massive blaze broke out at the Kollam temple. Photograph:

Chandu, TVM
"Fire at temple in Kollam is heartrending and shocking beyond words. My thoughts are with families of the deceased and prayers with the injured," Modi, who visited Kollam, said in a tweet.
President Pranab Mukerjee also conveyed "heartfelt condolences on loss of lives in Kerala temple fire".
Praying for the departed souls and well being of the injured, Congress president Sonia Gandhi asked Kerala government to ensure ample and immediate relief measures while party vice-president Rahul Gandhi decided to visit Kollam.
Modi said he spoke to Kerala Chief Minister Oommen Chandy and announced an ex-gratia relief of Rs 2 lakh for the kin of the dead and Rs 50,000 for those seriously injured.
While ordering a judicial probe, Chandy also announced ex-gratia relief of Rs 10 lakh to kin of each of those killed in fire tragedy and Rs 2 lakh for seriously injured.
Lok Sabha Speaker Sumitra Mahajan, Bharatiya Janata Party Chief Amit Shah, chief ministers, governors and leaders of various parties expressed grief over the tragedy.
"Very sad news from Kerala. My deepest condolences to the families who lost their loved ones. Prayers for those injured," West Bengal Chief Minister Mamata Banerjee tweeted.
"Saddened by the Kerala temple fire tragedy. My heartfelt condolences to families of the deceased and prayers with those injured," her Bihar counterpart Nitish Kumar said on Twitter.
National Conference leader Omar Abdullah said his thoughts and prayers are with the victims and their families. "God be with them in this hour of darkness and despair," he tweeted.
Rashtriya Janata Dal supremo Lalu Prasad too expressed grief at the Kollam temple fire incident saying, "heart goes out for the victims and families".
"Very sad to hear such tragic news. Prayers with all victims," Delhi Chief Minister Arvind Kejriwal said in a tweet.
At least 100 people were killed and nearly 400 injured in a major fire that broke out in PuttingalDeviTemple complex packed with thousands of people near Kollam in Kerala about 3 am on Sunday during a display of fireworks for which there was no permission from the authorities.
Bollywood too was shaken by the tragedy with filmmaker Shekhar Kapur appealing for control over fire works.
"People go to pray and celebrate life. Come away in wake of death and tragedy fireworks getting dangerous and must must be controlled Kollam."
Megastar Amitabh Bachchan retweeted emergency helpline numbers following the tragedy.
John Abraham said, "Devastated knowing about the innocent lives lost at the Kollam fire, my condolences to their families & prayers for all the injured!"
Actress Dia Mirza blamed the tragedy on negligence. "When tragedies are struck by human apathy and negligence it makes it so much more painful...so many innocent lives lost. Gutted. Kollam."
"Heart goes out to all who lost a loved one in #KollamTempleFire.. deepest condolences. Hope lessons will be learned re firework safety (sic)," actor-director Farhan Akhtar said.