In a bid to woo Hindu votes ahead of the assembly polls in Uttar Pradesh, Rahul Gandhi on Friday offered prayers at the Hanuman Garhi Temple, becoming the first member of the Nehru-Gandhi family to visit Ayodhya since the demolition of the disputed structure in 1992.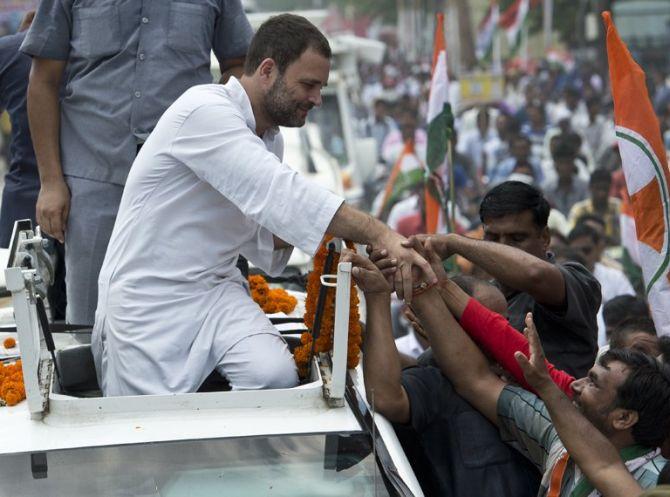 IMAGE: Rahul Gandhi's Ayodhya visit is a part of his mahayatra in Uttar Pradesh. Photograph: @INCCongress/Twitter.com
Hanuman Garhi is about a kilometre away from the Ram Temple at the disputed Ramjanmbhoomi-Babri Masjid site but Rahul stayed away from the place of 'shilanyas', the foundation stone that had been laid there in 1989 for the construction of the Ram Temple.
Before having 'darshan' at the HanumanGarhiTemple, the 46-year-old Congress vice president met Mahant Gyan Das, who is known for his anti-Vishwa Hindu Parishad stance.
After his 15-minute closed door meeting, the Mahant said, "Rahul came to seek blessings. If a leader goes to a priest, it is not a big issue.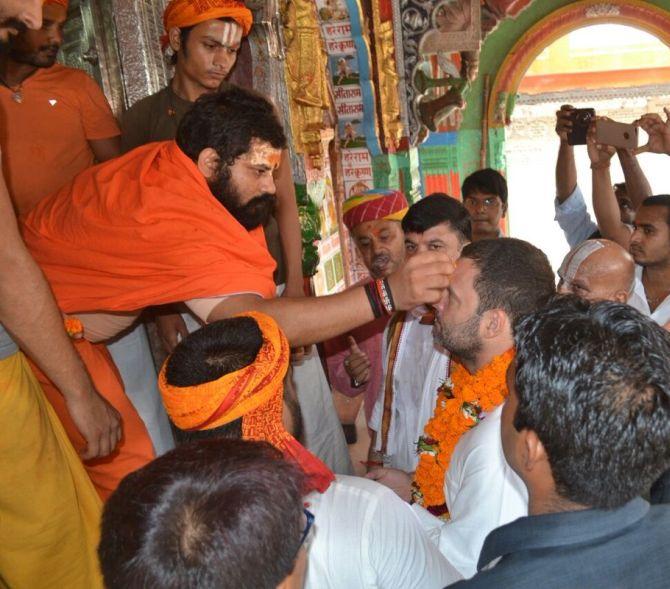 IMAGE: Congress vice-president Rahul Gandhi meets Mahant Gyan Das, the chief priest of Hanuman Garhi temple in Ayodhya. Photograph: ANI/Twitter
"Moreover, when one seeks blessings, one definitely comes for fulfilment of some wish...They seek blessings...come with some expectations...we have given blessings...we pray for his welfare," he said.
The Mahant is a member of the Akhil Bharatiya Akhara Parishad (All India Akhara Council) -- the apex organisation of Sikh and Hindu sants and sadhus (ascetics).
Sources said Rahul did not speak about any compromise on the Ramjanmbhoomi-Babri Masjid dispute, but gave an assurance that Congress would stand by whatever the Supreme Court decided.
Rahul also did not discuss the upcoming assembly elections with the Mahant, they said.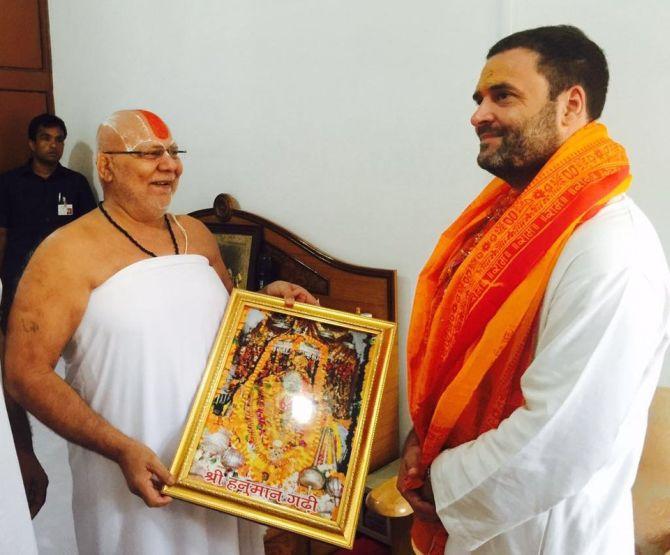 No member of the Congress' first family has visited Ayodhya since the demolition of the Babri Masjid 24 years ago, in December 1992.
Rahul's move on Friday is apparently aimed at blunting a perceived negative image for Congress among Hindus.
Old timers recall that 26 years ago, Rahul's father and former prime minister Rajiv Gandhi had planned to visit the Hanuman Garhi Temple on a trip to Ayodhya during his 'Sadbhavna Yatra' in 1990, but he could not make it because of paucity of time.
Rajiv was assassinated the next year, on May 21, 1991 when Rahul was 20 years old.