Folk artist Sharda Sinha, contemporary Indian artist Laxman Pai and former Ambassador of Russia to India Alexander Kadakin (posthumously), were presented with the Padma Bhushan, the country's third-highest civilian award after Bharat Ratna and Padma Vibhushan, by President Ram Nath Kovind at a ceremony in New Delhi on Monday.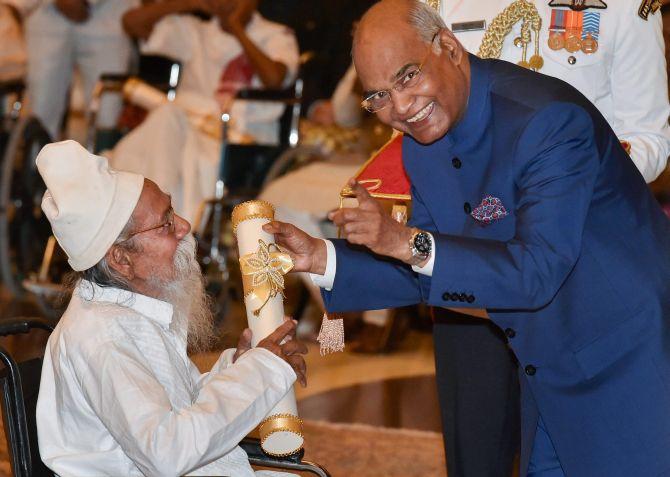 IMAGE: President Ram Nath Kovind confers Padma Shri to Sudhanshu Biswas during the Padma Award 2018 ceremony at Rashtrapati Bhavan in New Delhi on Monday. Photographs: Atul Yadav/PTI Photo
The president presented five Padma Bhushan and 38 Padma Shri awards at the civil investiture ceremony held at the Durbar Hall of the Rashtrapati Bhavan.
Vice President M Venkaiah Naidu, Prime Minister Narendra Modi, Union Home Minister Rajnath Singh and Lok Sabha Speaker Sumitra Mahajan were among several dignitaries present at the function.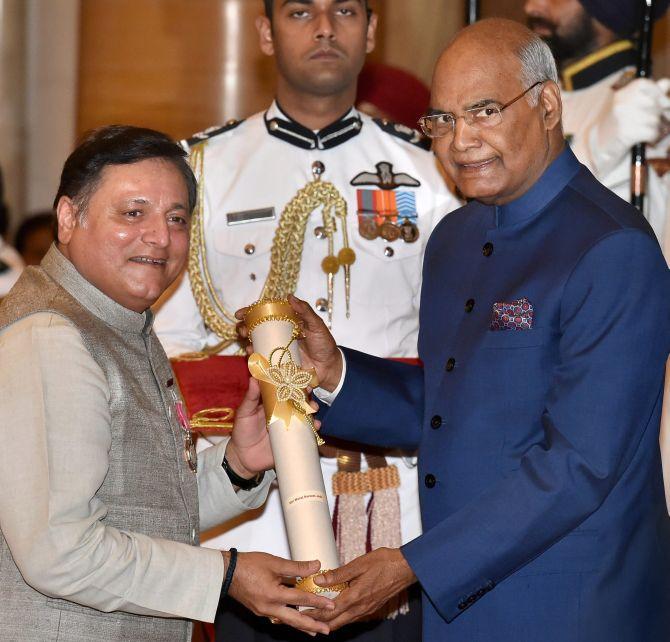 IMAGE: President Ram Nath Kovind confers Padma Shri to veteran actor Manoj Joshi.
People from different walks of life were awarded the Padma Shri, the fourth highest civilian award, during the ceremony.
Veteran actor Manoj Joshi, Dasmodar Ganesh Bapat, who is working towards eradication of leprosy, and L Subadani Devi, Manipur-based weaver, were among those presented with Padma Shri.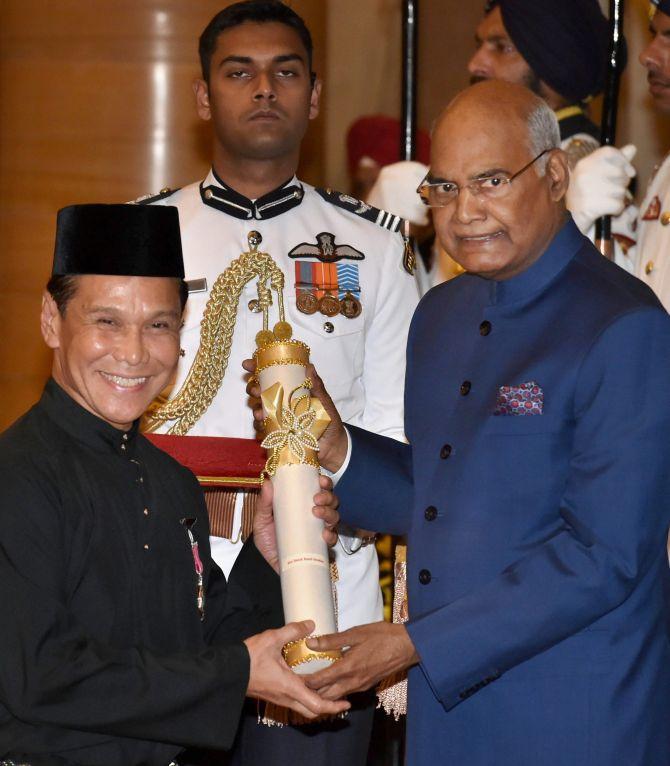 IMAGE: Classical dancer Datuk Ramli Ibrahim receives Padma Shri.

Karanataka-based Sufi bhajan singer Ibrahim Nabisaheb Sutar, wildlife conservationist Romulus Whitaker and Mizoram's educationist A Zakia were also conferred Padma Shri.
The award was conferred to foreigners also.
Phillipines' Jose Ma Joey Concepcion was awarded the Padma Shri for his contribution in trade and industry.
Malaysia's Datuk Ramli Ibrahim (Art-dance), Bounlap Keokangna of Laos (for architecture), Cambodia's Hun Many (public affairs), Japan's Prof Tomio Mizokami (literature and education), Myanmar's Thant Myint -U (public affairs) and Indonesia's Bapak Nyoman Nuarta (art-sculpture) were also conferred Padma Shri.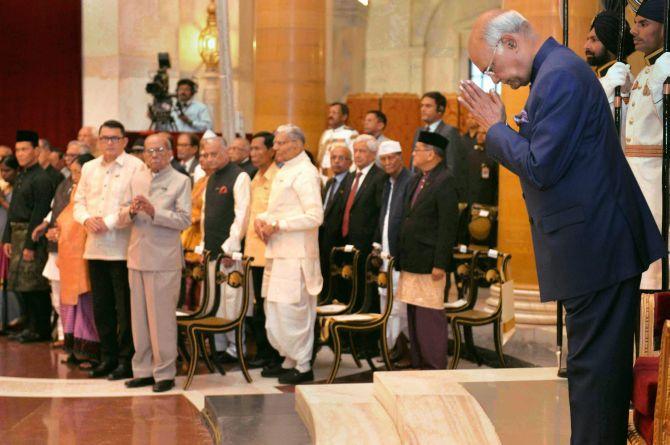 IMAGE: President Ram Nath Kovind during Civil Investiture-II for presenting of Padma Awards at Rashtrapati Bhavan. Photograph: Rashtrapati Bhavan/ via PTI Photo
Brunei Darussalam's Malai Haji Abdullah Bin Haji Malai (for social work), Tajikistan's Prof Habibullo Rajabov (literature and education), Nepal's Sanduk Ruit (medicine-oncology) and Vietnam's Nguyen Tien Thien (for spiritualism) were among those awarded Padma Shri.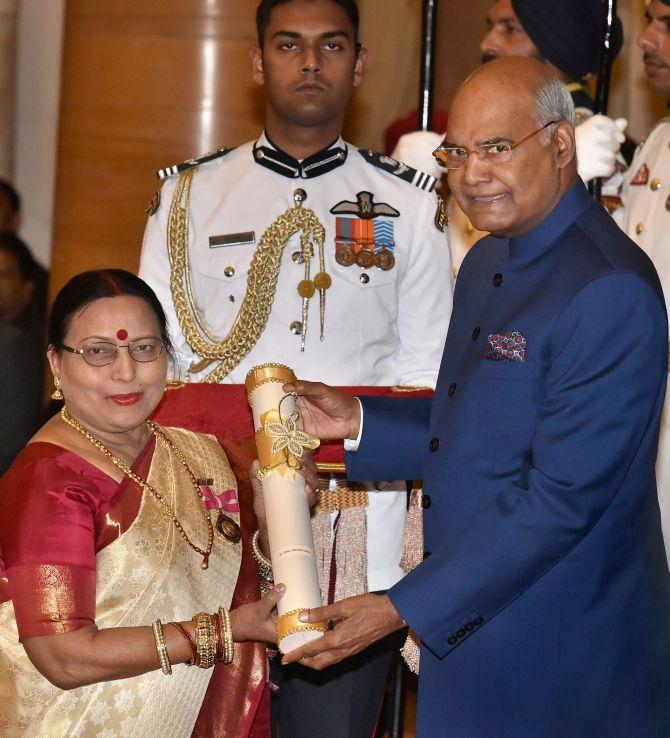 IMAGE: Bihar Kokila Sarda Sinha gets Padma Bhushan.

Prof Bhagirath Prasad Tripathi (for literature and education), Vikram Chandra Thakur (science and engineering), Pankaj Manubhai Shah (medicine-oncology), Prof Chandra Sekhar Rath (posthunous) for contribution in literature and education, M R Rajagopal (medicine-pallative care), Bhabani Charan Pattanaik (public affairs) and Keshavrao Sadashiv Shastri Musalgaonkar (literature and education) were also given Padma Shri.
Among others, Gujarat's Zaverilal Dalpatram Mehta (journalism), Vijaylakshmi Navneet Krishnan (folk music) and Prafulla Govinda Baruah (journalism) were also conferred with the Padma Shri.