India on Monday got the backing of Switzerland in its bid to become a member of the Nuclear Suppliers Group ahead of the elite group's crucial meeting even as the two countries resolved to strengthen cooperation in combating tax evasion and blackmoney.
Swiss President Johann Schneider-Ammann announced his country's support to India's membership in the 48-member grouping after holding comprehensive talks with Prime Minister Narendra Modi.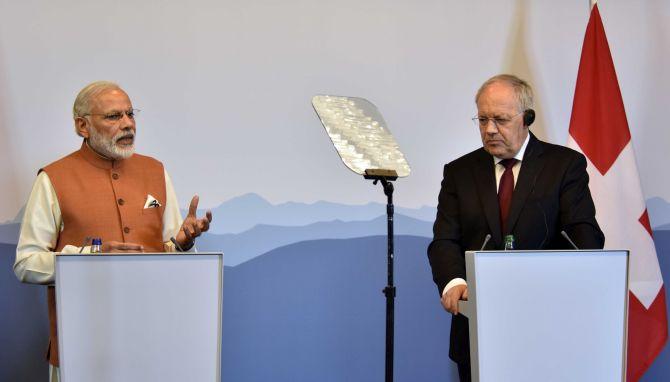 IMAGE: Prime Minister Narendra Modi and President of the Swiss Confederation, Johann Schneider-Ammann, during the joint press statement, in Geneva, Switzerland. Photograph: PIB
Agreeing to expand cooperation in tackling the problem of Indians stashing blackmoney in Swiss banks was one of the key focus areas of the talks between the two leaders besides stepping up ties in areas of trade, investment and vocational training.
"We have promised India support in its efforts to become a member of NSG," Schneider-Ammann said at a joint media interaction.
India has been pushing for membership of the bloc for last few years and had formally moved its application on May 12. The grouping will take up India's application in its plenary meetings on June 9 in Vienna and June 24 in Seoul.
"I am thankful to the president for Switzerland's understanding and support for India's membership of the NSG," Modi said.
The NSG looks after critical issues relating to the nuclear sector and its membership will help India expand its atomic energy sector.
Modi also said combating the menace of black money and tax evasion was "shared priority" for both the countries.
"We discussed the need for an early and expeditious exchange of information to bring to justice the tax offenders. An early start to negotiations on the agreement on the automatic exchange of information would be important in this respect," Modi said.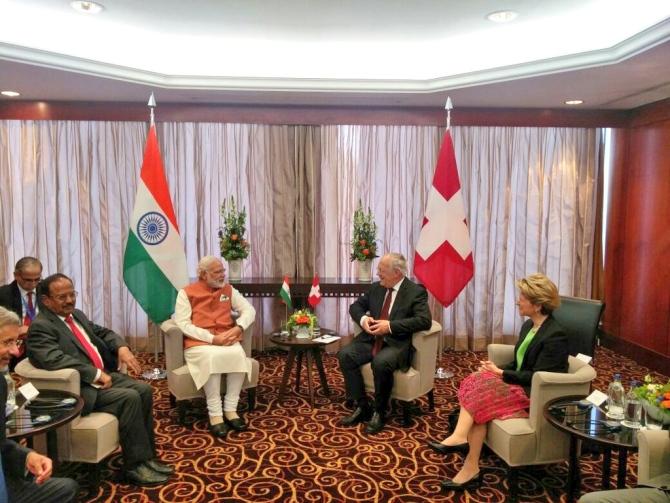 IMAGE: (From left) Foreign Secretary S Jaishankar, National Security Adviser Ajit Doval, Prime Minister Narendra Modi and President of the Swiss Confederation Johann Schneider-Ammann. Photograph: MEA/Twitter
On his part, the Swiss President said both the countries are making considerable progress in fighting tax fraud and evasion.
Indian tax authorities are probing cases of tax evasion and blackmoney stashed abroad. The probe had gained momentum after a leaked list of hundreds of Indian clients of HSBC's Geneva branch found its way to the Indian tax authorities.
Last month, Finance Minister Arun Jaitley had said India had signed an agreement with Switzerland and received details of those people having accounts in HSBC.
"We completed assessment of those people who had accounts in HSBC, Switzerland. We assessed Rs 6,000 crore black money which was in HSBC. We filed criminal cases against them," he had said.
Modi said India and Switzerland also shared a commitment to reform international institutions in line with current global realities.
"India and Switzerland have both been the voices of peace, understanding and humanitarian values in the world. In last seven decades, our friendship has consistently seen an upward trajectory. Today, the president and I reviewed our multifaceted bilateral ties. We also held detailed discussions with Swiss CEOs," said the prime minister.
Talking about strong trade ties between the two countries, Modi said many Swiss companies are household names in India and both sides are keen to further expand the economic engagement.
The prime minister said India has affirmed its readiness to resume talks on a free trade agreement with European Free Trade Association.
The trade talks between India and EFTA -- the grouping of Switzerland, Iceland, Norway and Liechtenstein -- have been stalled on a host of issues like Intellectual Property Rights and data safety.
The negotiations for the Free Trade Association were launched in 2008.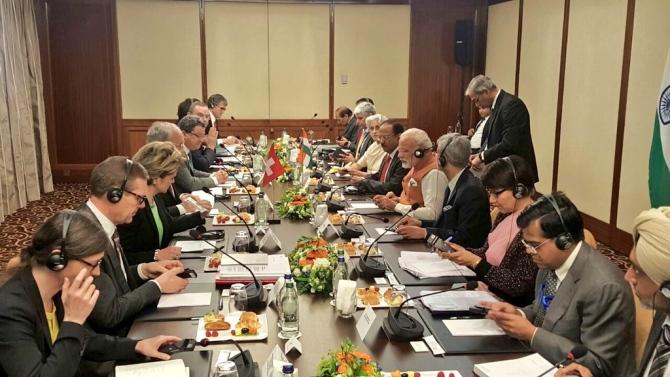 IMAGE: Prime Minister Narendra Modi and President Ammann hold delegation level talks. Photograph: MEA/Twitter
"We are all aware of the strengths of the Swiss economy. But, India too is undergoing profound transformations. We are today the fastest growing economy in the world. But, that alone is not enough.
"I want the Indian economy to be driven by smart and sustainable cities, robust farm sector, vibrant manufacturing and dynamic service sector. And, its engines to run on world class network of rail, roads, airports and digital connectivity," Modi said.
The prime minister said both sides have agreed to build on the Swiss Vocational and Educational Training system suited to India's needs.
Referring to energy security, Modi said reliance on renewable energy, rather than on fossil fuels would be India's "guiding motto".
"We see a perfect connect between our development needs and Swiss strengths. I, therefore, invite the Swiss companies to avail of this great opportunity to be a key partner in India's economic growth. Ultimately, the economic prosperity of 1.25 billion plus would also benefit the entire world," Modi said.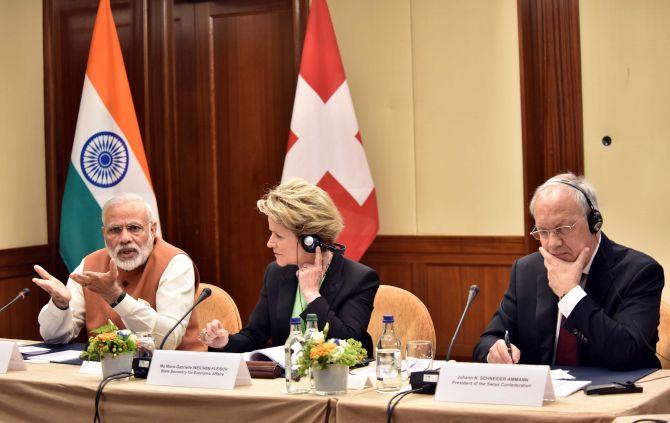 IMAGE: Prime Minister Narendra Modi addressing business leaders. Photograph: PIB
The prime minister also talked about Switzerland being a popular destination for shooting of Indian films, noting the strong ties between the people of the two countries are an important "base and benchmark" in bilateral ties.
In this regard, he also mentioned about India launching the e-tourist visa facility earlier this year for Swiss nationals.
"Thanks to the Indian film industry, we are very familiar with the enchanting beauty of the Swiss landscapes. But, we are also keen to welcome larger number of Swiss visitors to India," he said.
The prime minister also referred to Indian tennis stars Sania Mirza and Leander Paes winning a number of Grand Slams while pairing up with Swiss player Martina Hingis.
"There are many success stories of our relationship. One that has been making waves in the Grand Slams of the tennis world is the partnership of famous Swiss player Martina Hingis with Sania Mirza and Leander Paes of India.
"I am confident that our common commitments and values, people to people links and a strong and growing economic partnership will take our relations to new heights," said Modi.
Paes and Hingis had won the French Open mixed doubles last week. The pair had won the Australian Open, Wimbledon and US Open in 2015.
The PM arrived in Geneva late Sunday night from the Qatari capital Doha on the third leg of his five-nation tour.
Modi began his five-nation visit in Afghanistan. From Geneva, Modi will travel to the United States and then to Mexico.