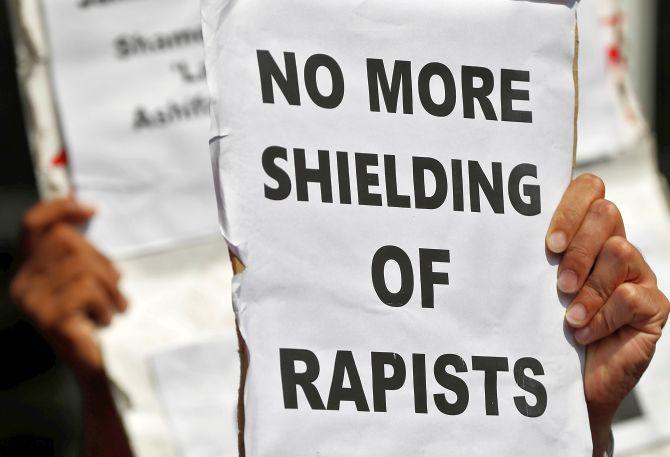 Outrage has broken over the rape and killing of the minor girl in Kathua, with Congress leaders, including its president Rahul Gandhi, staging protests over the incident and mourning her death.
Earlier on Thursday, massive protests erupted across the nation demanding "exemplary punishment" for the culprits of the crime.
On Friday, other prominent names joined in the protest, ranging from Kamal Hassan to Supriya Sule.
Actor-politician Kamal Hassan expressed anguish over the rape and killing of an eight-year-old girl, saying he felt "angry" for failing her.
"Does it have to be your own daughter for you to understand? She could've been mine," he tweeted.
Hassan, founder-president of Makkal Needhi Mayyam, said he felt "angry" as a man, father and as a citizen for "failing" the minor girl.
"I am sorry my child, we didn't make this country safe enough for you. I'll fight for justice at least for future kids like you. We mourn you and won't forget you," he added.
Nationalist Congress Party MP Supriya Sule questioned the silence of Prime Minister Narendra Modi on the rape and murder of an eight-year-old girl in Kathua in Jammu and Kashmir.
"The government on one hand says Beti Bachao Beti Padhao and on the other hand stays mute on the rape, indirectly shielding the culprits of the heinous act. Mere hypocrisy. How can Hon @NarendraModi Ji stay silent on this?" Sule tweeted.
She said that she was "extremely disturbed" that "right wing ideologues" were "justifying the rape".
"The worst part is right wing ideologues close to the government justifying the rape. Extremely Disturbed," Sule, the Lok Sabha MP from Baramati, said.
National Conference leader Omar Abdullah said the rape-murder of an eight-year-old girl in Kathua was inhuman and questioned the PM's silence.
In a tweet, he wrote, "Hon PM sir, there isn't a day when we don't hear you speak about things that are important to you yet there are times when you are completely silent about things that are important to others. Please don't let #Asifa be someone you choose to remain silent about."