In a show of unity, leaders of a number of opposition parties including Congress chief Rahul Gandhi joined the Rashtriya Janata Dal in a massive protest at Jantar Mantar in Delhi over the alleged rape of young girls at a shelter home in Bihar's Muzaffarpur and demanded that Chief Minister Nitish Kumar take immediate action against the accused.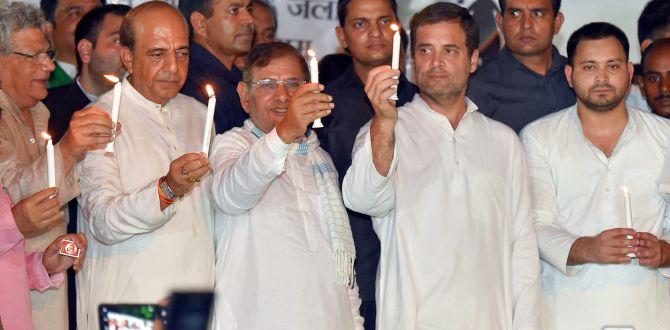 Prominent leaders who joined the protest included Delhi Chief Minister Arvind Kejriwal, RJD's Tejashwi Yadav and Misa Bharti, Communist Party of India-Marxist's Sitaram Yechury, Communist Party of India's D Raja and Atul Kumar Anjan, Loktantrik Janata Dal leader Sharad Yadav and Trinamool Congress's Dinesh Trivedi.
Addressing the protesters, opposition leaders attacked the Bharatiya Janata Party and the Janata Dal-United1 and demanded stringent punishment against those involved in such heinous crimes.
Congress president Rahul Gandhi said if Nitish Kumar is ashamed of the rape incident, he should immediately act against the culprits.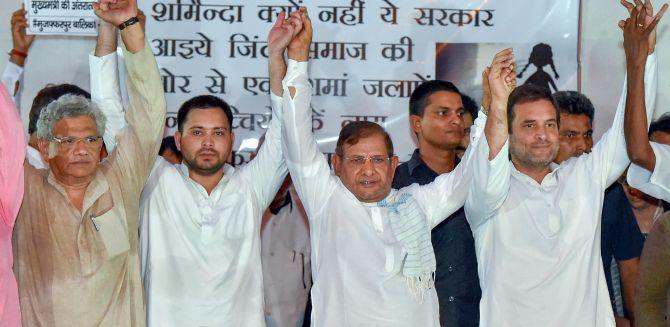 "We stand with the women of India, we stand with the girls and their families who suffered in this shelter home," he said.
The Congress chief said on one side is the ideology of the BJP and the Rashtriya Swayamsevak Sangh and on the other is the entire country and "this will be seen in the coming days".
"India is saying that what has happened in the last four years, we do not like. When India makes up its mind, then no one can stand before it," he said.
Tejashwi Yadav, who targeted Bihar Chief Minister Nitish Kumar over the alleged rape incident at the shelter home in Muzaffarpur, demanded a probe monitored by the Supreme Court.
The Bihar government has handed over the case to the Central Bureau of Investigation.
Demanding justice for the girls of the shelter home, who were allegedly sexually exploited, Yadav said the accused should be given exemplary punishment and steps be taken to ensure this does not happen again.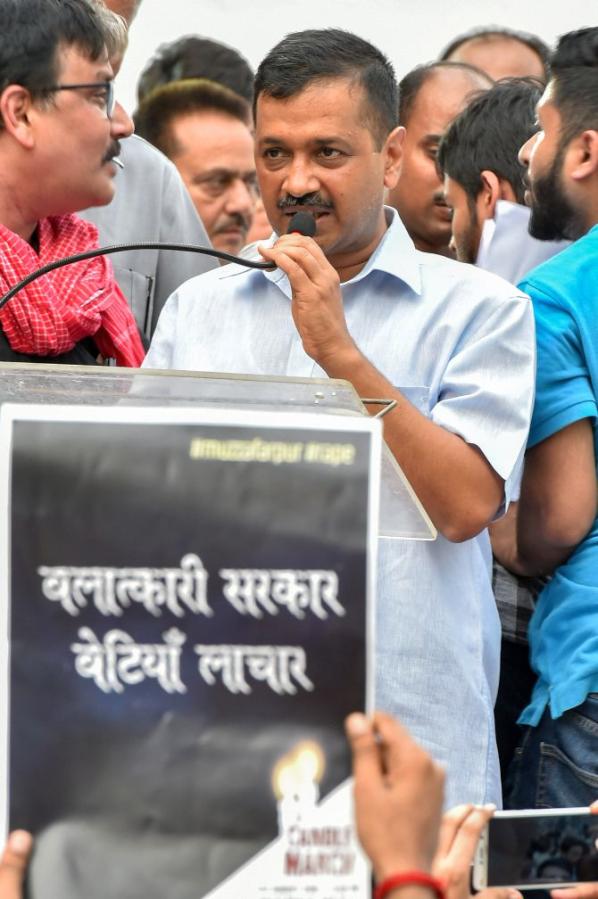 Recalling the gang rape incident in Delhi, Kejriwal said fast track courts should be set to give death sentence to the accused for such heinous crime.
"I demand that this case be probe in three months and the accused be hanged," he said.
The Delhi chief minister alleged that the accused have connections with influential people.
Yechury alleged anarchy is being sheltered by governments in BJP-ruled states.
"We need to change this government.... the slogan of 'beti bachao is now 'save beti from BJP'," he said.
Sharad Yadav said that these crime have taken place under the nose of the JD-U-BJP government and demanded "a Supreme Court monitored probe conducted by the CBI".
He also said that a national commission should be set up to probe such crimes across the country, including Bihar.
"The BJP is not saving the daughters of the country. It is instead busy saving cows," he said.