Prime Minister Narendra Modi ups his style ante for the Obama visit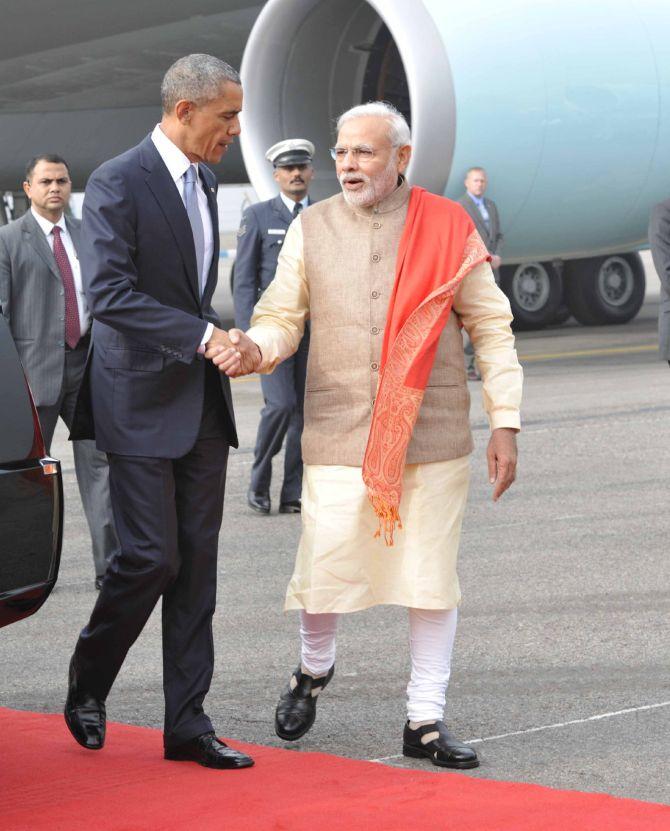 PM Modi added colour to his kurta pajama and Nehru jacket with a bright red and gold stole. Photograph: Press Information Bureau

Often praised for his dressing style, Prime Minister Narendra Modi on Sunday wore the traditional kurta pajama, his trademark Nehru vest and a stole as he received United States President Barack Obama at the airport in New Delhi.
While Modi sported a vibrant attire with a red and gold stole, Obama was attired in a more business-like dark suit. His wife Michelle was in a flowing blue and black dress.
Modi later changed to a formal pinstripe 'bandhgala' suit at the Rashtrapati Bhavan where Obama was given a ceremonial welcome.
At the Rashtrapati Bhavan, Modi wore a l pinstripe 'bandhgala' suit with a pocket square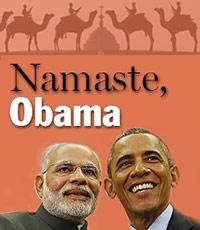 The Indian prime minister's sartorial taste had also invited glowing commentary in the US newspapers during his visit to that country in June to attend the United Nations General Assembly.
Three major US publications -- Time, The New York Times and The Washington Post -- had lauded his dressing style from his "trademark Modi kurta" to his tunic.
The New York Times in an article titled 'A Leader Who Is What He Wears' had said "even by the standards of a world that has seen blogs devoted to Michelle Obama's dress sense, the pre-election makeovers of Francois Hollande and Dilma Rousseff, and the canonisation of Nelson Mandela's shirts, the image-craft of India's new prime minister, Narendra Modi -- and its fashion fallout -- has been something of a case study."

Rediff recommends:

Don't be fooled by the hug!

What's cooking for US President Obama

We dare the Obamas to do 7 things only Indians can

Mean machines: Obama's 'Beast's vs Modi's BMW