Heavy flooding has caused animals at Kaziranga and Pabitora to move to higher land, making them more vulnerable to poaching. K Anurag reports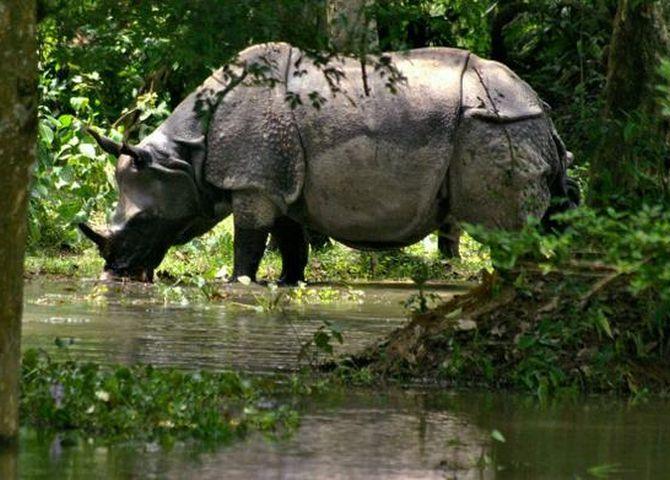 The rare one-horned rhinoceros inhabiting the national parks in Assam are at greater risk of poaching as they are moving from the inundated park land to higher land. Photograph: PTI
The heavy rainfall in Assam has inundated most low-lying areas of Kaziranga National Park and the Pabitora Wildlife Sanctuary, forcing hundreds of rhinoceros and other animals to move to the highlands, increasing their vulnerability to poaching.
The current flood situation has wreaked havoc in Assam, affecting over eight lakh people in 18 districts and has caused extensive damage to roads, bridges, embankments, houses and standing crop.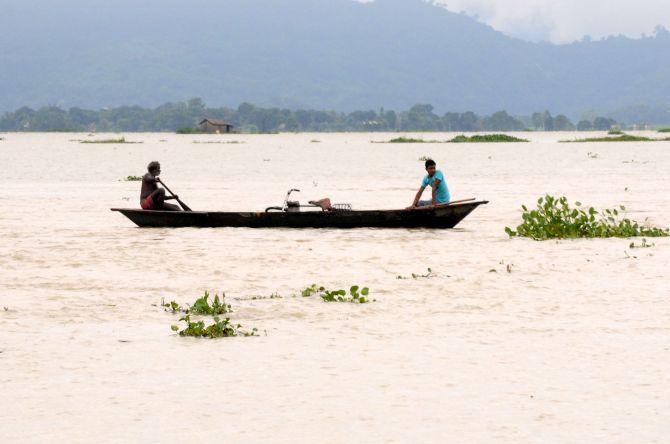 The flooding has forced animals to cross over the hazardous highway.
Official sources have revealed that a large area of grassland inside Kaziranga National Park, located on the south bank of the Brahmaputra River in Nagaon, has been inundated, forcing animals, including herds of elephants, hundreds of one-horned rhinoceros and deer to cross over the hazardous National Highway 715 on the south of the park to take shelter in the Karbi Anglong foothills.
KNP, the 430 square kilometre habitat of the one-horn Great Indian Rhinoceros and variety of other fauna and flora, had experienced the worst floods last year when over 500 hog deer and variety of wild animals, including one-horned rhinos, were killed.
Forest and police officials have mounted a vigil on the highway in an attempt to protect the flood-hit animals. Speaking to Rediff.com, the officials said that they have introduced a time card system to regulate the speed limit and also imposing heavy fines on those who are flouting the speed limits.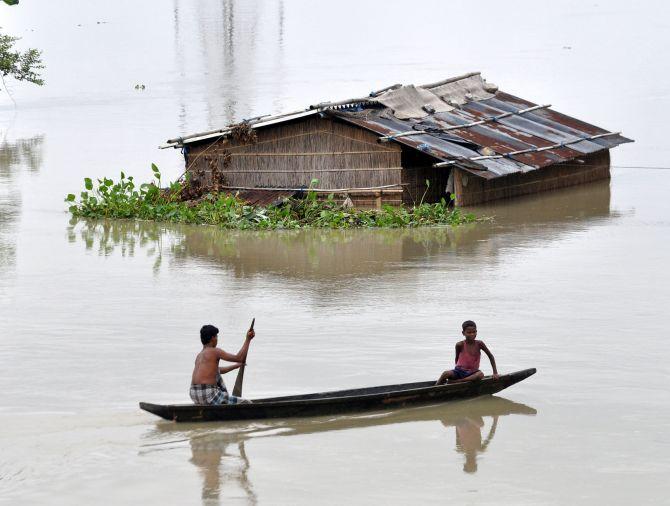 At Pabitora Wildlife Park, 70 per cent of the park is under water owing to the heavy rains.
The situation at the Pabitora Wildlife Sanctuary in Marigaon district, which is known for the highest density rhino population in the world, is worse with flood water of the Brahmaputra River inundating over 70 per cent area of the 38 square kilometre park.
The 12 elephants inhabiting the park have also been shifted by forest department officials to dryer land.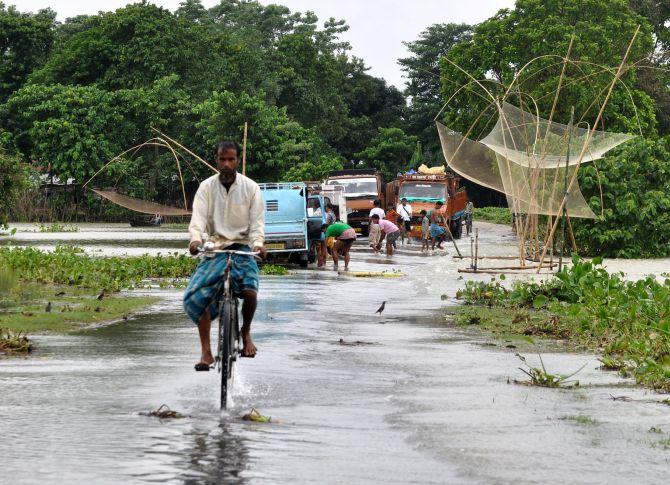 The floods have affected over eight lakh people as of now.
Additionally, a forest official said that shortage of fodder has compounded the problems.
Also, animals are a higher risk of being poached as the anti-poaching camps are severly affected by the flooding and movement in and around the camp has become tough for them.