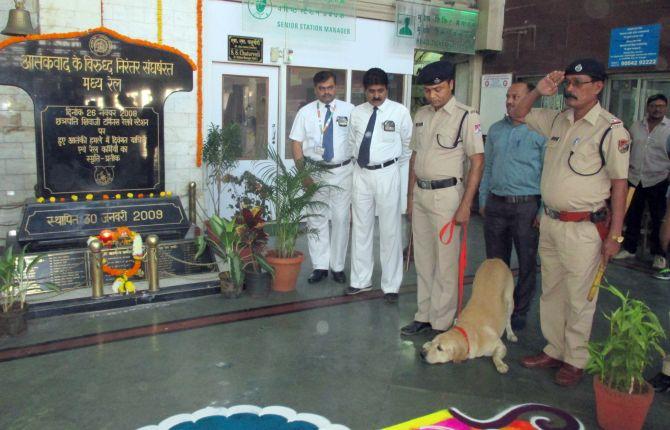 IMAGE: A sniffer dog and police personnel pay homage to the victims and martyrs on the 8th anniversary of 26/11 terror attacks at CST Railway Station in Mumbai on Saturday. Photographs: Sahil Salvi
Rich tributes were paid on Saturday to the martyrs who laid down their lives eight years ago on this day during the terrorist attack on Mumbai in which 166 people were killed, with Maharashtra Chief Minister Devendra Fadnavis leading the commemoration.
Family members of the martyred personnel and survivors of the daring strike recalled the harrowing moments and pledged support to efforts to root out terrorism.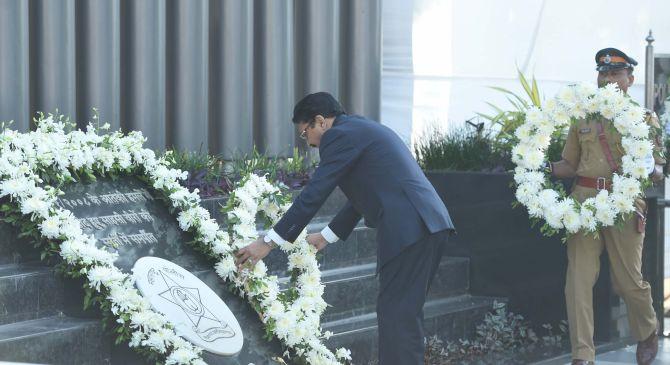 IMAGE: Maharashtra Governor Ch Vidyasagar Rao lays wreath at a 26/11 memorial.
"I pay homage to the brave policemen who fought for Mumbai's safety and laid down their lives for us on 26/11. We are proud of them and we will strive hard for safety and security of our state," Fadnavis said paying homage at the 26/11 police memorial at the Mumbai Police Gymkhana.
Governor Ch Vidyasagar Rao, Shiv Sena president Uddhav Thackeray, former Mumbai police commissioners Julio Ribeiro, M N Singh and several senior present and former police officers were present.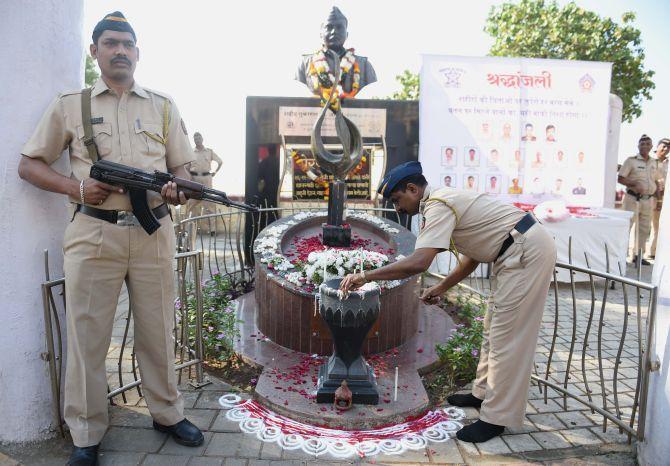 IMAGE: A cop lights a candle at a memorial of Tukaram Omble who helped catch Ajmal Kasab alive.
On November 26, 2008, ten Pakistani terrorists arrived by sea route and opened fire indiscriminately at people killing 166, including 18 security personnel, and injuring several others, besides damaging property worth crores.
The then Anti-Terrorism Squad chief Hemant Karkare, National Security Guard commando Major Sandeep Unnikrishnan, Mumbai's Additional Police Commissioner Ashok Kamte and Senior Police Inspector Vijay Salaskar were among those killed in the attack.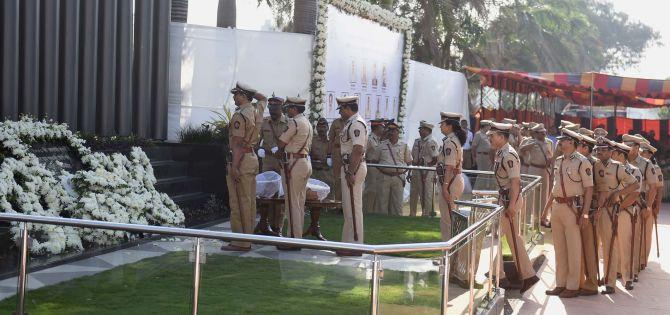 IMAGE: Policemen pay tributes to 26/11 martyrs.
The attack had begun on November 26 and lasted until November 29. Chhatrapati Shivaji Terminus, the Oberoi Trident, the Taj Mahal Palace and Tower, Leopold Cafe, Cama Hospital, and the Jewish community centre were some of the places targeted by the terrorists.
Ajmal Kasab was the lone terrorist who was captured alive. He was hanged four years later on November 21, 2012.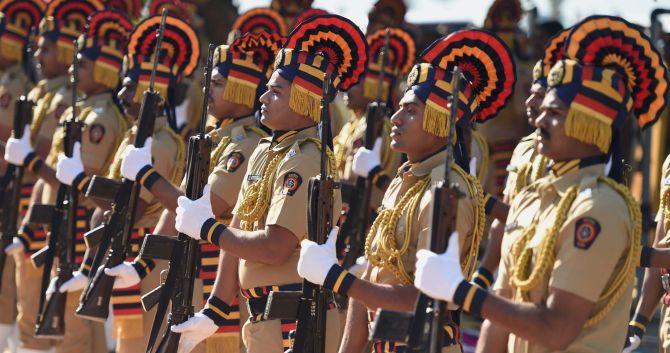 IMAGE: Gun salute to the martyrs.
At a video exhibition titled '26/11: Stories of Strength', showcased by The Indian Express in association with Facebook and Instagram, Fadnavis called for leveraging manpower with technology for security purposes.
He said the 2008 Mumbai attacks were an insult to India, wherein 10 terrorists held an entire nation to ransom.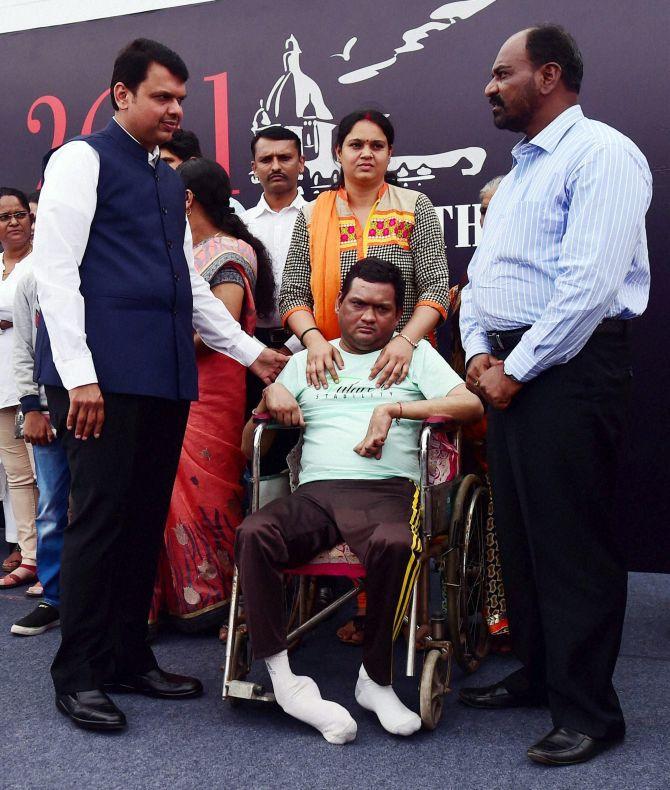 IMAGE: Maharashtra CM Devendra Fadnavis meets victims of the attack and their kin. Photograph: Santosh Hirlekar/PTI Photo
He said the whole world should be proud of the resilience shown by the city to cope with the terror attacks.
Kia Scherr, who lost her family in the ghastly attacks, said she and her family in Florida could only watch the news and wait to hear from her relatives who were in the city then.
"I have forgiven those who killed my family because I want to be relieved from the burden of anger. Since the attacks, I have been reborn in Mumbai again. I have received so much of love, generosity from people here," she said.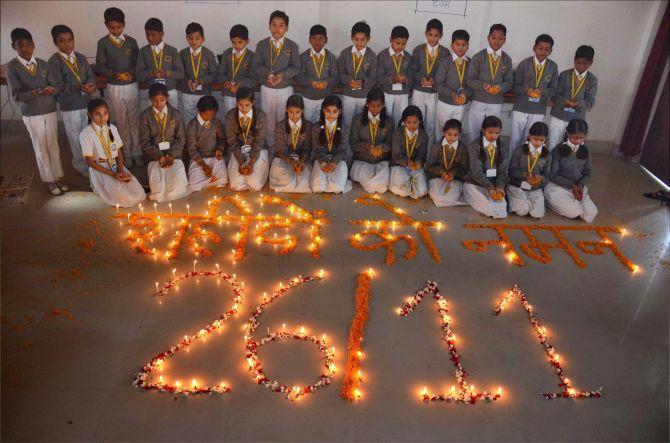 IMAGE: Schoolchildren pay tributes to the martyrs and victims. Photograph: PTI Photo
Sourav Mishra, a survivor of the attack, said he was at the Cafe Leopold in Colaba when terrorists opened fire and he feels lucky to have survived.
"After bullets pierced my body, I somehow managed to escape through one of the doors and everything seemed like a movie scene then, all hazy. A local vendor outside the café took me to the hospital while I was all the time thinking I would not survive. I feel lucky today," Mishra said.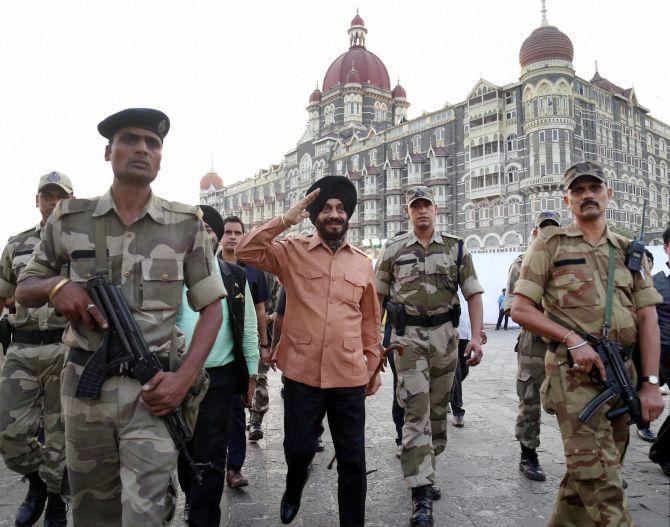 IMAGE: Chairman of the All-India Anti-Terrorist Front M S Bitta at event of victims of 26/11 terror attacks in Mumbai on Saturday. Photograph: PTI Photo

Joint Commissioner (Law and Order), Mumbai Police, Deven Bharti, who participated in a panel discussion at the exhibition, said security forces had never thought an attack of the magnitude of 26/11 would ever take place and that it was a 'failure of imagination' on their part.
"We never thought there could be a terrorist attack at multiple points from the sea side. After the attacks, police of other countries had to change their Standard Operating Procedures to handle 5-6 attacks at the same time," he said.
IMAGE: Staff of Cama Hospital, which was attacked by Kasab and his aide, pay tributes to those who died in the attacked. Photograph: Sahil Salvi
Bharti, who was with the Crime Branch when the attack took place, said the city police did not have SOPs to handle an attack of this magnitude then and the senior personnel did whatever they could with the help of their teams, grit and determination.
"That attack was a failure of our imagination. But today, we have a fighting force as good as National Security Guard which is trained by agencies based in Israel, America and Germany. They are at par with any commandos. We can respond to a terror situation in a much better way today," he said.