A life-threatening blizzard expected to dump a record 30 inches of snow on the US capital slammed the east coast on Saturday, leaving at least nine persons dead nationwide and causing 10 states to declare a state of emergency.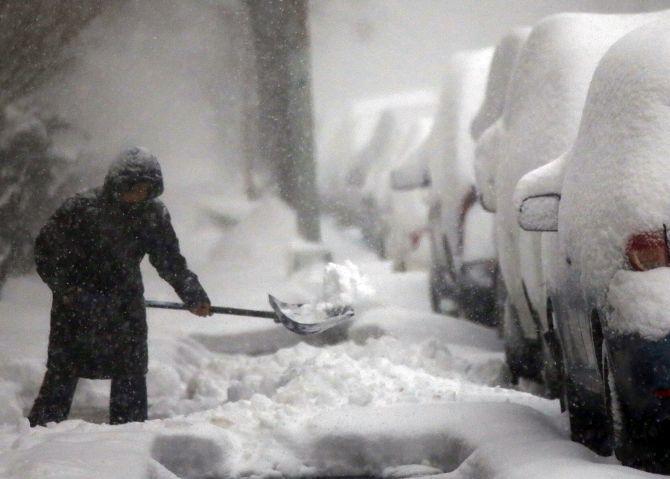 A woman shovels a sidewalk in blizzard-like conditions in Brooklyn. The Northeast and parts of the South are experiencing heavy snow and ice from a slow moving winter storm. Multiple deaths from traffic accidents have already been reported as the storm makes its way up the coast. Photograph: Spencer Platt/Getty Images
Officials urged millions of people in the storm's path to seek shelter and brace for a weekend of travel disruptions.
The states most hit by the blizzard were Georgia, North Carolina, Tennessee, Maryland, Virginia, Pennsylvania, New Jersey, New York and Kentucky, in addition to Washington DC, which has declared a "snow emergency."
In Virginia, which has a large Telugu population, media reported several weather-related accidents on Friday. Virginia State Police responded to more than 800 traffic accidents.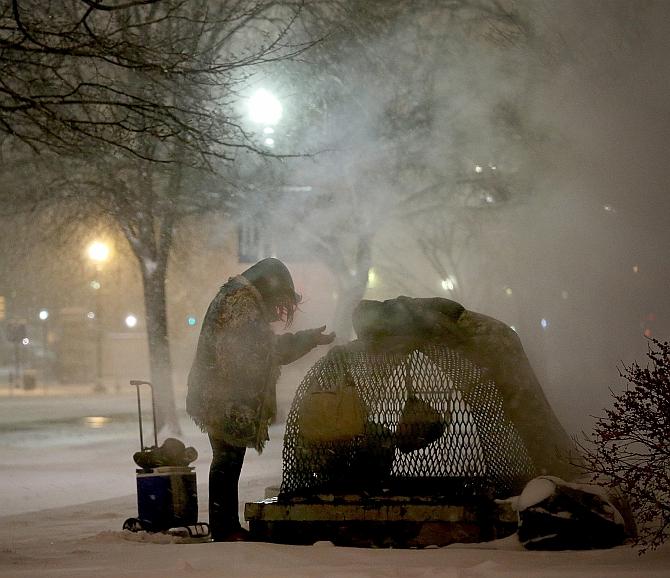 A homeless woman tires to keep warm near a steam grate on Constitution Avenue in Washington, DC. Photograph: Win McNamee/Getty Images
In a statement, the North American Telugu Association urged members to stay indoors and take precautions for safety.
A number of temples and other places of worship, including gurdwaras, in the region have opened up to shelter people.
Up to 85 million people -- about one quarter of the US population -- were in the path of the storm that has iced up much of the East Coast and the Mid-Atlantic.
At least nine people have died, reports said.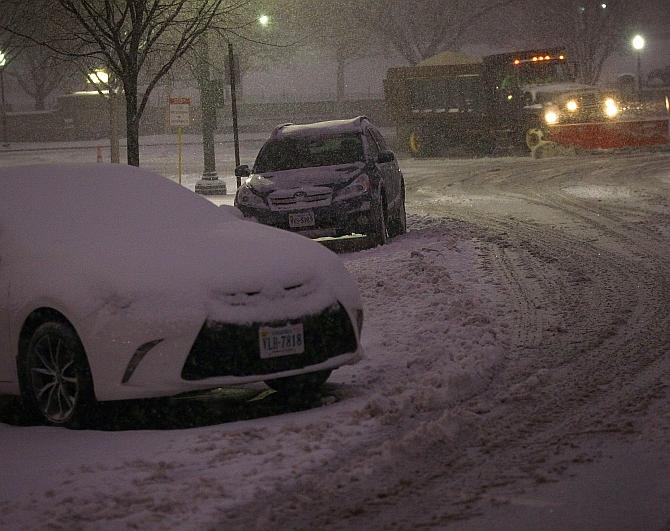 A snowplow cleans up snow in Washington, DC. Photograph: Alex Wong/Getty Images
Latest estimates suggest more than 1,20,000 homes have been left without electricity as the storm, dubbed "Snowzilla" by some US media, began dumping several inches of snow across the region.
Governors in at least 10 American states have declared states of emergency while Washington is likely to be covered under 30 inches of snow over the weekend, in what could be a record snowfall.
"We have a forecast that we did not have in 90 years. It has life-and-death implication, and all the residents of the District of Columbia should treat it that way," Washington DC Mayor Miriel E Bowser said.
He said District National Guard has been deployed.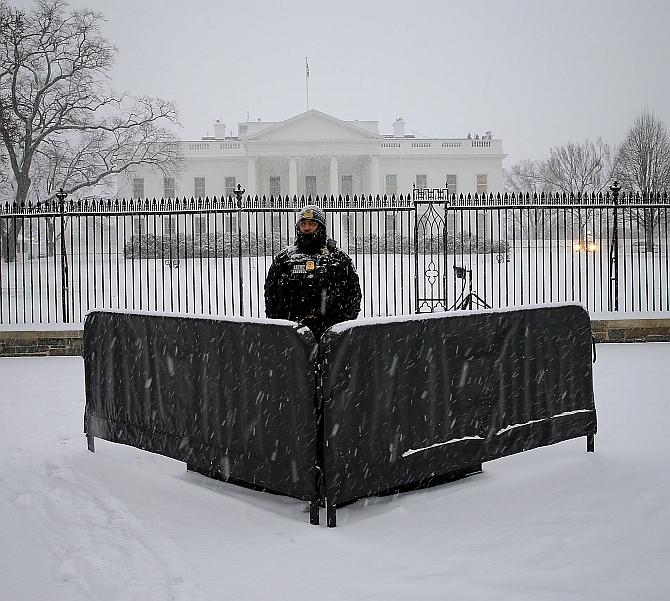 A member of the US Secret Service stands guard covered in newly-fallen snow outside the White House in Washington, DC. Photograph: Win McNamee/Getty Images
Local governments have deployed hundreds of ploughs and salt trucks to clear out snow on roads and highways.
With temperatures below the freezing point, people stayed indoors and found shelters to keep warm.
Unlike a normal Friday night, most of the downtowns, malls and restaurants were deserted and hardly any traffic was seen on the road.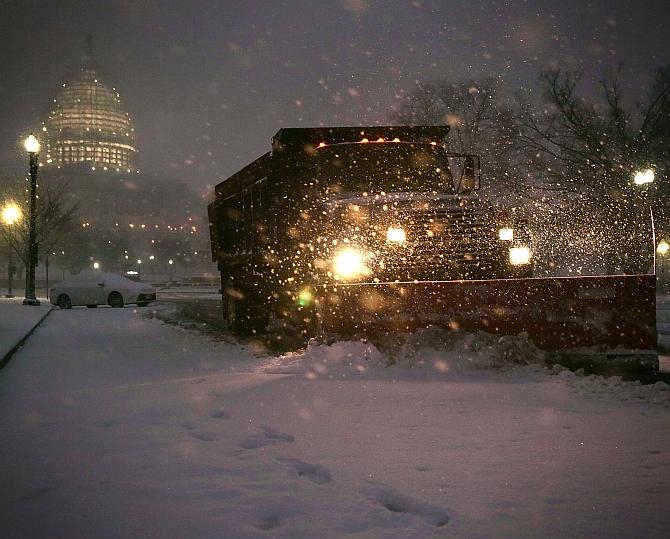 A snowplow cleans up snow on Pennsylvania Avenue in front of the US Capitol in Washington, DC. Photograph: Alex Wong/Getty Images
More than 6,000 flights were cancelled between Friday and Saturday and over 4,500 delayed. As a precaution, the public transport system has been shut down in the Washington region.
"The combination of heavy snowfall and strong winds will produce whiteout conditions and extremely dangerous travel," the National Weather Service said.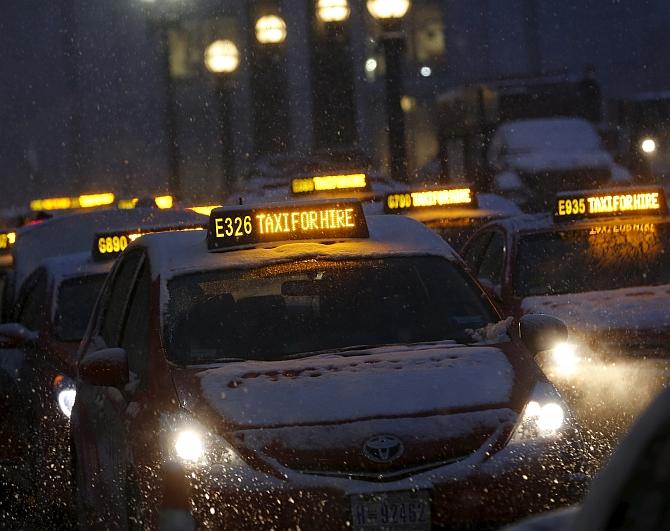 Taxis wait for fares in the snow at Union Station in Washington. Photograph: Jonathan Ernst/Reuters
NWS officials said the storm could cause more than $1 billion (Rs 6,757 crore) in damage. The blizzard is expected to last about 36 hours and leave more than two feet of snow in some places.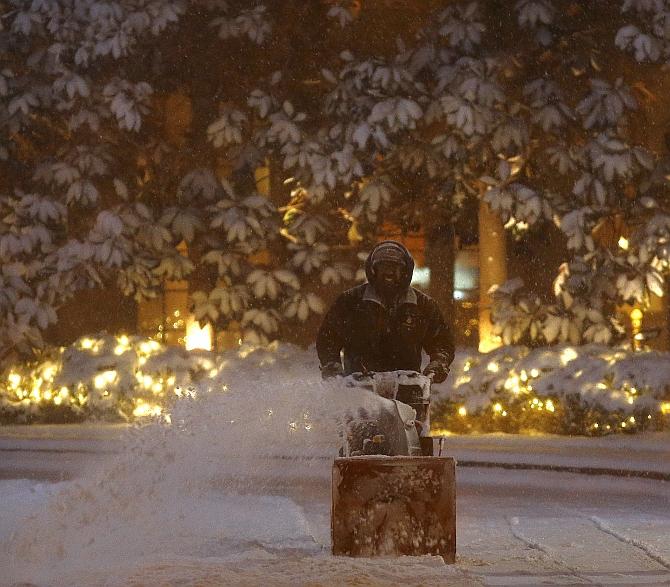 A man cleans the entry way of a building after a winter storm arrived in Washington. Photograph: Carlos Barria/Reuters
In a tweet, the service said "the real teeth" of the storm would be felt midnight through the afternoon today. "Heavy snow, increasing winds, lightning threat," it warned.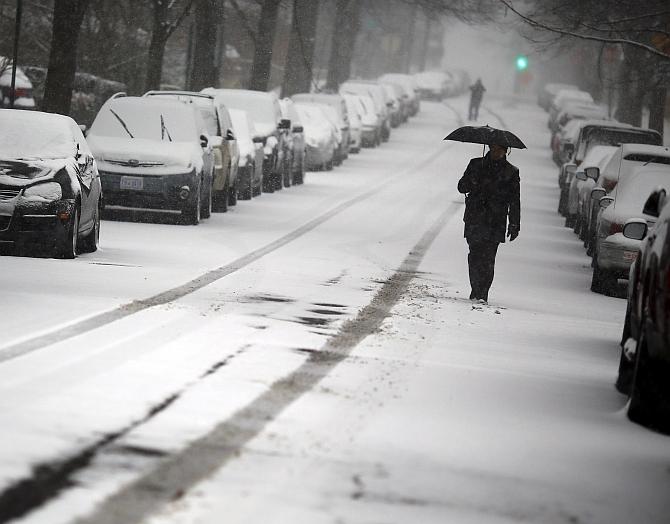 A man walks in the snow after a winter storm arrived in Washington. Photograph: Carlos Barria/Reuters
Officials throughout the Mid-Atlantic region warned that it could be days, or even a week, before residents will be able to dig out.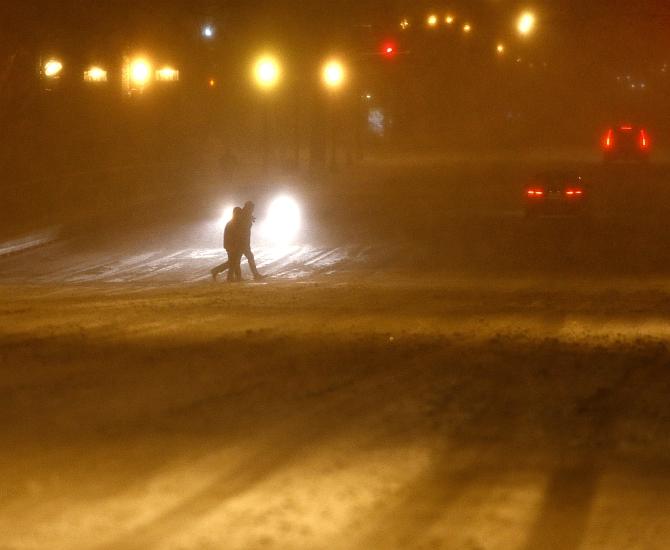 People cross an empty street after a winter storm arrived in Washington. Photograph: Carlos Barria/Reuters