Cricket diplomacy was in abundance at a rare reception given to Narendra Modi at the iconic Melbourne Cricket Ground with the prime minister saying a "new journey" in India-Australia relationship has begun.
Addressing the select gathering at the reception hosted by Australian Prime Minister Tony Abbott and attended by cricket greats like Sunil Gavaskar, Kapil Dev, Allan Border and Dean Jones among others, Modi heaped effusive praise on Australia's sporting culture and thanked his Australian counterpart his "truly generous hospitality".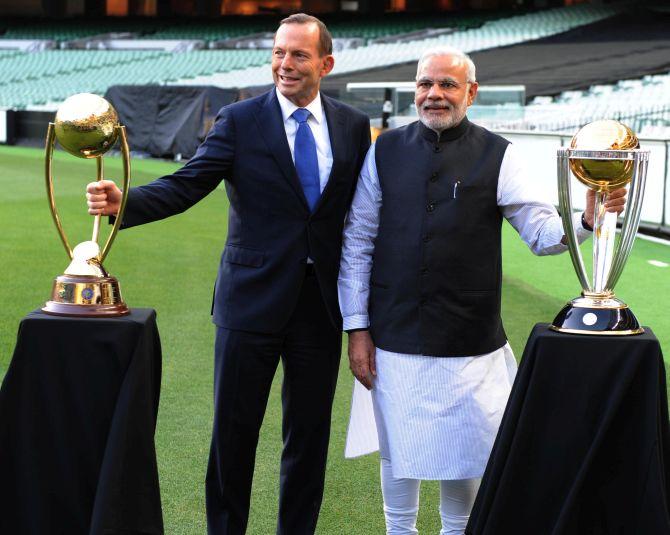 PM Modi with his Australian counterpart Tony Abbott pose with the World Cup trophies at the Melbourne Cricket Grounds. Photograph: MEA/Flickr
Modi described his speech at the 161-year-old MCG ground "close to scoring a century here especially against McGrath and Brett Lee" and said, "This memory will stay with me forever."
"Many Indians wake up early on a cold December morning to watch on TV a Boxing Day Test at this magnificent stadium! I know that India has not done particularly well in this ground! But, we won the 1985 Champions Trophy here. And, Gavaskar and Kapil Dev are here! As is Laxman, who especially loved to bat against Australia. To speak to you at this historic ground comes close to scoring a century here especially against McGrath and Brett Lee. I met him yesterday. The best I managed was to head the Gujarat Cricket Association," he said.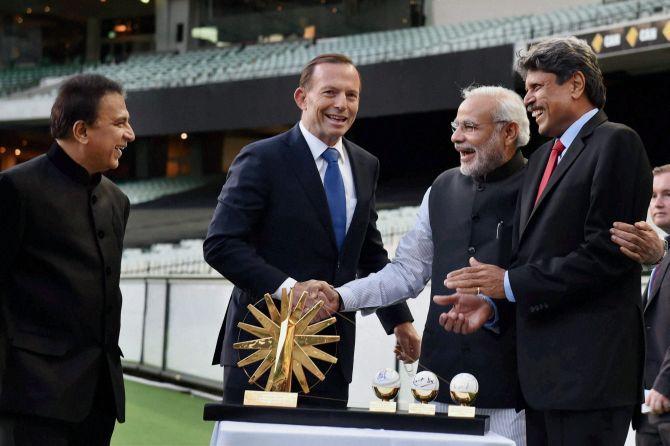 PM Modi in the presence of Kapil Dev and Sunil Gavaskar presents Abbott with the Skippers memento, which has the replica of Gandhi's charkha and 3 cricket balls signed by him and World Cup winning captains – Kapil Dev and MS Dhoni. Photograph: PTI photo
Talking about the MCG, Modi said it would be a deserving venue for the Cricket World Cup finals 2015 and hope that India and Australia will play that match.
"No business is serious enough to keep an Australian and an Indian from discussing this great game," Modi said.
Before the dinner by Abbott, Modi presented 'Skippers' memento carrying replica of Mahatma Gandhi's charkha with three cricket balls signed by him and World Cup winning Indian captains Kapil Dev and M S Dhoni.
He said, "My memorable visit to Australia ends tonight, but a new journey of our relationship has begun."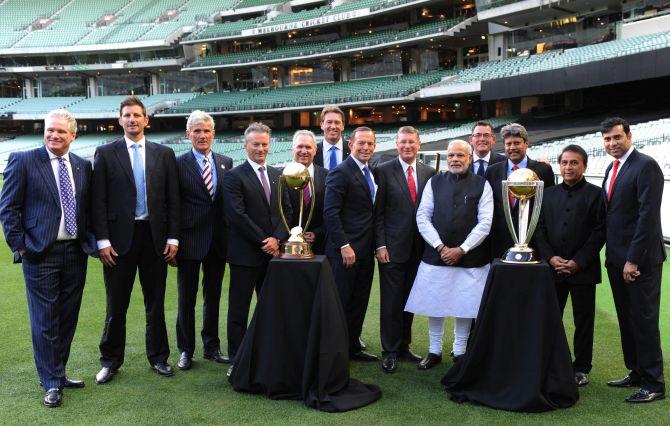 (From right to left) VVS Laxman, Sunil Gavaskar, Kapil Dev, Australian PM Tony Abbott, Glen McGrath, Allan Border, Steve Waugh, Michael Michael Kasprowicz and Dean Jones. Photograph: MEA/Flickr
The PM also noted that people asked him that isn't it too soon for him to visit Australia after Abbott's recent trip to India, "I said I can't say no to my friend Tony".
Modi felt India can learn from Australia's famous sporting skills in other areas too and said both the countries have decided to collaborate on a Sports University in India.
The PM referred to various initiatives by his government in infrastructure development and said the aim was to improve quality of life in cities and villages alike.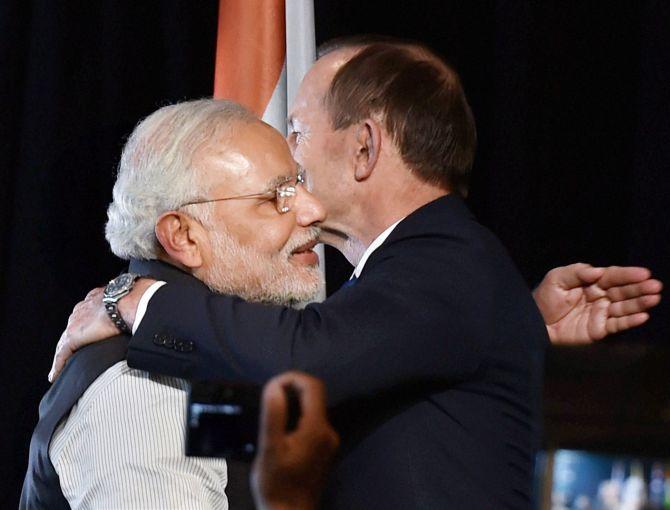 PM Modi hugs Abbott at the reception the latter held in honour of the PM. Photograph: PTI photo
Noting the India was looking forward to closer partnership with "friends" like Australia, Modi said a lot was achieved in the last few days. "I have also met the political leadership, business leaders and the vibrant Indian community. One thing we all agree on. The bonds between the countries are made strong by joined hands of our people. So, our exchanges in sports, tourism, education and culture are great source of strength for our relationship. As I see the warmth and friendship for India today and over the last five days. I feel great confidence in the future of our relationship," he said.