Here are some interesting quotes Prime Minister Narendra Modi made to a sold-out crowd at Sydney's Allphones Arena.
In a break, PM Modi began his speech in English.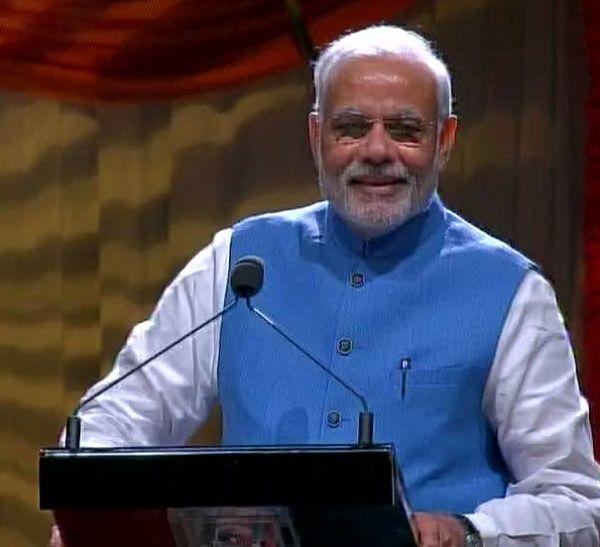 This praise and respect does not belong to me. This belongs to the people who have voted for me. This welcome, this respect and this enthusiasm l dedicate it to the people of India, the 1.25 billion people of India.
This atmosphere in Sydney is inspiring people all over the world. These incredible scenes and warm welcome will galvanise India.
Fifty years before independence Vivekanand had said that people of India should forget their gods for 50 years. He had appealed to people to only pray for 'Bharat Mata'.
It is my privilege to be the first PM of India to be born post 1947.
We did not get the opportunity to die for the nation or spend our youth in jail. But we can surely live for the nation .
It takes one day to reach Australia but it took 28 years for the PM of India to come here.
My friends in Australia I assure you...you won't have to wait for 28 years for another PM to visit you.
Sydney is a beautiful city, Australia is a beautiful country. Both countries can't live without cricket and we are bound by this bond.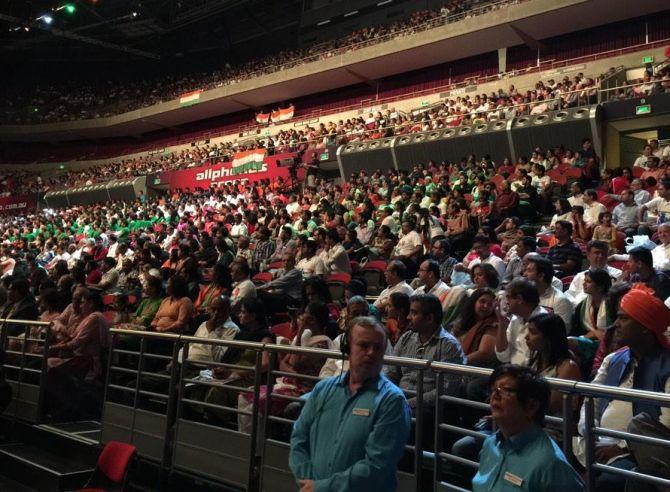 India is a young country. India has 250 crore hands to work for her. Out of these over 200 crore people are below the age of 35. It's the youth who hold capacity to fulfill dreams.
If people work together towards progress, there is no way that we cannot develop. It is fated that we move ahead.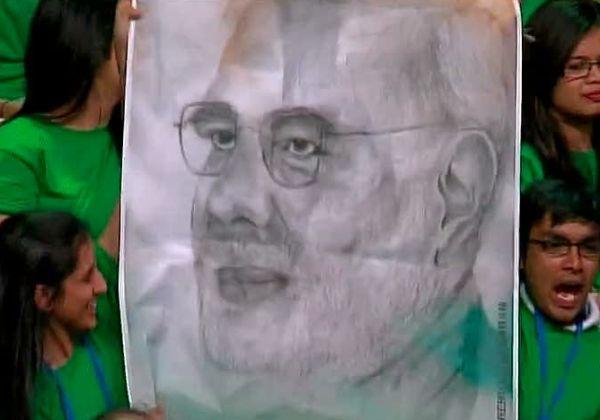 Indians here have embraced Australia. They have showed Australia what our cultures and traditions have been.
I promise I will heed the problems of Indians in Australia and doo all in my power to help you.
When elections were going on India, you did not have to caste a vote. But yet all you remained updated and connected with the updates.
Many people want to work on big dreams. I'm happy working on small things, working for the small people to make them prosper.
I spoke to Reserve Bank about 'Jan Dhan Yojna'. They said it will take 3 years. I said I want this done in 150 days and it is done.
71 million bank accounts have already opened in last 10 weeks. Same people, same departments... Did the work happen or not?
I took up the work of Clean India on October 2. I know this is a difficult task. Mahatma Gandhi also did it but should we not take up a difficult task? When we go abroad and see clean streets, we always think of the dirty streets back home.
If we take up the challenge then the bad image of India can also be cleaned up.
I invite you all to contribute to the movement in any way you can.
One thing that touched me about Australia is the dignity of labour. We should learn this from them. I want to teach India that picking up garbage is not below our dignity.
We call the man who picks up our garbage as kachrewala, he is safaiwala. We have to change this mindset.
We have to give back a clean India by 2019 on Mahatma Gandhi's anniversary.
We want people from across the world to invest in India, to be a part of 'Make in India'.
With a lot of courage we opted for 100 per cent FDI in railways in India. Have such a huge market and window for improvement.
There are a lot of countries in the world who have top class work force but do not have the work force. We are fortunate that we have the work force.
I want to build India the way you dream about it. I believe government cannot make a country. It is the people who build a country.
Earlier governments wanted to make laws, I want to abolish them. A web of laws have been created which should be removed