Expressing confidence about his party coming back to power in 2019 Lok Sabha polls, BJP chief Amit Shah said that his party will rule the country for the next 50 years.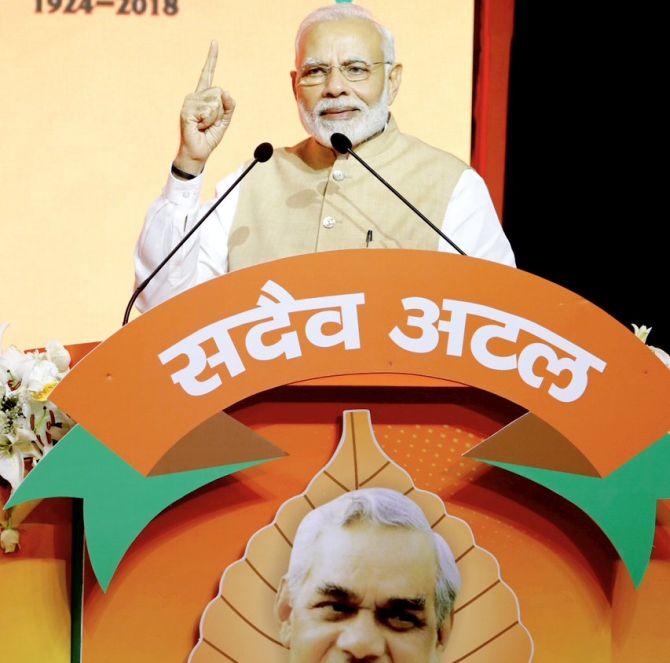 Setting the tone for the 2019 Lok Sabha election, Prime Minister Narendra Modi on Sunday said he sees "no challenge" to the Bharatiya Janata Party and described unity efforts among opposition parties "unable to stand each other" as a proof of his government's popularity and his party's big success.
Giving the slogan of Ajey Bharat, Atal Bhajapa (Invincible India, firm BJP), he exuded confidence that his party will win in 2019.
"We have started our journey with confidence of victory. We enjoy the confidence of 125 crore people of India," he said.
In his concluding address at the party's two-day national executive meeting, Modi also heaped scorn on Congress president Rahul Gandhi, saying his party's leadership is not acceptable to any ally, is seen as a burden by some others and is not acceptable to a few within his own party.
The opposition has neither ideology nor a leader and any coordination, with its policies being unclear and intentions corrupt, Modi said, according to Union minister Ravi Shankar Prasad, who briefed the media on the speech in the closed-door meeting.
"We do not see any challenge," he said, lashing out at the opposition over its allegations based on "falsehoods and lies" against his government.
When they were in power they were a failure, and they are a failure even in opposition, he said.
Slamming rival parties, he said they cannot see eye to eye and never stand each other but have been forced to embrace one another to challenge the BJP.
It shows the government's popularity and acceptance of its programmes and leadership by the people, he said.
He said his government has lived up to the slogan of 'sabka saath, sabka vikas' by bringing development to all without any consideration of caste, religion or region.
Mocking Rahul Gandhi without naming him, Modi said nobody, including small parties, is ready to accept the Congress's leadership.
"Some even consider it a burden. There are some within it (Congress) who are not in a position to accept the leadership," he said.
The opposition has not challenged the government on issues or its policies and ideology, but manufacture lies everyday and keeps repeating it, he said, apparently in reference to its attack on him over issues of corruption in the Rafale deal and demonetisation among others.
If issues are debated, then the question will come as to what "one family" did for 48 years and what his government had done in 48 months, Modi said, targeting the Congress's Gandhi family.
He asked the Bharatiya Janata Party workers to "unmask" the Congress with facts and logic.
On a day BJP president Amit Shah claimed that his party would rule for 50 years on the basis of its performance once it comes to power in 2019, Modi like Shah also cited the example of Gujarat where it has had an almost uninterrupted reign for 31 years.
Modi said unlike other parties, the BJP has neither arrogance of power nor does it see government as a chair to grab by all means but uses it as an instrument to empower people.
"We work to fulfil our principles to which we remain firm. Our strategy may change from time to time," he said.
Asking his party to bust the opposition's "lies and falsehoods", he said the Congress nationalised banks and mines claiming that it will help the poor and then changed track in the name of reforms.
It is important to ask what benefits the poor got during the period, he said.
The world, Modi said, is discussing policies of his government based on "sabka saath, sabka vikas" (With all, everybody's development).
He spoke of the intensive drive to cover the poor households, especially in villages with high concentration of scheduled castes and tribes, with LPG connections, electricity and insurance cover among other welfare measures.
Modi also mentioned the newly-launched health insurance scheme, Ayushman Bharat, that seek to cover over 10 crore poor families.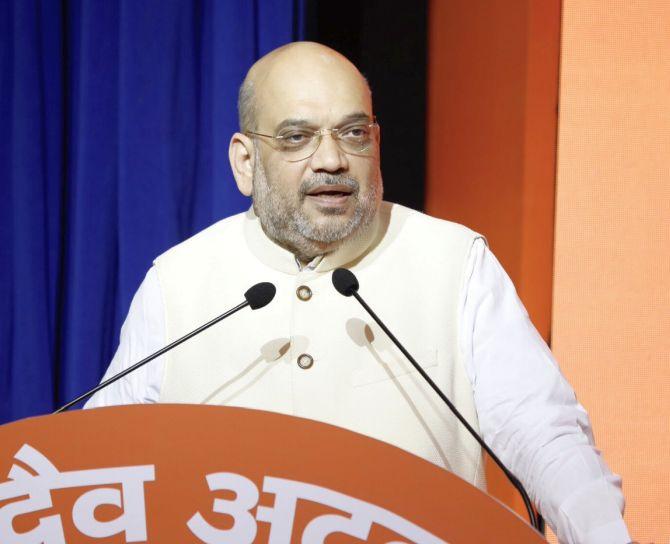 On simultaneous polls, he said his government has already done "one nation, one tax", a reference to the Goods and Services Tax, and "one nation, one power grid", but is not for creating pressure on this issue.
He wanted a debate in all sections of society on the issue of simultaneous polls, he said.
Asked if issues such as the opposition's allegation on the Rafale deal or the raging issue of rise in oil prices came up for discussion, Prasad answered in the negative.
Different government functionaries have been speaking on this matter.
Asked about the Ram temple issue, he said the matter is currently being heard in the Supreme Court.
Earlier, Former party president and Home Minister Rajnath Singh proposed the resolution which highlighted the government's success in internal security, including complete prevention of terror acts across Indian cities compared to the UPA's rule when, he claimed, "bomb blasts" would frequently happen in cities.
"The BJP will return to power in 2019 with more seats and votes. The opposition is daydreaming. It neither has a leader nor policy nor strategy. It only has a negative agenda of stopping Modi and people do not like negative politics," Union minister Prakash Javadekar told reporters said about the resolution.
Javadekar said the resolution praised the leadership of Modi and party president Amit Shah. Modi's charismatic leadership coupled with his vision and passion, combined with Shah's hardwork in building the organisation to extend the BJP's rule to 19 states, he said.
Under the jodi (duo) of Modi and Shah, the party has close to 350 MPs and 1500 MLAs, he said.