In a strong message to China, India and ASEAN on Thursday called for a "full and effective" implementation of the understanding between the parties involved in the South China Sea dispute, while stressing on maritime security and freedom of navigation in the critical sea lanes.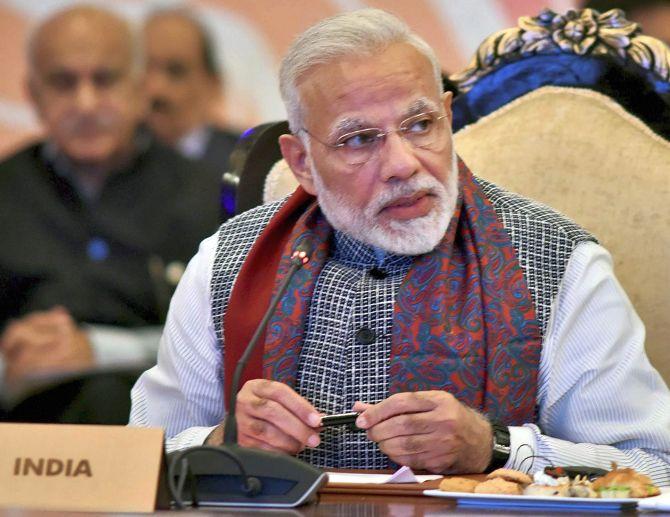 IMAGE: Prime Minister Narendra Modi delivering his opening remarks at the ASEAN India Commemorative Summit. Photograph: PTI Photo/PIB
The reaffirmation came after the two sides discussed ways to boost maritime security, connectivity and trade with Prime Minister Narendra Modi asserting that India shares the ASEAN vision for rules-based order for oceans and seas, and pitched for freedom of navigation in the region.
During the India-ASEAN Commemorative Summit, which saw highest-level of participation from the 10 member-countries of the grouping, the leaders also agreed to deepen cooperation in combating terrorism in all its forms and manifestations, including by countering cross border movement of terrorists. The two sides issued a 'Delhi Declaration' that also pitched for an early conclusion of the 'Code of Conduct' in the South China Sea. China is involved in a territorial dispute with several countries including Brunei, Malaysia, Indonesia, the Philippines, and Vietnam.
The seven-page declaration reaffirmed "the importance of maintaining and promoting peace, stability, maritime safety and security, freedom of navigation and overflight in the region, and other lawful uses of the seas and unimpeded lawful maritime commerce and to promote peaceful resolutions of disputes."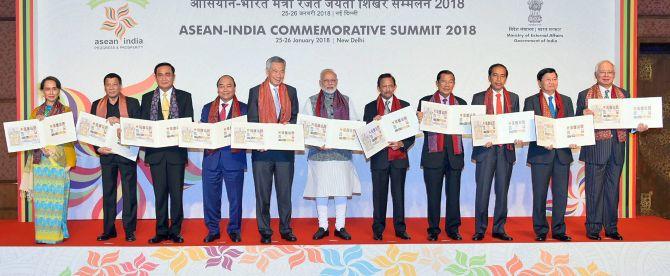 IMAGE: Prime Minister Narendra Modi with the ASEAN heads of state/Governments and ASEAN Secretary General releases postal stamps to commemorate silver jubilee of India and ASEAN partnership at the ASEAN India Commemorative Summit. Photograph: PTI Photo/PIB
It should be in accordance with universally recognised principles of international law, including the 1982 United Nations Convention on the Law of the Sea, and the relevant standards and recommended practices by the International Civil Aviation Organisation and the International Maritime Organisation, it said.
"In this regard, we support the full and effective implementation of the Declaration on the Conduct of the Parties in the South China Sea and look forward to an early conclusion of the Code of Conduct in the South China Sea," the declaration said.
Addressing the plenary, Modi said, "India shared the ASEAN vision of peace and prosperity through rules-based order for oceans and the seas. Respect for international law, notably UNCLOS, is critical for this."
He also said India remained committed to working with ASEAN to enhance practical cooperation and collaboration in the shared maritime domain.
On his part, Singapore Prime Minister Lee Hsien Loong, also the current ASEAN chair, talked about keeping regional security architecture open and balanced.
Noting that discussions on maritime security cooperation were "integral" part of the commemorative event, Modi said, "During the retreat session, we had an opportunity to discuss the ASEAN-India cooperation in maritime domain as one of the key focus areas of growth and development of Indo-Pacific region."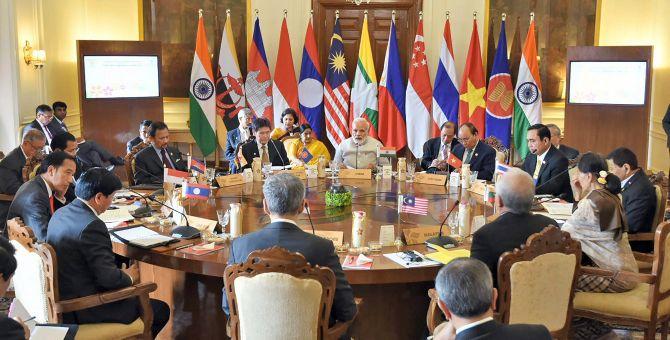 IMAGE: Modi in a retreat meeting with the ASEAN Heads of State at Rashtrapati Bhavan.
Photograph: PTI Photo/PIB
While during a media briefing, Secretary (East) in the external affairs ministry Preeti Saran said, "The leaders did agree to establish a mechanism for greater cooperation in the maritime domain sector", the declaration only said the sides will strengthen maritime cooperation through existing relevant mechanisms including the Expanded ASEAN Maritime Forum to address common challenges on maritime issues.
The leaders also reaffirmed their commitment to work together closely on common regional and international security issues of mutual concern and ensure an open, transparent, inclusive and rules-based regional architecture through existing ASEAN-led frameworks and mechanisms, including the ASEAN Regional Forum and the East Asia Summit.
The summit also agreed to deepen cooperation in combating terrorism in all its forms and manifestations, violent extremism and radicalisation through information sharing, law enforcement cooperation and capacity building under the existing ASEAN-led mechanisms.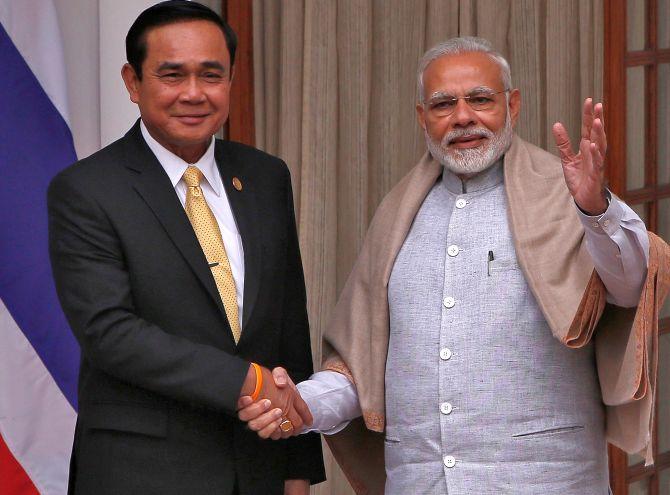 IMAGE: Thailand's Prime Minister Prayuth Chan-ocha shakes hands with his Indian counterpart Narendra Modi during a photo opportunity ahead of their meeting at Hyderabad House in New Delhi. Photograph: Adnan Abidi/Reuters
The leaders also reiterated their commitment to promote comprehensive approach to combat terrorism through close cooperation by disrupting and countering terrorists, terrorist groups and networks.
They also vowed to combat terrorism by countering cross border movement of terrorists and foreign terrorist fighters and misuse of internet, including social media, by terror entities.
The leaders resolved to strengthen cooperation to stop terror financing efforts, and prevent recruitment of members of terrorist groups, support efforts in targeting
terrorist groups and sanctuaries, and take further urgent measures to counter and prevent the spread of terrorism, while stressing that there can be no justification for acts of terror on any grounds whatsoever.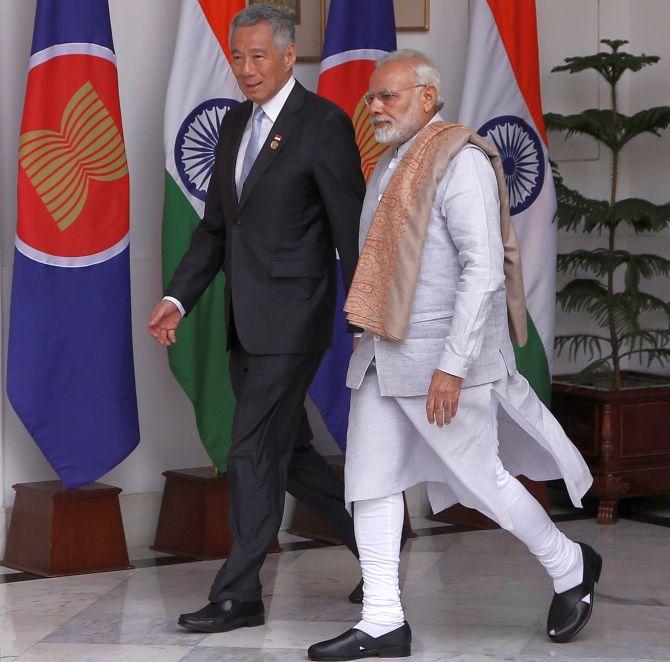 IMAGE: Modi held several meetings with Asean leaders, including one with Singapore's Lee Hsien loong on economic and commercial ties. Photograph: Adnan Abidi/Reuters
The summit began with Modi releasing commemorative stamps in the presence of ASEAN leaders to mark 25 years of Indo-ASEAN ties.
The highest-level of participation at the summit comes in the backdrop of increasing Chinese economic and military assertiveness in the region.
The ASEAN leaders will also be chief guests at the Republic Day on Friday which was termed by Modi as "unprecedented".
Earlier, President Ram Nath Kovind hosted a lunch in honour of ASEAN leaders, who along with Modi also participated in the retreat session during which the leaders had a "free and frank" discussion on "maritime cooperation and security".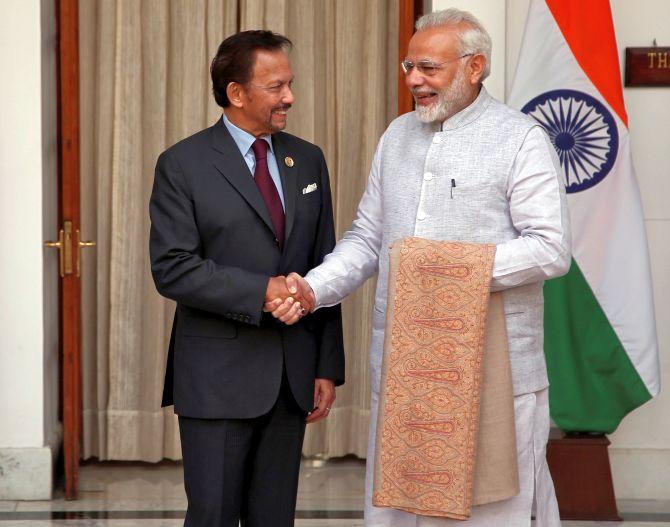 IMAGE: PM Modi with Brunei's Sultan Hassanal Bolkiah. The two leaders had a positive discussion on cooperation in defence and security, energy, ICT, education, health and space. Photograph:
Adnan Abidi/Reuters
Modi also had bilateral meetings with six ASEAN leaders, including his counterparts from Thailand and Singapore, which is the current chair of the ASEAN grouping.
Apart from Modi and Loong, the summit was attended by Brunei's Sultan Haji Hassanal Bolkiah, Indonesian President Joko Widodo, Philippines President Rodrigo Roa Duterte, Cambodian Prime Minister Hun Sen, Malaysian Prime Minister Najib Razak, Thailand's Prime Minister General Prayut Chan-o-cha, Myanmar's State Counsellor Aung San Suu Kyi, Vietnamese Prime Minister Nguyen Xuan Phuc and Lao PDR's Prime Minister Thongloun Sisoulith.