India and Bangladesh on Saturday signed 22 pacts in key sectors including defence and civil nuclear but the long-pending Teesta waters sharing agreement remained elusive though Prime Minister Narendra Modi conveyed his government's commitment for an "early solution".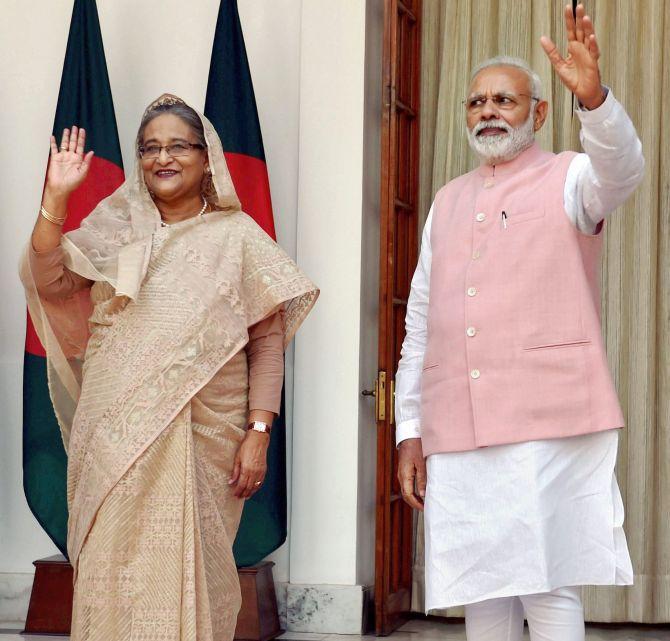 IMAGE: Prime Minister Narendra Modi with his Bangladeshi counterpart Sheikh Hasina before a meeting at Hyderabad house in New Delhi. Photograph: Vijay Verma/PTI Photo
After holding comprehensive talks with his Bangladesh counterpart Sheikh Hasina, Modi announced a new concessional Line of Credit of $4.5 billion (Rs 28,921 crore) for the neighbouring country and an additional assistance of $500 million (Rs 3213 crore) to help its military procurement.
"We in India rejoice in our ties with Bangladesh. Ties that have been forged in blood and generations of kinship. Ties that seek a better and secure future for our people," Modi said at a joint media event with Hasina.
The two countries also agreed to confront challenges of terrorism with deeper security and defence cooperation with Modi terming spread of radicalism as a "grave threat", not only to the two countries but to the entire region.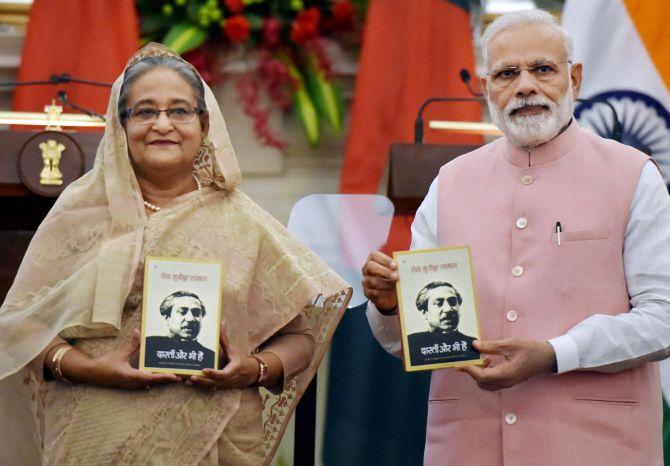 IMAGE:Prime Minister Narendra Modi with his Bangladeshi counterpart Sheikh Hasina release the Hindi translation of Bangabandhu Sheikh Mujibur Rahman's book Unfinished Memoirs. Photograph: Vijay Verma/PTI Photo
On her part, Hasina, on a visit after seven years, said her country will continue its zero-tolerance policy towards terror and promised to take all steps to ensure peace and security along Indo-Bangla border.
"We agreed that the agenda of our cooperation has to remain focused on purposeful action. We specifically looked at charting new avenues and tapping fresh opportunities in advancing our relationship."
Though the two sides decided to take their ties to a newer level, they could not finalise the long-pending Teesta water-sharing agreement, primarily due to opposition to it by West Bengal Chief Minister Mamata Banerjee who was present during launch of new train and bus services between the two countries.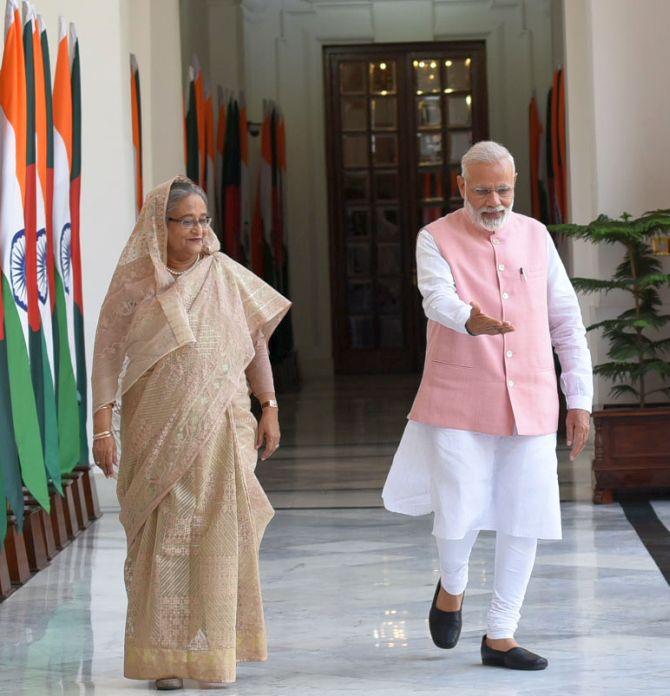 IMAGE: Prime Minister Narendra Modi with the Prime Minister of Bangladesh Sheikh Hasina, at Hyderabad House. Photograph: Press Information Bureau
Referring to the Teesta issue, Modi said the pact is important for India-Bangladesh relationship and expressed hope that the West Bengal chief minister will eventually support it.
"I am very happy that the chief minister of West Bengal is my honoured guest today. I know that her feelings for Bangladesh are as warm as my own. I assure you and the people of Bangladesh of our commitment and continuing efforts," he said.
Modi said he "firmly" believes that an early solution to the issue "can and will" be found out.
The prime minister also complimented Hasina for her government's 'zero-tolerance' policy towards terrorism and said "it is an inspiration for all of us."
A new bus and train services were also launched between Kolkata and Khulna in Bangladesh.
"India has always stood for the prosperity of Bangladesh and its people. We are a long-standing and trusted development partner of Bangladesh. India and Bangladesh are also determined that the fruits of our cooperation must benefit our people," said Modi.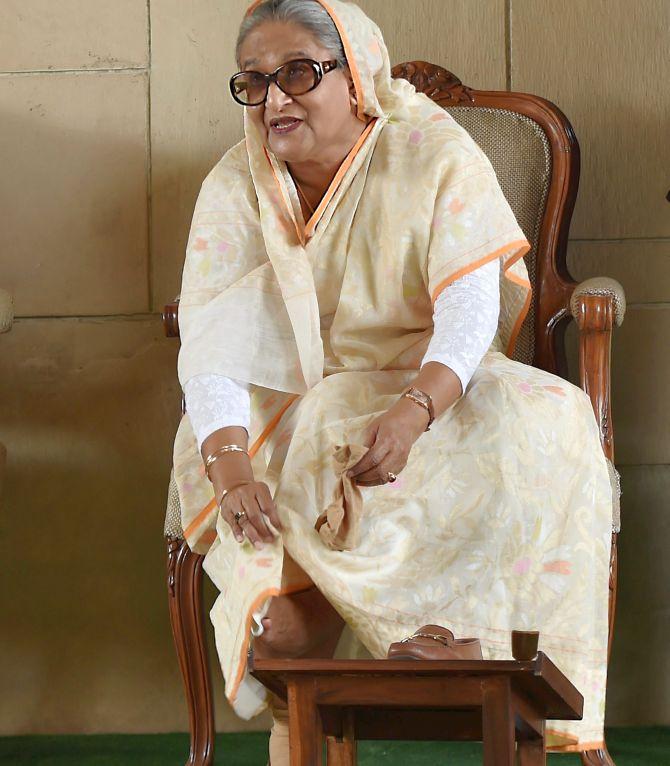 IMAGE: Bangladesh Prime Minister Sheikh Hasina after paying tribute at Mahatma Gandhi's memorial Rajghat in New Delhi. Photograph: Manvender Vashist/PTI Photo
He said both sides recognised the need to diversify commercial engagement to boost trade and for greater regional benefit.
In this context he referred to an agreement to open new border haats for trade and said steps being are being taken to put into operation the Coastal Shipping Agreement.
Talking about regional connectivity, he said India was looking forward to early implementation of the Bangladesh, Bhutan, India, Nepal Motor Vehicles Agreement which will "usher in a new era of sub-regional integration."
The BBIN initiative was taken after Pakistan stalled a regional transport initiative of SAARC.
The agreements signed on Saturday include an MoU on defence cooperation framework pact and extending defence LOC of $500 million by India and on cooperation in the civil nuclear sector under which India will be able to set up nuclear plants in Bangladesh.
Under the Defence LoC pact, India will supply military hardware to Bangladesh.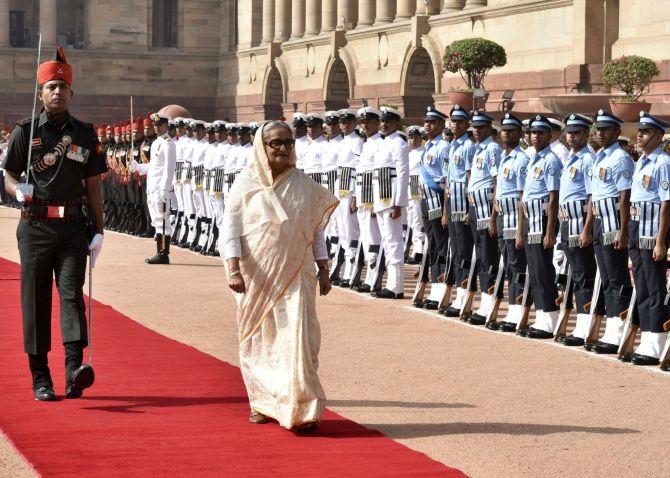 IMAGE: Bangladesh PM Hasina inspecting the Guard of Honour, at the ceremonial reception, at Rashtrapati Bhavan. Photograph: Press Information Bureau
The other key MoUs inked were on passenger and cruise services on the coastal and protocol route, cooperation on cyber security and cooperation in the peaceful uses of outer space
"We want to build cooperation in new areas, especially some high-technology areas, that have a deeper connect with the youth in both our societies," said Modi.
As a mark of India's respect to father of Bangladesh, Bangabandhu Sheikh Mujibur Rahman, Hasina's father, a prominent road in Delhi has been named after him.
Modi and Hasina also released a Hindi translation of Bangbandhu's 'Unfinished Memoirs'.
The PM said that with the fresh assistance, India's resource allocation for Bangladesh has recorded more than $8 billion over the past six years.
Identifying major areas of cooperation, he said energy security is an important dimension of the two-way development partnership.
"Today, we added an additional 60 Mega Watt of power to the 600 Mega Watt of power already flowing from India to Bangladesh. The supply of another 500 Mega Watt has already been committed from the existing inter-connection.
"We have also agreed to finance the diesel oil pipeline from Numaligarh to Parbatipur. Our companies are entering into a long-term agreement for the supply of high speed diesel to Bangladesh. We have also agreed on a time table for regular supply till the pipeline is constructed," he said.