The camaraderie between Prime Minister Narendra Modi and United States President Donald Trump was on full display as the two leaders heaped praise on each other, voiced appreciation for each other's leadership and embraced more than once at the White House.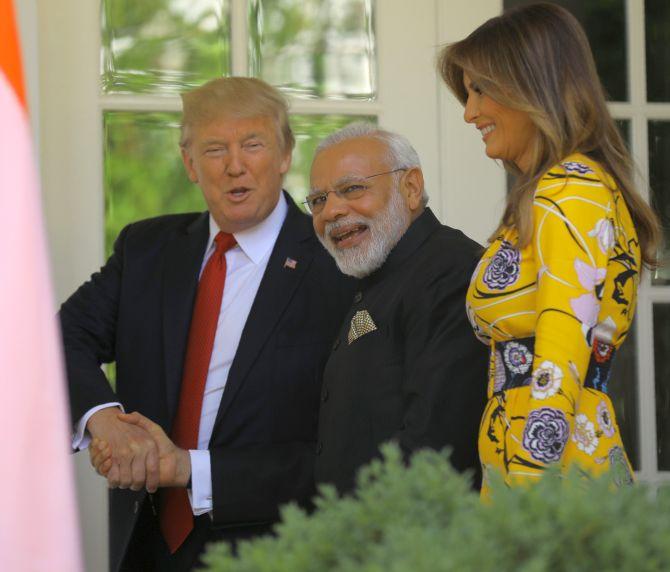 The two leaders underlined the close ties between their countries, with Trump saying India has a "true friend" in the White House.
Trump said the friendship between the United States and India is built on shared values, "including our shared commitment to democracy".
"During my campaign, I pledged that if elected, India would have a true friend in the White House. And that is now exactly what you have, a true friend," Trump said at the White House Rose Garden following his first bilateral meeting with Modi.
"I am thrilled to salute you, Prime Minister Modi, and the Indian people for all that you are accomplishing together. Your accomplishments have been vast," Trump said.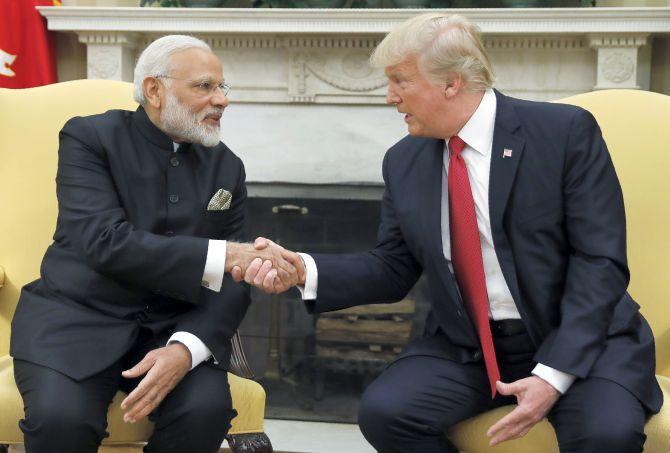 Modi on his part said he deeply appreciates Trump's strong commitment to the enhancement of bilateral relations. "I am sure that under your leadership, our mutually beneficial strategic partnership will gain new strength, new positivity, and will reach new heights, and that your vast and successful experience in the business world will lend an aggressive and forward-looking agenda to our relations," he said.
The prime minister said that he would like to thank Trump for his "great leadership" in building US-India relations.
"Be assured that in this joint journey of our two nations towards development, growth and prosperity, I will remain a driven, determined, and decisive partner," he said.
Trump said he enjoyed his "very productive conversation" with Modi, adding that "the future of our partnership has never looked brighter. India and the United States will always be tied together in friendship and respect".
After Trump finished his speech, Modi walked towards the US president and hugged him. After Modi's speech, the two leaders again briefly embraced.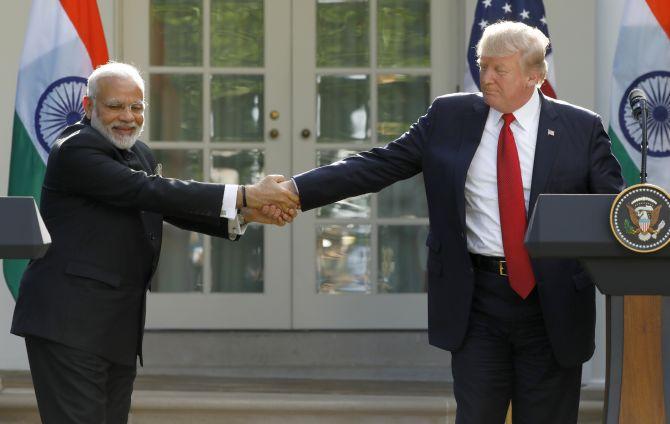 Yet another hug was to come between the two, this time at the White House portico, as Modi departed for his hotel.
The chemistry between Modi and Trump was very warm, cordial and open, and the two leaders were very comfortable with each other in their first meeting, Foreign Secretary S Jaishankar said.
The camaraderie between them was clearly visible from the moment Trump and First Lady Melania Trump welcomed Modi to the White House.
The two leaders shook hands and laughed before they went inside the White House.
"The atmosphere and chemistry between the two leaders was very warm, very open, very cordial. There was a great deal of ease between the prime minister and the president," Jaishankar told reporters.
He said while the two leaders had spoken over phone three times, they were "really very comfortable with each other meeting for the first time".
"There was very visible chemistry between the two leaders, you could see they were talking with each other very comfortably," Jaishankar said.
Modi was also seen speaking to the First Lady before leaving from White House's South Portico.
The meeting between Trump and Modi lasted for 40 minutes, more than the scheduled 20 minutes.
The delegation-level talks also lasted for about an hour.
Apart from the strategic importance of the first bilateral meeting, all eyes were also on the chemistry and body language of Modi and Trump.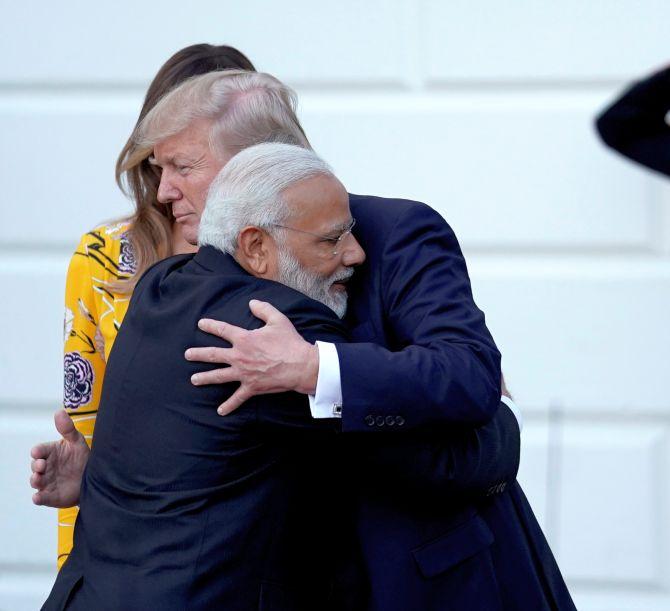 Modi and former US president Barack Obama also shared a great camaraderie and their comfort level with each other was clearly visible.
Trump on the other hand has had some awkward initial exchanges with some of the world leaders he has hosted in the White House.
During his meeting with Japanese Prime Minister Shinzo Abe, Trump shook hands with him for close to 90 seconds and the video of an awkward expression on Abe's face after the hand shake had gone viral.
Trump also appeared to have refused to shake hands with German Chancellor Angela Merkel during their meeting in the Oval Office.
Photographs: Carlos Barria, Kevin Lamarque/Reuters