A bust of Jana Sangh founder Syama Prasad Mookerjee was vandalised in Kolkata on Wednesday, allegedly by Left supporters, an obvious act of retribution following the razing of statues of Soviet icon Vladimir Illyich Lenin in Tripura, officials said.
A statue of Dalit icon Dr B R Ambedkar was also vandalised and replaced later in Meerut district of Uttar Pradesh, amid the ongoing spate of incidents targeting statues and busts of known figures across the country.
IMAGE: A police official along with a group of people clean the bust of Bharatiya Jana Sangh founder Dr Syama Prasad Mookerjee after it was vandalised allegedly by Left supporters at Keoratola Mohasoshan in Kolkata on Wednesday. Photograph: PTI Photo
The incident also followed desecration of a bust of Dravidian movement founder E V Ramasamy Periyar in Tamil Nadu's Vellore after a Facebook post by a senior BJP leader.
The incident triggered widespread protests across the state.
As an unseemly fallout of the Bharatiya Janata Party's historic triumph in the Left bastion of Tripura, suspected right-wing activists had pulled down two statues of Lenin at different places in the tiny north-eastern state.
On Wednesday, seven people belonging to a Left-leaning group called 'Radical' vandalised the bust of Mookerjee in south Kolkata. All the seven, including a woman, were arrested, Kolkata police commissioner Rajiv Kumar said.
The accused, who were arrested from the spot, told a TV channel that they defaced and vandalised Mookerjee's bust to protest against the pulling down of communist icon Lenin's statues in Tripura.
They also raised slogans against the Tripura incidents, the police said.
"Six men and one woman in their early 20s who tried to deface the bust of Dr Syama Prasad Mookerjee have been arrested from the spot by Kolkata Police and strong legal action initiated," Kumar said in a statement.
"No vandalism would be tolerated," he said.
A senior officer of the Tollygunge police station said the accused entered the area and suddenly started damaging the bust and then splattered black ink on it.
Locals caught hold of the accused and informed the police.
Restoration of the bust has been initiated, he said.
Adequate police personnel have been deployed in the area to check any other untoward incident.
Local Trinamool Congress MLA and state power minister Sovandeb Chattopadhyay and party councillor Mala Roy rushed to the spot after the incident.
"Such an incident is not at all welcome. We will not allow this to happen in West Bengal. People who are involved in it were arrested," Chattopadhyay said.
"There is no logic behind defacing Syama Prasad Mookerjee's bust because someone has pulled down Lenin's statue," he said.
Commenting on the incident, BJP national secretary Rahul Sinha said: "Whenever the Left goes out of power they take up such tricks. This is an anti-national act."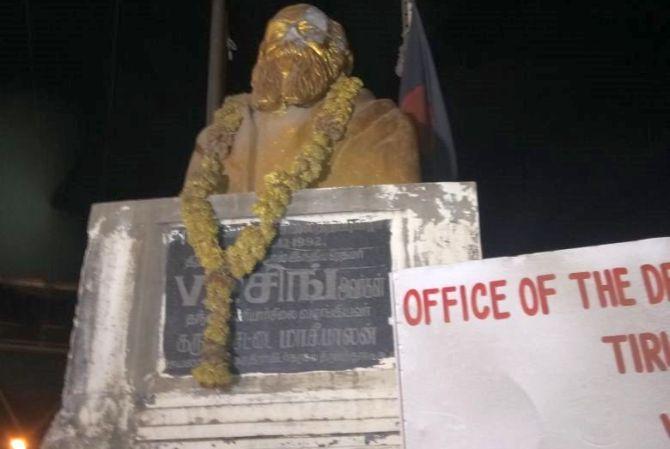 IMAGE: Late on Tuesday night, a Periyar statue was vandalised in Vellore in Tamil Nadu. The incident came after BJP's H Raja said that the statue should be removed. Photograph: ANI/Twitter
Meanwhile, Prime Minister Narendra Modi on Wednesday 'strongly disapproved' incidents of vandalism of statues in certain parts of the country and spoke to Home Minister Rajnath Singh on the matter.
Prime Minister Narendra Modi strongly condemned the incidents of vandalism of statues and warned of stern action against those found guilty.
The prime minister also spoke to Union Home Minister Rajnath Singh about it and expressed his strong disapproval of such incidents, according to an official statement in New Delhi.
The home ministry said it has taken serious note of such incidents of vandalism and has directed state governments to take strong action.
Official sources said that the prime minister has strongly disapproved incidents of vandalism reported from certain parts of the country.
In an advisory to all states and union territories, the home ministry said incidents of toppling of statues have been reported from certain parts of the country and it has taken serious note of such incidents of vandalism.
'The MHA has asked the states that they must take all necessary measures to prevent such incidents,' it said.
The ministry said the state governments were told that persons indulging in such acts must be sternly dealt with and booked under relevant provisions of law.
'Honourable Prime Minister has also spoken to the Home Minister in this regard,' the advisory said.
The advisory did not specifically mention Tripura but sporadic violence and clashes have been reported between rival political groups in the state after election results were declared on Saturday.
The ministry said enough central and state forces were available at the disposal of the state government to tackle the situation.
MHA issues 2nd advisory, says DMs, SPs 'personally responsible' for statue damage
In a second advisory on Wednesday itself, the MHA held district magistrates and superintendents of police 'personally responsible' for such incidents of vandalism.
"The DMs and SPs will be personally held responsible for any such incidents of vandalism of statues," a home ministry official said, quoting the second advisory.
The state governments and Union Territories were told to ensure that DMs and SPs take all possible action to control the law and order situation in their areas of jurisdiction. They were advised to monitor the situation closely and take stringent action like arrests, prompt investigation and prosecution of the accused.
The DMs and SPs were told that they must ensure that the police keep strict vigil on anti-social elements, social media and rumour-mongers and take strong action against anyone indulging in any kind of violence or inciting violence, the official said.
The home ministry, in its second advisory, also reiterated the earlier directions on damage of statues and advised preventive action, including patrolling and firm control over anti-social elements.
The official said no state government has sought additional paramilitary forces.
"I appeal to everyone, all parties, that anyone indulging in such acts should be dealt with strictly. These incidents can never be justified," Home Minister Rajnath Singh told reporters outside Parliament.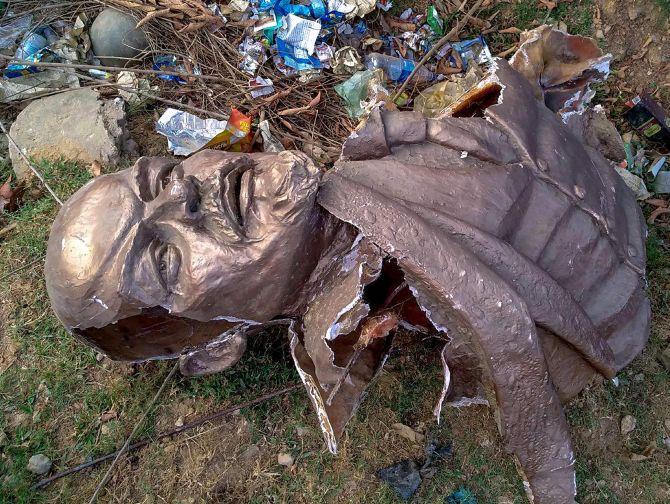 IMAGE: Remains of the five-feet-tall statue of Lenin which was demolished at Belonia in South Tripura district on Monday afternoon. This was the first statue vandalised following which another one was in Tripura. Photograph: PTI Photo
BJP chief Amit Shah termed the desecration of Lenin's statues in Tripura and Periyar's bust in Tamil Nadu "extremely unfortunate", and asserted that any party member found involved in destroying a statue will face severe action.
In a series of tweets, Shah distanced the BJP from the vandalism after a few party leaders appeared to endorse the incidents, and said his organisation believes a wide range of ideas and ideologies can co-exist in India.
'The recent issue on destroying of statues is extremely unfortunate. We as a party do not support the bringing down of anybody's statue. I have spoken to the party units in both Tamil Nadu and Tripura. Any person associated with the BJP found to be involved with destroying any statue will face severe action from the party,' he said.
He, however, said the BJP will not take action against its national secretary H Raja, whose controversial Facebook post was seen to have incited party activists to vandalise Periyar's bust.
However, the Tamil Nadu unit of the BJP on Wednesday expelled party worker R Muthuraman, who was arrested yesterday for damaging Periyar's bust.
Opposition parties condemned the 'shameful' incidents of damage to statues in Tamil Nadu and Tripura, and hit out at the BJP, alleging that its members were becoming 'intolerant' and were 'insulting' the people, especially the poor.
In Meerut, following the vandalisation of Dr Ambedkar's statue, members of the Dalit community blocked the Meerut-Mawana road even as the administrative officials sought to calm down the protesters and assured them that the vandalised statue would be replaced with a new one.
The officials later said that a new Ambedkar statue had been installed.
According to police, the statue was installed by the Dalit community in Chhota Mawana several years ago.
It was vandalised by some unidentified people late last night. The incident sparked protests by members of the Dalit community.
Mawana Circle Officer U N Mishra told PTI-Bhasha that the situation is normal and the new statue of Ambedkar had been installed.
He, however, added that no complaint was lodged in connection with the incident.
Prima facie, it is case of a conspiracy, the officer said.
The opposition leaders also demanded action against those involved in such acts of 'hooliganism'.
Leader of Congress in Lok Sabha Mallikarjun Kharge said the damage to the statue of Periyar in Tamil Nadu was an insult to the entire country, especially the poor.
"In Tamil Nadu, the statue of Periyar was removed and damaged. It is a very big insult of not only people of Tamil Nadu, but also people of the country who believe in his ideology.
"In a democracy, there are people who believe in all kinds of ideologies. There is no tolerance in the BJP people and they are turning intolerant," he told reporters outside Parliament.
Kharge highlighted the contribution of Periyar, saying he worked for uplift of the Dalits, the oppressed and people of backward classes as the women in the southern state.
"Periyar helped them get political power. It is an insult to all poor in the country, as Periyar believed and fought for social justice.
"I and my party condemn the incident of causing damage to his statue. These are people with vested interest who are insulting leaders of rationalist movement in the name of religion. It is not right. People will not tolerate it," he said.
Kharge said the Congress-led governments had worked to ensure the country's unity in diversity, 'unlike what is happening under the BJP's watch'.
"These people want to break the country's unity. Today, when their government has come, such people are getting encouraged," he said, criticising BJP leader H Raja for his remarks against Periyar.
"They should not take the law into their hands. They think the Government of India is in their hands," he said.
Kharge noted that the incidents of damaging statues are taking place after the BJP came to power in Tripura last week.
"In democracy, once should convince people by one's ideology, not by hooliganism....action must be taken against those who damaged the statues," the Congress leader added.
Targeting the BJP, Trinamool Congress leader Derek O'Brien dubbed the incidents an 'absolute shame' and 'third class'. He alleged the ruling party workers 'may next break statues of other iconic leaders as well'.
"It is an absolute shame. In 2011, even we won the elections in Bengal. We do not endorse the philosophy of communists like Lenin, but you have to win political battles. This is like third class, but this is to be expected from this government," O'Brien told reporters outside Parliament.
Communist Party of India leader D Raja said Periyar was not just a great leader of Tamil Nadu but a global leader. He was the founder of self-respect and rationalist movement and fought against the caste system.
"This kind of absurdity on the part of BJP leaders should be condemned in the strongest possible terms. Till now India is a country which believes in a rule of law. But law and order in Tamil Nadu is going into the hands of the Sangh and Fascist forces," he alleged.
He also demanded that the BJP leadership should explain its position on BJP national secretary H Raja's comments.
Petrol bombs hurled at BJP office in TN; 3 surrender
Miscreants hurled petrol bombs at a BJP office in Coimbatore early on Wednesday but no one was injured, the police said.
Three persons surrendered in connection with the incident and they were arrested, the police added.
Bike-borne miscreants hurled two petrol bombs at the BJP office at Siddapudur around 4 am, the police said, adding that one of the bombs hit the board of a nearby ticket booking office of Andhra Pradesh Tourism and the other landed on the road.
Even as three special police teams were on the lookout for the miscreants, three persons, said to be members of the Thanthai Periyar Dravida Kazhagam (TPDK), surrendered at two police stations.
They were identified as Balan, Jeevanantham and Goutham and further investigations were on, the police said.
Meanwhile, talking to reporters after a meeting with the local BJP leaders, Coir Board Chairman and National Executive member of the BJP, C P Radhakrishnan, said the party never supported violence.
"An ideology should be fought with an ideology," he added.
Radhakrishnan, however, claimed that no one protested against those who hurled slippers at or garlanded the idols of Hindu gods with slippers or spoke ill of Hindu leaders.
On Union minister Pon Radhakrishnan's remarks that Tamil Nadu was becoming a training centre for terrorism of late and the rebuttal by the chief minister and his deputy, Radhakrishnan said Wednesday's incident was proving the comments to be true.
He asked the police to track down the 'network' behind the attack on the BJP office.
Four arrested in 11 cases of 'post-poll violence' in Tripura
As many as 11 cases of 'post-poll violence' were reported from different parts of Tripura in the last 24 hours and four people were arrested in this connection, police said on Wednesday.
The state has been witnessing attacks and arson since the announcement of results of the just-concluded elections on March 3.
Superintendent of Police (Police Control) Pradip De said measures are being taken to 'contain violence'.
Four people were arrested from Dharmanagar subdivision of North Tripura district on Tuesday in connection with a clash between the activists of the Communist Party of India-Marxist and the BJP, he said.
"The situation has largely been brought under control now. I can say the violence did not escalate since last night," he said, adding that the 10 other cases reported since Tuesday were 'minor' ones.
Sub-divisional Police Officer of Dharmanagar, Dhiman Das Chowdhury, said the clash broke out at Alanbazar area of Dharmanagar subdivision following an altercation between the members of the two political parties.
Six people -- two from the CPI-M and four from the BJP -- were hospitalised, he said, adding that paramilitary forces and Tripura State Rifles personnel were deployed in the area.
BJP media in-charge Victor Shom said the party's chief minister-designate, Biplab Kumar Deb, has sought 'stern actions' against those found indulging in 'post-poll violence'.
"Deb has asserted that no would be spared if found guilty. There, however, has not been any major clash in the state so far," he said.
CPI-M party office secretary Haripada Das said the party might issue a press release soon with a 'compilation of the incidents of violence'.
With head severed, 'Lenin' to be kept at civic body premises in Agartala
An imposing statue of communist icon Vladimir Lenin, which was pulled down by a group of people in South Tripura's Belonia, will be kept at the premises of the municipal body, a top official said on Wednesday.
The nearly 11-ft tall fibre glass statue, which stood on a pedestal at College Square, was brought down on Monday with the help of a bulldozer.
"We initially let the damaged statue lay there as it was since we were not sure about the mood of the people. We wanted to things to subside a bit. But, now, as per instructions from higher authorities, we have decided to take the statue and store it in our office premises," Belonia Municipal Council's CEO Amit Ghosh told PTI.
He said, it has not yet been decided whether it will be kept indoor or outdoor at the Council's premises.
"The head is severed from the main body of the statue, so it presents an ungainly sight. We will try to wrap it up in something. Whatever happened is condemnable. Lenin is a world icon," the CEO said, adding 'there is no CCTV camera in the area where the incident took place'.
The statue was erected sometime around 2015 at the cost of nearly Rs 5 lakh and a local artist has sculpted it.
The fund had come from the Tripura Urban Employment Programme, he said.
"We want to repair the statue but that will also entail expenditure. If anyone wants to contribute any fund for the restoration of the statue, it is welcomed. Also, if any party wants to take the statue, we can also work that out," Ghosh said.
Ghosh said, he along with a team of the civic body are at he College Square to carry and transport the statue.
"We are handling the state very carefully, as it made of fibre glass. So, a crane will be used to carry it to the Council's premises," he said.
Asked if the statue will be reinstalled or another one would replace it, he only said, "At this point of time, nothing has been decided. We are also thinking of holding a town hall to let the local people decide of its fate."
On the situation in and around Collage Square, he said, "Situation now is normal."
Asked if there are more statues in the jurisdiction area of the Council, Ghosh said, "There is one of Karl Marx, located a bit far off. Then statues of Gandhi and Netaji are there in the main town."
H Raja expresses regret over FB post on Periyar
Under fire from political parties in Tamil Nadu for his comments on late Dravidian leader Periyar, senior BJP leader H Raja on Wednesday sought to blame his 'Facebook administrator' for the gaffe and expressed regret over the same.
In a Facebook post, he said that "Facebook admin" had put up a post comparing the razing down of Lenin statue in Tripura with that of EV Ramaswamy, popularly addressed as Periyar in Tamil Nadu.
"Views should be confronted by views only and not by violence. I have no intentions of hurting anybody. Therefore, if anybody felt hurt by that post, I express my heartfelt regret," he said.
"It is not acceptable to us to damage any statue of Periyar," he further said.
-- PTI