Mobs on Monday torched a police station in Sopore and targeted the air force airport in Pulwama along with other security installations in Kashmir as ongoing clashes between protesters and security personnel following the killing of Hizbul commander Burhan Wani on Friday left 23 dead and over 250 injured.
IMAGE:

: Security personnel guard a deserted street as curfew is imposed in different parts of the city

. Photograph: PTI
Violence and arson continued unabated in KashmirValley for the third day today even as National Security Adviser Ajit Doval rushed home from Kenya to join in efforts to defuse the turmoil that has claimed the lives of 23 people.
As Kashmir remained on the boil and normal life paralysed due to curfew-like restrictions and separatists-sponsored strike over the killing of young Hizbul commander Burhan Wani on Friday, mobs torched a police station in Sopore and targeted the air force airport in Pulwama along with other security installations in Kashmir. There was also no let up in stone pelting incidents.
A total of 800 additional personnel from the central paramilitary forces are also being rushed to Jammu and Kashmir. The reinforcements will be in addition to 1,200 personnel sent to assist the state police on Saturday.
"Two persons have died in an incident of violence in Kulgam district yesterday and have been identified as Feroze Ahmad Mir (22) and Khursheed Ahmad Mir (38)," a police official said.
With this, the death toll in the violence has gone up to 23, including a policeman. Around 250 people were also injured.
A group of protesters pelted stones towards the air force airport at Koil in Pulawama this morning, a police official said. They also set afire the dry grass inside the airport complex.
Security forces tried to chase away the mob but the attackers were regrouping and intermittently hurling stones, he said.
Stone pelting incidents were reported from Sopore, Handwara, Bandipora and Baramulla in north Kashmir, the official said.
Protesters torched a police station at fruit market in Sopore, police said, adding the men, arms and ammunitions and records were safe.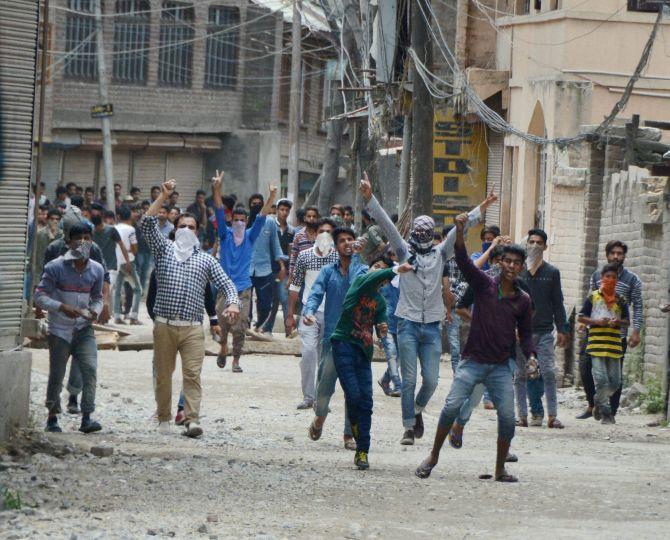 IMAGE:

Protesters throw stones on a police vehicle during a protest following the killing of Hizbul Mujahideen commander Burhan Muzaffar Wani.

Photograph: S Irfan/PTI
A police spokesman said the situation remained "under control" though incidents of arson and mob attacks were reported at over two dozen places in the Valley.
"The situation in Valley remained under control today though incidents of arson and mob attacks were reported," the spokesman said.
He said unruly mobs set on fire police posts at Fruit mandi in Sopore in Baramulla district and Police Post Litter in Pulwama district.
"A number of police establishments were also attacked by hooligans besides incidents of stone pelting reported from Trehgam, Kralpora, Villgam, Warpora, Langate and Kralgund in Kupwara district, Sheeri, Cement Bridge and Khanpora in Baramulla, Preng in Ganderbal, Hyderpora, Baghat Barzulla, Tengpora and Rambagh in Srinagar, Tahab and Prichoo in Pulwama, Yaripora in Kulgam, Sangam and Bijbehara in Anantnag, Shopian, Imamsahib and Gagran in Shopian, Popchan, Koil, Hajin and Kaloosa in Bandipora," the spokesman said.
"The police and paramilitary personnel deployed exhibited maximum restraint while dealing with the situation," the spokesman said.
At Zirpora in Bijbehara, the spokesman said militants fired upon police and CRPF personnel deployed for law and order duties which resulted in injuries to three persons who have been hospitalized.
Mobile telephony has been suspended in four districts of south Kashmir since Friday evening as violent protests erupted following killing of Wani in an encounter with security forces. Mobile internet services continued to remain suspended.
Strict restrictions on movement of people continued to be in place in many parts of the Valley including parts of Srinagar city, where the first death in the clashes occurred last evening.
Authorities have strengthened the presence of security forces in vulnerable areas of the city and elsewhere in the Valley to contain the protests, police said.
They said the measures have been taken to avoid any further loss of life or damage to property.
Shops, private offices, business establishments and petrol pumps were shut, while government offices and banks witnessed thin attendance, officials said.
Public transport was completely off the roads while private cars and auto-rickshaws were seen plying at few places in the areas where there were no restrictions, they said.
Educational institutions in the Valley were closed on account of the ongoing summer vacations, while Central University of Kashmir, Islamic University of Science and Technology and Jammu and Kashmir Board of School Education have postponed the examinations due to the prevailing situation.
Most of the separatist leaders, including Syed Ali Shah Geelani, Mirwaiz Umer Farooq and Mohammad Yasin Malik, are either in custody or under house arrest.
---
Rajnath speaks to Sonia, Omar Abdullah on Kashmir situation
With Kashmir in turmoil, Home Minister Rajnath Singh on Monday reached out to opposition leaders including Congress chief Sonia Gandhi and former Chief Minister Omar Abdullah, and discussed the prevailing situation there.
During the telephonic conversation with Gandhi and National Conference leader Omar, the home minister discussed with them efforts to bring back peace and normalcy in Kashmir Valley, which is witnessing violent protests after killing of militant leader Burhan Wani on Friday, official sources said.
The home minister's discussions with Gandhi and Omar, who ruled Jammu and Kashmir between 2009 and 2015, are believed to be an attempt by the central government to take opposition leaders into confidence.
In a statement, Gandhi on Monday said there can be no compromise on matters relating to national security even as she voiced anguish over the loss of lives in the clashes. Singh is also speaking to other opposition leaders on the Kashmir situation, sources said.
Singh has already spoken at least twice to Jammu and Kashmir Chief Minister Mehbooba Mufti and assured her all central assistance to tackle the violent protests, which so far claimed 23 lives.