Karnataka goes to polls in about a fortnight and the Bharatiya Janata Party and the Congress is going toe-to-toe to win the elections, results of which will be announced on May 15.
Here's a simple guide to all things about the Karnataka polls.
The BJP is at the first spot and the Congress is at the second position in giving tickets to candidates with criminal background in the Karnataka elections, says a report by the Association for Democratic Reforms.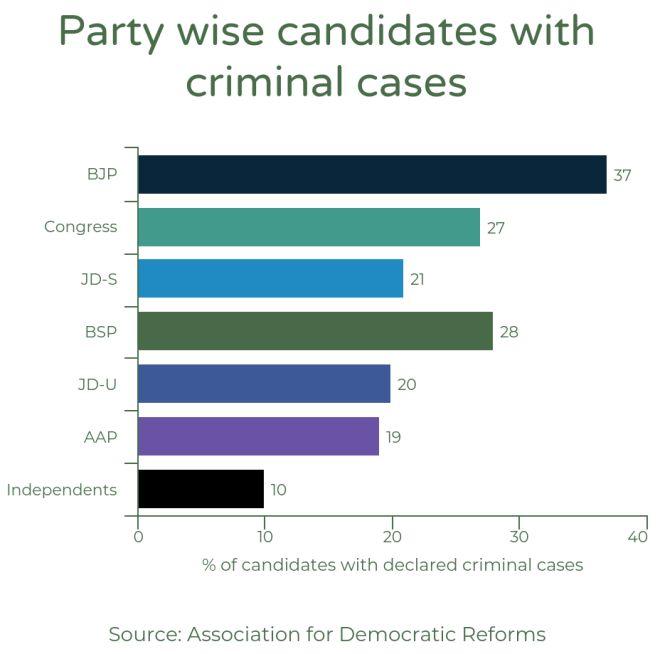 The ADR released the report after analysing the affidavits filed by 2,560 candidates, which said that 391 candidates declared criminal cases against themselves.
"Among major parties, 83 (37 per cent) out of 224 candidates from the BJP, 59 (27 per cent) out of 220 candidates analysed from Indian Nataional Congress, 41 (21 per cent) out of 199 candidates analysed from JD-S, 5 (20 per cent) out of 25 candidates analysed from Janata Dal-United, 5 (19 per cent) out of 27 candidates analysed from Aam Aadmi Party and 108 (10 per cent) out of 1090 independent candidates have declared criminal cases against themselves in their affidavits," said the report.
"There are 254 (10 per cent) candidates who have declared serious criminal cases registered against themselves, four candidates have declared case related to murder against themselves, and "23 candidates have declared cases related to crime against women".
When it comes to the monetary worth of the candidates, the ADR report stated that 35 per cent of all candidates are crorepatis.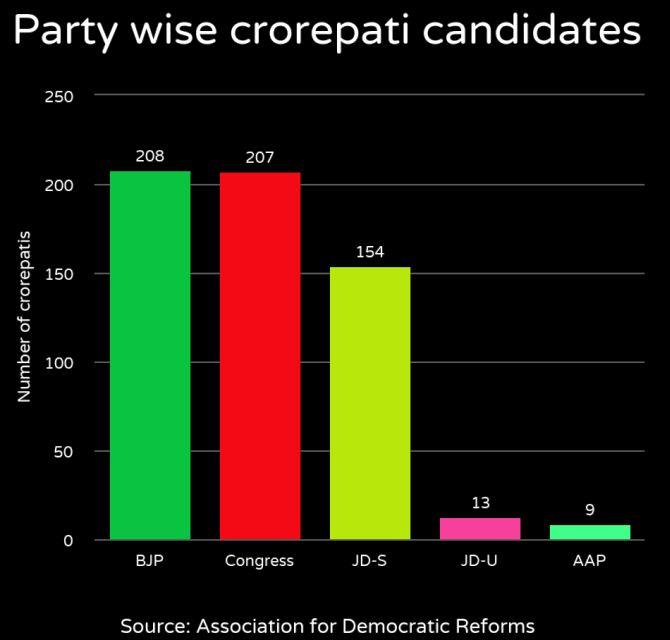 Out of the 2,560 candidates analysed, 883 are declared crorepatis with the most belonging to the BJP.
93 per cent of the party's candidates are crorepatis while Congress, too, has 207 crorepatis among its 220 contenders.
An interesting point to note is that an average candidate in the Karnataka election has assets worth Rs 7.54 crores in his/her name.
The report also mentioned the candidates with the highest assets.
| Name | Constituency | Party | Total assets |
| --- | --- | --- | --- |
| Priyakrishna | Govindrajanagar | Congress | Rs 1020 crore+ |
| M Nagaraju | Hosakote | Congress | Rs 1015 crore+ |
| D Shivakumar | Kanakapura | Congress | Rs 840 crore+ |
When it comes to age, 802 candidates are in the 41-50 age group.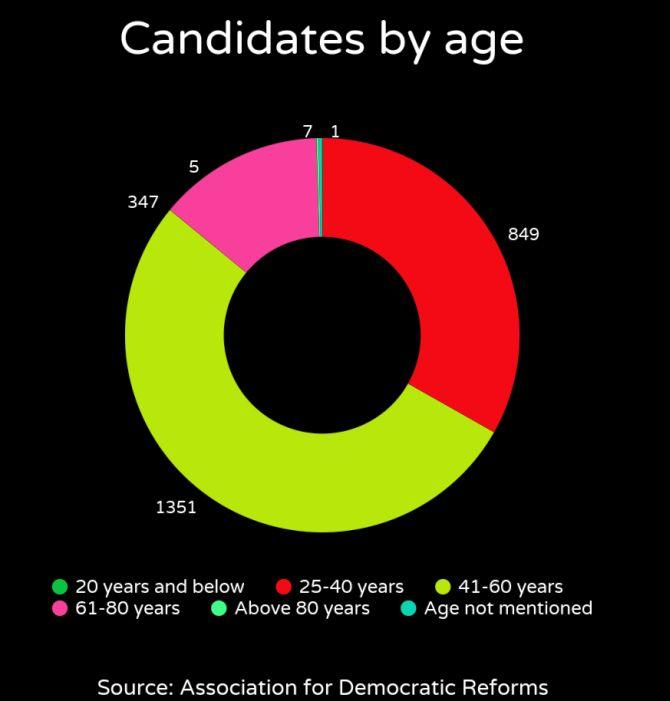 Furthermore, the Election Commission-appointed surveillance teams have seized suspect cash, jewellery and other inducements worth over Rs 120 crore in the poll-bound Karnataka
Here's how Karnataka voted in the 2013 assembly elections, which the Congress won after securing 122 seats. The BJP came a distant second with 40 seats.
Will the Congress be able to retain Karnataka? Let's wait and watch