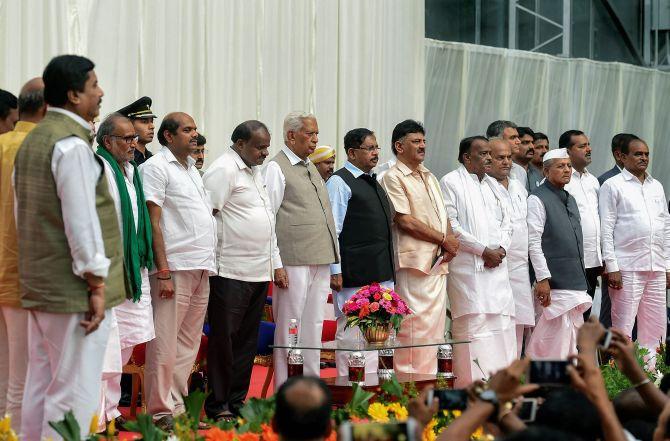 Karnataka Chief Minister H D Kumaraswamy on Wednesday expanded his 15-day-old cabinet, inducting 25 new ministers after intense bargaining for ministerial berths, in a much-awaited exercise that caused heartburn among several lawmakers in the Janata Dal (Secular)-Congress coalition.
Those inducted into the nascent coalition government included 14 lawmakers from the Congress, nine of Kumaraswamy's JD-S, and one each of the Bahujan Samaj Party and Karnataka Pragnavanta Janata Paksha.
The BSP is a pre-poll ally of the JD-S, while the newly formed KPJP MLA has extended support to the coalition.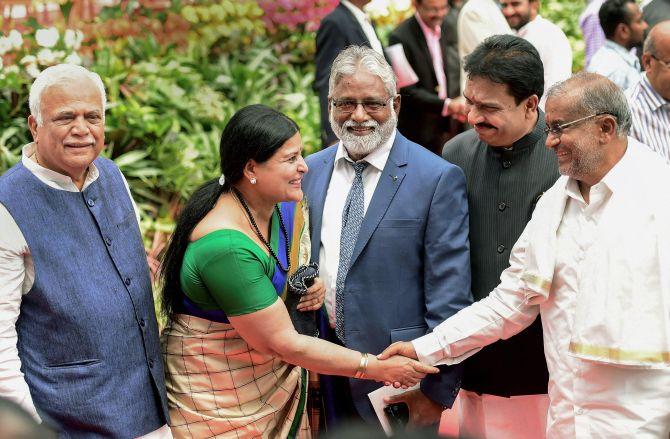 Governor Vajubhai Vala administered the oath of office and secrecy to the new ministers, all of whom are of the cabinet rank, at a ceremony at Raj Bhavan.
Several key members of the previous Siddaramaiah ministry, including M B Patil, Dinesh Gundu Rao, Ramalinga Reddy, R Roshan Baig, H K Patil, Shyamnur Shivashankarappa, Tanvir Sait and Satish Jarkhiholi, were dropped.
After Wednesday's expansion there are six vacant ministerial positions left for the Congress and one for the JD-S.
Kumaraswamy was sworn-in as chief minister and G Parameshwara of the Congress his deputy on May 23. The new coalition government had proved its majority on the floor of the assembly on May 25 after the 104-member Bharatiya Janata Party, the single largest party in the House, did not press for a vote and walked out.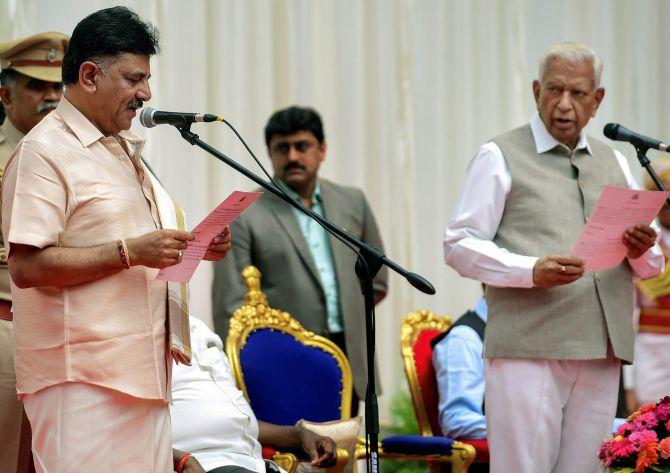 Those inducted into the Cabinet include Kumaraswamy's elder brother H D Revanna, and G T Deve Gowda of the JD-S, who emerged as a giant killer when he defeated chief minister Siddaramaiah in Chamundeshwari.
Siddaramaiah, however, won from Badami, and is now the leader of the Congress Legislature Party.
The lone BSP MLA Mahesh got a cabinet berth and so did R Shankar of KPJP.
Congress lawmakers who were sworn in are: R V Deshpande, D K Shivakumar, K J George, Krishna Byre Gowda, Shivashankara Reddy, Ramesh Jarkiholi, Priyank Kharge, U T Khader, Zameer Ahmed khan, Shivanand Patil, Venkataramanappa, Rajshekar Patil, Puttaranga Shetty and Jayamala.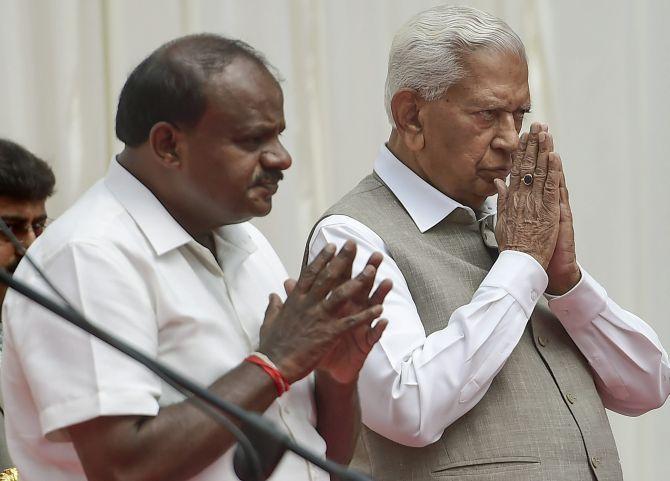 The JD-S ministers are: H D Revanna, Bandeppa Kashampur, G T Deve Gowda, D C Thammanna, MC Managuli, S R Srinivas, Venkatrao Nadagouda, C S Puttaraju, Sa Ra Mahesh.
Yesteryear actress Jayamala of Congress is the lone woman face in the Cabinet, while 83-year-old Managuli of JD-S is the oldest lawmaker to have made it to the list.
Kumaraswamy's castemen Vokkaligas got the largest share in the ministerial pie with nine berths.
The numerically strong Lingayats secured 4, backward Kurubas 2, Brahmins, Scheduled Tribes, Igida and Uppara (1 each). The Igidas and Upparas are backward classes. The ministry also includes two Muslims, a Christian and three members of the Scheduled castes.
The BJP, which had boycotted Kumaraswamy's swearing-in ceremony, skipped Wednesday's event too.
There were protests by supporters of aspirants for ministerial positions in several parts of the state. TV channels showed much pushing and shoving between policemen and supporters of Congress's H K Patil at Chalukya Circle in Bengaluru.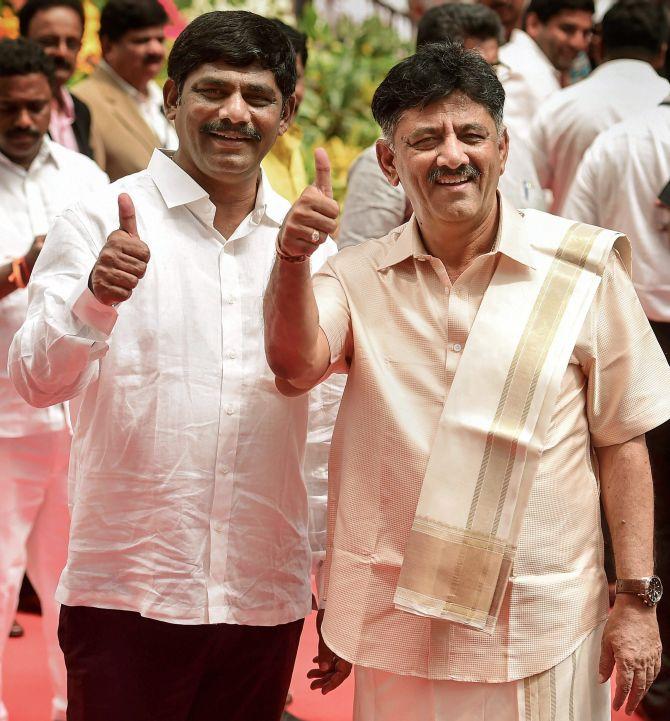 Patil was a minister in the Siddaramaiah government.
"I stood with the Congress like a solid rock, refusing the blandishments offered by the BJP. But this is the gift I have received in return....injustice has been done to me," Congress MLA B C Patil said.
M B Patil, a prominent face in the Siddaramaiah government who was at the forefront of the move for religious minority status for Lingayats, was also sullen.
"I didn't use pressure tactics or blackmail," he said, adding he would meet the state party leaders and ask them why he was left out.
Independent MLA Nagesh, who has extended support to the Kumaraswamy government, said he came dressed for the occasion and was upset at not being accommodated in the ministry.
"I am not able to understand why I was dropped. I am very upset. I was even dressed for the occasion," he said.
Senior JD-S leader Basavaraj Horatti said he too expected to be inducted but understood that Kumaraswamy was under pressure from many quarters. "I understand his dilemma," he said.
Kumaraswamy, however, downplayed the dejection and disquiet among those left out, saying 'these things are nothing new'.
Such problems, he said, arose even when there was a single party government.
"It is our responsibility to provide a stable government for the next five years," he told reporters after the oath-taking ceremony, which was attended among others by Siddaramaiah, Kumaraswamy's mother Chenamma, and several senior Congress and JD-S leaders.
The ceremony was earlier scheduled at 2 pm, but officials said it was delayed by 12 ministers for the auspicious 'Kanya Lagna' (Virgo Ascendant) to set in.
The timing was changed as Gowda family strictly follows astrology.
In line with the agreement, the Congress would get the portfolios of Home, Irrigation, Bangalore City Development, Industry and Sugar Industry, Health, Revenue and Urban Development.
It will also get Rural Development, Agriculture, Housing, Social Welfare, Forest and Environment, Labour, Law and Parliamentary Affairs, Science and Technology and IT/BT, among others.
The JD-S's portfolios include, Finance, Excise, Information, Intelligence, Public Works Department, Power, Cooperation, Tourism, Education and Transport.