At least 18 people including 14 foreigners were killed in a bloody Taliban-claimed attack on a luxury hotel in Kabul, an interior ministry spokesman said on Sunday, hours after the overnight attack ended.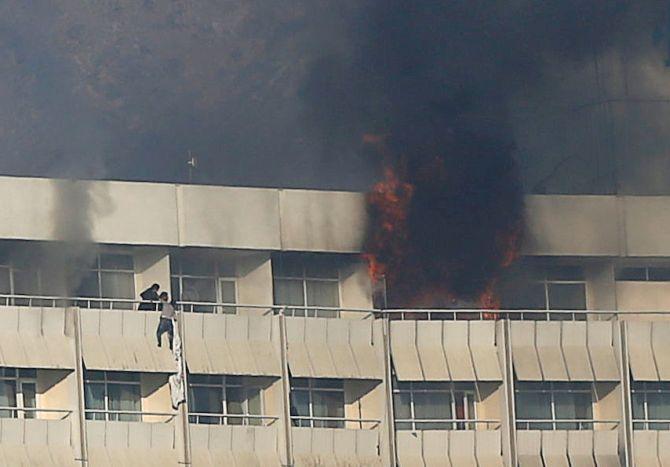 IMAGE: A man tries to escape from a balcony at Kabul's Intercontinental Hotel during an attack by gunmen in Kabul, Afghanistan. Photograph: Omar Sobhani/Reuters
"Fourteen foreigners were killed and four Afghans," interior ministry spokesman Najib Danish told Afghanistan's Tolo News, without specifying the nationalities involved.
Officials said the death toll from the attack on the six-storey Intercontinental Hotel could rise as staff were still checking rooms.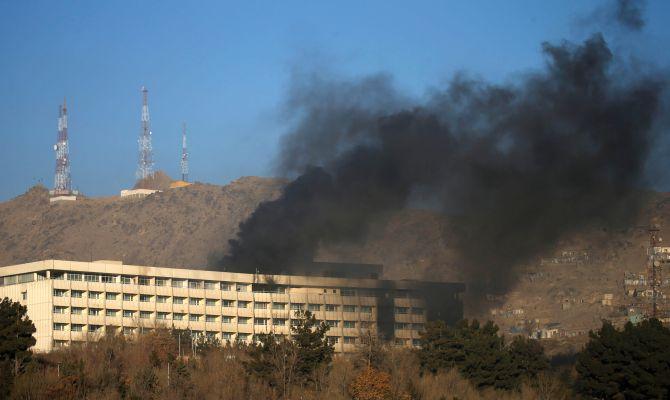 IMAGE: Smoke rises from the Intercontinental Hotel during the attack. Photograph: Mohammad Ismail/Reuters
Officials said the gunmen burst into the hotel on Saturday night, opening fire on guests and staff and taking dozens of people hostage.
Some 160 people were rescued after Afghan troops fought through the Saturday night to regain control of the building.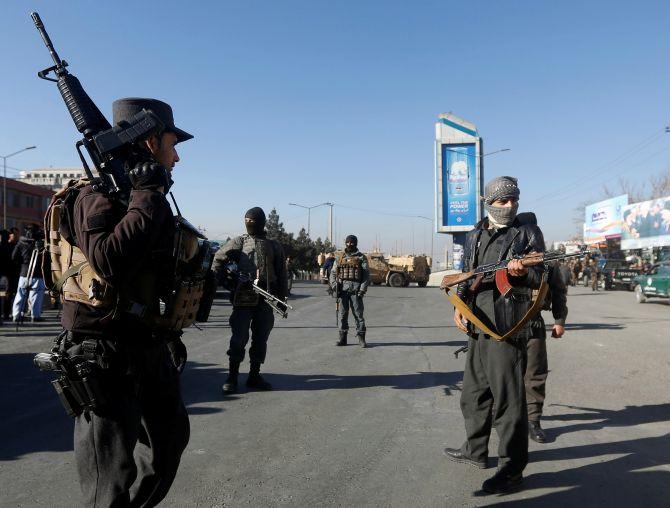 IMAGE:Afghan policemen keep watch close to the entrance gate of Intercontinental Hotel.
Photograph: Omar Sobhani/Reuters
Dramatic images broadcast on Tolo News showed thick black smoke and flames billowing from the top of hilltop Intercontinental hotel.
Several people could be seen climbing over a top-floor balcony using bedsheets to escape, with one losing his grip and plunging to the ground.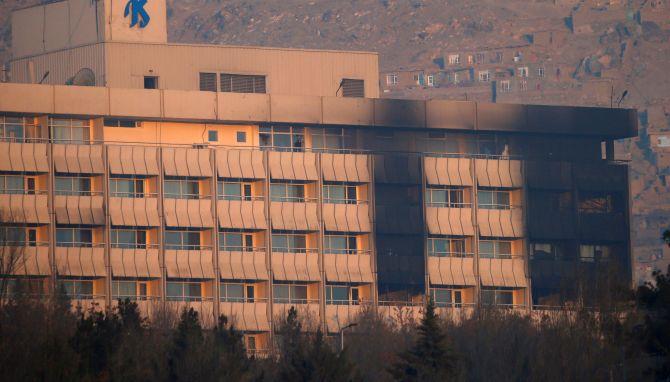 IMAGE: The Intercontinental Hotel is seen during the attack. Photograph: Mohammad Ismail/Reuters
The last major attack on a high-end hotel in Kabul was in March 2014 when four teenage gunmen raided the Serena, killing nine people.
The Intercontinental was previously targeted in June 2011 when a suicide attack claimed by the Taliban killed 21 people, including 10 civilians.