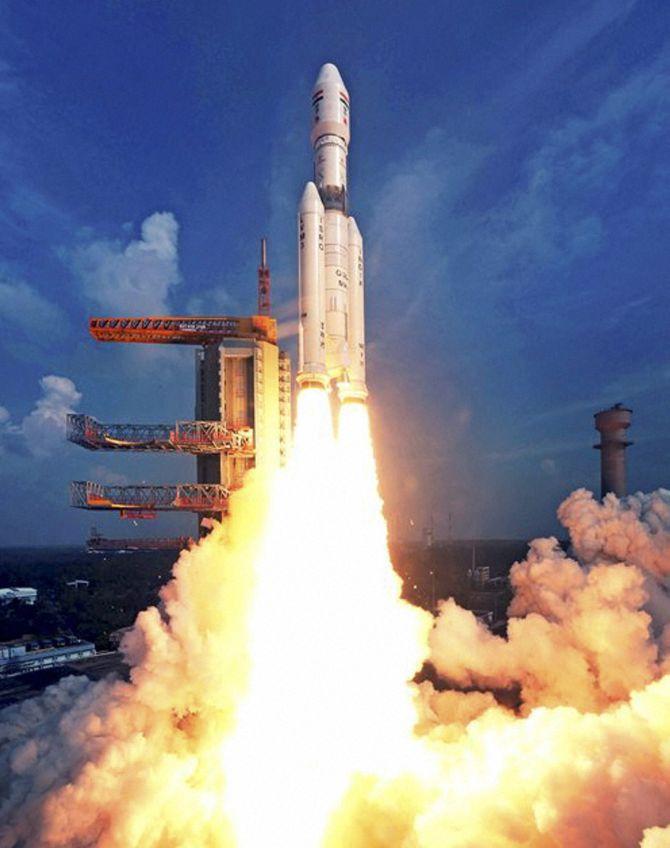 Image: GSLV Mark-III blasts off successfully from the Sriharikotta space station, near Chennai. Photograph: PTI photo

India on Thursday successfully launched its heaviest rocket yet and tested an unmanned crew module in a step towards its manned space mission in twin achievements that gave a big push to its space prowess.
As India got a giant new satellite launch vehicle that opened more commercial opportunities, the crew module -- Crew Module Atmospheric Re-entry Experiment -- splashed down into the Bay of Bengal after it separated from the Geosynchronous Satellite Launch Vehicle.
The successful test of the atmospheric re-entry of the 3.65 tonne unmanned capsule came around 730 seconds after the three-tonne rocket on its experimental mission lifted off at 9.30 am from the second launch pad of the Satish Dhawan Space Centre.
While the rocket cost Indian Space Research Organisation Rs 140 crore, the crew module has taken another Rs 15 crore, officials said.
Image: The test flight sequence of the mission. Photograph: ISRO/Twitter

Three levels of parachutes specially designed by Agra-based DRDO lab Aerial Delivery Research and Development Establishment helped the crew module descend safely into the sea, about 180 km from Indira Point, the southern tip of the Andaman and Nicobar Islands.
"This was a very significant day in the history of Indian space programme," ISRO Chairman K S Radhakrishnan said from mission control, as fellow scientists clapped and broke into a round of cheers.
President Pranab Mukherjee and Prime Minister Narendra Modi were among other leaders who congratulated the ISRO scientists for the feat that will help carry heavier communication satellites.
"Successful launch of GSLV Mark-III is yet another triumph of brilliance and hardwork of our scientists. Congrats to them for the efforts. @isro," Modi tweeted. The Lok Sabha also hailed ISRO for the new achievements.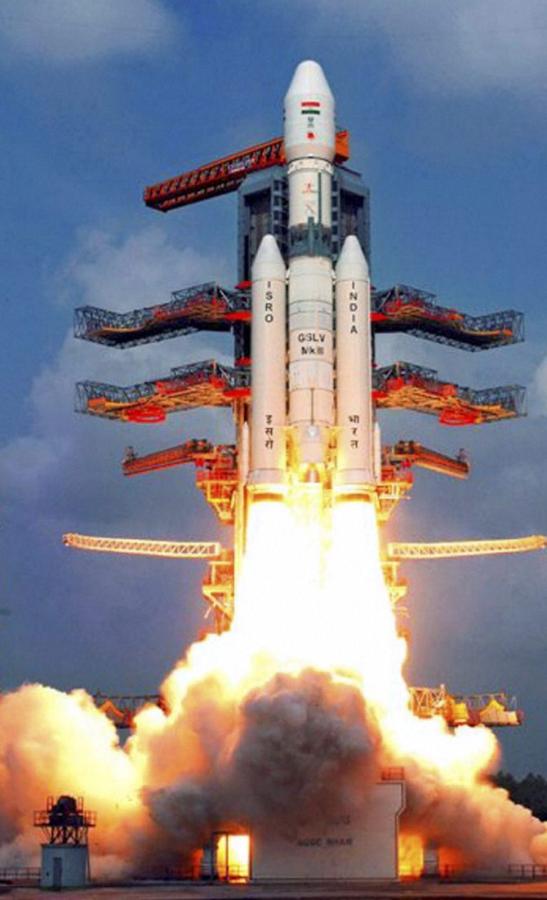 GSLV Mark III Project Director S Somanath said the country has made it again and it has a new launch vehicle. "India, you have a new launch vehicle with you. We have made it again," he said.
"We have made it again. ISRO's capability of launching heavier payloads has come to shape and this will change our destiny and our capability has significantly enhanced."
The 2.7 metre tall cupcake-shaped crew module with a diameter of 3.1 metre features aluminium alloy internal structure with composite panels and ablative thermal protection systems and can carry two to three astronauts.
The module would be shipped to KamarajarPort in Ennore near Chennai, from where it would be taken to Vikram Sarabhai Space Centre at Thiruvananthapuram in Kerala for further study.
Though it would take at least 10 years for India to send humans into space, this experiment has helped the space agency to test the module for safe return of humans from space, according to ISRO.
As for the objective of validation of the complex atmospheric flight regime of GSLV Mk III, Radhakrishnan said the two active S200 and L110 propulsive stages "performed as expected".
"We have got the signal from the beacon in the crew capsule. Indian Coast Guard ships have received them and they are some 100 km away from the site presently moving to recover it," S Unnikrishnan Nair, Project Director of ISRO's Human Spaceflight Programme, said.