French President Francois Hollande is in India on a three-day visit during which, among other things, he will be attending the Republic Day function as Chief Guest.
On the first day of his visit, he visited Chandigarh -- the city designed by French architect Le Corbusier along with Prime Minister Narendra Modi. From there, he flew to New Delhi where talks on counter-terrorism and the Rafale jets are the main agenda.
Here are some best moments from Hollande's visit.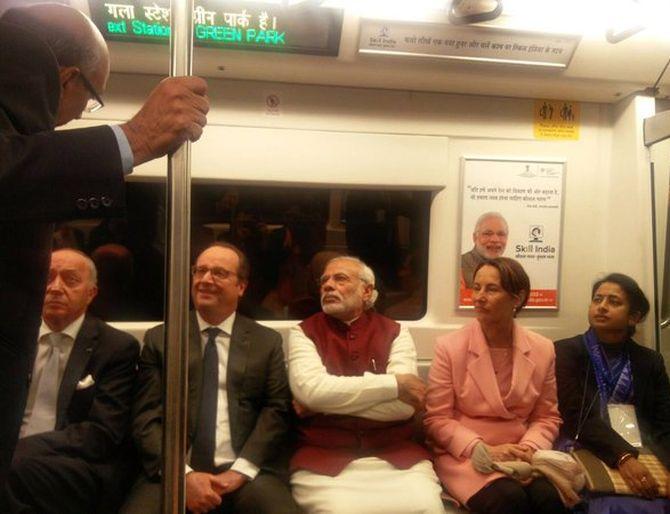 Image: After Modi had a 'naav pe charcha' in France, Hollande has a 'metro pe charcha' in Gurgaon. Photograph: @PMOIndia/Twitter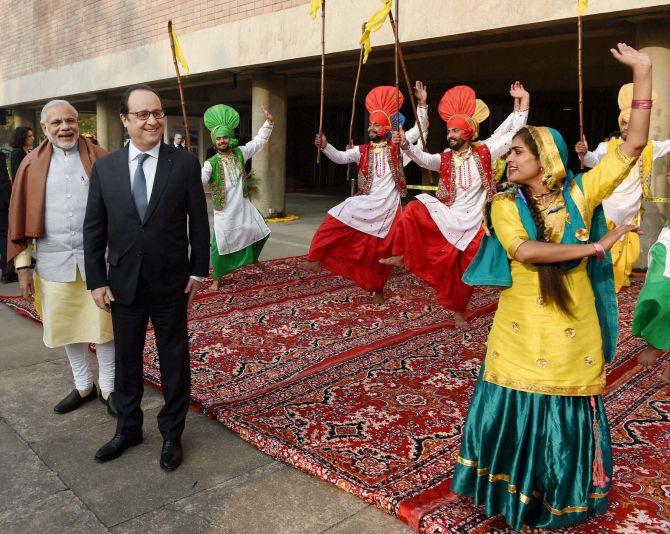 Image: Can you do the Bhangra! French President Francois Hollande is all smiles as he watches a woman performing the 'Giddha' during the visit to the Government Museum & Art Gallery in Chandigarh. Photograph: Manvender Vashist/PTI
Image: French President Francois Hollande gestures as Prime Minister Narendra Modi looks on during their visit to the Rock Garden in Chandigarh. The French President took keen interest in viewing the artefacts made from household and industrial waste and other material and also sought details about the artworks, which feature animal and human sculptures made out of bangles, ceramic tiles, bathroom fittings. Photograph: Altaf Hussain/Reuters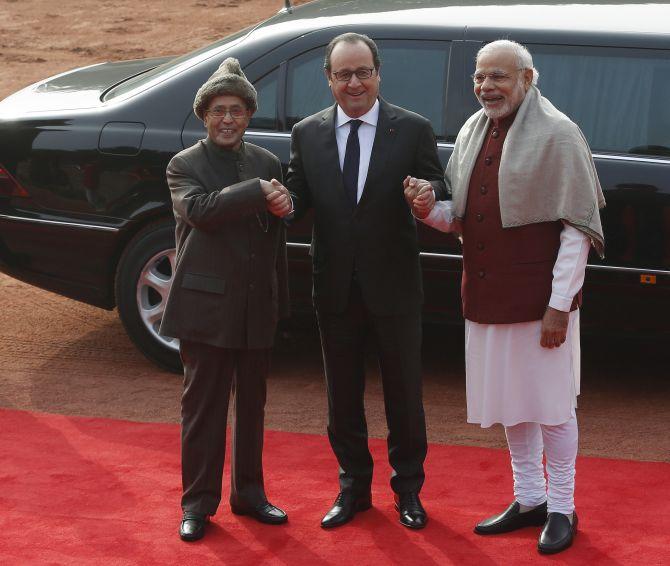 Image: French President Francois Hollande shakes hands with President Pranab Mukhderjee and Prime Minister Narendra Modi during his ceremonial reception at the forecourt of Rashtrapati Bhavan in New Delhi. Photograph: Adnan Abidi/Reuters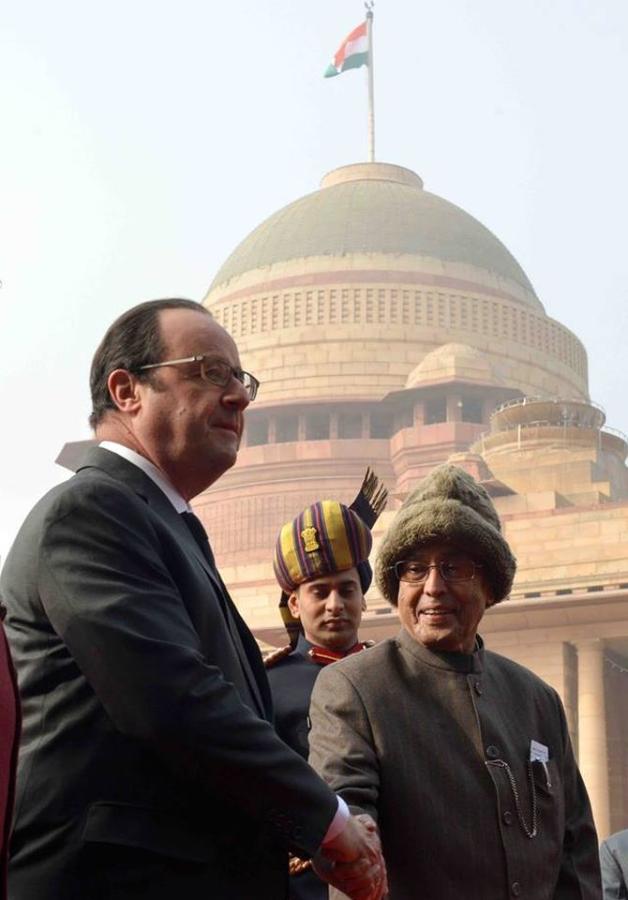 Image: Pranab Mukherjee and the French president at Rashtrapati Bhavan. Can't help but notice Pranab Mukherjee's smile. Photograph: Rashtrapati Bhavan/Facebook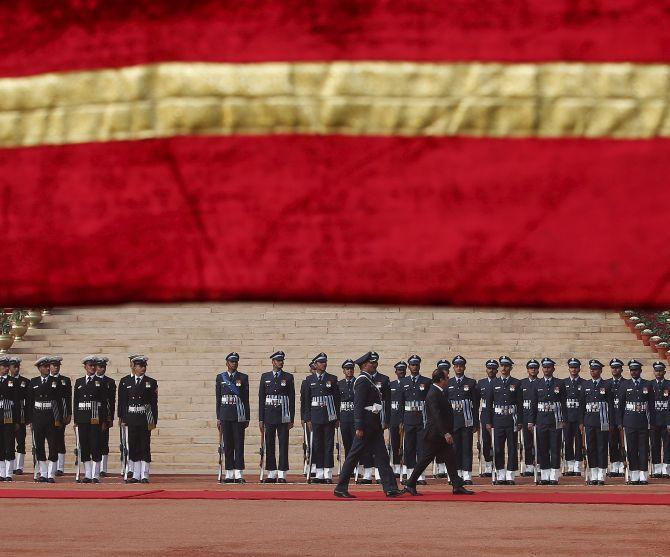 Image: Hollande inspects a guard of honour during his ceremonial reception at the Rashtrapati Bhavan. Photograph: Adnan Abidi/Reuters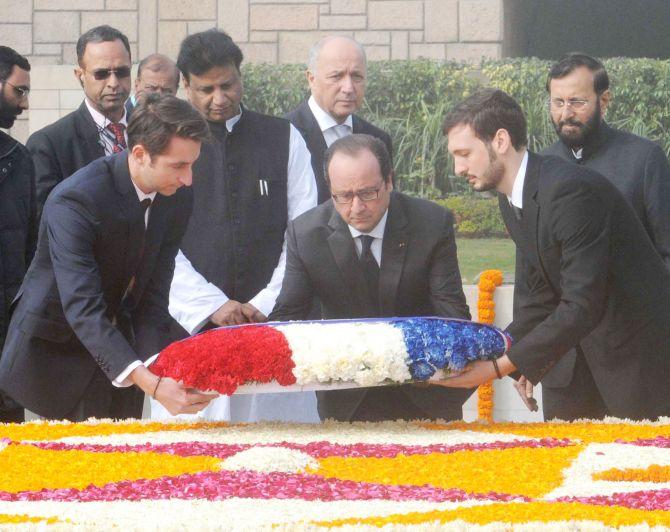 Image: French President Francois Hollande lays a wreath at the samadhi of Mahatma Gandhi, at Rajghat. Photograph: Press Information Bureau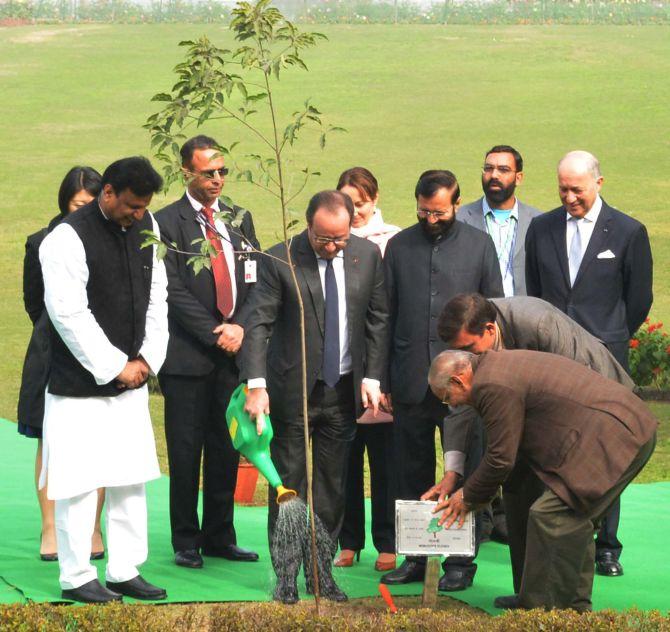 Image: Hollande plants a sapling at Rajghat, in Delhi in the presence of Minister of State for Environment, Forest and Climate Change (Independent Charge) Prakash Javadekar. Photograph: Press Information Bureau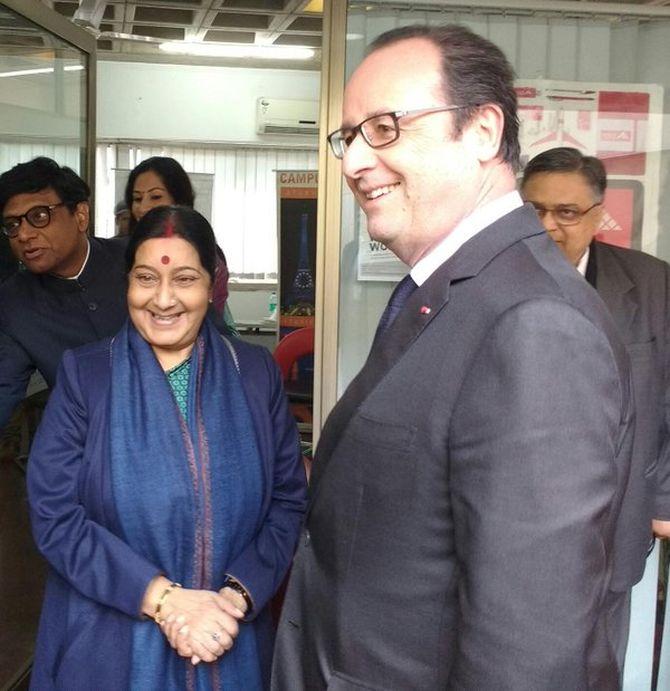 Image: Hollande with External Affairs Minister Sushma Swaraj at Alliance Francaise. Photograph: @MEAIndia/Twitter