The high-decibel campaign on Friday ended in Tripura where the Bharatiya Janata Party, an 'also-ran' till now in the north-eastern state, is making a determined bid to demolish the red bastion of 25 years, with stalwarts like Prime Minister Narendra Modi and party chief Amit Shah leading the charge.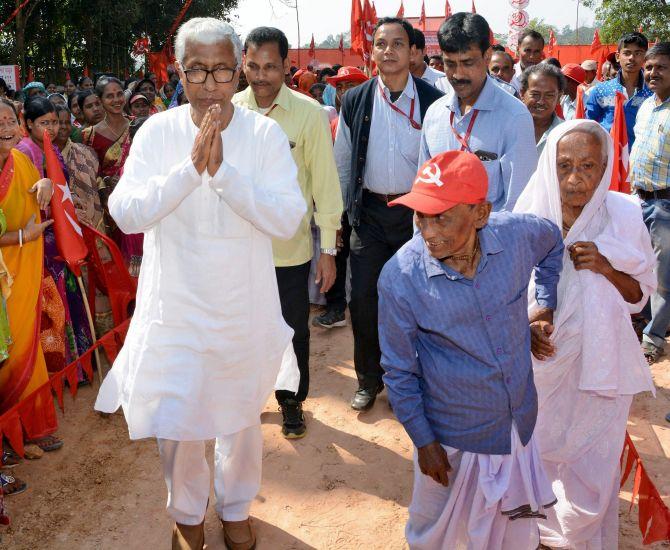 Image: Tripura Chief Minister Manik Sarkar campaigns in his home turf ahead of Tripura assembly elections in Dhanpur. Photograph: PTI Photo
The BJP has never been a major player in Tripura which hitherto saw a battle between Left Front and the Congress.
But the Congress campaign has not been aggressive this time with party chief Rahul Gandhi addressing poll rallies only on the last day.
Chief Minister Manik Sarkar, who is seeking fifth term from his home constituency of Dhanpur, even stated that the main contest is between the CPI-M and the BJP in the February 18 assembly polls for 60 seats.
The BJP had bagged just 5.70 per cent votes in the 2014 Lok Sabha elections and 1.5 per cent votes in the 2013 assembly polls.
Seeking to expand its imprint in the North-East, it has forged alliance with Indigenous Peoples Front of Tripura and hopes to benefit in 20 tribal seats.
The BJP has already formed governments in Assam, Manipur and Arunachal Pradesh.
Modi sounded the party's poll bugle in Tripura with two rallies on February 8.
He had asked the voters to throw away manik (the Manik Sarkar government) and go for HIRA (H for highways, I for Internet way, R for roadways and A for airways).
He returned to campaign again in Tripura on Thursday, a day before the campaign ended at 4 pm on Friday.
Union Finance minister Arun Jaitley had released vision document for Tripura.
BJP President Amit Shah addressed many public rallies and organized roadshows.
Firebrand Uttar Pradesh Chief Minister Yogi Adiyanath also sought votes for the party nominees.
Image: Prime Minister Narendra Modi addresses a public rally at Swami Vivekananda Maidan in Agartala. Photograph: PTI Photo
After loss of its stronghold West Bengal, it would be interesting to see if red could protect its fort in Tripura.
During teh campaign rally on January 31 in Agartala, CPI-M party General Secretary Sitaram Yechuri had said the victory horse of Prime Minister Narendra Modi will be stopped in Tripura.
He had also claimed Tripura would be Waterloo for Modi.
Though Brinda Karrat, former party secretary Prakash Karat, MP Muhammad Selim and West Bengal Left Front Convener Biman Bose chipped in but, Manik Sarkar was the star campaigner.
Sarkar addressed at least 35 rallies for party candidates across the state. He also devoted considerable time on his own seat Dhanpur where he addressed 15 rallies.
The Congress, a principal rival of Left Front all these years, is witnessing a serious challenge from BJP this time.
Congress President Rahul Gandhi visited Tripura on the last day of the campaign with a rally at Kailashahar.
The Congress president appealed to the people of Tripura to vote for the Congress, saying that unlike the BJP, his party does not make false promises.
Gandhi said neither the CPI-M nor the BJP pay attention to development and the Congress is the only party which can deliver good governance.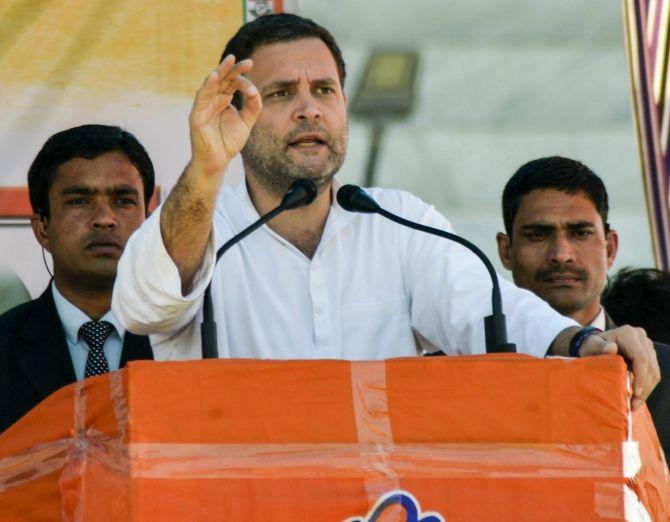 Image: Congress President Rahul Gandhi addresses a gathering on the last day of campaigning at Ram Krishna college ground in Kailashahar, in Tripura. Photograph: PTI Photo
The Congress had secured 36.53 per cent votes in the 2013 assembly polls and had 10 MLAs. But now it has only two.
Six of them had switched over first to the Trinamool Congress and later to the BJP.
One more MLA of the party joined the BJP recently while another one lost his seat to CPI-M in a bypoll.
In the previous 2013 state poll, 50 seats were won by the Left Front led by the CPI-M.
With campaigning ending on Friday evening, all eyes are now riveted on the voting on Sunday.
A total 25,734,13 voters, male 13,05,375,female 12,68,027 and 11 of Third gender are eligible cast vote on February 18. There are 47,803 new voters in 2018 poll.
There are a total of 307 candidates whose fate would be sealed in EVMs on February 18.
State Election office said that there are 47 all women managed polling stations out of total 3214.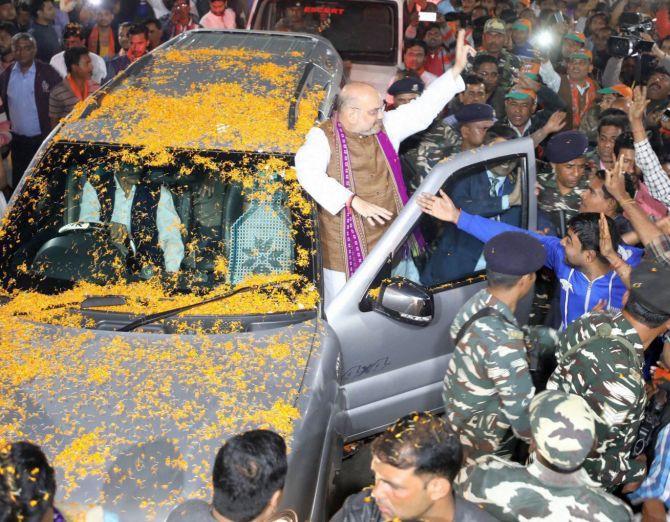 Image: BJP president Amit Shah during his roadshow in Tripura. Photograph: PTI Photo
In 2013, the CPI-M had polled 48.11 per cent of total votes.
The BJP was a marginal player than getting only 1.54 per cent of the total votes.
Out of a total of 60 seats in Tripura, 30 constituencies are general, 20 (Reserved ST) and 10 ( Reserved SC).
The term of the 60-member assembly ends on March 14.
There are 3,214 polling stations, which is a 5.6 per cent increase from the last Assembly elections held in 2013.
Dhanpur constituency in Sipahijala district from where CM Manik Sarkar is in the fray is attracting special attention.
The constituency, bordering Bangladesh, is the home turf of Sarkar. He is looking forward to his fifth straight victory from the seat in the February 18 polls. He is challenged by Congress' Laxmi Nag.
The BJP has fielded its state general secretary Pratima Bhowmick from the seat. This is the second time Bhowmick is pitted against Sarkar. She had fought and lost the elections from this seat way back in 1998.