It's been a day since Orlando and the United States was rocked by the worst terror attack since 9/11 when a man carrying an assault rifle opened fire at patrons inside a gay club on Sunday, killing 48 innocent people.
Even as the community and the country struggle to come to terms with this attack, heroic and heartbreaking stories of survival emerge.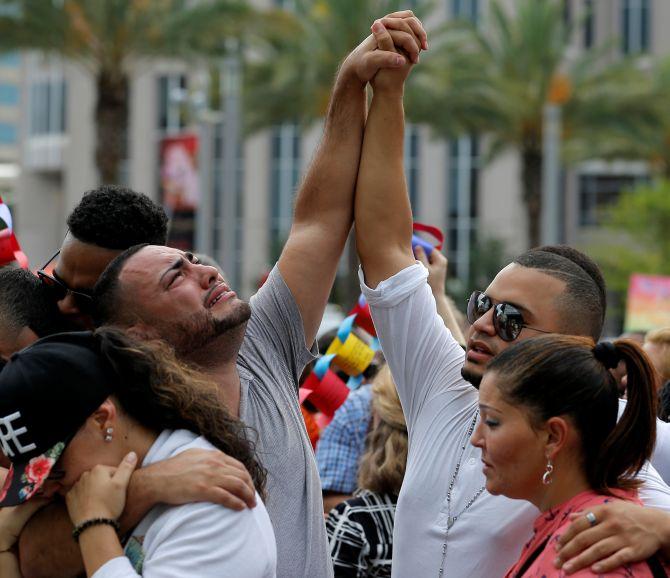 IMAGE: Mourners grieve at a vigil for the victims of the shooting at the Pulse gay nightclub in Orlando. Photograph: Jim Young/Reuters
'He was laughing like he was making fun of the victims'
When Norman Casiano he heard the first two gunshots inside the club, he threw himself to the ground and 'military style crawled' to the bathroom. Casiano packed into a bathroom staff with other terrified party-goers, where they huddled together as the gunshots got closer.
"I started crying and at that point a gentleman stumbles into the bathroom, collapses in front of the stall door and he's bleeding everywhere and he's begging to come inside the stall," he was quoted as saying to Local 10 News.
"The gunman (now identified as Omar Mateen) was laughing frantically," Deyni Ventura, a friend of the mother of survivor Norman Casiano, was quoted telling the Guardian among other media outlets, "as he was spraying people with his gun."
IMAGE: People hold up signs in solidarity at a candlelight vigil in remembrance for mass shooting victims in Orlando, from San Diego, California. Photograph:
Mike Blake/Reuters
"Norman [the survivor] received four gunshot wounds to his back he survived, and he should be released from the hospital today or tomorrow," she said.
"He was in a bathroom stall with 30 other people, and those 30 other people are deceased. He is the only one that lived," she added.
Norman, 26, said it was if the killer was making fun of his victims as he killed them.
"When he laughed he took his gun and sprayed under the bathroom stall and on top of the bathroom stall, so then the bodies started collapsing and blood was going everywhere in the handicapped stall, 30 people squished in there getting shot," she said. "He was laughing like he was making fun of the victims."
'I played dead'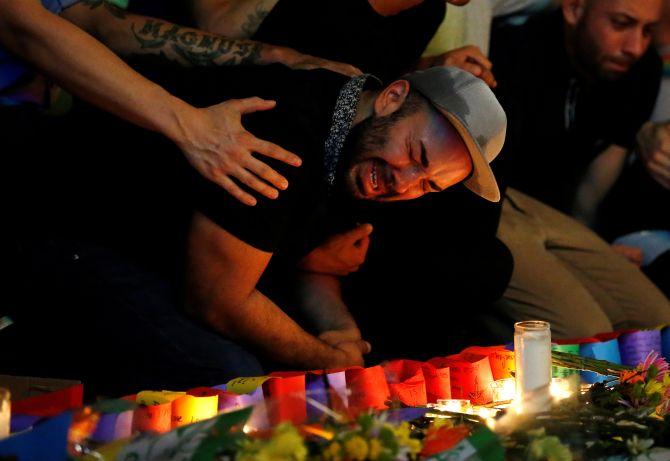 IMAGE: A man sits and cries after taking part in a candlelight memorial service the day after a mass shooting at the Pulse gay nightclub in Orlando. Photograph: Carlo Allegri/Reuters
Marcus Godden, another 26-year-old, who works in an outlet of Buffalo Wild Wings restaurants, was one of the number of people on Monday who were recounting stories of survival and death, hope and horror, of bad luck and good fate.
His back was to the door of the Pulse club and so he did not see the gunman immediately. But he could hear the gunshots and he could see the people falling around him. "I lay on the ground. I could hear shots. I played dead," he said.
"I can still see the gunshots, my ears are still ringing, I can hear the shooting," he said.
'It was just like, shot, after shot, after shot'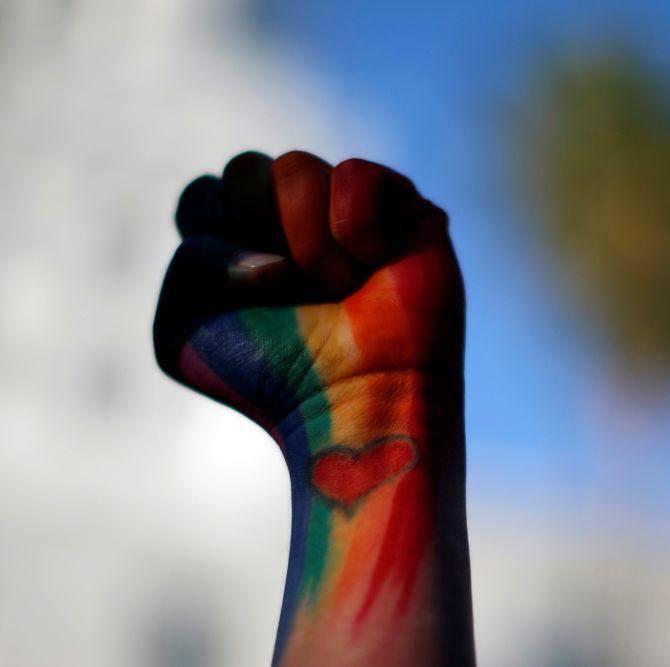 IMAGE: Dominique Hernandez holds up her fist painted in the colors of a rainbow, with a heart on her pulse, attends a vigil in memory of victims one day after a mass shooting at the Pulse gay night club in Orlando, in Los Angeles. Photograph: Lucy Nicholson/Reuters
Christopher Hansen said he was also getting a drink at the bar when he heard gunshots inside the nightclub.
"You could still hear the gunshots," Hansen told ABC News.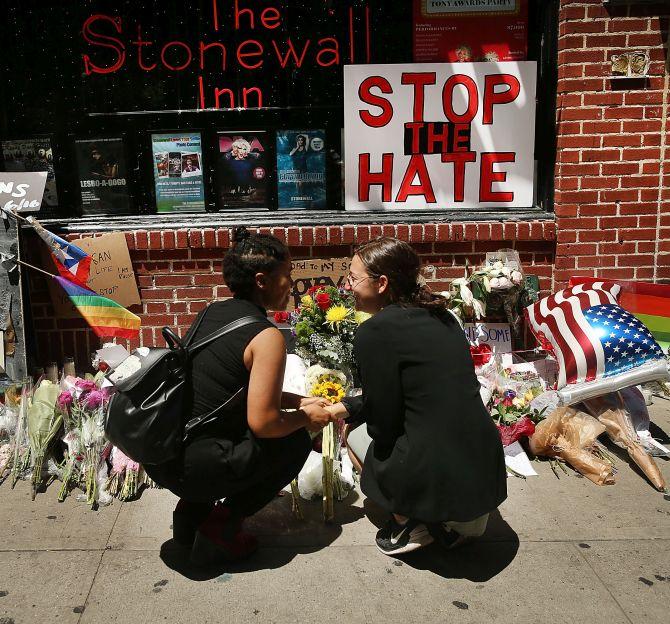 IMAGE: Matti Mejia (left) and Shaina Roberts pause in front of the iconic gay and lesbian bar The Stonewall Inn to lay flowers and grieve for those killed in Orlando. Photograph: Spencer Platt/Getty Images
"It was like the length of a song. It just kept going, 'Pow, pow, pow, pow'. Just non-stop, continuous, and then just sort of brief silence and then it went all over again. So, I don't know how many rounds were shot. It was just like, shot, after shot, after shot."
He added: "Once I saw the bodies dropping, the people screaming... you could see the blood everywhere. The person next to me was shot and I dropped down so that I could crawl out... I wasn't [thinking]. It was like my mind was saying, 'Get out. Get out'."
Rainbow lights for Orlando
Millions of people around the world have joined together to light candles and hold vigils in memory of the 49 people killed in the deadliest mass shooting in US history.
Landmarks across the world -- from the Eiffel Tower in Paris to Sydney's Harbour Bridge, have been lit up in rainbow colours to show their solidarity with the LGBT community.
Paris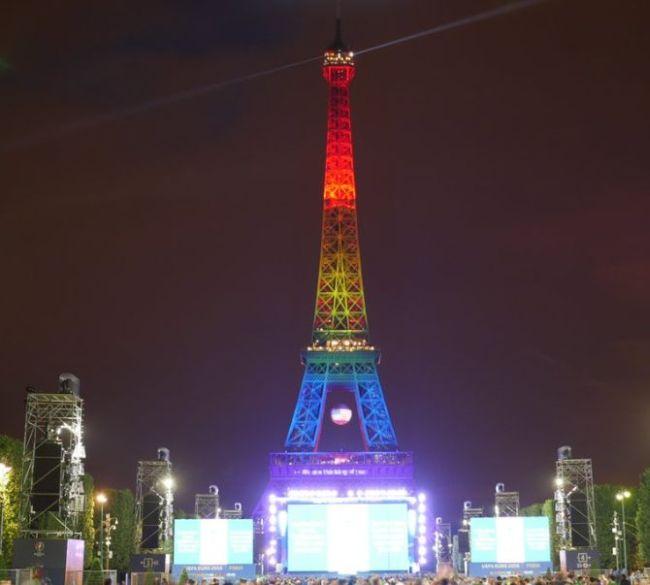 The Eiffel Tower was on Monday evening illuminated in rainbow colours to pay homage to the 49 victims. Photograph: @LaTourEiffel/Twitter
Sydney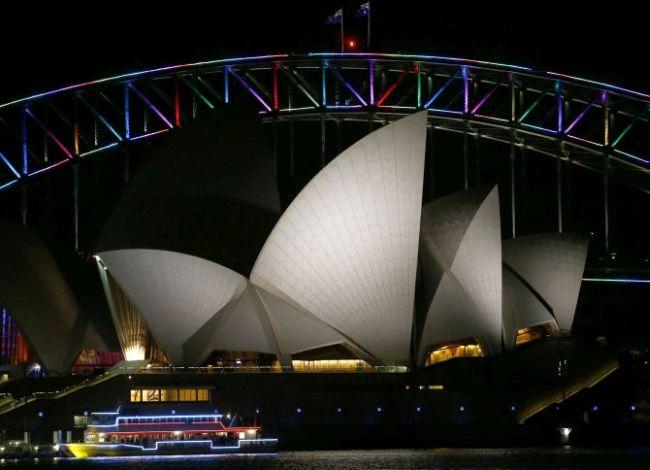 The Sydney Harbour Bridge is illuminated with rainbow colours to remember victims of the Orlando night club massacre. Photograph: Daniel Munoz/Getty Images
Boston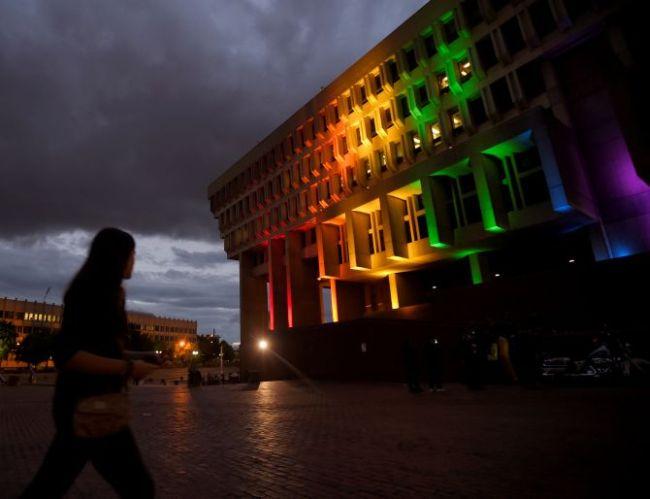 Boston's City Hall lit in the colours of the pride flag for the victims of the mass shooting at Orlando's Pulse nightclub. Photograph: Gretchen Ertl/Reuters
Mexico City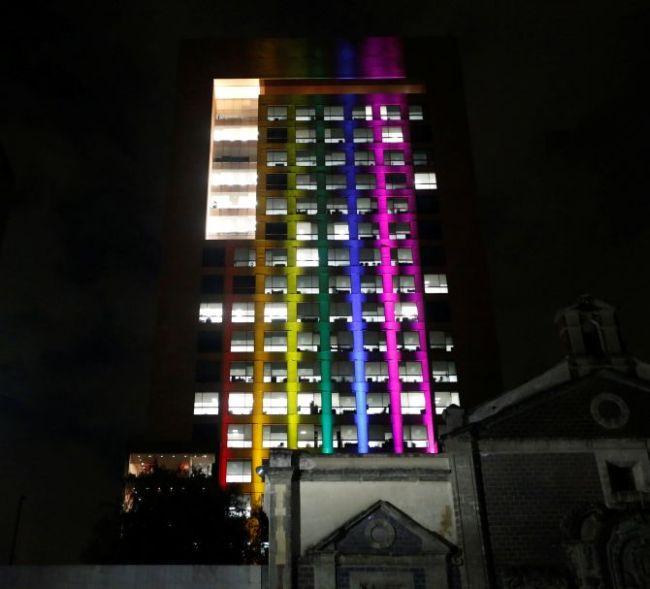 Mexico's Foreign Affairs building is illuminated in rainbow colours. Photograph: Edgard Garrido/Reuters
Obama to visit Orlando to pay respects to victims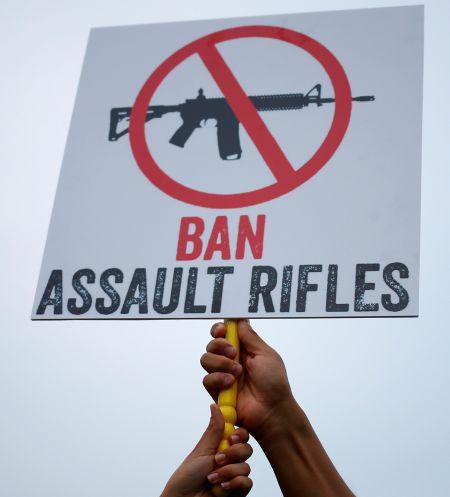 IMAGE: An intense debate on gun control was renewed after the Orlando shootings. Photograph: Adrees Latif/Reuters
US President Barack Obama will travel to Orlando on Thursday to pay his respects to the victims of America's deadliest mass shooting, in which at least 49 people were killed, and stand in solidarity with the community, the White House has said.
"On Thursday, the US President will travel to Orlando, Florida to pay his respects to victims' families, and to stand in solidarity with the community as they embark on their recovery," White House Press Secretary Josh Earnest said.
In the aftermath of the mass shooting at a gay club in Orlando in which 49 people were killed and more than 50 others injured, Obama cancelled his pre-scheduled trip to Wisconsin where he was to join presumptive Democratic presidential nominee Hillary Clinton in a joint election campaign.
Obama is "quite intensely frustrated" and in "some cases even angry" over the congressional inaction on gun control laws, in the absence of which it becomes very easy for people to buy firearms, Earnest said.
"There is no one law that we can pass that would prevent every aspect of violence, but there are some common-sense things that Congress could do that would make it harder for individuals who should not have guns from being able to get them. There are certain common-sense things that Congress could do that would make it harder for any individual to get their hands on a weapon of war," he said.