'To boldly go where no one has gone before' was the Star Trek mantra as they launched into their fictional 5 year mission.
Well, the USS Enterprise can eat its heart out. The International Space Station has completed 15 years of continuous human presence in orbit.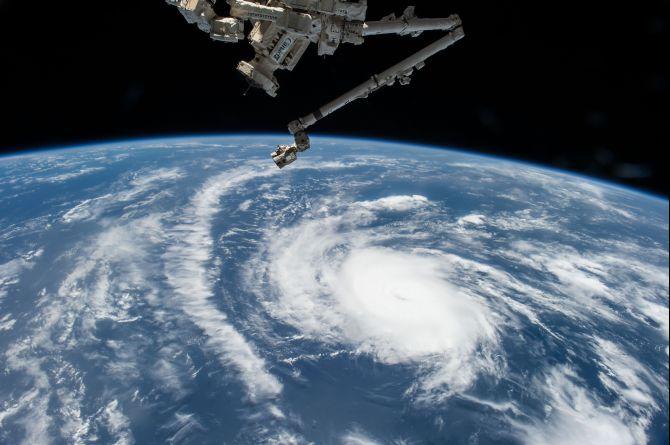 NASA astronaut Scott Kelly photographed Hurricane Danny as the International Space Station orbited over the central Atlantic Ocean. Photograph: NASA
To mark the event NASA has released an official 'country song' that describes the epic journey.
On October 31, 2000, a Soyuz spacecraft lifted off, carrying Expedition One Commander William Shepherd of NASA and cosmonauts Sergei Krikalev and Yuri Gidzenko of Roscosmos. The trio arrived at the International Space Station on November 2, marking the start of an uninterrupted human presence that has continued for fifteen years. Photograph: NASA
Expedition 1, the first station crew, docked November 2, 2000 after launching two days earlier inside the Soyuz TM-31 spacecraft.
NASA astronaut Scott Kelly captured this photograph from the International Space Station on Oct 7 this year. Sharing with his social media followers, Kelly wrote, "The daily morning dose of #aurora to help wake you up. #GoodMorning from @Space_Station! #YearInSpace". Photograph: NASA
The space station at the time consisted of just three modules. Commander William Shepherd and Flight Engineers Sergei Krikalev and Yuri Gidzenko spent 141 days in space, saw two space shuttle missions and the addition of a solar array truss structure and the US Destiny laboratory module.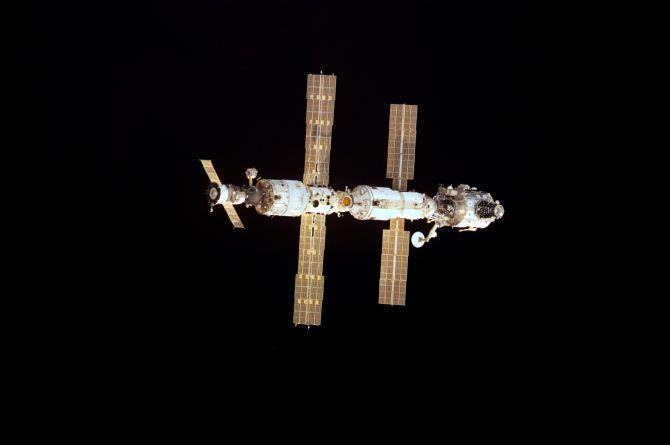 The International Space Station pictured in its orbit with a veil of the dark space behind it. Photograph: NASA
The US space agency released a delightful video about the space orbiting lab, set to a very country and banjo-filled tune.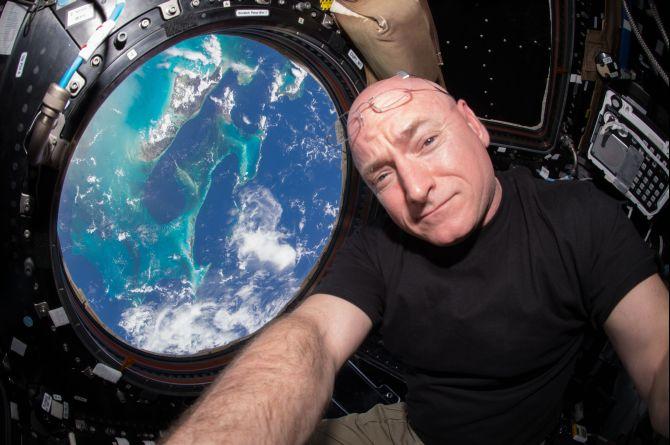 Just before the 15th anniversary of continuous human presence on the International Space Station, US astronaut and commander of the current Expedition 45 crew, Scott Kelly, broke a spaceflight record. On October 16, this year, Kelly begins his 383rd day living in space, surpassing US astronaut Mike Fincke's record. Photograph: NASA
The video details interesting facts about the station in twanging verse.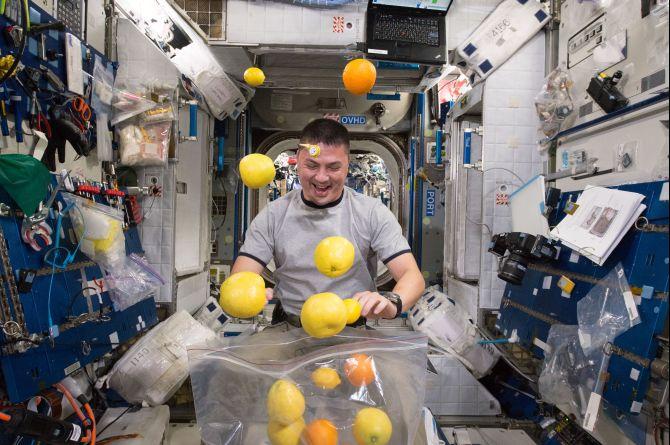 NASA astronaut Kjell Lindgren corrals the supply of fresh fruit that arrived on the Kounotori 5 H-II Transfer Vehicle (HTV-5.) Photograph: NASA
It also explains the station's logistics: it's about the size of a football field and weighs up to 1 million pounds.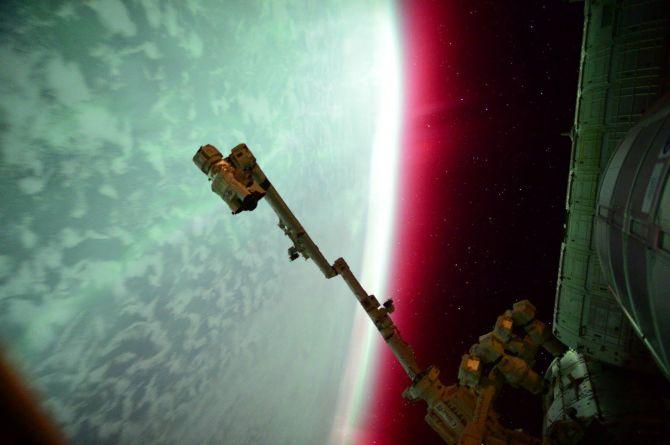 NASA Astronaut Scott Kelly captured this photo of an aurora from the International Space Station. The dancing lights of the aurora provide spectacular views on the ground, but also capture the imagination of scientists who study incoming energy and particles from the sun. Photograph: NASA
The current six-member crew, Expedition 45, consists of NASA astronauts Scott Kelly and Kjell Lindgren, Japanese astronaut Kimiya Yui and veteran cosmonauts Sergey Volkov, Mikhail Kornienko and Oleg Kononenko. Kelly and Kornienko are spending nearly a year in space.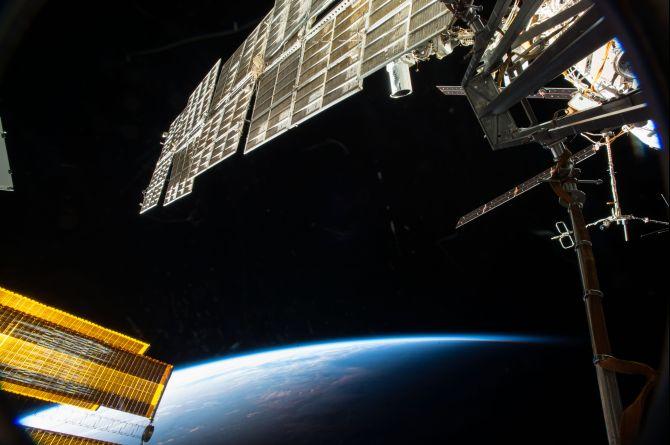 Station solar arrays from the Russian Zarya module and main arrays dominate this picturesque view. Photograph: NASA
The crew worked a wide variety of lab maintenance and advanced science exploring how life adapts to long-term space missions with potential benefits to Earth-bound humans and future astronauts.
"The space station really is a bridge. It's a test bed for the technologies that we need to develop and understand in order to have a successful trip to Mars," American astronaut Kjell Lindgren said.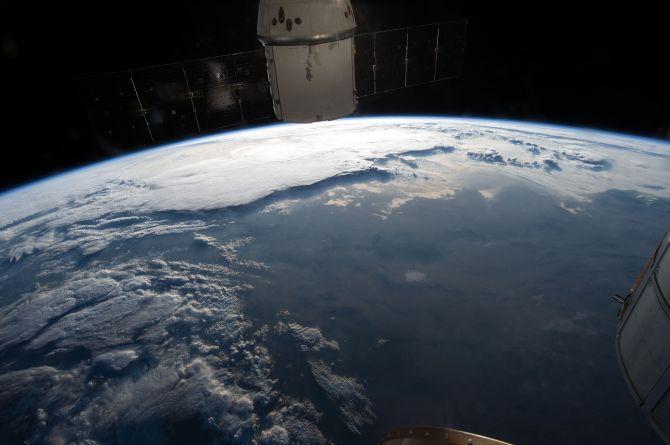 From the International Space Station, NASA astronaut Terry Virts took this photograph of an early morning sunrise over the Grand Canyon and posted it to social media on May 10, 2015. Because the station completes each trip around the globe in about 92 minutes, the crew experiences 16 sunrises and sunsets each day. Photograph: NASA
Since the first permanent crew moved in on Nov. 2, 2000, 220 people have come and gone, representing 17 countries.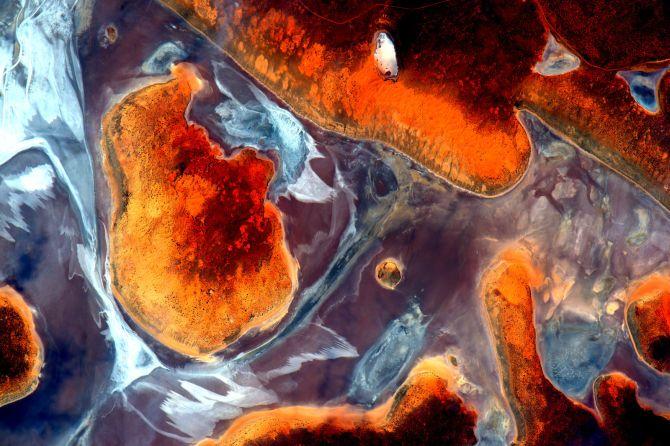 NASA astronaut Scott Kelly shared a series of seventeen photographs taken from the International Space Station during a flyover of Australia. This first photo of the series was shared on Twitter with the caption, 'EarthArt in one pass over the Australian continent'. Photograph: NASA
More than 26,500 meals have been dished up, according to NASA, and the complex has grown from three to 13 rooms since 2000. The current structure has a mass of nearly 1 million pounds and as much pressurized volume as a Boeing 747.
International Space Station astronaut Terry Virts tweeted this image of a Vulcan hand salute from orbit as a tribute to actor Leonard Nimoy, who passed away this year. Nimoy played science officer Mr Spock in the Star Trek series that served as an inspiration to many of the on board scientists and astronauts. Photograph: NASA
"I congratulate all of the men and women at NASA and around the world who have worked so hard to keep the International Space Station operational these past 15 years," said John Holdren, director of the White House Office of Science and Technology Policy.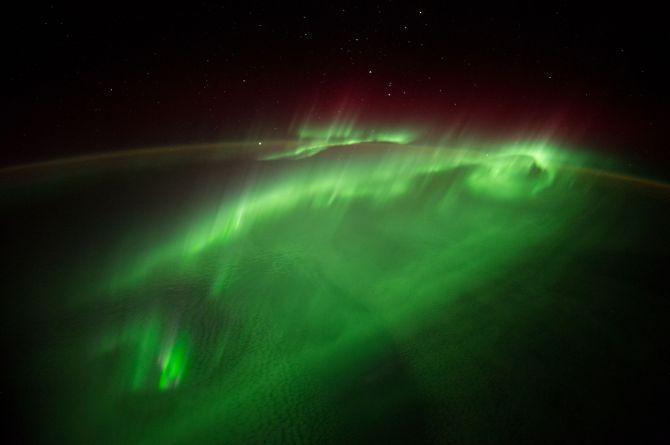 European Space Agency astronaut Alexander Gerst posted this photograph taken from the International Space Station to social media. Photograph: NASA
"Since 2000, human beings have been living continuously aboard the space station, where they have been working off-the-Earth for the benefit of Earth, advancing scientific knowledge, demonstrating new technologies, and making research breakthroughs that will enable long-duration human and robotic exploration into deep space," said NASA Administrator Charles Bolden.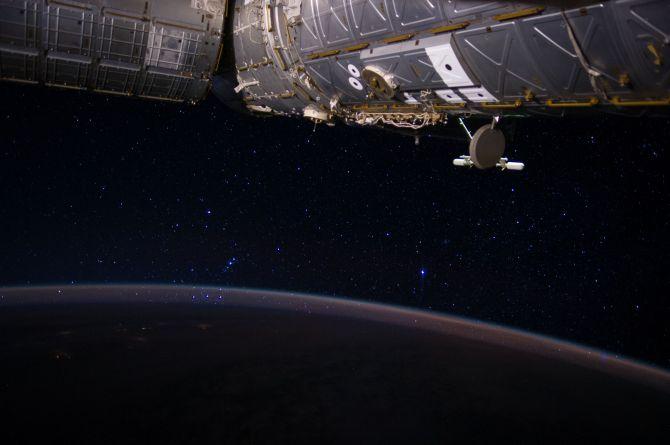 Expedition 40 Flight Engineer Reid Wiseman captured this image which connects Earth to the International Space Station and to the stars. Photograph: NASA
NASA also released an infographic that presents interesting facts about the space station, along with a list of how things have changed since the Expedition 1 in 2000.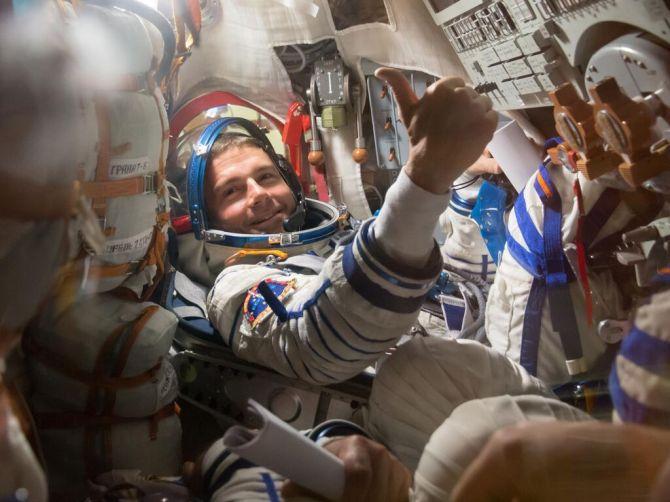 Soyuz Commander and cosmonaut Maxim Suraev, NASA astronaut Reid Wiseman and European astronaut Alexander Gerst give a thumbs up. Photograph: NASA
The best part of this anniversary is that we're going to celebrate many more birthdays with the ISS.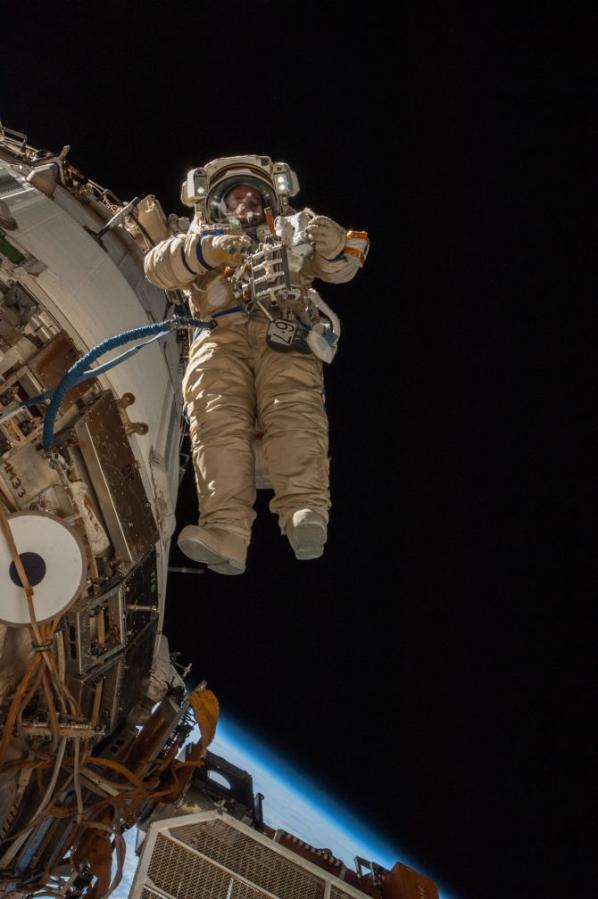 Russian cosmonaut Sergey Ryazanskiy, Expedition 38 flight engineer, attired in a Russian Orlan spacesuit, participates in a session of extravehicular activity in support of assembly and maintenance on the International Space Station. Photograph: NASA
Recently the station's planned operational time was extended through 2024, and NASA officials have said that it could probably last until 2028, as well. That's definitely something worth singing about.