Russian President Vladimir Putin on Thursday heaped praise on US Republican presidential hopeful Donald Trump, describing him as a "talented and outstanding man".
During his annual news conference with international reporters in a cavernous hall inside a Moscow conference centre, Putin added, "It's not up to us to judge his virtue, that is up to US voters, but he is the absolute leader of the presidential race.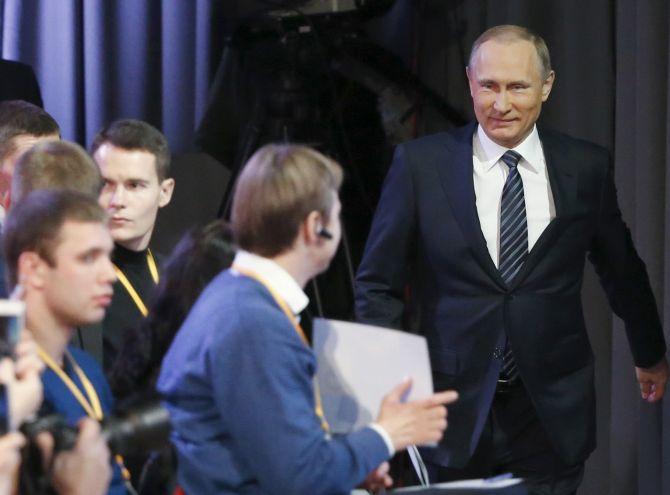 Russian President Vladimir Putin makes his way to the hall for his annual conference. The president addresses domestic and international issues at the conference, which has a large attendance of journalists. Photograph: Sergei Karpukhin/Reuters
When asked about the prospect of a new US president, the Russian strongman, whose relationship with Barack Obama is strained, said that his country is ready to work with the United States no matter who is elected as the president next year
"Whoever it is, we are ready and want to develop our relations with the United States," he said, adding that unlike the US, which "always tries to tell us... who to elect and who not to elect," Russia doesn't do any such thing."
When asked about Trump's plan to ban Muslims from entering the US, remarks that the business tycoon made after a Muslim couple went on a rampage and killed 14 people in California, Putin said that Trump's comments to the domestic audience in the United States were none of Russia's concerns, but he was pleased about the US presidential attitude towards his country.
Some of Trump's statements on Putin were apparently music to the Russian president's ear.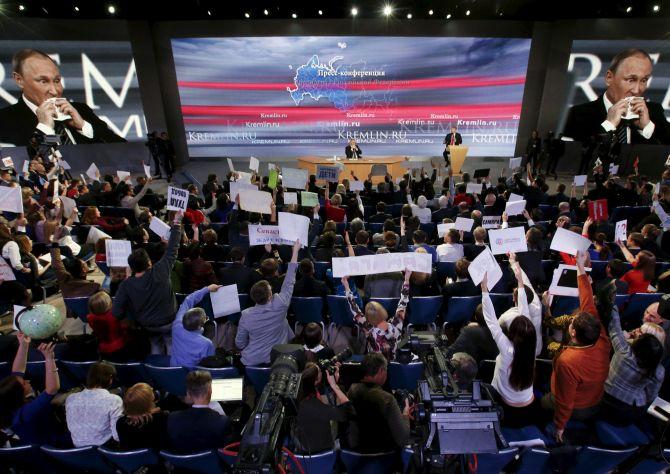 The event is huge and journalists from all over the world attend the conference to ask the Russian strongman his views on several issues -- ranging from their relations with US to the airstrikes against the Islamic State. Photograph: Sergei Karpukhin/Reuters
"He says that he wants a different level of relations, tighter and deeper relations with Russia, how can we not welcome that? Of course we welcome it," Putin said.
Putin said he backed a US plan to prepare a United Nations resolution on Syria even though differences between Moscow and Washington remained.
The Russian President said the military operation will continue in Syria until a political process starts.
He asserted that they would remove all restrictions on flights to Egypt once reliable anti-terrorist measures were implemented.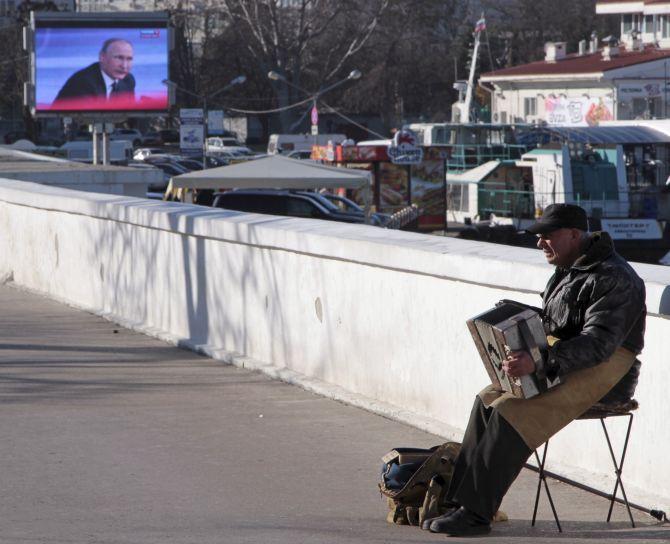 A man plays the accordion, with a screen showing Russian President Vladimir Putin's annual end-of-year news conference seen in the background, on an embankment of the Black Sea port of Sevastopol, Crimea. Photograph: Pavel Rebrov/Reuters
Later Thursday, Trump returned the warm words.
"It is always a great honour to be so nicely complimented by a man so highly respected within his own country and beyond," Trump said in a statement released by campaign spokeswoman Hope Hicks. "I have always felt that Russia and the United States should be able to work well with each other towards defeating terrorism and restoring world peace, not to mention trade and all of the other benefits derived from mutual respect."
-- With inputs from Agencies