Over 7,000 illegal immigrants arrived on the Greek holiday island of Kos, sailing across from Turkey. On Tuesday, fights broke out among them, as authorities struggled to contain increasing numbers of people arriving clandestinely on rubber dinghies.
Camping rough and sleeping in disused hotels and on beaches, the migrants were taken to a sports stadium for identification. They protested demanding quick registration and blocked the main coastal road in the island's main town, staging a sit-in.
Hundreds of people arrive on Greece's eastern Aegean islands daily, many after fleeing conflict in Syria and Afghanistan.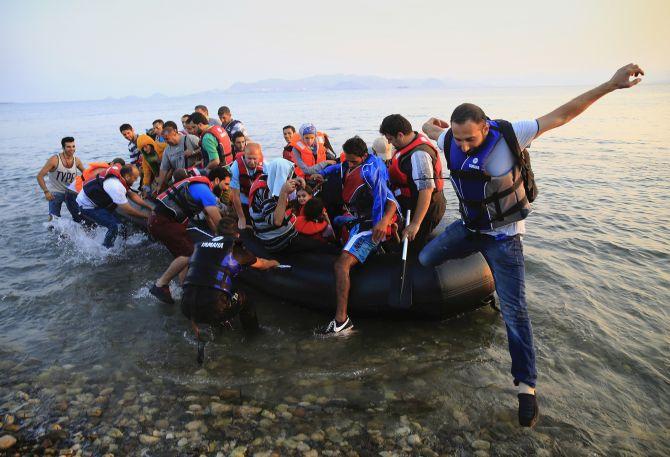 Syrian refugees arrive at a beach on the Greek island of Kos. Photograph: Yannis Behrakis/Reuters
---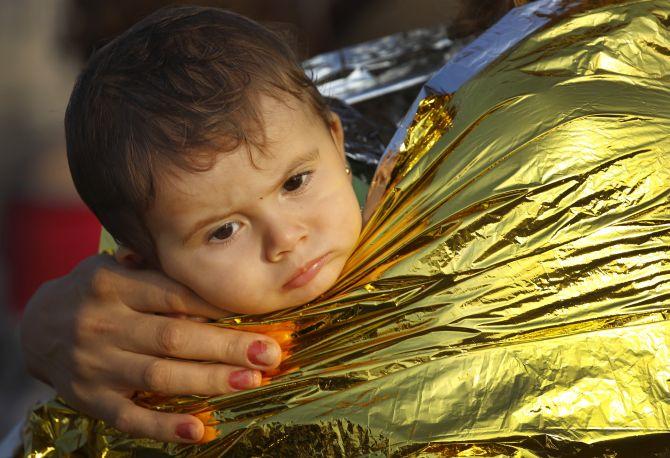 A Syrian refugee child is covered by thermal blanket in the port of Kos following a rescue mission off the Greek island. Photograph: Yannis Behrakis/Reuters

---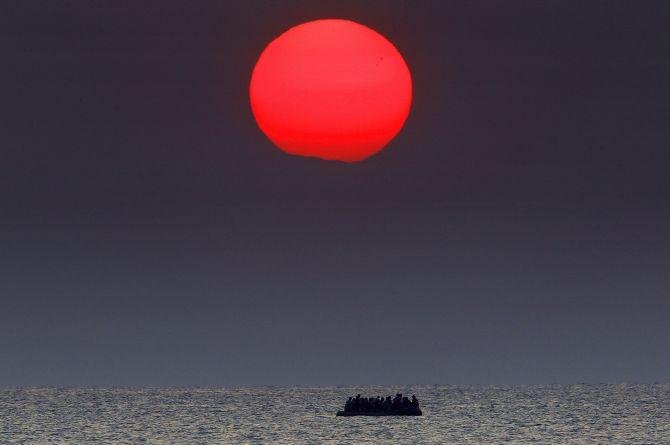 A dinghy overcrowded with Syrian refugees drifts in the Aegean sea between Turkey and Greece after its motor broke down off the Greek island of Kos. Photograph: Yannis Behrakis/Reuters
---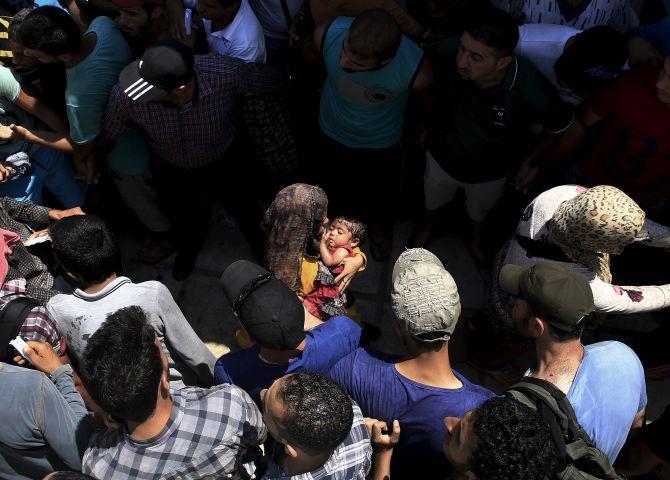 Syrian men form a safety passage for women following clashes during a registration procedure in the national stadium of the Greek island of Kos. Photograph: Yannis Behrakis/Reuters
---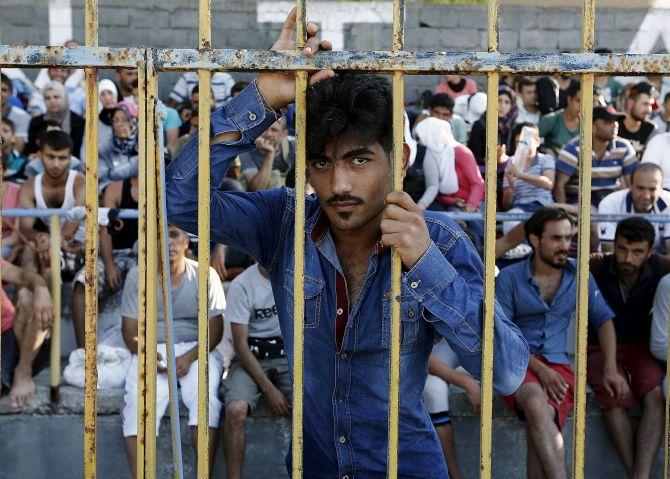 Syrian refugees pack the stands inside the national stadium on the Greek island of Kos. Some migrants set up tents while police stood guard in riot gear.Photograph: Yannis Behrakis/Reuters
---
A Syrian refugee tries to look out through a hole in a locked gate of the national stadium on the Greek island of Kos. Photograph: Yannis Behrakis/Reuters
---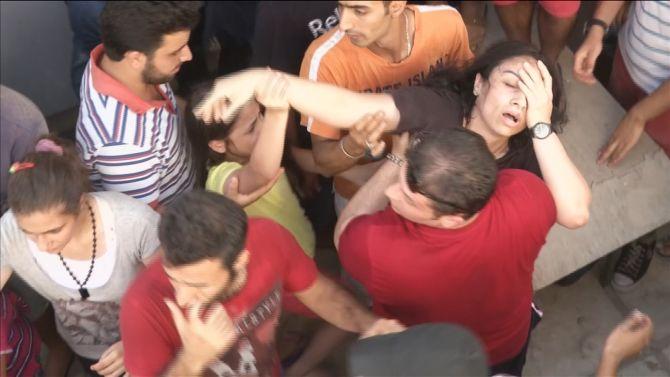 A woman faints as migrants scuffle while queuing for immigration papers on the Greek island of Kos. Photograph: Yannis Behrakis/Reuters
---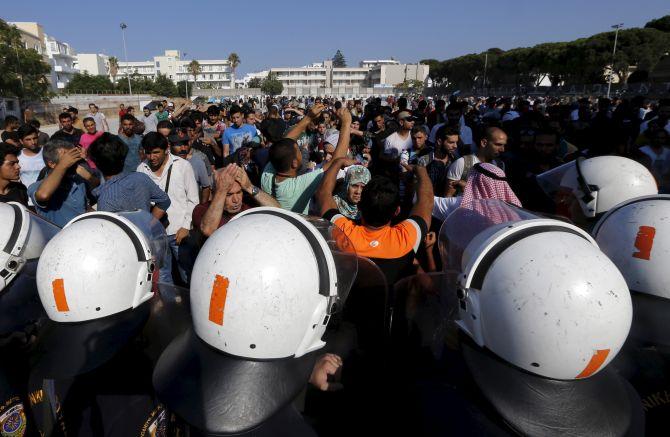 Greek riot police stand in front of thousands of Syrian refugees and other migrants at the national stadium of the Greek island of Kos. Photograph: Yannis Behrakis/Reuters
---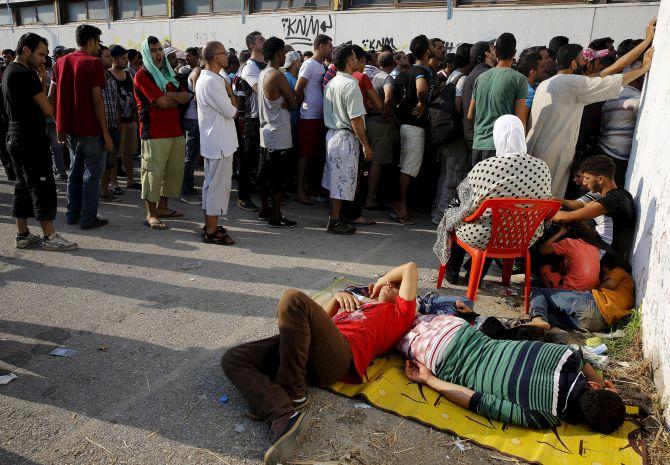 Syrian refugees line-up as others sleep on the floor during a registration procedure at the national stadium of the Greek island of Kos. Photograph: Yannis Behrakis/Reuters
---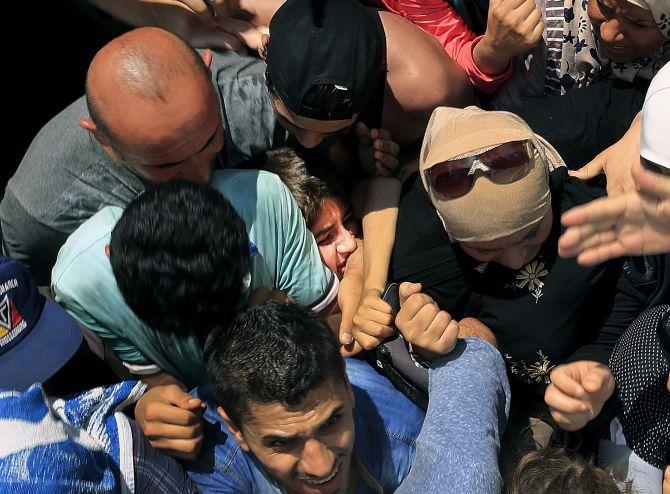 A Syrian refugee girl is squashed as other clash during registration procedure in the national stadium of the Greek island of Kos. Photograph: Yannis Behrakis/Reuters
---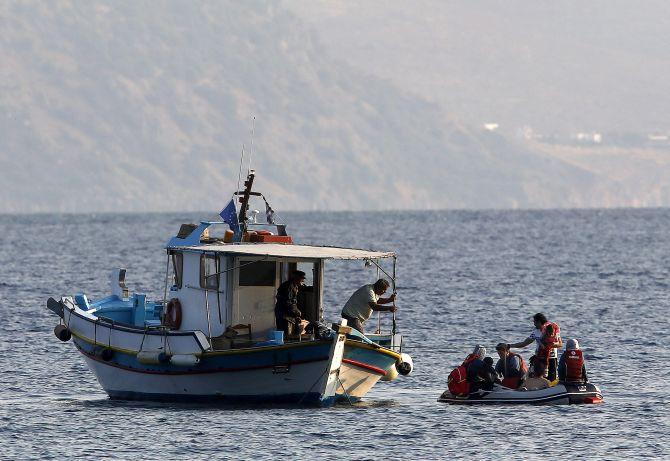 A Greek fisherman helps a Syrian refugee family on a dinghy after their engine broke down near the Greek island of Kos. Photograph: Yannis Behrakis/Reuters
---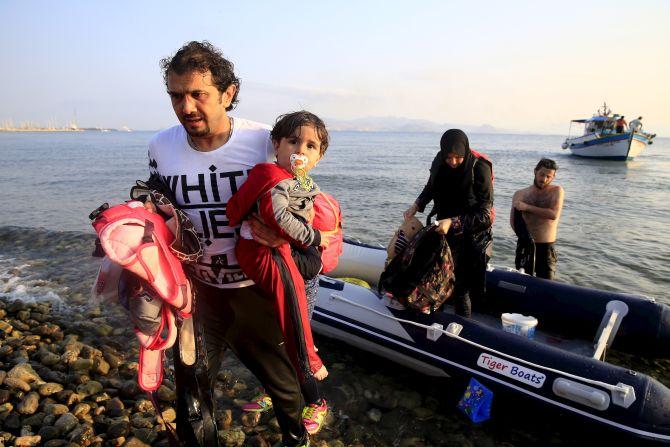 A Syrian refugee family arrives on a dinghy at a beach on the Greek island of Kos. Photograph: Yannis Behrakis/Reuters
---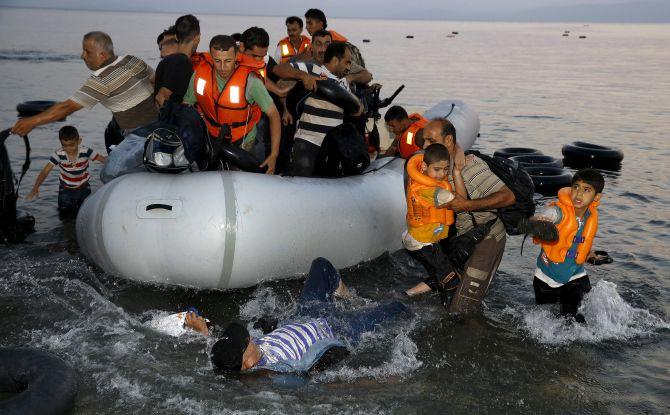 Syrian refugees carry their children as they jump off an overcrowded dinghy upon arriving on a beach on the Greek island of Kos, after crossing a part of the Aegean sea from Turkey. Photograph: Yannis Behrakis/Reuters
---
Syrian refugees take "selfies" moments after arriving on an overcrowded dinghy at a beach on the Greek island of Kos. Photograph: Yannis Behrakis/Reuters
---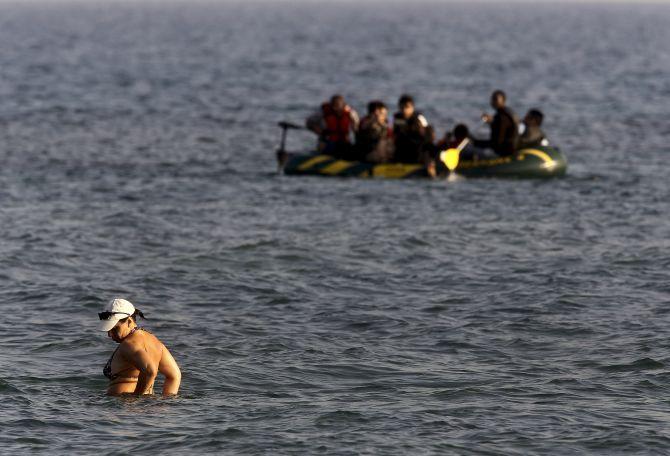 A tourists swims as migrants and refugees from Syria and Africa arrive on a dinghy at the Greek island of Kos. Photograph: Yannis Behrakis/Reuters
---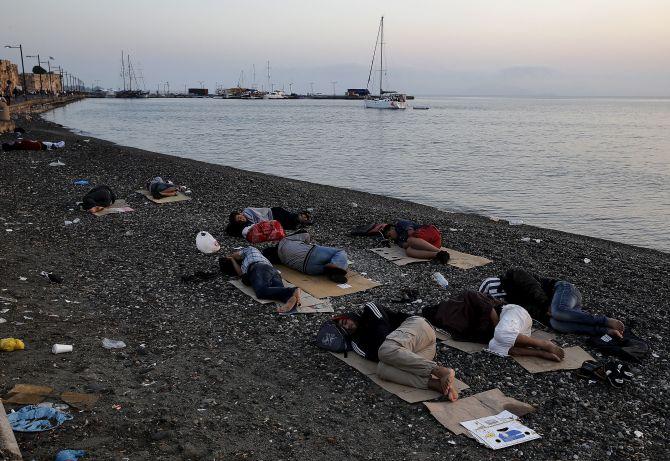 Syrian refugees sleep at a beach near the port on the Greek island of Kos after crossing a part of the Aegean Sea between Turkey and Greece on a dinghy. Photograph: Yannis Behrakis/Reuters
---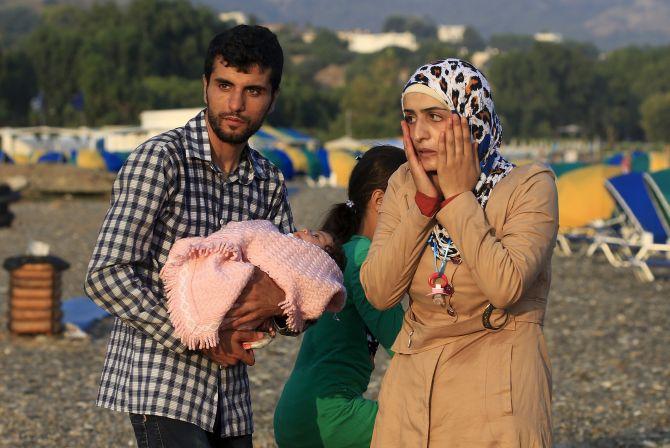 Syrian refugee Mohamed from Idlib holds his 2-month-old daughter Malak next to his wife Kawsr moments after arriving on a beach on the Greek island of Kos. Photograph: Yannis Behrakis/Reuters