Two people have died in the last 24 hours and over 14,000 have been moved to relief camps after flash floods triggered by heavy rainfall inflicted havoc in different parts of Tripura.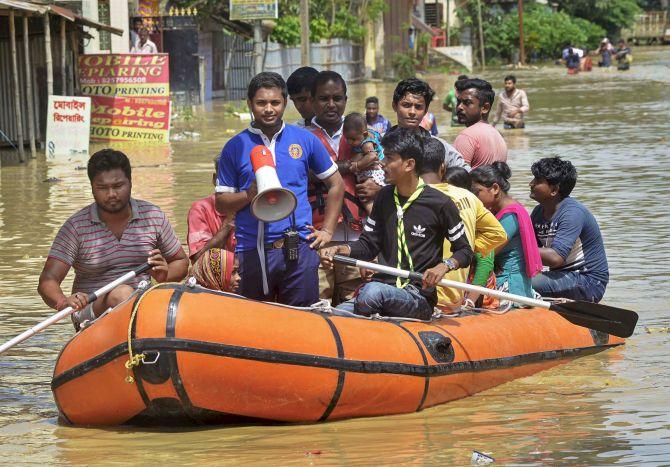 The police said an 18-year-old woman was killed at Palku village in Gomati district and a 60-year-old man died at Belbari block in West Tripura, 25 km from state capital Agartala, owing to landslides.
On Friday, four persons were killed in landslides in West Tripura district.
"Due to incessant rains in Sadar and Jirania sub-division and several wards of Agartala Municipal Corporation, the water of Haora River is flowing at 10.3 meter which is .3 meter above danger level," district magistrate of West Tripura Sandip Mahate said.
"The affected people along the river banks have been shifted to 16 flood relief camps in which 670 families are living. This may increase as rescue operations are underway by the National Disaster Relief Force, the Tripura State Rifles and the Civil Defense. The administration has arranged ample food supply and drinking water," he added.
Gomati, Khowai, Sipahijala and West Tripura districts were hit by the flash floods, State Disaster Management Authority officer Sarat Das said.
Jirania and Mohanpur in West Tripura district were the worst affected, he said.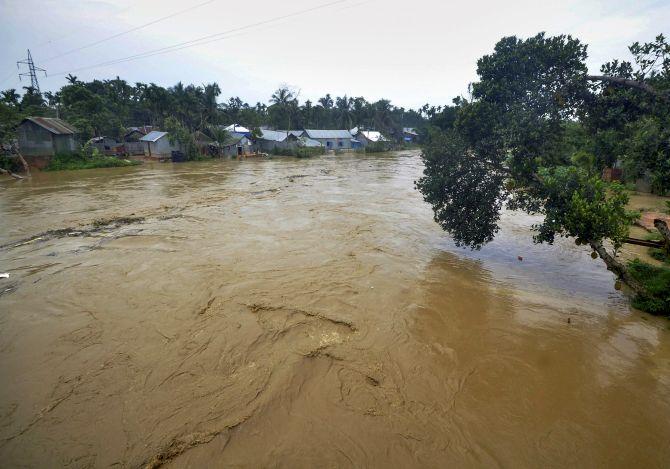 Tripura Minister Ratan Lal Nath along with the authorities of the administration visited some flood-affected areas to meet the victims.
"Due to a sudden downpour in the hilly areas, the Balda Khal, Chandrapur and adjoining areas are flooded as the water level in rivers have increased, due to which, the water is unable to pass to Bangladesh," he said
"In the meantime, several families had to be evacuated and the administration had already reached before I came here. Officials have looked into people's problems and local people have also rendered help. Arrangements for boats have been made though we were not ready for this situation which is a natural hazard and the administration stood by the people," he added.
A red alert has been sounded in Gomati district and adjacent Sonamura sub-division of Sipahijala district.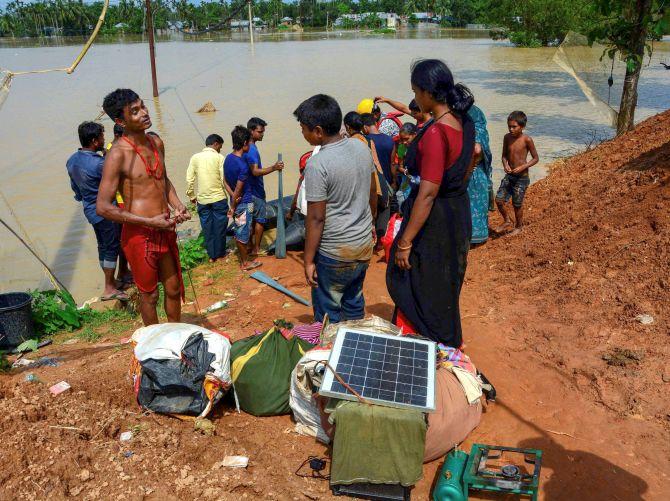 The government has announced an interim relief of Rs 1 lakh for the next of kin of the deceased.
Rescue operations were being carried out by the Tripura State Rifles, the National Disaster Response Force and civil defence personnel, they said.
District Magistrate of West Tripura district Milind Ramteke told reporters 14 boats were pressed into service and over 700 families rescued.
Fourteen relief camps have been set up where food, medicines and other essential supplies have been made available, he added.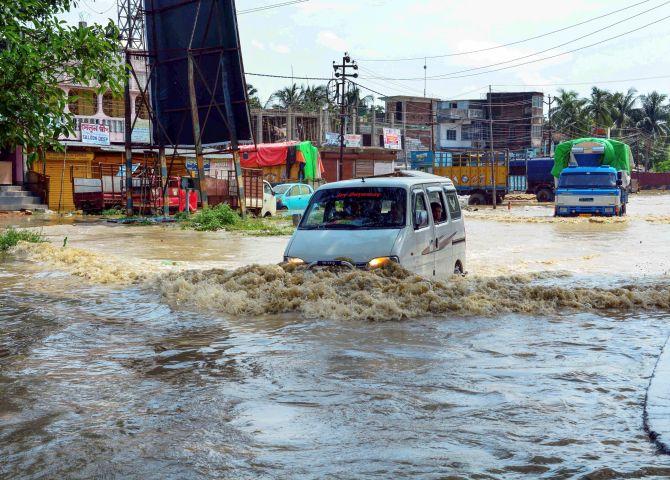 Water levels in major rivers, Gomati, Deo, Manu, and Haora, were swelling with every passing hour, posing flood threat throughout the state.
The regional office of the MET department had also issued a warning with the prediction of more rainfall in the next 24 hours, and the district administrations had been alerted to keep a close eye on the situation.
With inputs from ANI, PTI