From coolly crazy to affably awesome, Comic-Con is an abode for cosplayers (short for costume players) who go through considerable efforts to stand out in the crowd.
From Batman to Wolverine to Star Wars and Barbie, everybody makes an appearance at the Comic-Con.
Rediff.com takes a look at which pop-culture icons made it to the Valhalla of fandom this year.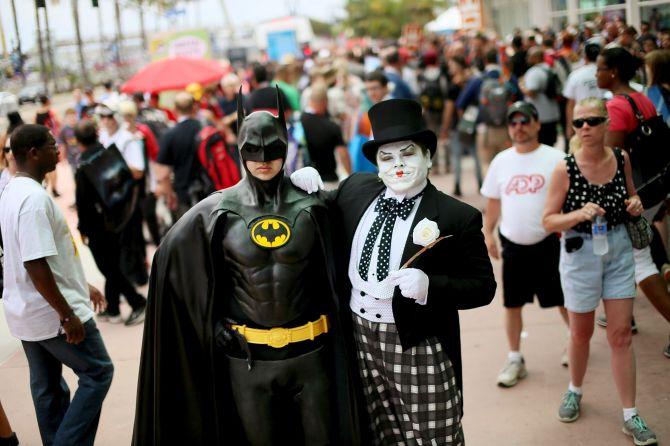 People dressed as a Batman and a Joker pose for pictures outside of the 2015 Comic-Con International in San Diego, California. Photograph: Sandy Huffaker/ Reuters
---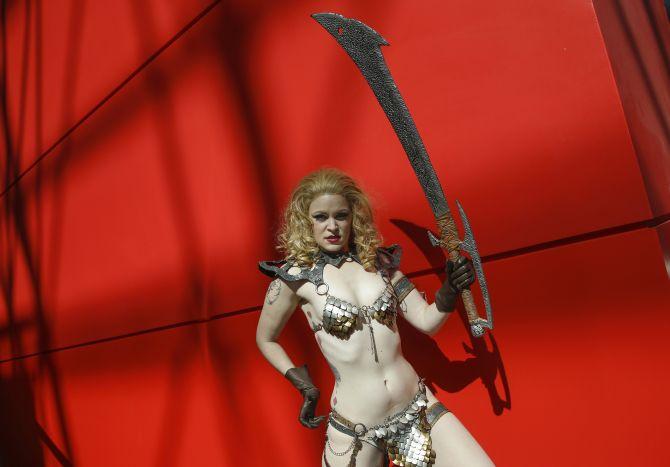 A costumed attendee poses at New York's Comic-Con convention. The event draws thousands of costumed fans, panels of pop culture luminaries and features a sprawling floor of vendors in a space equivalent to more than three football fields in Javits Center. Photograph: Shannon Stapleton/ Reuters
---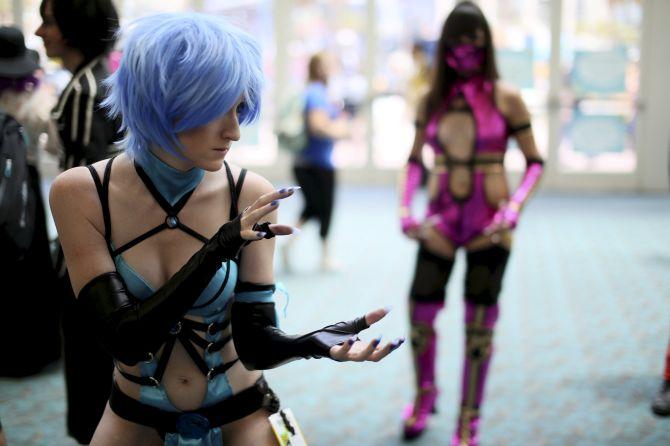 Cosplay attendees pose for pictures at the 2015 Comic-Con International in San Diego, California. Photograph: Sandy Huffaker/ Reuters
---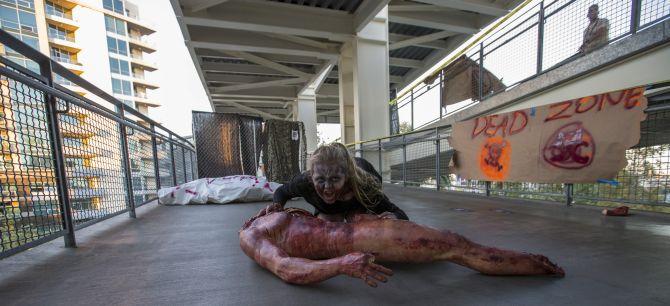 A person dressed like a zombie takes part in The Walking Dead Escape experience at PetcoPark during the 2015 Comic-Con International Convention in San Diego, California. Photograph: Mario Anzuoni/ Reuters
---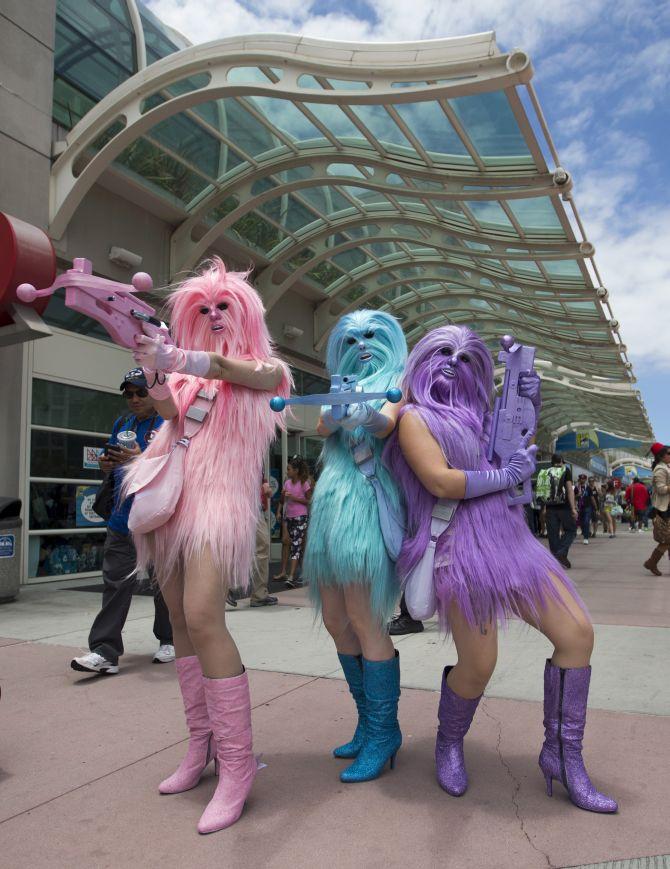 Star Wars enthusiasts wear costumes resembling what they say are three "Chew's Angels" during the 2015 Comic-Con International Convention in San Diego, California. Photograph: Mario Anzuoni/ Reuters
---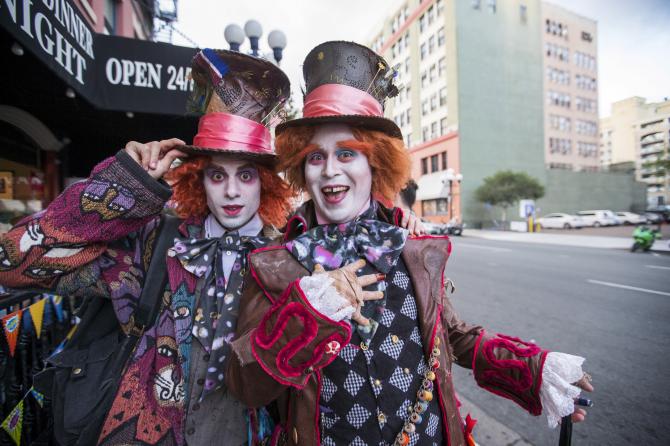 Cosplay enthusiasts Jonathan Michael (L) and Connor Breen are dressed like the Mad Hatter from "Alice in Wonderland" during the 2015 Comic-Con International Convention in San Diego, California July. Photograph: Mario Anzuoni/ Reuters
---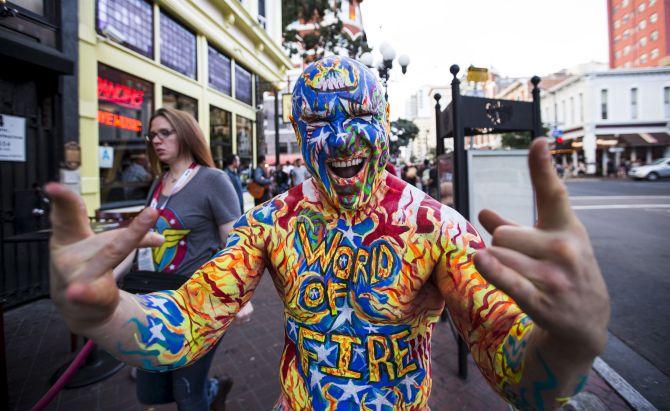 A person who goes by the name of Nomad poses for a photo during the 2015 Comic-Con International Convention in San Diego, California. Photograph: Mario Anzuoni/ Reuters
---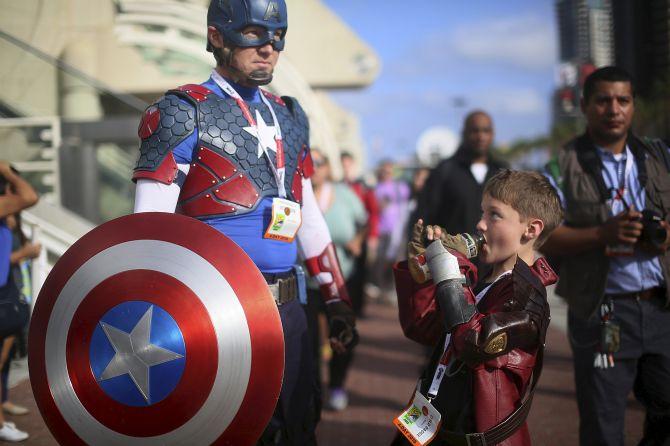 Shawn Richter shows his Captain America costume while his son Gavin looks on during the 2015 Comic-Con International in San Diego, California. Photograph: Sandy Huffaker/ Reuters
---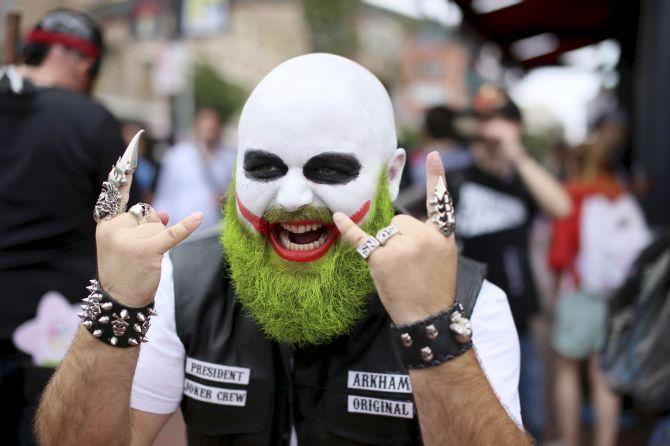 Jason Garcia poses as The Joker from Batman at the 2015 Comic-Con International in San Diego, California. Photograph: Sandy Huffaker/ Reuters
---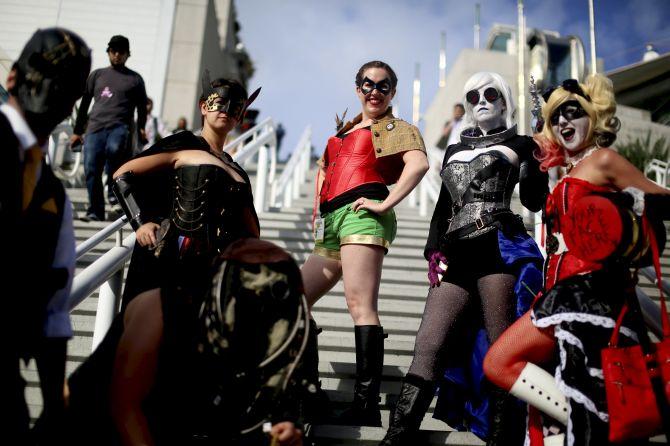 Cosplay attendees show their costumes at the 2015 Comic-Con International in San Diego, California. Photograph: Sandy Huffaker/ Reuters
---
A man identifying himself as TJ The Fish Doctor dresses as "Albert", a robot double of The Wolverine from the Marvel Comics' comic book series, at the 2015 Comic-Con International in San Diego, California. Photograph: Sandy Huffaker/ Reuters
---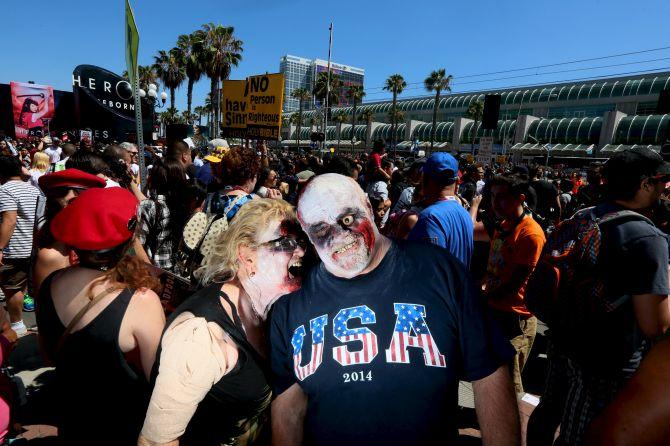 Sharon McLachlan and Richard DeWalt show their zombie costumes in The Gaslamp Quarter at the 2015 Comic-Con International in San Diego, California. Photograph: Sandy Huffaker/ Reuters
---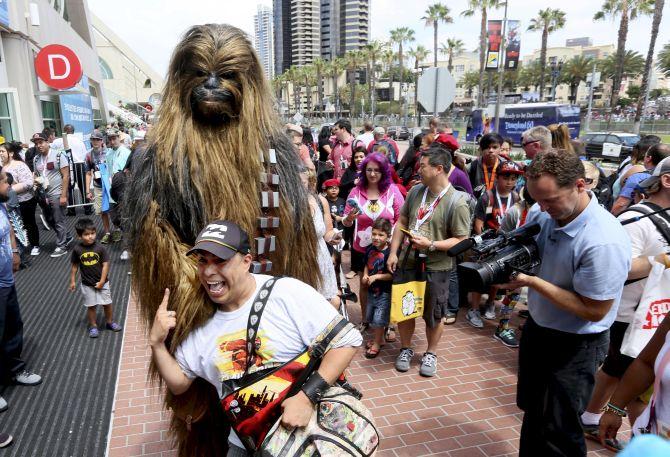 A man dressed as Chewbacca from Star Wars poses with fans outside of the 2015 Comic-Con International in San Diego, California. Photograph: Sandy Huffaker/ Reuters
---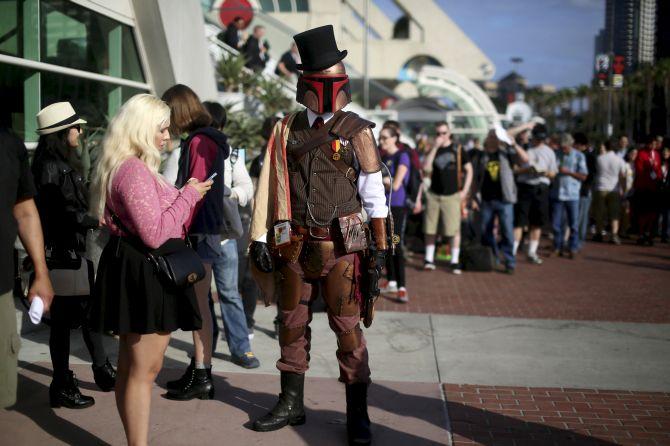 A man dressed as a Storm Trooper stands outside of the Convention Center during the 2015 Comic-Con International in San Diego, California. Photograph: Sandy Huffaker/ Reuters