'I told my daughter to take shelter on the footsteps of the bridge as she would get wet.'
And that was the last time Kishore Varpe saw her alive.
Syed Firdaus Ashraf/Rediff.com meets the families of the victims of the stampede at Mumbai's Elphinstone railway station.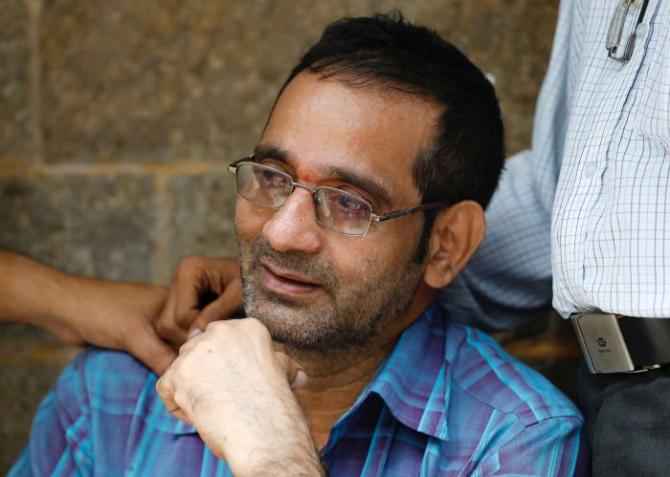 IMAGE: Kishore Varpe, whose daughter died in the stampede, grieves at KEM hospital in Mumbai. Photograph: Danish Siddiqui/Reuters
At 10.30 am, when Kishore Varpe walked out of Elphinstone Road station with his 25-year-old daughter Shraddha, there was nothing unusual about their journey.
This was their routine for the last one year ever since Shraddha got a job in the Maharashtra Welfare Board where Kishore too is an employee.
Both father and daughter used to leave their home in Dombivli together for work.
On the morning of September 29, when both of them got down at Parel station on the Central Railway suburban network, as usual they crossed over to reach the exit of Elphinstone Road station on the western line.
The only surprise waiting for them at the foot over bridge was the heavy rainfall.
"It started raining heavily when we reached Elphinstone station bridge," recalled Kishore Varpe sitting on a chair at the King Edward Memorial Hospital.
"I told my daughter to take shelter on the footsteps of the bridge as she would get wet. Her friend Meena Valekar too was there. And I was standing at a distance of 30 feet from them as no one was moving on the bridge," recalled Varpe.
"Suddenly, there was a chaos as someone slipped on the footsteps of the bridge as it became slippery in the rain. There was a stampede and my daughter died while I watched her scream helplessly," says Kishore, weeping inconsolably.
Meena Valekar's brother sitting next to him too was inconsolable.
"I cannot believe she is dead," he too burst out in tears even as relatives and friends reached out to both of them.
******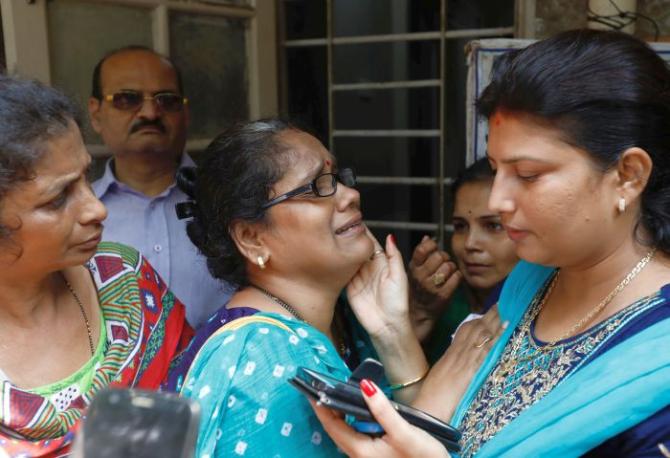 IMAGE: A relative of a stampede victim grieves at KEM hospital in Mumbai. Photograph: Danish Siddiqui/Reuters
Anand Mhatre, a regular commuter at Elphinstone Road was one of the witnesses to the horrifying incident in which 22 people died.
"What is the point in talking now? Everyone knows this Elphinstone bridge is very small and congested. The government and railways never bothered to expand its capacity. If they had done that, we would not have seen so many deaths," said Mhatre.
"I was at the station when the incident happened. I saw from the platform number 4 as people fell from the bridge. The worst thing was that people were taking videos of that tragedy rather than helping people. I shouted at some of them and told them to take the injured to a hospital rather than shooting on their phones. I personally put four injured people in a taxi," Mhatre recalled.
Gangubai, who stays in a hutment area nearby, too helped out.
She points out to the big towers that house India's top finance companies and corporate houses near the stampede site.
"You see these buildings. They spend so much money to make such buildings but they do not put in money to expand this bridge," says Gangubai.
"There is so much rush every day on this bridge at peak hour. This disaster was waiting to happen and it is sad that no one noticed it," she added.
"I gave my bed sheets and saris to cover the dead bodies of ladies whose clothes were completely torn in the stampede. Many people fell from the top of the bridge on the ground and died. What was their fault? They had left their homes to go to work to earn money and they ended up dead," Gangubai said.
Her anger was as much against the policemen, too.
"They came very late. It was the local people who took all the injured and dead people to the hospitals," she said.
Mukul Jain, divisional regional manager of Mumbai Central region, Western Railway, told Rediff.com, "We are likely to complete eight foot over bridges by this year on railway stations. We are going to do this soon on 14 other stations too. If you see two stations -- Dadar and Borivali -- we have made much bigger foot over bridges which is handling maximum crowds during peak hours."
BJP MP Kirit Somaiya, who visited the stampede site, said, "We have requested Piyush Goyal (Railway Minister) to speed up the project which has been pending for 15 years. Right now we have to stand with them in such a tragic moment and take the responsibility for their betterment. We will expand the bridges soon on a priority basis."
******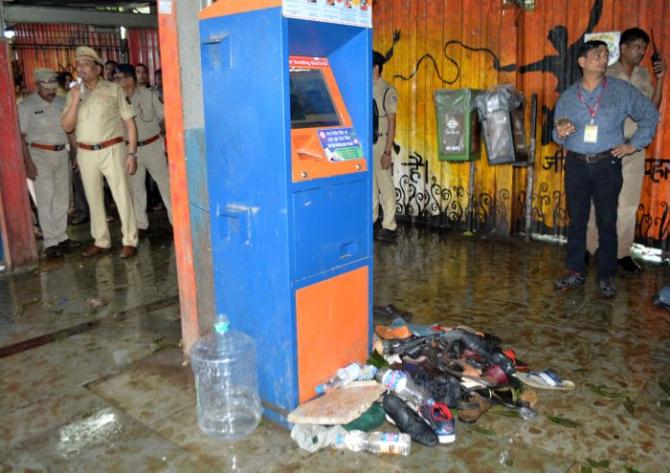 IMAGE: Footwear of the victims of the stampede are seen near a ticket kiosk at Elphinstone station. Photograph: Sahil Salvi/Rediff.com.
Friday was the last day one would hear the recorded announcement in three languages: first in Marathi, Pudhil station Elphinstone Road; then in Hindi, agla station Elphinstone Road; and finally in English, station, Elphinstone Road.
Elphinstone Road railway station is named after the British governor of Mumbai, Mountstuart Elphinstone, one of the founders of Bombay city in the days of the Raj.
The station has not changed in the last 20 years that I have been travelling by local train except for the fact that you now can get clean, cold water to drink, a facility provided by the railways, for Rs 2.
That is the only new development that one sees at the station, otherwise it still retains its British legacy.
From September 30, that legacy will vanish forever as the station changes its name to Prabhadevi following a decision by the Bharatiya Janata Party-led government in Maharashtra.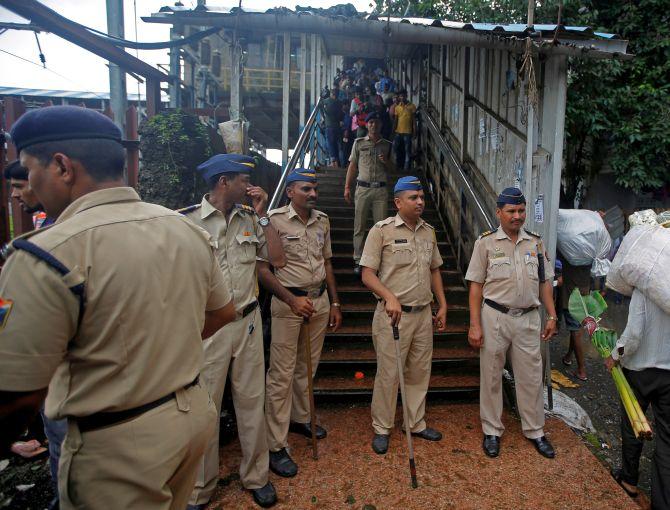 IMAGE: Policemen inspect the site of the stampede at Elphinstone Road railway station. Photograph: Shailesh Andrade/Reuters
That's not the only change that will no doubt improve the lives of railway commuters in Mumbai.
Currey Road station will soon be named as Lalbaug, Sandhurst Road station as Dongri, Reay Road as Ghodapdeo, Cotton Green as Kalachowki, Mumbai Central as Nana Chowk and Grant Road as Gaondevi.