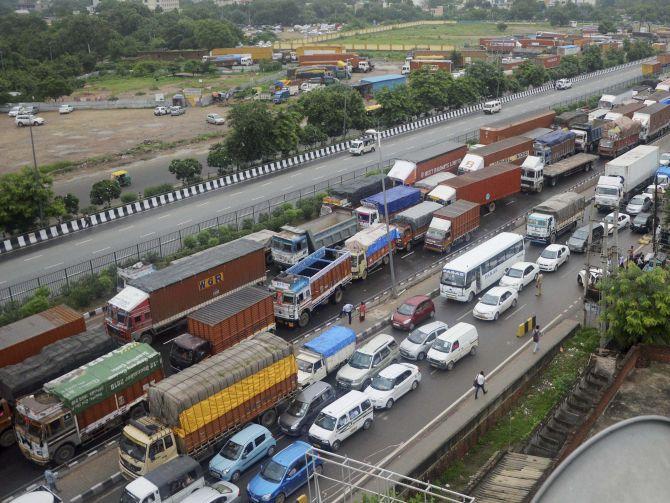 Thousands of office goers and other commuters were on Friday stranded in Gurugram as heavy rains led to water-logging on National Highway-8 causing massive traffic jams, forcing authorities to shut down schools in Delhi's satellite city while some offices too declared it an off.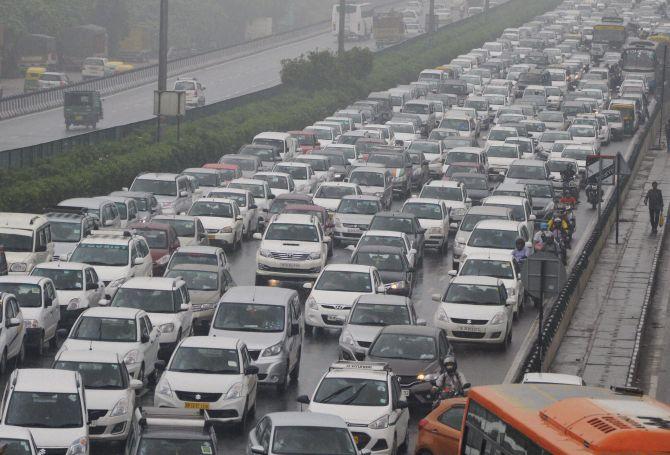 IMAGE: Traffic was moving at snail's pace owing to the number of cars all lined up on NH-8. Photograph: PTI
Many motorists abandoned their vehicles and waded through knee-deep water which accumulated on both the carriageways of Delhi-Jaipur road, including Hero Honda Chowk, bringing traffic to a standstill with the tailback extending up to 15-20 kilometre.
The chaos started on Thursday itself after heavy rains, led to water-logging near Hero Honda Chowk from 4 pm as the main drain overflowed. The NH-8, which is the main carriageway from Delhi to Jaipur, was choked with hundreds of trucks unable to move and the situation worsened as morning commuters too came on the road.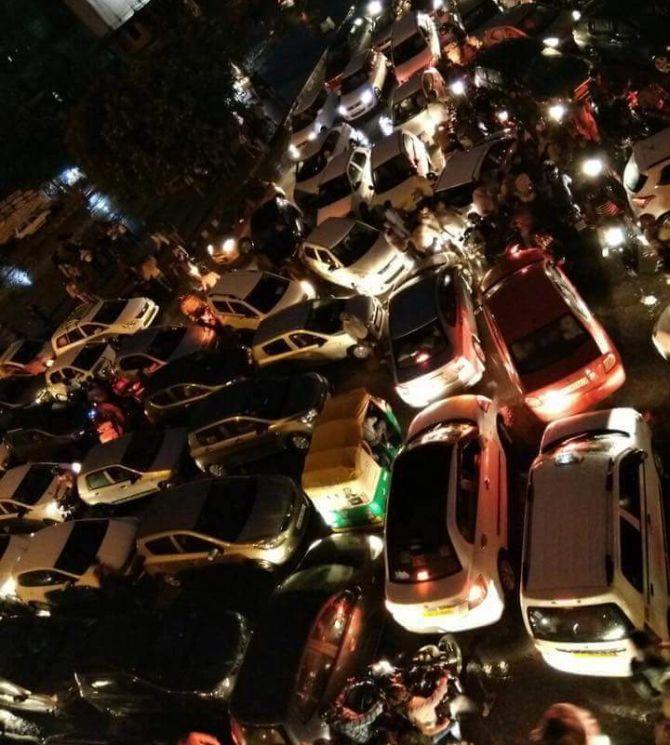 IMAGE:

Snarls that lasted for more than six hours gave commuters nightmares. Photograph:

@abhinavranjan85/Twitter
Gurugram's central Hero Honda Chowk remained inundated. An under-construction underpass and flyover near the Chowk led to a diversion at the spot which further slowed the traffic, while the drainage system has failed.
Gurugram Police has issued an advisory asking people coming to Gurugram from Delhi to avoid travelling.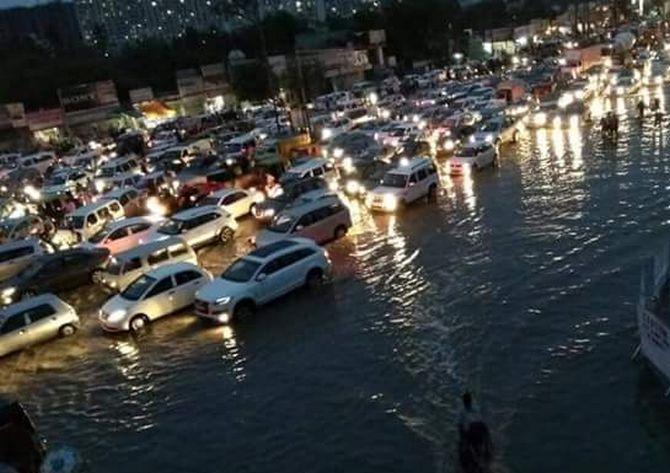 IMAGE:

People were left stranded on the roads with the police trying its very best to move traffic.

Photograph: @abhinavranjan85/Twitter
"People coming to Gurgaon from Delhi are advised to stay back today to avoid being stuck in traffic jams due to flooding on roads," it said on Twitter.
Deputy Commissioner of Gurugram, T L Satyaprakash, on Friday declared a two-day holiday in Gurgaon schools. Some multinationals also declared a day off in Gurugram as their vehicles which pick and drop employees were stranded in traffic.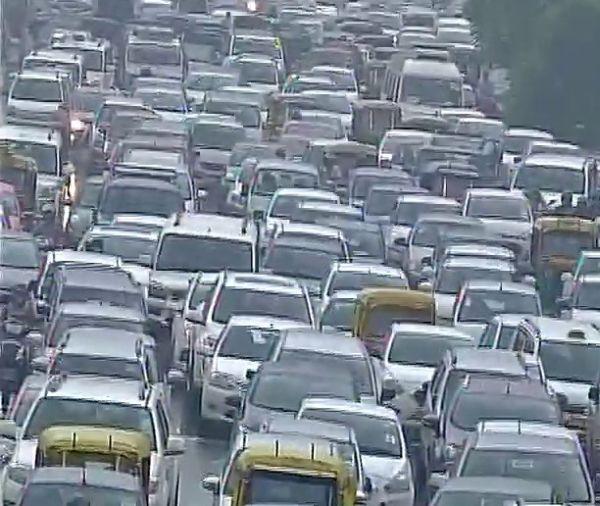 IMAGE:

On Friday morning, the Delhi-Jaipur highway resembled a can of packed sardines.

Photograph: @ANI/Twitter
The Haryana government called an emergency meeting to discuss the situation as it came under attack from the Congress and Aam Aadmi Party.
"As Bharatiya Janata Party passes the buck, Gurugram chokes. What an awful ordeal for commuters especially ambulances that may have been stuck for hours!" Congress vice president Rahul Gandhi tweeted.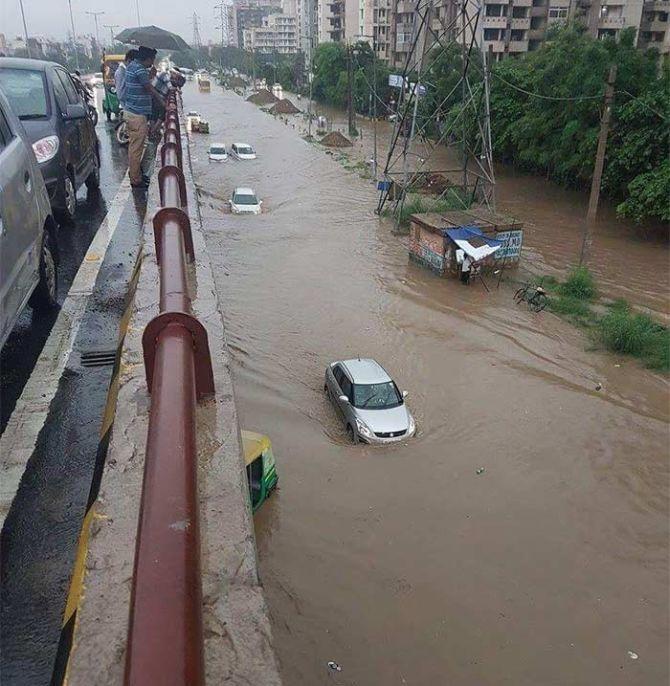 IMAGE:

The city had received heavy rains on Thursday, which led to it becoming all a watery mess.

Photograph: @ShantonilNag/Twitter
Congress spokesperson Randeep Surjewala accused the Maohar Lal Khattar government of ignoring basic infrastructure in Gurugram.
"This type of situation has never happened in the millennium city. We warned the Khattar government after the first rains. They cannot say the Congress was in power.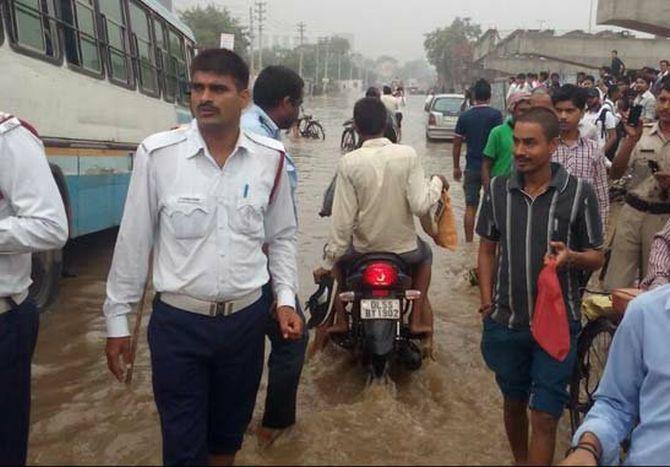 IMAGE:

The Gurugram police was out in full force trying to get people off the roads.

Photograph: @gurgaonpolice/Twitter
"Now, we are no longer in power... BJP has an MP, all MLAs and corporations are of BJP. The state and central governments are of BJP. What have you done in the 24 months?" he asked, adding the BJP government has increased the floor area for buildings without ensuring proper electricity, water, sewage facilities and roads.
The heavy evening downpour on Thursday left commuters stranded -- many without fuel and water -- on their way back home from Gurugram till well past midnight.
"In the last 17 hours, people have been waiting on the road, they have been sleeping on top of vehicles, some abandoned their vehicles and returned home," Surjewala said, and insisted that party was not politicising the issue.
Meanwhile, the Gurugram police said it will take sometime to clear the highway. "District authorities and our team were trying our best," it said.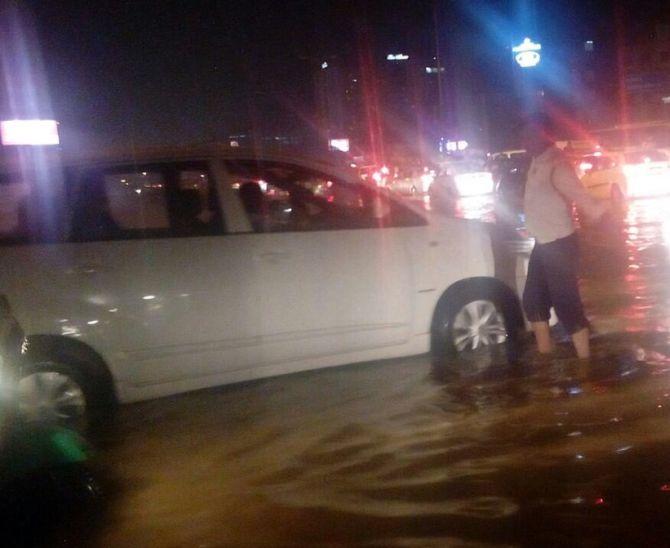 IMAGE:

Commuters soon took to Twitter to express their anger over the situation.

Photograph: @gurgaonpolice/Twitter
The traffic jams affected both flyovers and service lanes in Gurugram as well as Rajeev Chowk, Sohna Road, Signature tower, Old Gurgaon, Khirki Daula toll plaza and Manesar from Jaipur to Gurugram side. The situation worsened as morning commuters too came on the road.
The Badshahpur Drain was overflowing on Delhi- Gurugram Expressway which led to the water logging.
Some of the stranded commuters raised slogan's against Gurugram Police and Municipal Corporation.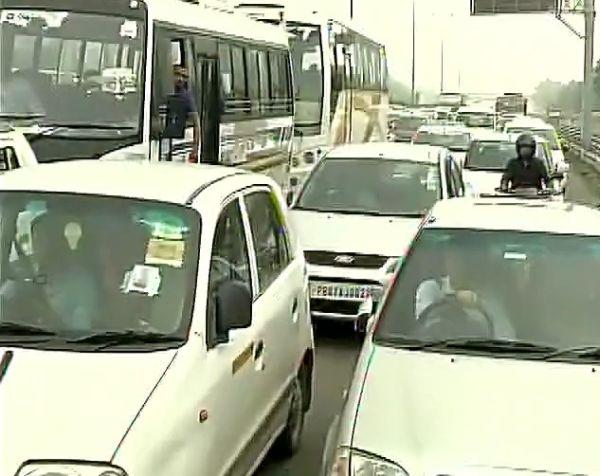 IMAGE: Only stalled cars can be viewed as far as your eyes can see. Photograph: ANI/Twitter
And with Gurugram facing massive traffic jams due to water-logging, Urban Development Minister M Venkaiah Naidu asked Haryana Chief Minister Manohar Lal Khattar to take urgent steps to deal with the situation.
"I just spoke to Haryana CM and told him that this is an important city and international focus and attention is on it. All steps should be taken to clear the jams and they are on the job. The state administration is attending the problem on an emergency basis," Naidu said outside Parliament.
"The situation in Gurugram is because of water logging and non-functioning of certain drains, some in Gurugram side and some in Delhi side. Governments are attending to clear those drains at the earliest," Naidu said.
"The Haryana CM told me that he was taking up the issue at the highest level and has alerted the entire administration to ease out traffic congestion. Certain long term measures have also been planned and being worked out for the future," he said.
---
Were you among those affected by the Gurugram traffic and flooding? Share your experiences and photos with us below: