The national capital on Sunday recorded a turnout of around 54 per cent in the municipal polls amid complaints of faulty electronic voting machines, with Chief Minister Arvind Kejriwal leading the charge.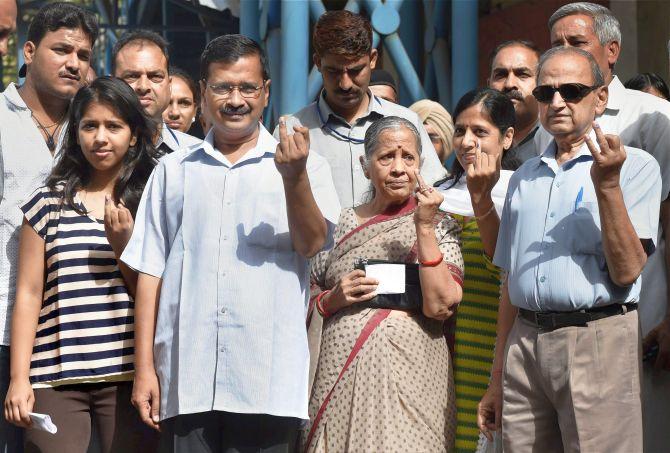 IMAGE: Delhi Chief Minister and AAP convener Arvind Kejriwal with his family after casting vote for MCD elections. Photograph: Manvender Vashist/PTI Photo
Following a sluggish start at 8 am, voting gradually picked up and became fairly brisk as the heat waned towards the afternoon. The 2012 Municipal Corporation of Delhi polls had registered a 53.23 per cent turnout.
The polling passed off peacefully.
State Election Commissioner S K Srivastava told a press conference that North corporation's Bakhtawarpur ward recorded the highest turnout at over 68 per cent, while south Delhi's Lado Sarai registered the least turnout at 39 per cent.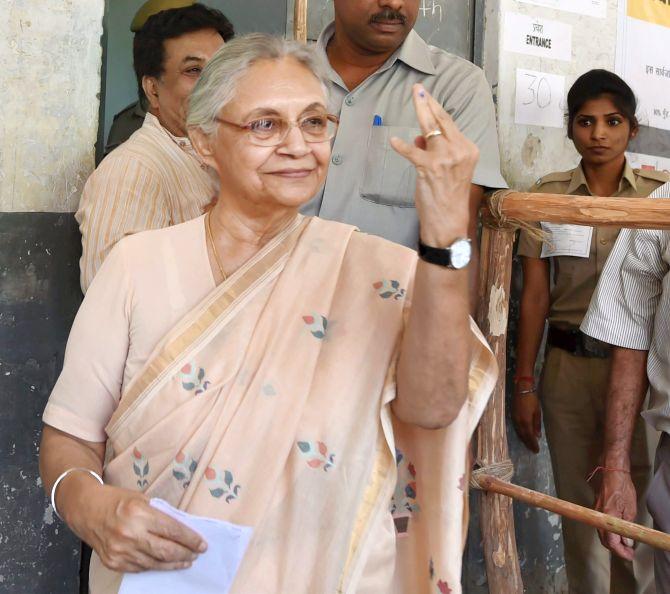 IMAGE: Former Delhi CM and Congress leader Sheila Dikshit casts her vote. Photograph: Vijay Verma/PTI Photo
He said 18 electronic voting machines were replaced owing to battery or button related issues.
"Out of 13,000 polling stations, EVMs were changed in only 18 polling stations. It shows our EVMs are unhackable, robust and no wrong can be done," Srivastava said.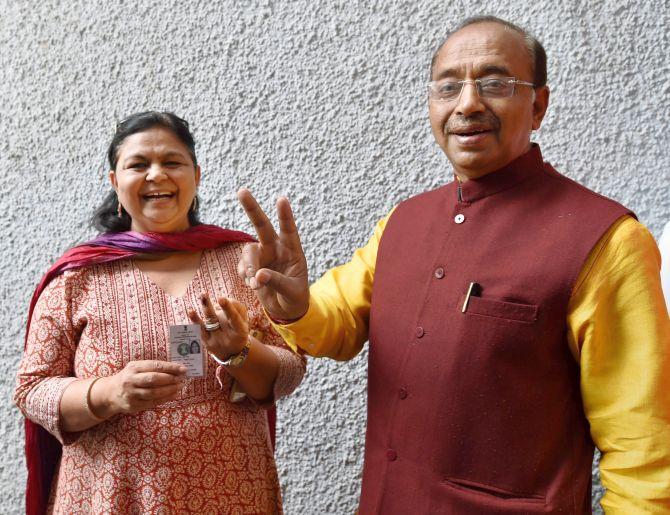 IMAGE: Union sports minister Vijay Goel with his wife after casting their votes. Photograph: Manvender Vashist/PTI Photo
However, Kejriwal alleged in a tweet, "Reports from all over Delhi of EVM malfunction, people wid voter slips not allowed to vote. What is SEC doing? (sic)."
Polling was held in 270 of the 272 wards of the three municipal corporations. The election to two wards has been postponed due to the death of candidates.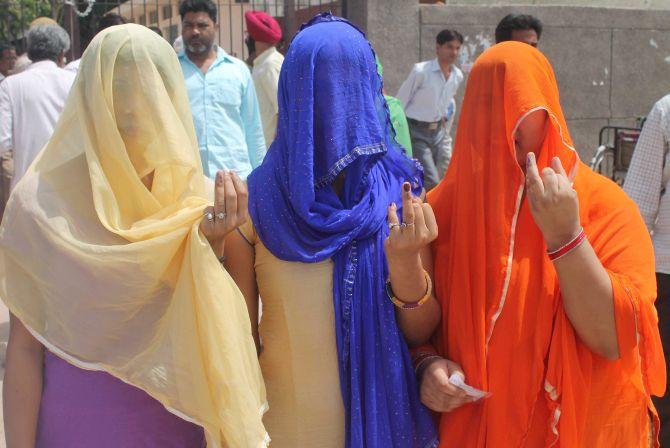 IMAGE: Battling scorching heat, voters come out and vote for the MCD elections. Photograph: PTI Photo
A total of 1,32,10,206 voters were entitled to exercise their franchise in electing councillors for the 270 wards falling under the three corporations -- North Delhi Municipal Corporation (103), South Delhi Municipal Corporation (104) and East Delhi Municipal Corporation (63).
Two exit polls claimed that the Bharatiya Janat Party could be headed for a landslide victory in the polls and finish way ahead of the Aam Aadmi Party and the Congress winning over 200 wards.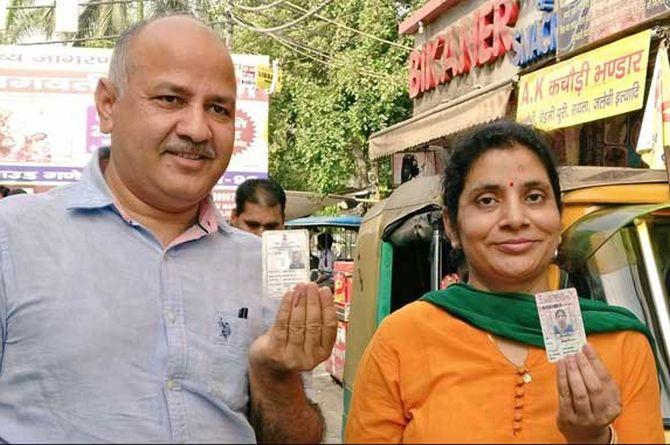 IMAGE: Delhi Deputy Chief Minister Manish Sisodia with his wife after they cast their vote. Photograph: ANI
Going by the projected figures, the AAP could well be staring at a rout on its home turf, barely two years into its rise to power bagging a staggering 67 of the 70 Assembly seats, while the Congress' attempt to regain ground may come a cropper.
The BJP has been ruling the MCD for past 10 years and is looking for third consecutive term.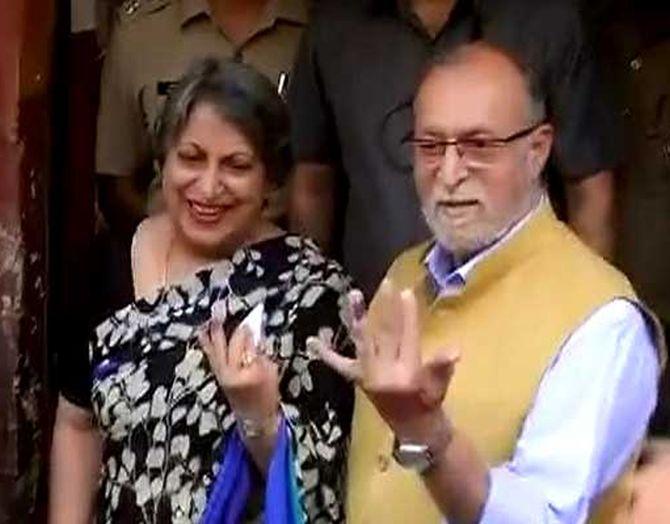 IMAGE: Delhi Lt Governor Anil Baijal after casting his vote at a polling station in Greater Kailash 3. Photograph: ANI
Counting of votes will be held on April 26.