The decorative 'safa' and the handlebar moustache of the Indian Army contingent that participated in Russia's Victory Day celebrations was the centre of attraction among Russians in Moscow.
The 75-member team of Indian Army's Grenadiers, which on Saturday participated in the event to commemorate Russia's victory in the Great Patriotic War, won hearts in Moscow for their marching skills, height and uniform.
"Our team is attracting attention as we are tall, most of them around 6 feet, the colourful safa the soldiers wear and the unique uniform," said Colonel Digvijay Singh, chief coordinator of the Indian Army contingent.
The marching contingent was led by Captain Vikash Singh Suhag while the tricolour was carried by Captain D P Singh.
The soldiers were brought from different formations of the Grenadiers Regiment.
"It is an honour for us to get the opportunity to participate in the victory day parade in Russia as India is the only nation among the ten countries which are part of it," said Suhag, who incidentally belongs to the same village from where present Army chief Dalbir Singh Suhag hails from.
He said that unlike soldiers of other participating countries, Indian army men move one hand while keeping the other hand on the gun.
The Indian team is staying together with soldiers of China, Mongolia and Serbia in the same camp on the outskirts of Moscow.
"We are also playing games like volley ball, basket ball, tennis together with other soldiers," said Captain D P Singh.
Asked if the jawans were facing any problems in interacting with soldiers of other nationalities, Singh said, "a soldier does not require language."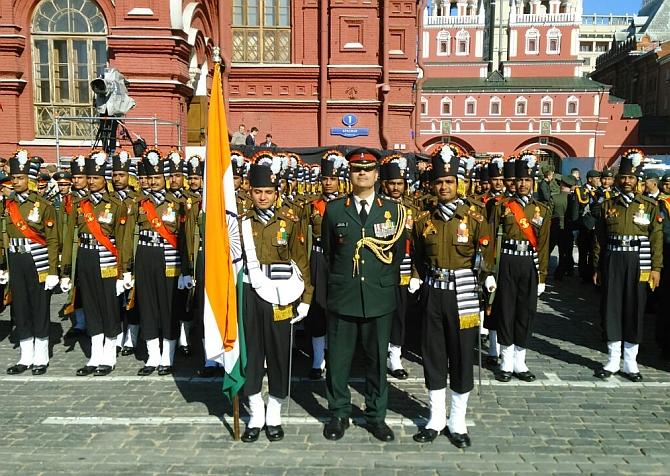 The Indian contingent, however, is facing problems in eating as all 75 men are vegetarians. "We are mostly from Haryana, Rajasthan, Uttar Pradesh and Madhya Pradesh and are vegetarians. But the Russians are trying their best to accommodate our concerns. We appreciate that," Suhag said.
On asking further if they were having any problems living in the same camp with Chinese soldiers with whom the Indian Army had had several face offs in recent past, Subedar Naik Jugraj said that was not an issue and in fact, on various occasions, they went together for boat rides and visited the Moscow Circus.
Suhag said the Russians were also appreciative of Indian soldiers' capability to march up to 12-13 kilometres like they do in the Republic Day parade. The Russian parade spans across a distance of 800-900 metres.
Photographs: Indian Army