Thirteen-year-old Shivpaul was playing with his younger brother Krishan Lal Sharma when a Pakistani mortar shell exploded inside their house in Samba sector of Jammu and Kashmir.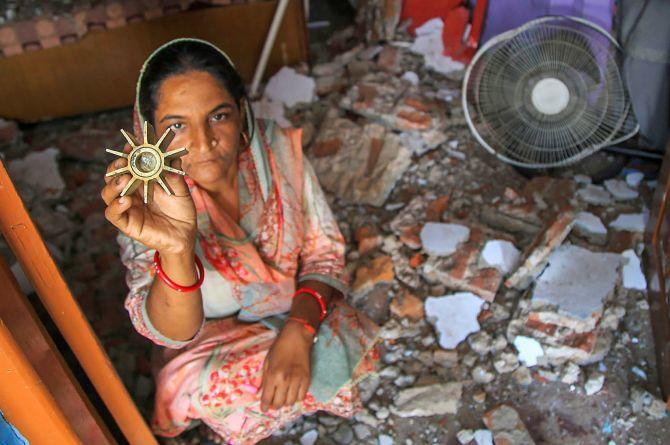 Recuperating at the Government Medical College hospital, Shivpaul asks only one question -- about the well being of his brother. Ten-year-old Krishan Lal Sharma, however, was not as fortunate as his elder sibling. He died on the spot.
Their mother Champa was being treated at a local hospital.
In the GMC hospital emergency ward, close to where Shivpaul was recovering, 21-year-old Pooja, wife of an army jawan, and her two-year-old son too were battling splinter injuries.
They were preparing to flee their home for safety when a shell tore through the roof and exploded in their bed room in the early hours, she said. Her daughter too was injured in the blast, Pooja added.
Eleven seriously injured patients were brought to the GMC hospital since Wednesday morning from different sectors as heavy shelling by Pakistani Rangers along the International Border in Jammu, Samba and Kathua districts entered the ninth day.
Five persons including the 10-year-old Sharma were killed in the shelling on Wednesday, raising the death toll in the ongoing skirmishes to 12 including two Border Security Force jawans and an eight-month-old boy.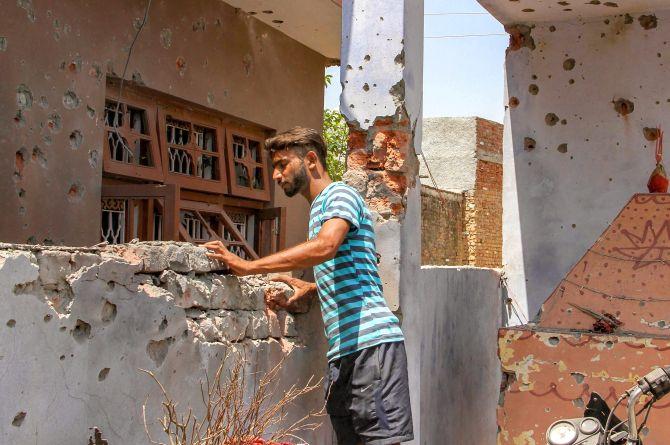 The state has witnessed a spurt in Pakistani shelling and firing along the IB and the Line of Control. Over 700 such incidents were reported this year, which have left more than 44 people, including 18 security personnel, dead and scores injured.
In another special ward, 50-year-old Santosh Kumari, resident of Londi village of Hiranagar sector of Kathua district, was mourning the loss of her husband.
"It was around 5.30 am when a shell landed at our house and exploded with a big bang, critically injuring Devi, her husband Rampaul Sharma and two others besides killing several bovines. We immediately shifted them to a local hospital and after first aid they were brought here. However, Rampaul was declared brought dead," said Ashok Kumar Sharma, younger brother of the deceased.
A retired army jawan, Ashok Kumar Sharma, criticised the central government for its "failure to ensure peace on the borders" and said the much-publicised underground bunkers were nothing but an eye-wash.
"Where are the promised bunkers? Our village has not even a single community bunker leave aside the individual bunkers for each family," he said.
The body of his brother was still lying in the hospital as the family could not decide whether to carry it back home for cremation or wait as heavy shelling was still on.
Surinder Singh, 45, a resident of Naibasti area of Suchetgarh, said he was moving his cattle out of the firing zone when a shell exploded killing a friend and injuring him.
Singh received multiple splinter injuries in the upper parts of the body and was being attended by his brother, a soldier, and uncle.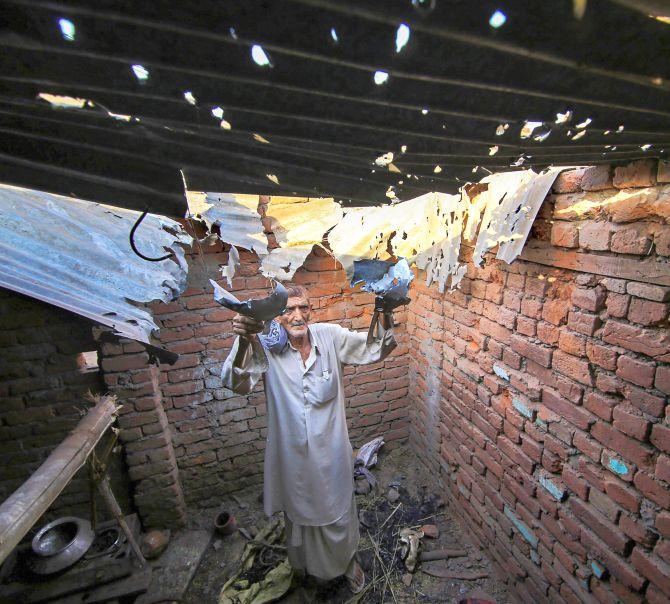 Subhash Chander, who was attending Surinder Singh, said the frequent shelling had made their lives miserable.
"We have witnessed both sides observing the ceasefire in November 2003 and lived a peaceful life for many years before the situation turned ugly especially after 2014," he said.
He said the border residents were unable to perform day to day activities due to the lurking threat of Pakistan shelling.
"The government also backtracked from the promised piece of land at safer places for the border residents. They are responding to Pakistani shelling more fiercely but how is this an answer to our problems. Either they should go for ceasefire or launch an all out attack," Chander said.
Amid the surcharged atmosphere inside the emergency ward, 22-year-old Sunny of Satowali village, who had just been brought by friends, wept inconsolably.
"He has splinter injuries in the arms. But his real pain is that he lost his father Raghaveer Singh, an employee in public health engineering department, in the shelling," one of his friends said.
Medical Superintendent Dara Singh said over 50 shelling victims had arrived in the hospital over the past one week.
"While four of them were declared brought dead, Raghaveer Singh succumbed to injuries today," he said adding half of the injured were discharged after treatment.
Among the injured, two persons including a woman were in intensive care unit for multiple splinter injuries in vital organs, he said.
Singh, who was himself attending to the shelling victims, said they were being provided all facilities including medicines free.
100 villages deserted as thousands flee Pakistan shelling
The bustling Arnia border town and nearly 100 border hamlets along the Indo-Pak border now wear an empty look, with over 76,000 villagers abandoning their homes to escape heavy shelling by Pakistani troops.
Located five kilometre from the International Border, Arnia town, with a population of over 18,500, resembles a ghost town with only a few people and some policemen left each in its adjoining hamlets to take care of animals and guard houses against thefts.
The life in the border belt along the International Border has come to a standstill as farming, schooling, cattle rearing and everything else on which border dwellers survive have come to a halt due to shelling episodes.
The people, who have migrated to camps in R S Pura and Arnia and are at the forefront of Pakistani shelling, say they feel they are in a war zone with sounds of mortar bombs and rattle of automatic weapons booming in the area and deaths, injuries and devastation seen everywhere.
They say they have never seen such intense shelling and firing since 1971 and urged Prime Minister Narendra Modi to go for war with Pakistan to sort out the issue once for all.
"I have never seen such intense and heavy shelling since 1971. Even in war, we were not so much targeted by Pakistan. Now they are raining mortar shells on us", said 78-year-old Bishan Dass on Arnia.
He says people living in border areas are dying in the shelling every year and it is our demand to Prime Minister Narendra Modi to go for a war with Pakistan and sort out the issue once and for all.
-- Anil Bhatt/PTI