The flood-ravaged city was on Saturday struggling to return to normalcy with partial restoration of telecommunication and train services, besides many roads also becoming fairly motorable even as waterlogging woes continued in several areas.
Torrential rains have left at least 245 people dead since October 1, according to the Tamil Nadu government. The situation took a turn for the worse on Tuesday with large areas of the city flooded. The deluge destroyed crucial road and rail links, shutdown the airport, snapped power and telecom lines and left lakh of people stranded.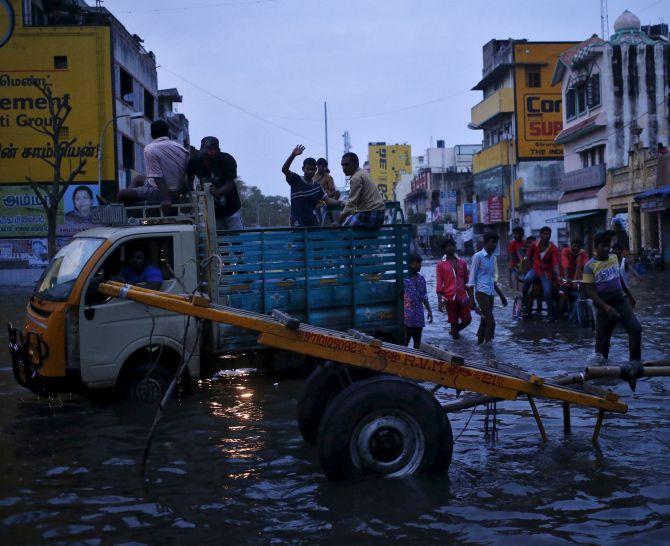 People commute through a flooded street in Chennai. Photograph: Anindito Mukherjee/Reuters
Waterlogging continued in many parts such as Kotturpuram, suburban Mudichur and Pallikkaranai even as hapless residents who had taken refuge on higher floors of buildings were seen pleading for essentials like milk and water which remain in short supply.
There were serpentine queues outside the few ATMs and petrol stations that were operating. Tamil Nadu government has said that the fuel situation will ease in the next couple of days. Banks in the state will remain open on Sunday.
In its bid to link the southern parts of Chennai with the main city, Southern Railway announced operating services on the busy Egmore-Tamabaram stretch bringing much needed relief to the residents.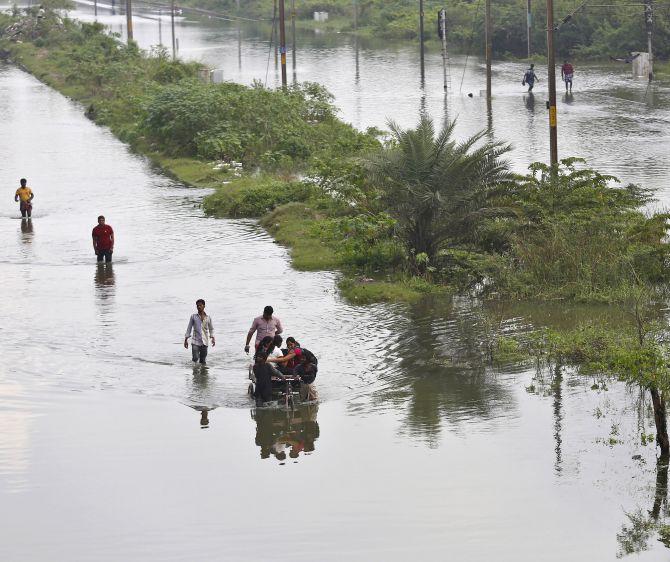 Displaced residents wade through a flooded street besides a flooded railway track in the flood-affected areas Chennai. Photograph: Anindito Mukherjee/Reuters
Although services are generally operated between Chennai beach and Tamabaram, trains are now being operated only between Egmore and Tamabaram and that too only on the main line, southern railway officials said.
In many areas, including Tamabaram, telephone landline services were being restored even as mobile services also picked up pace.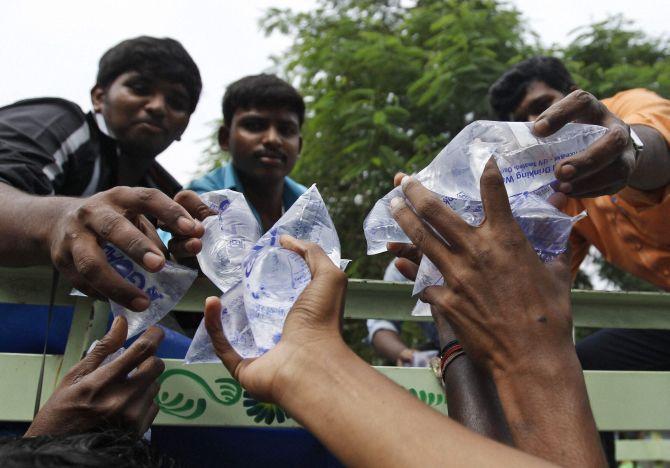 Water packets being distributed to residents of Chennai. The city has been experiencing severe shortage of clean drinking water. Photograph: PTI
Rains lashed a few parts of the city overnight but let up in the morning though the sky remained overcast.
Supply of milk continued to remain erratic although state-run Aavin had taken steps to ensure adequate supply of the essential commodity. Vegetables continued to remain costly.
Many parts of the city and its neighbourhood were still reeling from power suspension even as false rumours of breach in Chembarapakkam lake in the night kept people living on its bank on tenterhooks. Police later informed that these were mere rumours and that there was no need to panic.
The rescue work was being spearheaded by the armed force but people in many localities claimed that the local administration did not adequately address their problems.
Chennai airport, which had suspended operations due to flooding, is likely to resume technical ferry and relief flights.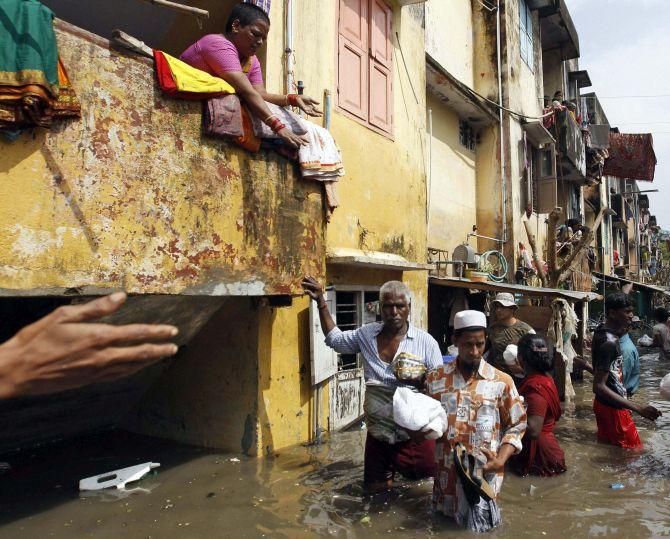 Food packets being distributed to people stranded in their homes. Photograph: PTI
The flood situation has eased as water levels in Adyar and Cooum rivers and other channels came down following reduced discharge of water from Chembarambakkam, Puzhal and Poondi, and Red Hills rivers dotting the city's outskirts.
Chief Secretary K Gnanadesikan on Friday said 3,50,000 people have been rescued by multiple agencies which include army, police and the National Disaster Response Force.
Rejecting criticism, he said various departments of the state government had put in "extraordinary" efforts to ensure that every affected person was attended to and ensure that nobody was left out in the process.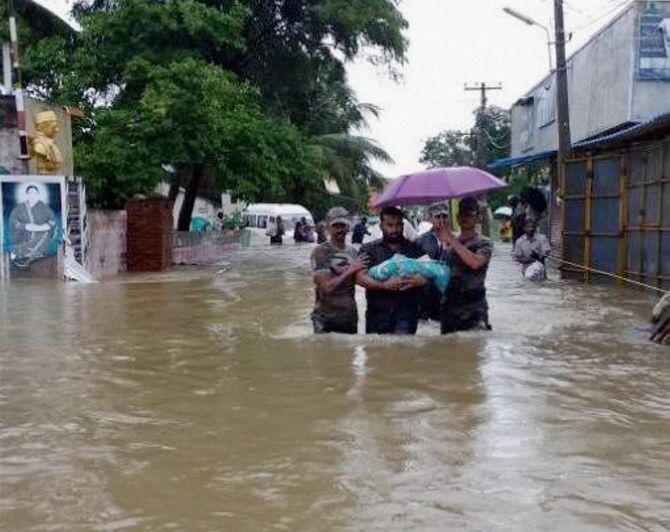 A father carries his child through a flooded street in Chennai. Photograph: PTI
NDRF Director General O P Singh on Saturday took stock of the situation.
He said that the NDRF personnel had rescued 16,000 people and were committed to do their best to help the people of the state.
The state government has announced that bus travel will be free till December 8.
Regarding shortage of fuel supply in the city and its neighbourhoods, the problem arose as oil companies suffered due to non-availability of trucks, the government said, adding that steps have been taken to mobilise more trucks.
Seventy-seven such trucks had started arriving Friday night and normal supply will be restored in a couple of days, it said.
There were also unconfirmed reports that more than 30 bodies were brought to government Royapetah hospital of people who may have died in the rains and floods. The bodies of 14 of the 18 patients who died at a private hospital were also brought there.