A major fire broke out in an old building in south Mumbai on Saturday and a part of it collapsed, injuring two fire brigade personnel, an official said.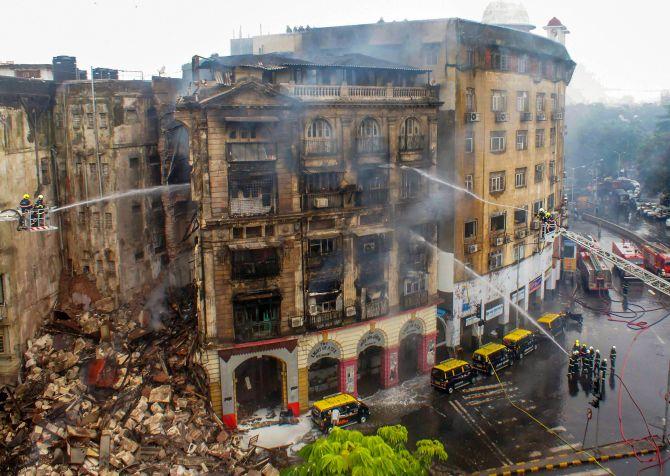 The fire brigade personnel were injured when a portion of the building, called Kothari building (also known as the Light Of Asia), collapsed during the fire-fighting operation, he said.
The fire in the ground-plus-five-storey building, which was unoccupied for the past nearly five years, started at around 4 am, the official from the fire department said.
The structure in the Fort area, a major business district, is old and its southern part collapsed when fire brigade personnel were putting out the blaze, he said.
The official said the injured firemen -- Suhas Mane and Sudhir Deolekar -- were undergoing treatment at the trauma care ward of the civic-run Nair Hospital, where their condition was stated to be stable.
Mane sustained injuries in his left hand and leg, while Deolekar suffered wounds to his head, neck and legs. They got stuck in the cage of an aerial ladder engaged in the fire fighting operation and were immediately rescued using another ladder, he said.
A fire engine and the platform of the aerial ladder were extensively damaged in the collapse, the official said.
A timely order to carry out the operation from a safe distance and the decision to withdraw water jets operating near the building a few minutes before the collapse averted a major disaster and loss of lives of the fire crew, he said.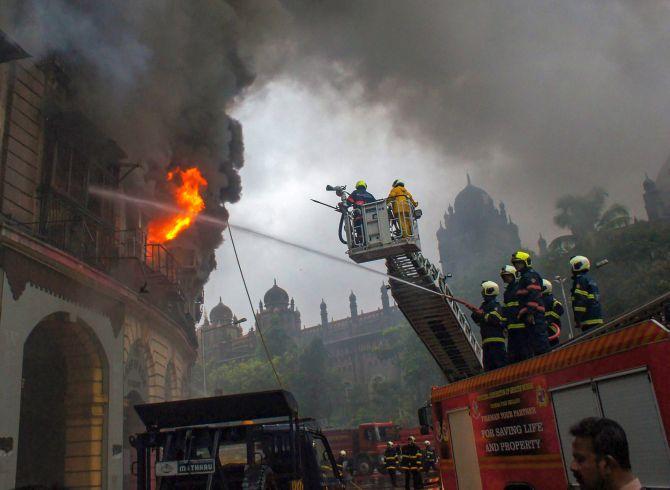 Fire department officials confirmed no one was trapped inside the building.
Sixteen fire engines were deployed to douse the flames, he said, adding the cause of the blaze was not immediately known.
Photographs: PTI Photo